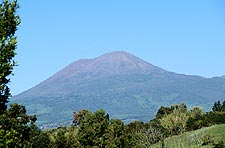 Heading out the door? Read this article on the new Outside+ app available now on iOS devices for members! Download the app.

Roman candle: Italy's (active) Mount Vesuvius
Q: I will be in Rome for ten days and would like to know if it's possible to hike up Mount Vesuvius?


— Marcelo Cardona, Irving, Texas




Adventure Advisor:

A: Sure it's possible, but it probably wouldn't go down in your travel journal as Best Hike Ever. As the view from the 4,900-foot summit is much more interesting than the path leading to it, most visitors take the funicular most of the way up the desolate slope, then walk the last mile or so on a wide, flat trail that leads to the rim of the crater. From there you'll see a few smoky wisps rising from the cracks, a reminder that this active volcano could blow its top again soon (the last major eruption was in 1944, and experts say it's due for another).


A more satisfying day trip for you and your hiking boots would be the trek up Mount Soratte, just north of Rome. The densely wooded path to the peak takes you past the entrances to caves, some of which are more than 300 feet deep—ancient Romans believed these pits were passageways to the underworld. At the summit, you can stand on the grounds of a church that was built in the Middle Ages and look out onto the Sabini Mountains, Lake Bracciano, and the Tiber valley. For trail maps of Rome-area mountains and information about outfitters offering guided hikes, go to the Rome Tourist Board (Via XX Septembre #26, phone 06-421381).