A Fall Guide to the Michigan Coast
Pack up the surfboards and the mountain bikes but don't get too lost in adventure, there's plenty to eat and drink as well.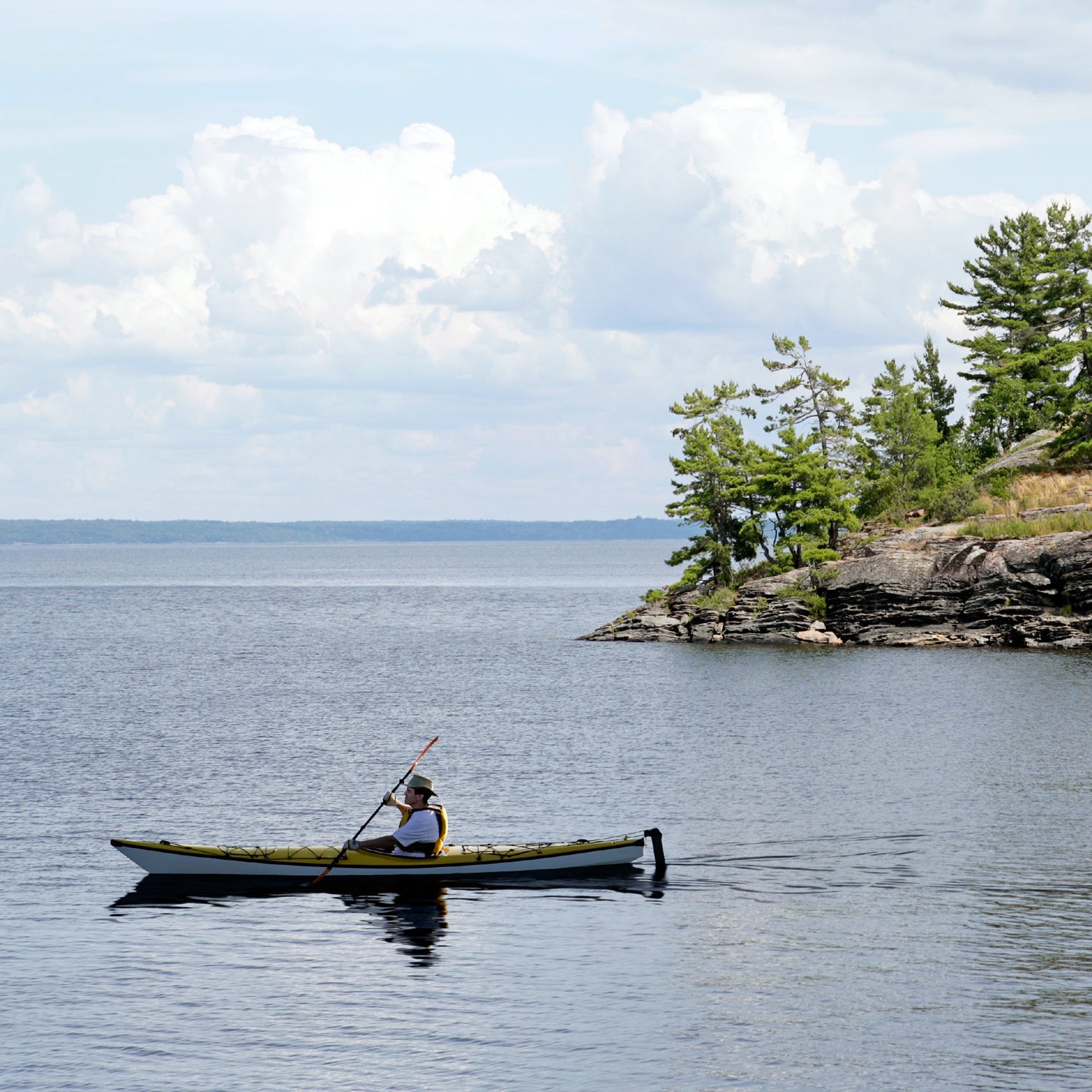 sharply_done/iStock(Photo)
Heading out the door? Read this article on the new Outside+ app available now on iOS devices for members! Download the app.
Summer on Michigan's southwest shoreline is hard to beat if you are looking for a place to kick back. Fall, however, turns the region into an idyllic adventure destination. Warm days, bigger waves, and beautiful dunes make the coast of Lake Michigan the perfect autumn escape. And when the sun goes down and you're looking to recharge, the region boasts some of the best food and craft brews you'll find anywhere in the country.
Grand Rapids
As the largest city in this region—and Michigan's second most populous, Grand Rapids is a perfect jumping off point for mountain biking. Eight miles north of the city, the West Michigan Mountain Bike Alliance built the Merrell Trail, a flow trail with table-top jumps, waterfall crossings, rock overs, and log skinnies. After that warm up, take on a muscle-burning climb at the Cannonsburg Ski Area, which hosts some of the most challenging terrain in Western Michigan.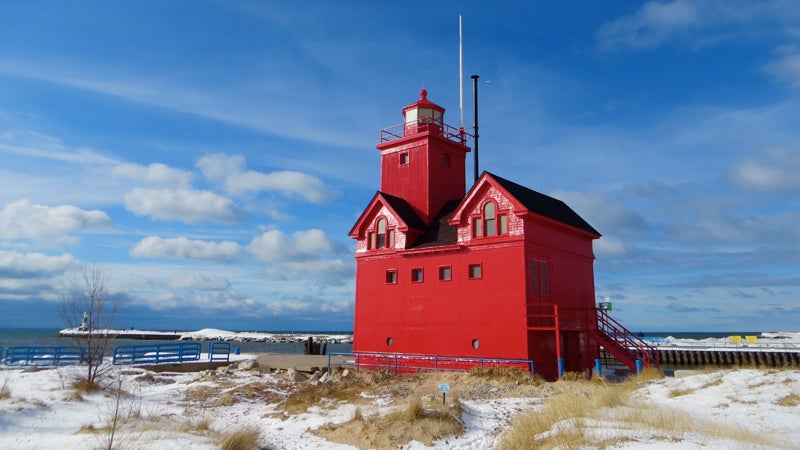 In Holland, 28 miles southwest of Grand Rapids, cyclists will find 140 miles of paved bike paths. With snowstorms blasting this coastal town with 90 inches or more, these trails double as cross-country skiing routes in winter. The trails meander through the town's scenic parks, including Winstrom and Dunton, along the Macatawa River, and past the town's landmark Dutch windmill DeZwaan. The Lakeshore Connector Path, which begins at Holland State Park and runs 20 miles to downtown Grand Haven, is a favorite among local cyclists.
Gear up: If you need to rent a bike or tune up your own machine, Central District Cyclery should be a one-stop shop.
Drink up: Grand Rapids earned the moniker Beer City USA in a 2013 poll, and it lives up to its name with 15 breweries in the city proper. Founders Brewing Co. is among the world's top breweries and has earned six World Beer Cup medals. Beer Advocate Magazine named Hopcat one of the 50 best bars in the U.S., which serves its own as well as regional brews. New Holland Brewing is the spot for a post-ride bite and brew in Holland, just west of Grand Rapids. The pub serves savory beer-cheese starters and rustic pork chops that pair with the likes of Monkey King, a farmhouse ale inspired by L. Frank Baum, the author of The Wonderful Wizard of Oz who summered in Holland.
The Dunes
Three hundred miles of golden sands stretch along the state's Lake Michigan shoreline from Sleeping Bear Dunes National Lakeshore, at Traverse City, south beyond St. Joseph. If you want to out yourself as a tourist, call it "The Gold Coast"—an apt name, though not one the locals use.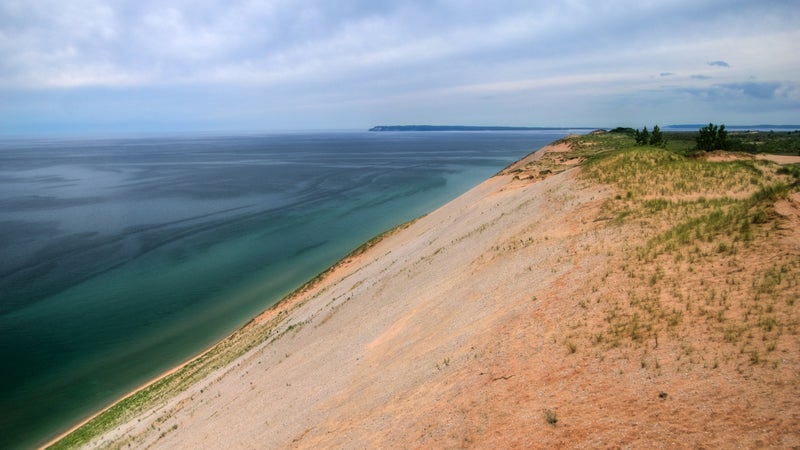 In Saugatuck, hitch a dune schooner for a family friendly ride with Saugatuck Dune Rides. You'll zip through sections of the largest freshwater dunes in the world, made even larger when the bordering oak, maple, and Michigan white pine forests were logged to rebuild Chicago after the 1871 fire.
At Oval Beach, enjoy the waters of Lake Michigan, and the adjoining Saugatuck Harbor National Area, a 173-acre tract with scenic walks along Lake Michigan, the Kalamazoo River, and among the threatened interdunal wetlands.
Dune Dining: Saugatuck lies in Michigan's breadbasket, an area so fertile that its apple production may surpass Washington's in 2014. Cranes Orchard, a fifth-generation family farm, grows more than a dozen varieties of apples in their U-Pick fields, including the Blondee, an early season sweet and tart type with a crisp bite. Just past the farm's seasonal corn maze, its restaurant is a slice of Americana with specialties like a cinnamon apple pie. An early arrival on the now bountiful local wine scene, Fenn Valley Winery bottles several award-winning varietals, all of which you can taste in licensed as a tasting room, proprietor Doug Welsh and his team lead grape-to-glass tours during which you can taste the fruit straight from the vine and the wine it creates.
Wave Riders
Wind-driven lake swells are a blessing to Lake Michigan surfers. In the fall, strong northern winds make southwest Michigan the best place in the state to catch waves, starting at Muskegon and heading south. The lake is hardly Pipeline, but local surfers claim the occasional six-foot breaks. The weekend warriors favor the south side of the Grand Haven pier and the clean swells off St. Joseph. Some of the best conditions roll through during winter, but the hardy locals aren't ones to be dissuaded by water temps in the 40s and air temps dipping even lower.
Gear Up: For surf boards, lessons, and rentals hit up Wet Mitten Surf Shop in Grand Haven or Third Coast Surf Shop in St. Joseph. To outfit for kiteboarding, head to Mac Kite Boarding, also in Grand Haven.
Surf and Turf: If you're ready to thaw your icicle beard, The Buck Burgers and Brews is just up the berm from the beach in St. Joseph. Chow down on crispy bacon smothered in The Buck's secret spice blend while perusing the 62-tap beer menu with many local selections. If its in season, the Zombie Killer Mead, blended with local cherries and apple cider, is a not-to-sweet pick me up. The burger menu is nearly as expansive as that of the brews, with favorites including a sundried tomato behemoth.
Paddling Inland
Of course, Lake Michigan promises all types of paddle sports with enough open water to challenge even those with top endurance. However, as one local put it, "After you're out there for 15 minutes, you've seen what you're going to see." For more varied scenery while kayaking or SUPing, head down the Paw Paw River. The Paw Paw navigates through much of the southwestern part of the state, passing under paw paw fruit tree forests for which the river is named. These waters befit a relaxing row, with few rapids on the course. But if you get tired, turn your bow and take it easy; the current will carry you downstream and back to Lake Michigan. For an extended stay, reserve a spot at the Paw Paw River Campgrounds.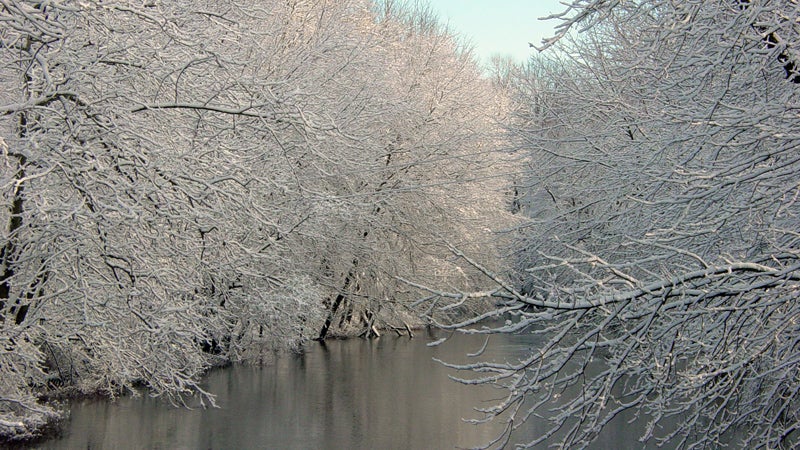 Gear Up: Third Coast Surf Shop will outfit your trip with kayak and/or SUP rentals. And, if you so desire, a friendly guide will lead your trip. The shop also offers rentals and excursions along the Galien River outside of New Buffalo.
Just a Splash: For a post-paddle drink, sip single malt Scotch at Journeyman Distillery, in Three Oaks, where the craft spirits are surprisingly mature for a distillery that only opened in 2011. Journeyman is one of only a handful of organic distilleries in the U.S. It creates 14 types of spirits, including the popular Ravenswood Rye Whiskey and Bilberry Black Hearts Gin, made with—yep—bilberries, the close relative of blueberries, and a complex blend of botanicals.
Come Aboard
According to the sailors in South Haven and Holland, boating is the only worthy endeavor on the local waters. Lake Michigan, with its connection to Lake Huron, was a great transportation channel during the 1800s when tall-masted shipping vessels sailed there. Today, the only tall-masted ship you're likely to find is the Friends Good Will, an 1810 merchant sloop that was captured and flew under the British flag in the War of 1812. Today, her voyages are mostly day tours, departing from the Michigan Maritime Museum in South Haven, where the exhibits on Great Lakes shipwrecks are worth a look.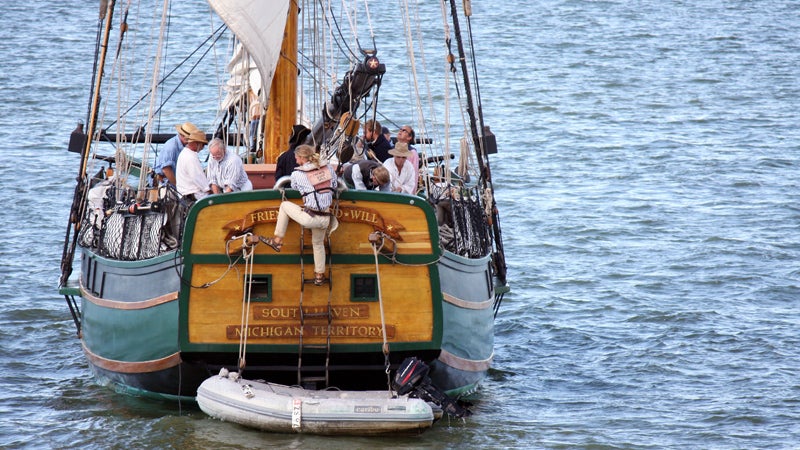 To captain smaller vessels, join the GT Sailing School, operated by Kim Grotenhuis, where you'll learn to avoid the boom on the Dorothy Gale, a rebuilt 1965 Columbia '38 sailboat, and other similar size vessels. You'll often find the Dorothy Gale zipping around Lake Macatawa, an inland lake at Holland that connects to the Great Lake and is popular with boaters. For a day cruise, book with Nancy Anne Sailing Charters, with which you'll have all the fun and not do any of the work.
Post-Sail Grub: All destinations are walkable in South Haven, so stroll from the Maritime Museum to the intimate Tello Italian Bistro for an authentic Italian meal, with a few house specialties, too. To start, try the three-minute truffle eggs and finish your meal with coconut or pistachio gelato. In Holland, hit up deBoer's Bakkerij and Restaurant for authentic Dutch baked goods and filling meals, all prepared by fourth-generation family bakers.
Lead Photo: sharply_done/iStock