The Fastest—and Slowest—Marathons
Whether you're hoping to PR or party over 26.2 miles, consider these 10 events.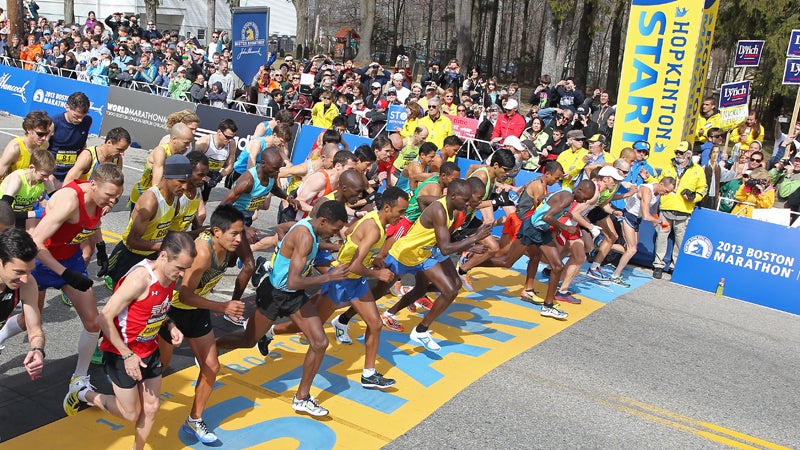 ASSOCIATED PRESS(Photo)
Heading out the door? Read this article on the new Outside+ app available now on iOS devices for members! Download the app.
With spring marathon season commencing, Running USA has again taken the pulse of 26.2-mile races in its annual report. 2013 clocked 1,100 marathons and 541,000 finishers across the country. To determine the fastest and slowest races, Running USA evaluated the median times from races with more than a thousand finishers. Here are the results. 
The Fastest Races
1. Boston Marathon

Median Time: 3:31:17
Where: Hopkinton to Boston, Massachusetts
When: Third Monday in April (Patriots' Day)
Boston is the pinnacle of road races. The Boston Athletic Association (BAA) sets rigorous qualifying times that—although designed to limit the size of the field—ensures the marathon is consistently the fastest. "The end result is attracting the best and fastest runners in the business. Our race is now known for being about the pursuit of athletic excellence, something we are very, very proud of," says Race Director Dave McGillivray. The course may have a net downhill, but the 0.4-mile climb up Heartbreak Hill near mile 20 strikes fear into legions of the swift footed. Doing well in Boston requires more than fitness. "To run fast on this course, one needs to know the course well and train properly for this course, not just for the 26.2-mile distance," advises McGillivray.
2. Lehigh Valley Health Network Via Marathon

Median Time: 3:49:56
Where: Allentown to Easton, Pennsylvania
When: September 
Designed by a runner for runners, the Via Marathon hugs the Lehigh River, and at mile 7 enters the Delaware and Lehigh National Heritage Corridor, known for its natural scenery and historical significance. Bart Yasso, Chief Running Officer at Runner's World, didn't just make this marathon a beautiful one: with a net elevation drop of 240 feet, he also made it fast. The shady course with a small field is a popular qualifying race for Boston. Fitting, because as the home of Runner's World magazine and its parent company, Rodale, the Lehigh Valley is a bastion for the sport.
3. Mountains2Beach

Median Time: 3:52:51
Where: Ojai to Ventura, California
When: May
The sum of Mountains2Beach is in its name: The race begins in the hills at Ojai and follows more than 10 miles of downhill ending steps away from the surf at Ventura Promenade. Founded in 2011, the race has a net downhill of 700 feet. Although some races have a greater descent, the gradual drop to sea level at Mountains2Beach is gentle on joints and muscles, which especially pays off in the final miles. Race Director Ben DeWitt observes, "We did think about speed when we designed the course, but we had no idea how effective it would be … We essentially just took a runner's eye to the course design and thought to ourselves, 'What would I like to run?'" Although this course is scenic, it's also solitary. Spectators won't be course side to cheer but will meet you at the finish.
4. Baystate Marathon

Median Time: 3:54:22
Where: Lowell, Massachusetts
When: October
Founded in 1989 expressly as a qualifier for the Boston Marathon, the Baystate Marathon excels at its goal. Since 2010, 25 percent of the field has consistently run qualifying times for the neighboring race. With a focus on well-managed splits rather than PRs (though those occur frequently, too), "our wining times are often pedestrian compared to many other marathons, however our median time is consistently in the top 10 to 20 in the country," says Glenn Stewart, race director. The urban course is relatively flat, with enough variation not to over-tire muscles; the double-loop design aids pacing. The club-run, all-volunteer event has a comfortable feel that may also ease runners into qualifying times. Or maybe it's just the promise of post-race homemade chicken soup and PB&Js that power competitors to the finish. 
5. Santa Rosa Marathon

Median Time: 3:57:48
Where: Santa Rosa, California
When: August
Founded in 2009, Santa Rosa is one of the last qualifying races staged before Boston registration opens. "I believe that pushes people," says Race Director Orhan Sarabi. The gun sounds at 6 a.m., which lends to cool temps along this net-downhill course. Runners pace through downtown Santa Rosa then follow a path that overlooks a creek, dairy farms, cornfields, and vineyards. The course also traipses through DeLoach Vineyards' property and through its barrel room. With a field of fewer than 2,000 runners, it's an intimate race. Regardless of time, those who cross the line receive a bottle of wine to their finish. 
The Slowest Races
1. Bataan Memorial Death March

Median Time: 8:13:54
Where:

 

White Sands Missile Range, New Mexico
When:

 

March 
Begun to memorialize the American prisoners of war who died in the World War II Bataan Death March, the Memorial March has come to honor those who sacrificed their lives not only in that conflict but also in Vietnam, Iraq, and Afghanistan. Although the field includes competitive runners who tally three-hour finishes, it also includes walkers—some carrying 35-pound backpacks, as the soldiers did—who slog through a challenging route that includes a sand pit and a 5,000-foot incline. Add unpredictable weather that can reach the mid-70s in the afternoon, and occasional 60-mile-per-hour winds that blow sand from the exposed missile range, and this course becomes formidable. However, the race ignites a strong sense of patriotism and pride in its finishers, who, after the tape, may have an once-in-a-lifetime opportunity to visit with 90-year-old POWs. 
2. Honolulu Marathon

Median Time: 6:07:32
Where:

 

Honolulu, Hawaii
When:

 

December
With no participant limit or cut-off times, Honolulu attracts both speed demons and walkers who want to take in spirit and scenery of the islands. Although it is flat overall, the course includes uphill climbs around Diamond Head. Course records are competitive (Jimmy Muindi, of Kenya, ran 2:11:12 in 2004, and Lyubov Denisova, of Russia, clocked a 2:27:19 in 2006), but some runners may feel slowed down by humidity and heat, which can climb into the low 80s by 10 a.m. Thankfully, there are misting stations along the course. Honolulu Marathon President Jim Barahal recommends enjoying the post-race party festivities at Kapiolani Park, the largest and old public park in Hawaii set at the end of Waikiki.
3. Walt Disney World Marathon

Median Time: 5:35:39
Where:

 

Walt Disney World Resort, Florida
When:

 

January
The Walt Disney World Marathon winds through all four theme parks (the Magic Kingdom, Epcot, Disney's Animal Kingdom, and Disney's Hollywood Studios), plus ESPN Wide World of Sports Complex and the Walt Disney World Speedway. Disney characters are stationed along the course—and are often photo-op temptations for runners willing to forgo PRs for a selfie with Russell from Up. The fun, flat course is an attractive one for beginners. The only climbs on the route are up freeway ramps, where army men from Toy Story order runners to press on. Competitors on a runners' high can attempt the Goofy Double: the half marathon on Saturday and the full marathon on Sunday.
4. Rock 'n' Roll San Antonio

Median Time: 5:10:30
Where:

 

San Antonio, Texas
When:

 

December
The Rock 'n' Roll San Antonio Marathon's flat, urban course takes several turns through downtown and isn't known for being a fast route. Sometimes, however, a marathon is about more than speed. City of San Antonio leaders adopted the event to change its image as one of the nation's most obese cities. First-time marathoners and half-marathoners make up more than 30 percent of the competitors—the most of any race in the Rock 'n' Roll series. With time limits exceeding seven hours, the course also attracts walkers. "For so many runners it's not about how fast you can finish; it's a pinnacle achievement in their lives. … Anything that encourages people to get up, commit to a training regimen and finish a marathon, regardless of time, should be lauded, not lamented," says Dan Cruz, spokesman for the Rock 'n' Roll Marathon series.
5. ASICS LA Marathon

Median Time: 5:03:39
Where:

 

Los Angeles to Santa Monica, California
When:

 

March
On a net-downhill path, the ASICS LA Marathon begins at Dodger Stadium and ends at Palisades Park, passing Disney Hall, the Capitol Records Building, and famous neighborhoods such as Beverly Hills, Chinatown, and West Hollywood. The scenic course attracts a large field: with more than 19,000 runners, it's the 11th largest in the world. The competitors are only part of the picture. "The iconic 'Stadium to Sea' course is lined with hundreds of thousands of energetic spectators that create an exhilarating atmosphere for every inch of the 26.2 miles," says Tracey Russell, CEO of the ASICS LA Marathon. "With 91 charities, several live music acts, sponsor hosted on-course entertainment, 'Cheer Alley' and a breathtaking ocean view at the finish, runners feel the L.A. 'vibe' with a star treatment unlike any other."
Lead Photo: ASSOCIATED PRESS