In the Field with Seamus Murphy
Seamus Murphy's recent trip to Syria with writer Patrick Symmes was one of many in a long list of far-flung adventures across the globe. Read about his experiences in Syria, then view an exclusive photo gallery of the country.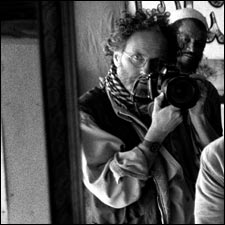 Heading out the door? Read this article on the new Outside+ app available now on iOS devices for members! Download the app.
When Outside Contributing Editor Patrick Symmes went to Syria for the February 2006 Outside feature story, "The Sweetest Villains," he brought along British photographer Seamus Murphy. The duo traversed the country by car and train for 16 days this past September, entering by way of Beirut, Lebanon, and driving to the capital city of Damascus, and into the Bekaa Valley, following in the footsteps of the Crusaders, Lawrence of Arabia, and Agatha Christie along the way.
Seamus Murphy

Photo Courtesy Seamus Murphy
"Going into the country and coming out, we weren't too sure how we were going to be received with my camera," Murphy says. "We were told by journalists in Beirut to be very jovial, and laugh and smile a lot, and think nothing of it. That worked."
Along the way, Symmes and Murphy wandered through ancient Crusader castles, met with a Lebanese warlord, and hiked Lebanon's tallest peak—not quite making it to the summit after being swallowed by fog. They dined on stuffed grape leaves and Lebanese wine, and holed up in a palace for $30 a night. Finding the local guide with the most character, Symmes and Murphy traveled from the seaside town of Tartus to the northern city of Aleppo. Their journey bought them behind the scenes of a socialist country known for closing its doors.
Although London-based Murphy, 46, an accomplished freelance photographer and frequent contributor to Newsweek magazine, has traveled extensively in far-flung locales like Afghanistan, Palestine, Iraq, Nepal, Uzbekistan, Brazil, over ten African countries, and more, this was his first trip to Syria.
"I would get up early in the morning and wander around with the camera and spend hours doing that," Murphy recalls. "I always felt very safe there."
Well, almost always safe.
"I'm terrified of bad driving," he says. "That was the only time I felt in danger—when I was being driven around."
On their first night in the country, Symmes and Murphy took a taxi from Beirut to Damascus and landed themselves in a tea house in the Old City just before dark. At the tables around them, men dressed in Arab headwear sipped tea and played cards.
"I saw this one man, and he looked very intent on what he was doing. I thought I'd sneak a couple of pictures before he actually realized what was going on," Murphy says. "The other guys in the background were aware of the camera and smiling, but this one man was too busy with his cards to notice me."
The image he captured, featured on pages 84-85 of the February 2006 issue of Outside, gives the appearance of a private gathering, an exclusive look into the lives of Syrians at play.
For Murphy, traveling with a camera often gives him access to places and experiences normally closed off to the average tourist. It also gives him a mission.
"By the very nature of being a journalist, you behave differently with a camera," he says. "You're always persistent of more. You've got to come back with some kind of story."
But, at a time when journalists are often targeted in Middle Eastern countries—a Lebanese reporter was badly injured by a car bomb in Beirut the day after Symmes and Murphy left the country—the photographer knew the moments he had to remain inconspicuous.
Murphy's ability to capture the essence of the people and places they encountered is evident in his rich, in-the-moment photographs—the revealing images from late-night street corners and early morning fortresses. But he'll be the first to admit that taking pictures is much easier than conversing with those they met along the way.
"I didn't learn any Arabic," he confesses. "I'm kind of idiotic when it comes to languages."
Trending on Outside Online