Sponsor Content: Sierra Nevada
Yes, You Can Camp This Summer
It might be in your backyard, or at a less crowded campsite later in the season. But here's everything you need to kick off camping season right—and a chance to win the ultimate camping getaway.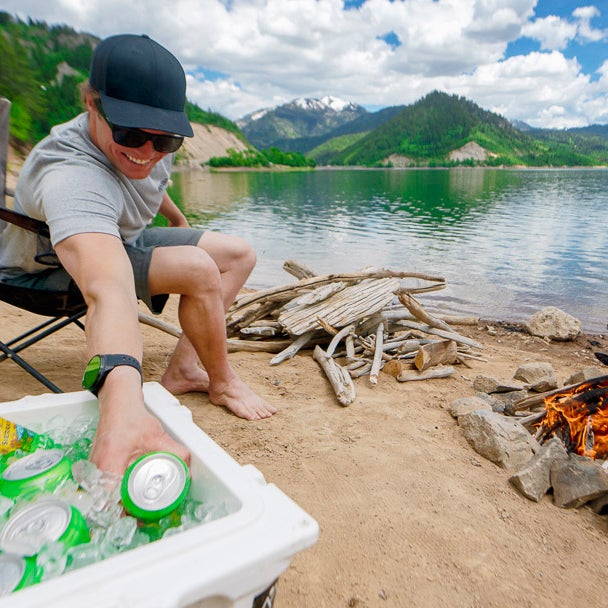 If you're like us, you're probably going a little (a lot?) stir crazy and craving the first camping trip of the summer. When and where you get to go will depend on how your particular stay-at-home orders and closures evolve—and yes, like just about everything else in our lives, camping will likely be different too. It may take a touch of extra planning, and you may have to pitch your tent in your backyard, but it'll be worth it. Because if there's one thing we all need right now, it's a dose of fresh air, cold beer, and nature. To get all that—safely and responsibly—we've got some great ideas.
Dust Off Your Kit
If the campgrounds are still closed in your area, now is the perfect time to pull your camping gear out of the garage or basement and take stock. What did you use all the time last year? What did you hardly ever touch? Release your inner Marie Kondo and streamline your kit. While you're at it, be sure to give key pieces a once-over and some maintenance: check your tent's rain fly for any damage before cleaning and re-waterproofing it; replace broken or bent stakes; lubricate the zippers on your tent and sleeping bag. Last but not least, de-funkify your cooler and make sure it, too, still works. The best way? Throw in some ice and Sierra Nevada Pale Ale—the official beer of camping. Does the cooler smell OK? Is the beer cold? If so, it's working!
Make Camp at Home
All that gear you just tuned up—carve out a corner of your yard, your deck, or even your roof as your camp-in-place spot and give it a dry run. If you've got the yard to support it, you can also cut right to the best part of camping: hanging out around the fire. Set up the camp chairs, invite the neighbors over (tell them to BYOB and pitch their chairs six feet away), and bust out the s'mores. A stand-alone fire pit is the simplest, least intrusive solution (you can find great options for around $100) but if you want to achieve peak campsite vibes, dig a permanent pit. Just be sure to check your local rules and regulations before breaking ground.
Perfect Your New Favorite Camp Meal
It's easy to stick to what you know when planning your camp meals. And while there's nothing wrong with oatmeal for breakfast, PB&Js for lunch, and hot dogs for dinner, now is the perfect time to raise your camp-cooking game. Set your camp kitchen up in your yard, on a patio, or in your actual kitchen and try some new recipes. We've got tons of thought-starters here, but our favorite has to be Pale Ale Barbecue Chicken.
Embrace the New Normal
While we're not sure what that will actually look like, all signs point toward campgrounds being busier than normal this summer. What does that mean for you? If your favorite spot is usually crowded on weekends, shuffle your schedule to get out on a weeknight or two. If you typically stick to developed campgrounds, check out a site like Hipcamp.com, which connects campers with private landowners who allow people to camp on their farms, vineyards, and ranches. Or maybe this is the year you graduate to dispersed camping. Thanks to sites and apps like The Dyrt and iOverlander, finding a secluded spot is easier than ever.
Regardless of how you get out once it's safe to do so, you should plan on being more self-sufficient—and self-contained—than normal. If possible, choose a site you can get to (and back home from) on one tank of gas, and do all your shopping beforehand at your local stores. And if you'd prefer to be extra socially distant, bring your own water to avoid using public faucets or water fountains.
Celebrate National Trails Day
June 6 is National Trails Day. If you can, celebrate it by camping as close as you can to your favorite trail. Not possible? Hit a local trail with gloves, a mask, and a garbage bag to pick up the litter. Can't get to a trail? Make a contribution to the American Hiking Society, the nonprofit group behind National Trails Day that advocates for more access and more funds to maintain the nation's parks.
Dream Big for When the Coast Is Clear
Just because a far-flung trip is off the table, for now, doesn't mean you should stop dreaming. Need some inspiration? Outside and Sierra Nevada are teaming up to help one lucky winner plan the ultimate camping getaway. For your chance at the grand prize—a Hipcamp gift card worth $3,000 along with custom Sierra Nevada folding chairs and a sweet Pale Ale cooler—simply grab some Pale Ales, head outside (yes, your backyard counts too), and share a public photo on Instagram or Twitter with #SierraNevadaContest and @sierranevada. Or, upload your photo using the form below.
---
June is National Camping Month, and Sierra Nevada Brewing Co., wants you to celebrate with car camping, a backcountry overnight, or just by pitching a tent in your backyard. However you decide to enjoy it, make sure you stock up with Sierra Nevada Pale Ale—the Official Beer of Camping— for the adventure.
Lead Photo: NIC ALEGRE