By Land, Sea, and Air
Who says you need fossil fuels? Four adventurers—including Laird Hamilton, who paddled the English Channel—circle the globe under their own steam.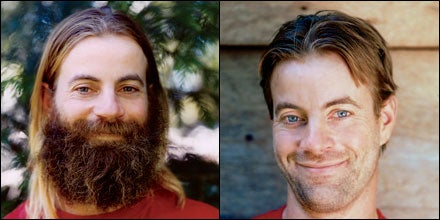 Heading out the door? Read this article on the new Outside+ app available now on iOS devices for members! Download the app.
Back Where He Started
Laird Hamilton

Laird Hamilton
Renata Chlumska

Renata Chlumska
After two years, one humbling medical emergency, $250,000 from sponsors and his own savings, and his expedition partner's acrimonious departure, Canadian adventurer Colin Angus has become the first person to circumnavigate the globe under his own power. A book is due out next spring. In the meantime, some highlights to keep you hooked.
June 1, 2004
Angus, then 32, and Tim Harvey, then 26, pedal north from Vancouver on the first leg of a planned trek to Moscow, accompanied by Julie Wafaei, Angus's fiancée of two weeks. Things go awry immediately, as forest fires and border agents force them to slip into Alaska in a battered canoe. Wafaei returns home.
September 2004
After getting blown 250 miles off course, Angus and Harvey make it to Russia in an 18-foot rowboat, which they abandon after tiring of being blown toward the rocks.
Fall 2004
The men hike 400 roadless miles of bogs and mountains. Angus suffers a urethral stricture (think a kink in his hose) and a severe infection. He retreats to Vancouver for surgery.
February 2005
About six weeks after rejoining Harvey in Siberia, Angus nearly dies after becoming lost and benighted in a raging blizzard with a windchill of 148 below.
March 2005
The adventurers set bikes on the Road of Bones, a dirt highway in eastern Russia built with Stalin-era gulag labor. It's the first road they've seen since Fairbanks, 3,100 miles ago.
Early Summer 2005
A growing feud between the partners escalates into rancorous accusations. Angus says Harvey with-holds gear. Harvey says Angus wants to travel with Wafaei instead. The Vancouver-to-Moscow expedition ends bitterly, with the two setting off on separate routes home. Wafaei flies over to join Angus. They cycle the 3,355 miles from Moscow to Lisbon, Portugal, in 49 days.
September 2005
After shoehorning five months of supplies into Ondine, a $25,000 oceangoing rowboat, the lovers set out, expecting to reach Miami in about 100 days. But two hurricanes and two tropical storms force them to change course for Costa Rica.
November 2005
While at sea, the two rely on fish for food, but a monster mahi-mahi breaks off Angus's last good lure and weights. Miraculously, the lure pops out of the fish's mouth and floats to the surface, where Angus recovers it. Freakier still, he finds his missing weights in the belly of another fish.
January 2006
After 121 days at sea, Team Wafangus arrives in St. Lucia, resupplies, and sets out for Limón, Costa Rica, 1,500 miles away. They also discover that Angus's passport has expired and that Russian crooks have tried to pilfer from his bank account.
March 2006
Wafaei and Angus bike through Central America and Mexico in 40 days. Nicaraguans threaten them with machetes and bull-testicle soup, the former wielded by thugs eyeing their gear, the latter served as a common delicacy. They navigate through much of Mexico using a photograph they took of a map painted on a restaurant wall.
Spring 2006
After biking from Mexico to Canada in just over three weeks, the two arrive home in Vancouver on May 20, 720 days after Angus left.
Sometime in 2007
Angus and Wafaei's wedding and honeymoon. "We were joking about a cruise," says Angus, "but now we're talking about rowing from the North Sea to the Mediterranean to see Europe at a more relaxing pace."
KARL BUSHBY: Walking the Line
Miles: 36,000 / Apparatus: feet
Karl Bushby used to look out over the white cliffs of Dover, where he was serving in the British army, and wonder what they would look like from France. But rather than cross the English Channel to find out, Bushby decided to go the long way round—on foot. On November 1, 1998, Bushby, then 29, set off on a planned 12-year, 36,000-mile hike that would take him across four continents, seven mountain ranges, and six deserts. This past March, it also took him across the Bering Strait, a 55-mile hike from Alaska to Russia that involved polar bears, 30-below temperatures, and ice so unstable he had to dump most of his gear to make it across. His reward: 54 days in a Russian jail for lacking a visa and permits. Now free and awaiting new paperwork, Bushby next faces 2,000 roadless miles across Siberia. "I've thought a lot about why I'm doing this," he says. "Whatever my reasons are, they're probably not the same as when I set out."
—Bryant Urstadt
LAIRD HAMILTON: Channel Surfer
Miles: 264 / Apparatus: bike, paddleboard
The Chunnel is for chumps. When Laird Hamilton decides to travel from London to Paris, he skips the train that runs under the English Channel and opts for a bike and stand-up paddleboard instead. In May, after riding east from London, the big-wave pioneer paddled the 27-mile channel, then rode into Paris, covering the 264-mile route in 27 hours. "It wasn't a sightseeing tour," says Hamilton, who did the trip to raise money for a documentary about autism, which is being shot by filmmaker friend Don King. Winds that slowed the ride from London shifted once Hamilton was at sea, taking some of the sting out of the six-hour crossing. He pedaled the 146-mile stretch into Paris in just under nine hours, finishing at the Arc de Triomphe. "At first I kept riding around it," says Hamilton. "Then I realized I could finally get off the bike."
—Charles Bethea
@#95;box photo=image_2 alt=image_2_alt@#95;box
RENATA CHLUMSKA: Lady in the Water
Miles: 11,185 / Apparatus: Bike, sea kayak
"When I look at the map, it's almost unbelievable," says Swedish adventurer Renata Chlumska, while paddling her 17-foot sea kayak north off New York's Long Island. "It's a lot of miles." Sometime around the middle of September, Chlumska, 32, will paddle into Seattle's Lake Union after completing a 14-month, 11,185-mile bike-and-kayak lap of the lower 48. Chlumska, the first Swedish woman to summit Everest, dreamed up the trip with her late fiancé, Swedish adventurer Göran Kropp, who put his stamp on the world of human-powered travel with a 9,321-mile bike-climb-bike expedition from Sweden to Everest and back in 1996. When Kropp died in a climbing accident in 2002, Chlumska decided to continue with their plans, which involved paddling her gear-laden kayak for up to 12 hours a day through oceans, lakes, and rivers and towing the 220-pound load behind her while cycling everything in between. She was almost upended by whales off the coast of Washington, saw her kayak nearly demolished by a driver in Florida, and paddled against soul-crushing headwinds in the Atlantic, which is exactly what she wanted. "You can be very extreme without going to the North Pole," she says. "If you just add distance, length, and weather, you can find an expedition in your own backyard."
—Shanti Sosienski