The Man Who Brought Running to Boulder
"I was the first athlete to intentionally move here to train."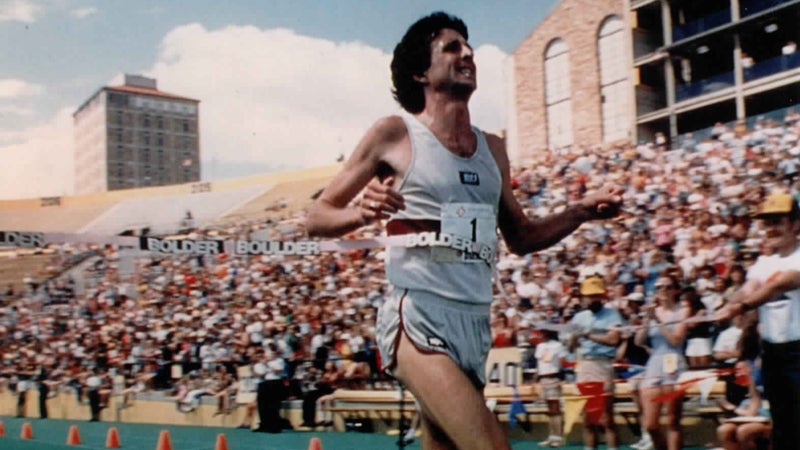 Heading out the door? Read this article on the new Outside+ app available now on iOS devices for members! Download the app.
In 1970, Boulder, Colorado, was the only town above 5,000 feet in the United States that had a permanent indoor track. That alone was reason enough for Frank Shorter to pack his bags. "I could do interval training all year round," says Shorter, who had just graduated from Yale and was training for the 1972 Olympic marathon. "That's why I moved there. I didn't know it had 300 days a year of sunshine and was the best place in the world to live."
When to Visit Boulder?
"Any time is good," Shorter says. "The sun shines 300 days a year. You've got a seven out of eight chance that it's going to be really nice on any particular day. And if it's not nice on one day, as long as you're going to be here for two days, chances are it'll even out."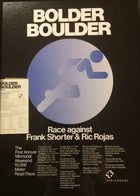 The promotional poster for the first Bolder Boulder, held in May 1979.

"I raced with Frank Shorter" button.

Frank Shorter is the official starter of the 2014 Bolder Boulder.
At that time, the running community was just beginning to understand the benefits of training at altitude. And at 5,400 feet above sea level, Boulder seemed optimal. "I was the first athlete to intentionally move here to train," says Shorter, who coached himself and went on to win gold in Munich. "I had a pretty good idea of how to go down to sea level from altitude and race—what the adjustment periods were."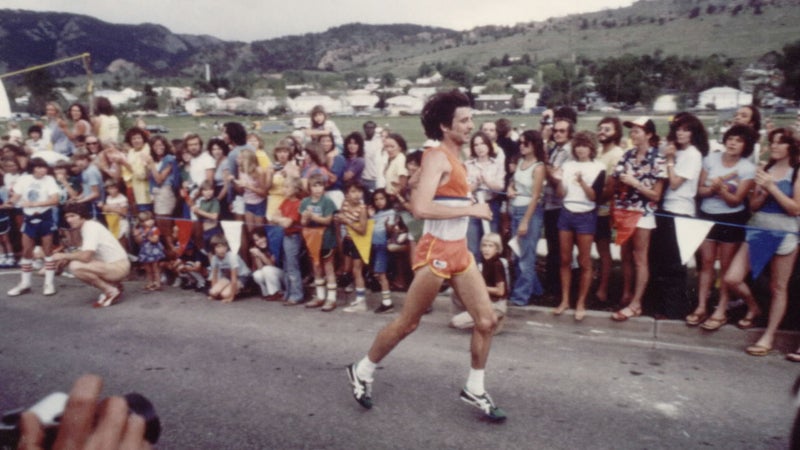 Since then, the Boulder running scene has boomed. "I would go to the indoor track in 1970, and there would be the University of Colorado track and cross-country team in there, and then about four other people—that was it," Shorter says. "But, over time, more and more people began to realize it worked."
When Shorter started several retail businesses in town, he made a practice of hiring recent college graduates who were also runners (among them Stan Mavis and Herb Lindsay). "It was a whole community of people who came out to run," he says. "We created an environment here that was very inclusive." 
And that inclusivity extends beyond running. After all, what is Boulder without triathletes? Well, Shorter can be thanked for bringing them to town, too. He attended his first Ironman World Championship in 1982. "And guess who told the triathletes about Boulder?" he asks. "Me. Other people found that, for them, Boulder was just right, too. Sort of a Goldilocks thing."
Local race director Cliff Bosley agrees. "Frank picking Boulder at the time he did popularized altitude running; it really created an influx of runners—and all endurance athletes—who came, and still come, to Boulder."
Shorter maintains that it's not only the athletes, but people of all stripes who thrive in Boulder. "People think the granola-crunchers control what's going on, but that isn't the case," he says. "It's a city where no one subculture dominates. And by subculture, I mean the university, the business community, and the sports scene." If you want to excel in your field, Shorter argues, you'll find support in Boulder.
And he would know. In the late '70s, Shorter suggested to Steve Bosley, president of the Bank of Boulder (and Cliff's father), that a 10K road race might do well in their town. On May 27, 1979, 2,700 runners, including Shorter, completed the inaugural Bolder Boulder, making it one of the largest first-time races in the state.
"When the race was started, a lot of the early credibility happened as a result of the fact that guys like Ric Rojas and Frank Shorter agreed to run," says race director Bosley. "And so right from the beginning, having world-class athletes was, and continues to be, a part of the Bolder Boulder."
In 1981, the University of Colorado agreed to have the race finish at its Folsom Field Stadium; by 1983, the field had grown large enough to warrant a wave start. In 2011, a record 54,554 runners registered, making it the third-largest 10K in the country. 
Shorter thinks many participants use the race as an excuse for a reunion of sorts. "They come because they have relatives here, or they went to school here, or they have friends here; it's truly something that people plan for the whole year," he says. "The experience is being here and doing it with people you know, even for the people who come from out of state."
This year's Bolder Boulder takes place on Monday, May 26. Shorter will be the official starter, which requires a different type of endurance than running. He'll have to fire the starting gun 94 times—once for each wave. Thankfully, he's been training at altitude.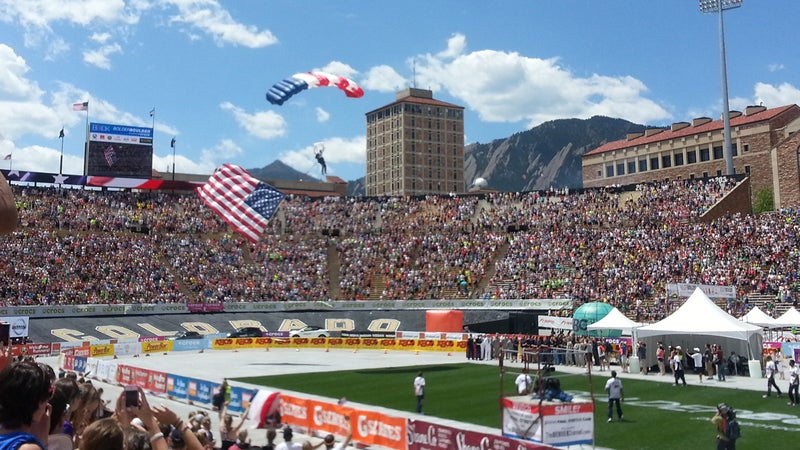 Need to Know About Boulder:
Population: 101,808
43 miles from the Denver airport.
Frank Shorter is the commentator for the Boston Marathon. Read about his experience during the 2013 bombings.
Trending on Outside Online