These 8 Meals Are Worth Traveling For
---
Tim Neville has been around the world and back again, and as good travelers do, he's made sure to try the local cuisine at every stop. So we asked him to write about his favorite meals—and how you can try them, too.
---
Heading out the door? Read this article on the new Outside+ app available now on iOS devices for members! Download the app.
In the late 1970s, my parents took my brother and me to a cabin on Little Cobb Island, an uninhabited dollop of beach and seashells on the Atlantic side of Virginia's Eastern Shore. The cabin was only accessible by boat, and things could get sketchy if the fog rolled in and you drifted too close to the surf. It was November, and the lodge was cold and drafty, so all four of us slept that first night stacked like cordwood in a single musty bed.
I was only four or five years old, but four decades later I can still recall with full clarity the smell when I woke up the next morning. Bud Taylor, a local roofer who doubled as the cabin's caretaker, was cooking sausage in a cast-iron pan atop a stove fired by driftwood. "Here, boy," my father said, handing me a link. It was small and gray and wet with fat. Every bite sent delicious bolts of grease sizzling around my scrawny body. "Everything tastes better when you're roughing it," my father said, sensing my astonishment and handing me another link. "Don't eat 'em all."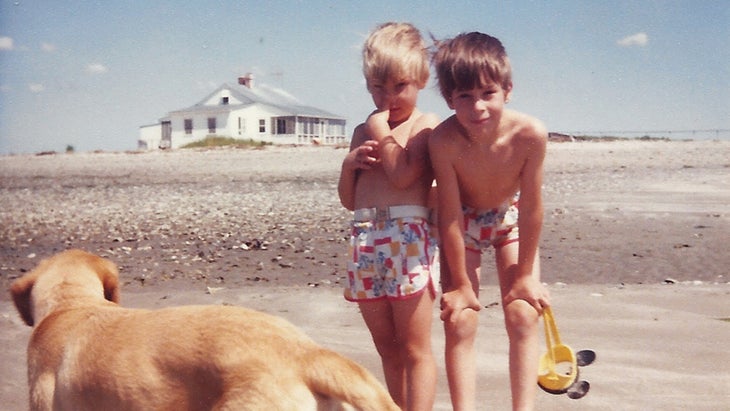 Our Travel Writer's Favorite Après Adventure Food
From kimchis in South Korea to falafels in Egypt, our author says these meals refueled him after adventures on the road

There was nothing even remotely special about that sausage. It was just a pack of Jimmy Dean that Bud had picked up at the local Meatland market before we launched from the town of Oyster. But consuming those lumpy treasures out there, with the wind bullying the windows and the tide marching in, had transformed every single bite into a culinary masterpiece.

That's the beauty of food and adventure, that something as simple as saucy grits can be downright magical on Oregon's John Day River. Lentils at home are just wrong—convince me otherwise—but when spooned over rice in a remote Nepalese teahouse, with the Himalayas shimmering in the purple moonlight, you'll be crying for more, too.

Food has given me so many great reasons to travel, to be curious, to try something new. I spent the bulk of a Swiss vacation hunting for a particular cheese, learned to make pickles from an Estonian lady who exacted her payment in kisses, delighted a friend by picking her pomegranates while hiking in Albania, and gave my tongue a fungus eating so many fermented things on a ski trip to South Korea. One great bite can change your entire perception of a place. If you want to fall in love with North Dakota, go run through the grasslands with a bag of Dot's pretzel sticks.

That's what I did. And of course I ate 'em all. Here are some of my other favorite meals from around the world.