11 of the Most Unique Airbnbs in the World
Because why opt for a cookie-cutter apartment when you can spend the night in a crane, a ceramic serpent, or a yellow submarine?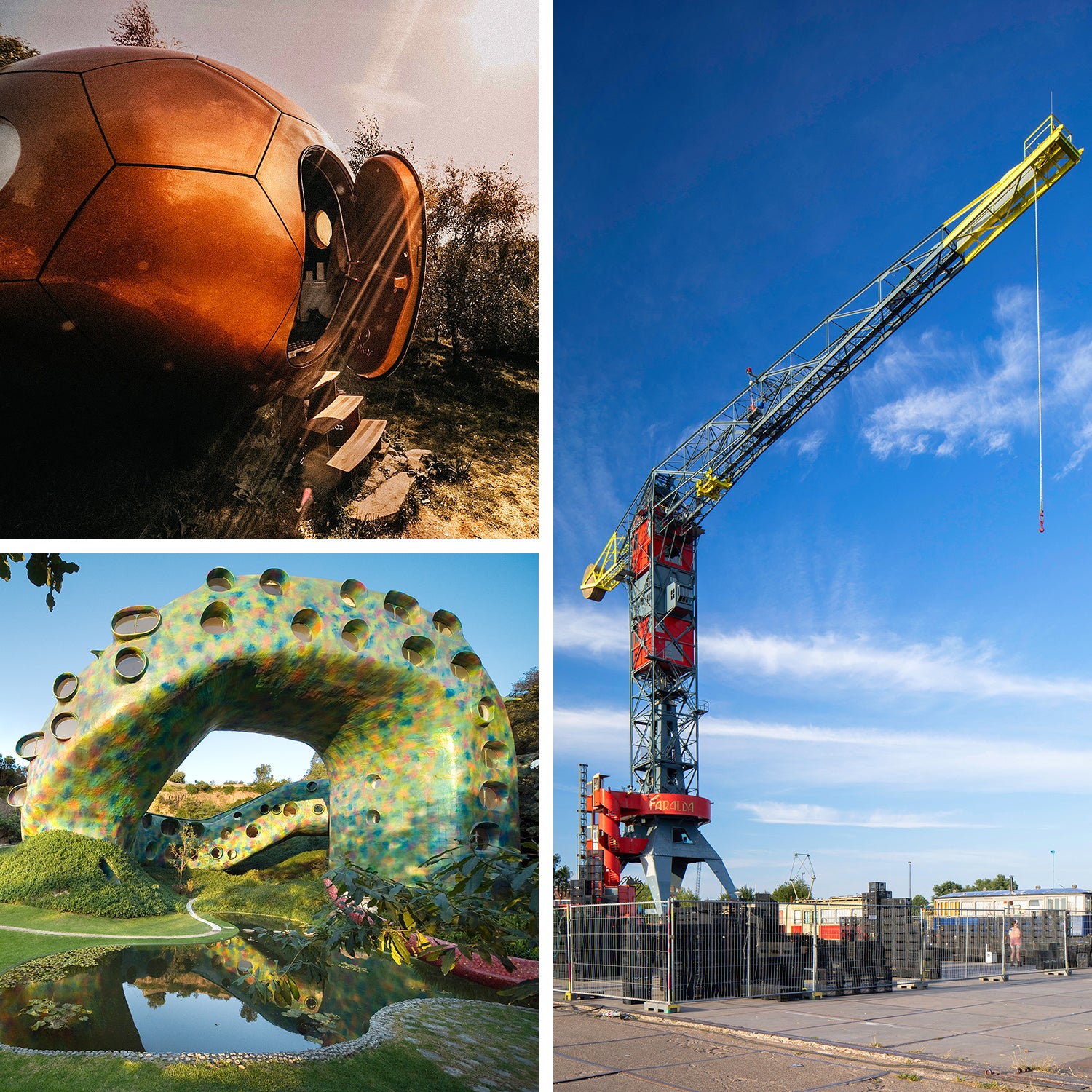 Heading out the door? Read this article on the new Outside+ app available now on iOS devices for members! Download the app.
Ever traveled somewhere just to stay in lodging that made you go "Wow!" as soon as you saw it? I have, charmed by the architecture or the amenities or the once-in-a-lifetime chance to experience a night in a treehouse or a castle or a location I recognized from a movie. With that in mind, Airbnb has a category called OMG, featuring what it calls "unique abodes"—and indeed, there are dozens to choose from that will make you marvel. I picked out 11 from around the world that are weird, wonderful, and might make your next trip one of the most adventurous yet.
1. Sleep in a Tower Above the Sea, Panama
You'll have amazing views of the Caribbean from this four-story structure, located in the tropical Panamanian archipelago of Bocas del Toro. Explore area mangroves, surf the nearby Carneros point break, birdwatch—you've got the ideal hideout—for the more than five dozen native species, or just gaze downward into waters frequented by fish, stingrays, and dolphins. Head inland to catch a glimpse of anteaters, sloths, monkeys, and bats. A dinghy will transport you the short distance offshore to this unique tower, which sleeps up to five people. Plan to visit during the drier months, typically January through May and September through October, and pack quick-dry clothing for any surprise showers.
---
2. Dream Big in This Sky-High Crane, the Netherlands
For a new perspective of the Dutch capital, head to the Port of Amsterdam—the fourth-busiest in Europe—and perch yourself atop the Faralda Crane, constructed 150 feet above the waterfront hub. There's free parking beneath the structure, an elevator to whiz you to the top, and windows that afford amazing views of the River IJ (pronounced "eye") and the greater city. The bi-level apartment for two features a rain shower, air-conditioning, Wi-Fi, and, for an additional fee, use of a shared hot tub. There's no kitchen but the burgeoning, industrial NDSM area its in is full of restaurants, bars, street murals, and art galleries. Or hop the ferry into Amsterdam proper, a ride that takes just 15 minutes—and is free.
---
3. Check Out This Floating Cabin, Latvia
Well, this gives Swan Lake a new meaning. Located 100 miles west of Riga on the northern shores of Lake Usma—one of the nation's largest and the surrounds of which are more green in the summer than these photos depict—this getaway is popular with outdoor recreationists. Boat, swim, sail, or fish the lake's waters, cycle its 34-mile perimeter, or hike its multitude of trails. Floating cabins are quite popular in these parts, but the Swan is designed with all the nesting essentials for two: a woodstove, a bedroom, and a bathroom. Reviewers rave about the view and the calm, natural environs. Do the real birds flock to the lake? Indeed.
---
4. Snuggle Up in a Snow Igloo, Finland
Immerse yourself in the landscape of Lapland with a stay at this igloo, located adjacent to a lake and Pyhä-Luosto National Park, and created winter after winter by the family that rents it out. You and up to three others will have your own bed—but come prepared for the cold, with your own sleeping bag and adequate thermal wear, because below-zero temperatures are the norm here much of the year. (Although a nearby shared, heated house for visitors to use is available with a kitchen, toilets, and a shower.) The flip side of feeling the chill is getting to admire the northern lights, not to mention nearby cross-country trails, a downhill ski resort, and owners who work as adventure outfitters and can arrange activities in the surrounding area, including fat biking, snowshoeing, horseback riding, and ice fishing.
---
5. Get Grounded in This Earth Conker, Wales
It's a metal soccer ball, a space orb, a copper conker, as Brits call it (that's a buckeye to you and me). However you think of it, this innovative outpost offers simple pleasures amid the moors of central Wales. When the weather is wet—something that happens on the regular—you'll need four-wheel drive to navigate the terrain. But if off-grid is what you're after, and a routine of daily walks in the woods, past grazing sheep, and down to the small nearby town and its pub, followed by a campfire and a homemade pizza, and maybe a bath in the outdoor tub, then this remote, unique Airbnb for up to two people will aid what ails you.
---
6. Play Out the Apocalypse in This Bunker, New Mexico
Step back in time, and below ground, with an overnight visit at this historic bunker outside Roswell. The site is one of hundreds around the nation built to defend the U.S. from what were perceived as serious foreign threats during the Cold War. Unfamiliar with that period and its weapons? The owners offer a full tour of the grounds, which include a 186-foot-deep missile silo and a launch-control center, the upper level now renovated to serve as lodging for two, with kitchen essentials, a grill, and shared green space above ground. Spend your evening paging through old instruction manuals and emergency operation procedures or perusing related memorabilia—one guest compared it to staying in a museum, with time to explore and gawk at points of interest like an escape hatch and blast doors—and step outdoors come nightfall to enjoy the immense starry skies, or bring your binocs to birdwatch for owls.
---
7. Live in a Yellow Submarine, New Zealand
Now you can sing the Beatles' song in a place nearly perfect for the lyrics. You won't be underwater, but the coast is a quick 30-minute drive away. Instead, this cheery North Island sub is surrounded by a sea of green: forested farmland 100 miles north of Wellington. From its Beatles-themed bathroom and porthole windows to the bunk-bed quarters for four and more dials and levers than you'll know what to do with, these creative confines have charmed many an overnight guest.
---
8. Hang Out in the Belly of a Snake, Mexico
Likely one of the most popular picks on Airbnb, this half-serpent, half-bird, designed to resemble its eponymous Aztec god, is typically booked out months in advance. One look at its imaginative and organic design will explain why: its shape, detailed mosaic tilework and ceramic details, colored-glass windows, an open-air shared deck in the snake's mouth, and thoughtful landscaping (both inside and out) make this a mythical, one-of-a-kind experience, as many visitors have attested. Located within a 40-acre gated community west of Mexico City, Quetzalcoatl's Nest consists of ten residences—you'll be staying in one in the belly of the beast, which can sleep up to six people. Getting there requires a car or an Uber, but the property's expansive natural surrounds, open spaces, and native wildlife will tempt you to just hang out on-site.
---
9. Float Your Campsite, the Netherlands
Motor your platform raft around a lake and canals until you've found just the right spot to moor for the night. You and a partner can fish, swim, birdwatch, and enjoy as much of a hermetic natural getaway as you like, far from any and all annoying campers, with this raft setup. What's provided: a tent, a small camping kitchen and a makeshift table and chairs, a portable toilet, and a buoyant pallet with an attached outboard engine. The rest is up to you. Just 30 miles north of Amsterdam, this region is an ideal respite for a quiet weekend, with opportunities to explore nearby windmills, tulip fields, and the dunes of Bergen aan Zee, ten miles west on the North Sea coast.
---
10. Embrace a Box with a View on the Riviera, Italy
Such simplistic quarters are not what you'd expect to find on the Italian Riviera. But we can't all afford to stay in a pastel-colored palazzo overlooking the sea. Small and bare-bones, this is. But how much time will you stay holed up in your StarsBox, when the beach is just minutes away by foot and you've got an adjacent (albeit shared) swimming pool, hot tub, and sauna at your disposal? We'd argue that, if anything, these digs will prompt you to make the most of your outdoor time. After all, you didn't come to this part of the Mediterranean to stay indoors. And if you'd rather stay amid the vineyards, this StarBox in the neighboring province of Piedmont has a similar setup.
---
11. Commune with Animals at a Biosphere, Bolivia
Just outside one of Bolivia's most populated cities, Cochabamba, is a beetle-shaped structure set in an agricultural area and backed by the Andes mountains. The owners provide breakfast and then leave to you go about your day—you can hike the foothills, hop the bus into town, or organize a day trip to explore nearby Tunari National Park. But La Biosfera, with its clean, white, modern design and laid-back vibe, tends to keep guests lingering around the property. Wake up to birdsong, do some yoga by the lake, and wander the grassy grounds to encounter free-roaming llamas, peacocks, geese, and other domesticated animals. Shop the local market and then wind things down by the fire pit. Or bring friends for a trip that combines relaxation with high-altitude trekking. That's how we'd do it.
Tasha Zemke has traveled extensively around the U.S. and the world and has outgrown her desire to camp on a thin blow-up mattress. Airbnbs have become her accommodation of choice, and she spends hours looking for those with notable architecture. She recently stayed at a shotgun-style home in New Orleans, where the city's famous chicory coffee was stocked in the pantry, the nation's oldest continually functioning streetcar was steps from the front door, and a favorite local shave-ice stand was two blocks away.
Lead Photos: From left, Courtesy Chillderness/Rowan Bailey; ITPhoto/Alamy; Courtesy the Airbnb Photographer Community