Land of the Lost
From paddling to biking to hiking, here are the top spots from Nova Scotia to the Northwest Territories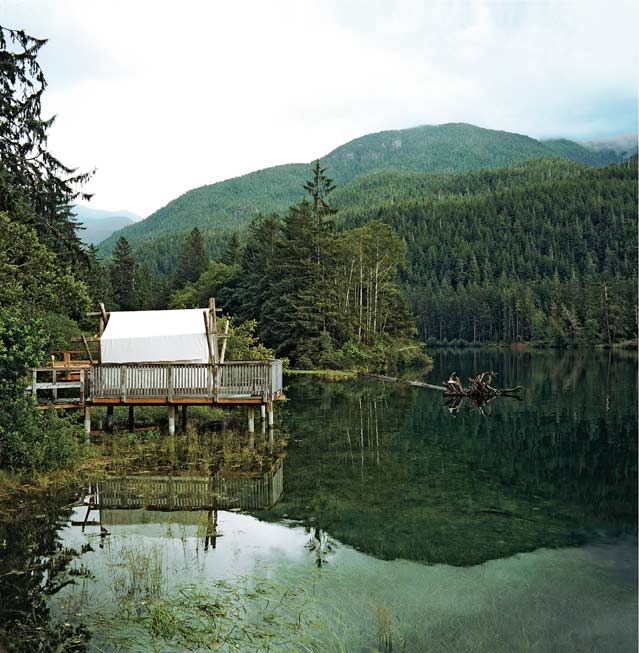 Heading out the door? Read this article on the new Outside+ app available now on iOS devices for members! Download the app.
The 10 Best Canadian Adventures
How do you pick an adventure in a country as big and boundless as Canada? We asked our favorite nomads to reveal the greatest hidden paddling, biking, and hiking spots, from Nova Scotia to the Northwest Territories.
The Best Canadian Adventures: Mountain-Bike Quebec
Easy cranking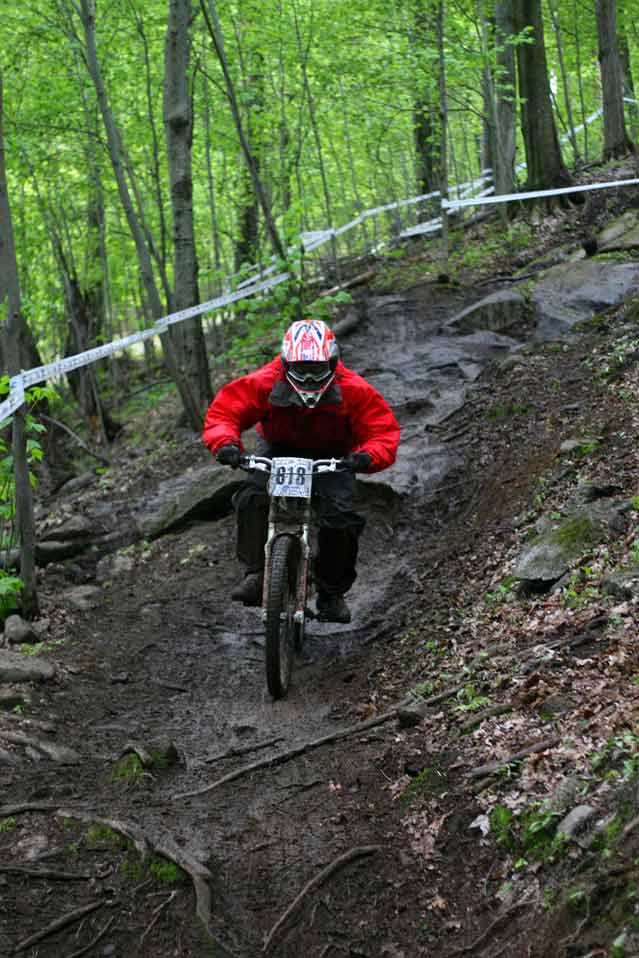 Canada's tourism department sells British Columbia as the World's Best Mountain-Biking Destination. They might be right, but I'll be in Quebec. With hardwood forests, steep fjordlands, and 17th-century cities, the province has European culture and rugged terrain. Plus, it's just a 90-minute flight from New York City. Three summers ago, I spent a week riding half a dozen trail systems on a west-to-east road trip through Quebec with a group of B.C. mountain-bike junkies. We started with downhill laps an hour east of Montreal at Ski Bromont, a 1,263-foot peak with three chairlifts, 19 downhill trails, and no crowds. Then it was twisting, technical singletrack through the rolling hills of Coaticook Gorge and beginner banked turns at a limestone canyon called Vallée Bras du Nord. But the choicest rides were on the 100 miles of cross-country trails at Mont-Sainte-Anne, a bike-friendly ski resort 45 minutes from Quebec City. An hour after finishing the nine-mile Le Ruissea Rouge loop, I was sipping beer at a bar with views of the Saint Lawrence River on one side and 400-year-old ramparts on the other. Try finding that in B.C.
GET THERE: Fly to Quebec City and set up shop at the Hotel Château-Bromont at Ski Bromont (doubles, US$177). Get your bikes at the mountains' rental shops (US$60 per day at Ski Bromont; US$116 at Mont-Sainte-Anne).
The Best Canadian Adventures: Paddle Ontario's Missinaibi
High water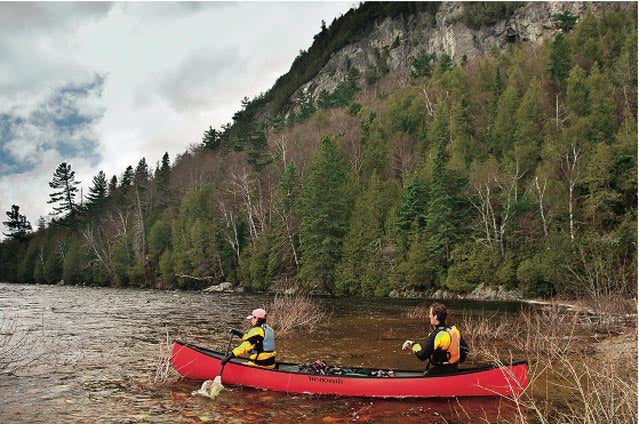 Of the 50 sets of rapids studding the Missinaibi River's 350-mile route, only two absolutely must be portaged. The rest are fun Class II–III affairs, which is what makes the Missinaibi one of the world's best canoe trips: it's tough to find that many moderate rapids all in one place. A centuries-old trade route between Lake Superior and James Bay, the Missinaibi cuts through thick birch and spruce forest, rimmed with granite bedrock that makes for clean, level campsites. One July, I led a group of teens down the river for a canoe camp, and we spent a day hauled out at one of those mandatory portages. Thunder-house Falls is a spectacular three-tiered maelstrom and an ideal place to lay over for a few days, listen to the falls' roar, and yank walleye out of the water below. Which is what we were doing when a camper ran up shouting that one of our canoes had floated away and another one was about to. The river had flash-flooded overnight. I waded nipples deep into the swollen current and dragged one escapee back to shore. We loaded the remaining boats to the gunwales and wobbled downstream in search of the other. Then, slowly spinning in a wide eddy just a few hundred yards above the nasty, appropriately named Hell's Gate gorge, there was our missing green canoe, upside down but intact. It being summer camp, we celebrated that night by hog-tying a camper to a tree. (Sorry, Will.)
GET THERE: You can paddle the entire 350-mile route from Missinaibi Lake to Moosonee in 20 days—or split the trip in half by putting in at Mattice, where the river is crossed by the Trans-Canada Highway. Rent boats from Missinaibi Headwaters Outfitters in Chapleau (US$240 per week), which also offers shuttles. At Moosonee, load your canoes into a boxcar on the Polar Bear Express train—there are no roads here—and head to Cochrane, where your shuttle awaits (US$60 plus US$100 for the shuttle).
The Best Canadian Adventures: Climb B.C.'s Okanagan Valley
Sweet sidetrack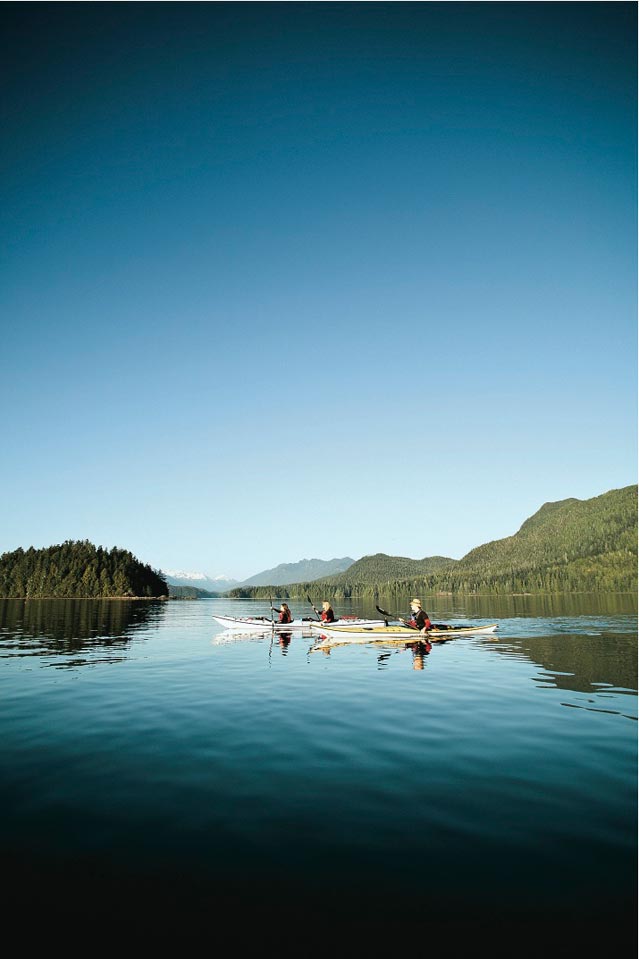 One time a couple lady friends and I had this great idea to drive my two-seater pickup with all of our climbing gear from Santa Fe to Alaska, each of us taking turns riding in back. We never even got close, and the reason wasn't because we waited until September to roll out or because the Mounties at the Canadian border ransacked our dirtbag-mobile for several hours. The problem was British Columbia. It stopped us as if we'd run into a rock wall, which wasn't too far off. Just 40 miles north of Oroville, Washington, the gneissic goodness of the Skaha Bluffs poured through the windshield, and we mashed the brakes. How could we not linger here in the hot Okanagan Valley, where more than 650 sport routes soar over the pines? A few days later, with knuckles sore from so many crimpers, we packed up and hopped in with a plan to gun it 1,400 miles north to Haines. Instead we drove 160 miles the wrong way to Revelstoke, where the intermediate crags below a gorgeous 5.10 roof at the Begbie Bluffs area kept us occupied for days. In more than two weeks on the road, we never got farther than four hours north of the U.S. border. We all learned something valuable about planning Alaska road trips, though: if B.C. is in the way, you should probably take a plane.
GET THERE: Fly to Kelowna and drive an hour south. In Okanagan, book a lakeside campsite at the Banbury Green Resort (US$45). In Revelstoke, crash at the Swiss Chalet Motel (US$90) and climb the Raptor Wall at Begbie Bluffs, just south of town. For guides, call Skaha Rock Adventures.
The Best Canadian Adventures: Sea-Kayak B.C.'s Clayoquot Sound
Fire islands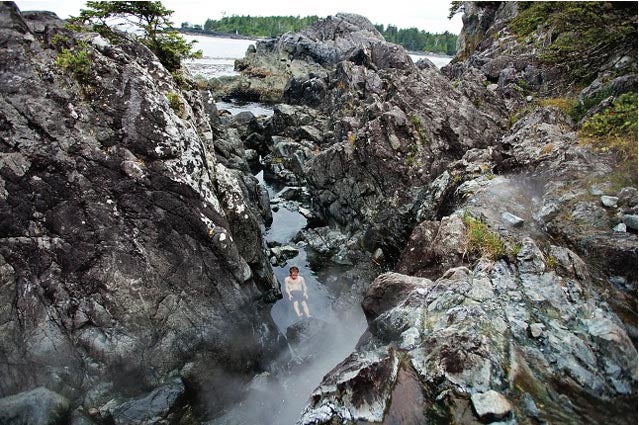 Reaching Clayoquot (klak-wot) Sound, one of the woolier sea-kayaking destinations in North America, requires a two-hour ferry ride from the city of Vancouver to Nanaimo, on Vancouver Island, a 130-mile drive west to the end of the Pacific Rim Highway, and a willingness to launch your craft into a storm-lashed archipelago crowded only with killer whales. The draw: 236,000 square miles of watery wilderness. Some 30 miles from the put-in at Tofino are shoreline hot springs—a perfect camp spot. Of course, that doesn't mean the paddling is easy, as I learned on my debut trip to Clayoquot back in high school. It turns out that following the windward side of the islands, instead of the tame inland passage, means surf landings and long, exposed crossings. Fog can arise even in July, and strong currents slow the progress of those unacquainted with local tides—like me and my three buddies. We never made it to the hot springs: a squall blew in and stranded us on Vargas Island for three days. To pass the time, we built a driftwood fire large enough to divert passing tanker ships. (Hey, we were 17.) Recently, I asked my friend Tim what he remembered about the trip. "I still have nightmares about the awesomeness of that fire," he said. "Had it not been absolutely pouring rain, we would have surely lit up the entire island. It was freaking beautiful."
GET THERE: Plan your trip with Sea Kayaking Barkley and Clayoquot Sounds, by Mary Ann Snowden. Tofino provides the essentials: groceries at the Co-op and boats and charts from Tofino Sea Kayaking (US$40 per day for kayaks, including paddles, flares, PFD, sprayskirt). For a deluxe, all-inclusive version of the Clayoquot experience, take a 30-minute boat ride from Tofino to the spectacular kayak-equipped Clayoquot Wilderness Resort (US$4,800 for three nights).
The Best Canadian Adventures: Trek Alberta's Willmore Wilderness
Big empty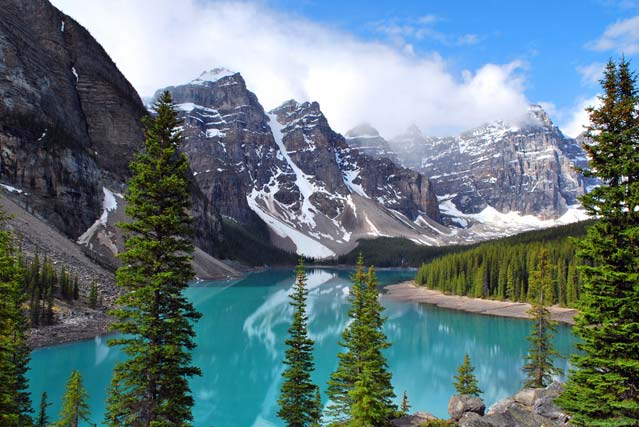 The first river crossing—deep and fast and glacier cold, without even a felled tree to help us—hammered home the differences between our destination, Alberta's Willmore Wilderness, and its tamer southern neighbors, Jasper and Banff national parks. On the far bank, a million-plus acres of roadless backcountry awaited us. So, clutching a long branch between us for stability, my wife and I edged across the waist-deep torrent and then collapsed with numb legs. We had 10 days' worth of food and a very loose plan to explore the steep passes along the park's southern boundary. Once we reached the high country, we followed our whims: camping next to a tiny lake perched on an outrageous slope; scrambling up one of the nameless peaks (and, from the summit, watching an orange dot—our tent—migrate down the pass in a fierce wind); dipping south into Jasper before contouring across to reenter Willmore in the next valley. The strangest twist: the long northern twilight we spent eating beef stew with a group of cowboy poets traveling on horseback. Anywhere else, it would have felt like a theme-park novelty act; in Willmore's rugged emptiness, we were the ones, with our Gore-Tex and shiny hiking poles, who seemed out of place and time.
GET THERE: The closest airport is three hours away in Edmonton; Calgary is twice as far, but the drive up via the spectacular Icefields Parkway makes it the better choice. In Willmore, start hiking at the Rock Lake trailhead near Hinton, Alberta, and bring bear spray. Entry and camping are free. (Oh, Canada!) For an outfitted trip, it's hard to beat a four-day horseback adventure (US$1,072).
The Best Canadian Adventures: Ride Nova Scotia's Tidal Bore
Royal flush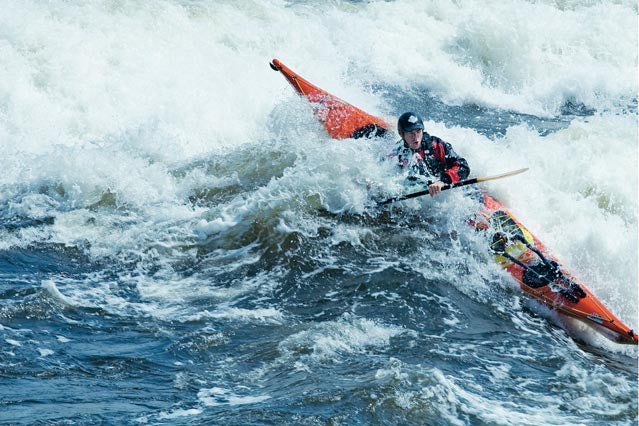 Twice a day, the Shubenacadie River transforms from Sea of Tranquillity to Victoria Falls when 100 billion tons of seawater from the Bay of Fundy pushes 20 miles inland at 30 miles per hour. The Shubenacadie's is not the world's only tidal bore, but it's the one place on earth where customers can pay an outfitter for an effort-free three-hour roller-coaster ride. "There's times you go and it's just a ripple," our guide, Tyler, told me. "Then there's extreme tide. You'll want to be holding on to the ropes real tight." Our group of six put the 16-foot Zodiac in the calm water just north of Fort Ellis, and Tyler beached us on a sandbar in the middle of the Yoo-hoo-colored river. Eagles soared overhead; a nearby mudflat beckoned. I took a few steps and was quickly mired waist-deep in quicksand. With the tidal maelstrom scheduled to arrive in minutes, I clawed at the muck—which resulted in further cementification. Soon Tyler came to free me, and just in time—five minutes later the water arrived in surges. Tyler torpedoed us bow-first into the torrents, and as we made laps over a bottlenecked stretch of the river where the swell was hitting 10 feet without pause, my fellow passengers shrieked with delight. One was tossed overboard. Before long the Zodiac resembled a surfaced submarine, and I was sucking water—my pants soaked, my toes pruned, and my Nikes left behind, deep in the quicksand.
GET THERE: Fly to Halifax and rent a car for the 30-minute drive to the Shubenacadie Tidal Bore Rafting Park in Urbania (cottages, US$130). The daily four-hour Zodiac trips are US$90.
The Best Canadian Adventures: Northern Exposure
The most innovative new outfitted adventures on the up side of the border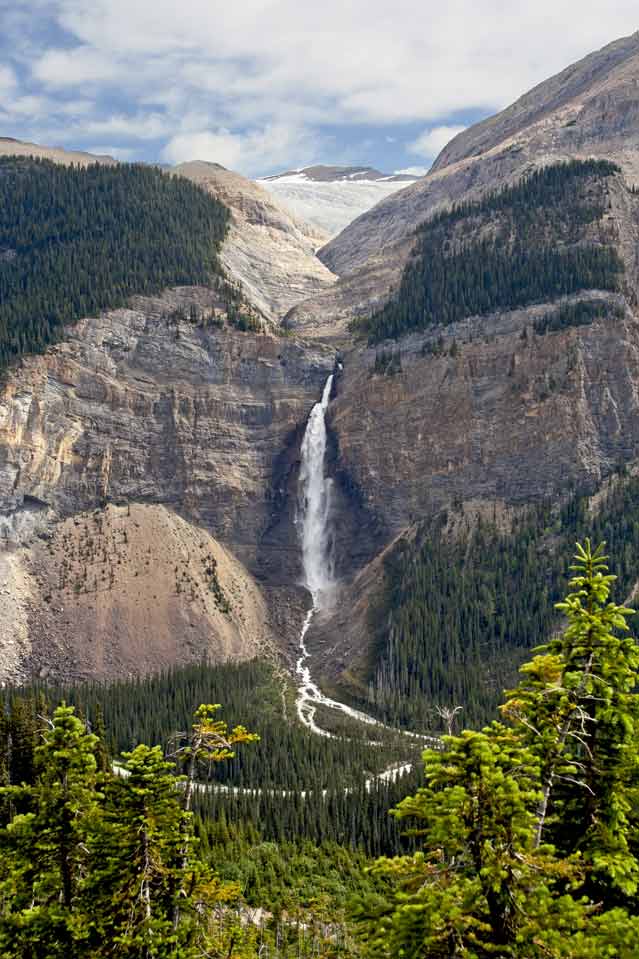 Raft, hike, and canoe through Yoho, Jasper, and Banff national parks on an eight-day trip with ecotourism outfitter Greenloons. Highlights: a crampon-assisted trek over the 1,200-foot-thick Columbia Icefields in Banff, a 6.5-mile hike to 1,250-foot Takakkaw Falls in Yoho, and a 14-mile float down the Class IV Kicking Horse River, framed by Yoho's 9,000-foot snowcapped peaks. US$1,649
Northwest Territories-based Canoe North Adventures launches a series of paddling-and-fly-fishing trips this year. Try the nine-day journey down the Northwest Territory's Great Bear River. As many as 10 guests (two per boat) start by fishing for monster trout on Great Bear Lake, then crash in the aboriginal village of Deline before paddling 90 miles downriver to the confluence with the mighty Mackenzie. Campsites are grassy points on the grayling-clogged river. US$3,964
This summer, Canadian Mountain Holidays introduces heli-assisted via ferrata (roped-in, Italian-style mountaineering) trips. The four-day Conrad Glacier Experience takes guests zip-lining over glacial waterfalls and scrambling up giant orange rock slabs to the toe of the Conrad Glacier in B.C.'s Purcell Range. Each evening there's a heli ride back to the spectacular, lakeside Bobbie Burns Lodge for salmon or steak dinners and a massage. US$2,607
Fernie, B.C., mountain-bike outfitter Sacred Rides has been ginning up smart trips in the land of singletrack since 1996. Its latest: an eight-day yoga-and-biking tour based out of the secluded Nipika Mountain Resort, three hours west of Calgary. You'll need the yoga to stay limber after bombing trails like Dem Bones, a two-mile intermediate route that drops 1,200 vertical feet. US$2,028