Finding Solitude Adventures
Travel to these destinations for tons of open space—and it's all yours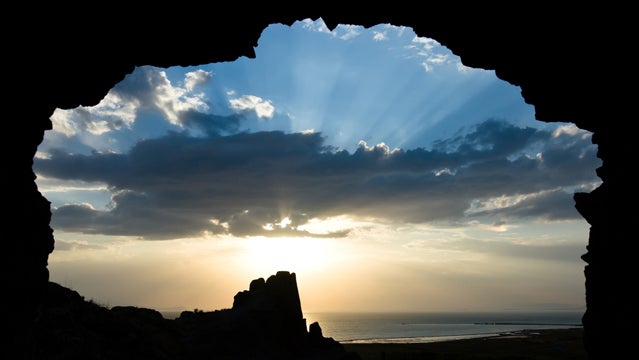 Asaf Eliason/Shutterstock.com
Heading out the door? Read this article on the new Outside+ app available now on iOS devices for members! Download the app.
7 Trip Ideas For Those Seeking Solitude on a Grand Scale
Let the masses line up for Old Faithful and Half Dome. These bold adventures take you to big places with the breathing room to match.
Canyonlands National Park
Wrangell-St. Elias National Park
Carlsbad and Big Bend
Apostle Islands National Lakeshore
Dinosaur National Monument
Grand Teton National Park
Acadia National Park
Ride the Rim: Canyonlands National Park, Utah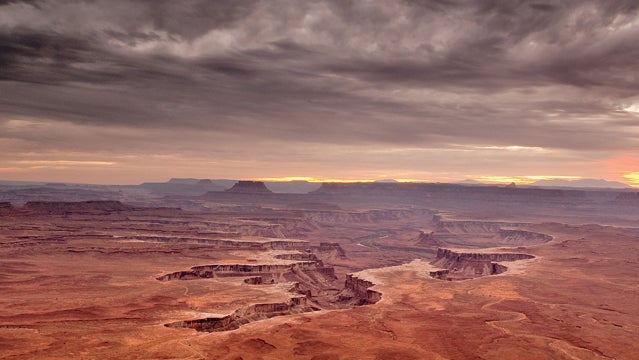 The White Rim Trail is a 100-mile mountain-bike route with clear views of the Land of Standing Rocks, the Needles District, and Musselman Arch, located just below the park's Island in the Sky mesa. In other words: our kind of commute. It's possible to hammer out the whole trail—an old prospector's jeep road—in two days, but we recommend taking three nights to savor the sights and swap turns driving the trailing 4WD vehicle with your supplies. Start by heading east from Shafer Trail and drop 1,000 feet down a series of switchbacks to the White Rim Trail.
Make the side trip to the Goosenecks overlook, a sinuous spot of the Colorado River canyon that nearly bends back upon itself, and pitch a tent at White Crack campground. The ride finishes with a trek to the Holman slot canyon and a merciless 1,000-foot climb up the Mineral Bottom Road switchbacks to the mesa rim. Permits sell out fast for the best spring and fall dates ($30), so start planning now. Or sign up for a spot on one of Magpie Adventures' trips ($915), and let the guides take care of cooking up your fish tacos.
Get Lost: Wrangell–St. Elias National Park, Alaska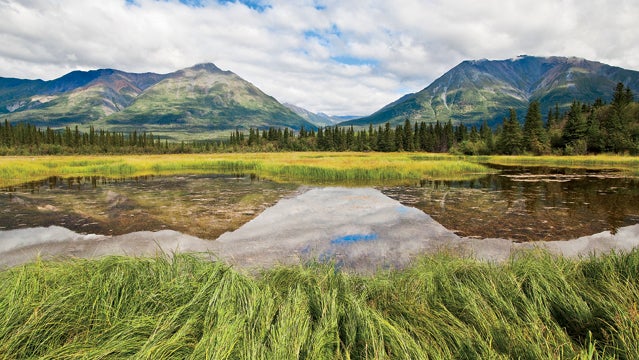 At 13.2 million acres, Wrangell–St. Elias is bigger than Switzerland. The Kennicott and Copper Rivers carve through giant valleys, glaciers stretch the length of Rhode Island, and the 14,000-foot peaks look even bigger when they jut out 9,000 feet from the ground. Which is to say, this place is daunting. Here's how to do it right: Take the McCarthy Road—one of only two roads in the park—until it dead-ends near the Kennicott River, then cross a 440-foot-long footbridge and hike 1,000 feet up an old mining road to the Kennicott Lodge ($185), which overlooks the 25-mile-long Kennicott Glacier. From there you can day hike on the glacier, climb above the tree line to views of the Chugach and Wrangell ranges, or sign on for three- or four-day rafting trips on the rollicking Class II Chitina (from $990).
Or join Wrangell Outfitters' 12-day expedition through the wide-open Nutzotin and Wrangell ranges—towering chains of 14,000-foot peaks, open tundra, and lush wildflowers in the park's northeastern corner. The horseback trip covers a 100-mile loop to the ghost town of Chisana past ruined mines, hundreds of white Dall sheep, and abundant grizzlies—most of which have never seen a human (from $5,280).
Take Two: Carlsbad Caverns National Park and Big Bend National Park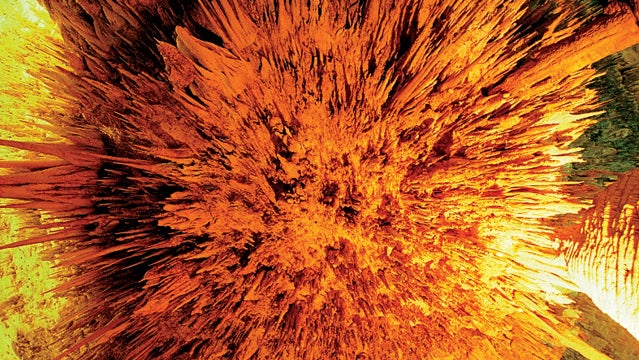 The 250 miles between these two criminally overlooked parks comprise one of the best road trips in the country, offering Mars-like landscapes, eclectic pit stops, and almost complete isolation. Take a week to cover it. Monday: Slip the masses in Carlsbad Caverns' Big Room by signing up for a three-hour guided tour of Lower Cave, where you'll climb slick flowstones and explore eerie formations like the Texas Toothpick ($20). Spend the night at the Trinity Hotel, a refurbished 1892 bank (from $149). Tuesday: Drive 175 miles south to the McDonald Observatory, a cluster of mammoth telescopes perched on twin 6,000-foot peaks with outstanding views of Saturn this month ($5). Bunk at the 39-room hilltop Indian Lodge at Davis Mountain State Park ($95).
Wednesday: Hike seven miles of rugged trail in Limpia Canyon Primitive Area to views of the Chinati Mountains. Then get back on Highway 118 until you hit Terlingua, just outside Big Bend National Park. Check in at La Posada Milagro, built from the stones of a ruined mining town ($195), and grab pork spare ribs at La Kiva (lakiva.net), a bar carved into a cavelike space on a dry creekbed. Thursday: Explore Big Bend's 150 miles of hiking and biking trails, ranging from 7,000-foot peaks to desert slot canyons. Friday: Float the Class II–III Rio Grande through the 1,500-foot-deep Santa Elena Canyon, a sheer limestone gorge patrolled by peregrine falcons and wild burros (raft and canoe rentals from $35; guided trips from $70).
Paddle Out: Apostle Islands National Lakeshore, Wisconsin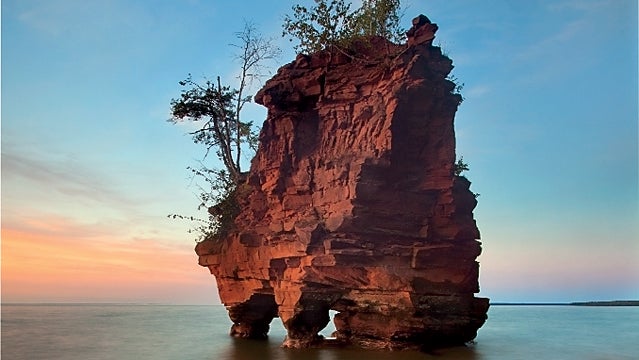 The far edge of this 21-island archipelago is harder to reach than hubs like Stockton Island, but the payoff—empty campsites, little-known sea caves—beats camping amid a slew of families. Reserve campsite permits for Outer and Devil's Islands a month in advance ($10 per night; 715-779-3397), and rent boats and gear at Living Adventures in Bayfield, which also guides trips (rentals from $32). Make the 18-mile paddle to Devil's Island and spend the next morning exploring the park's most extensive sea-cave system—a portico of red striped columns and galleries along the island's north rim—before the wind flushes them with afternoon waves.
On day two, make your way past red sandstone boulders that litter the shoreline to Outer Island, which has numerous small waterfalls and a 140-year-old lighthouse to explore. On day three, head inland to Oak Island, where you can stretch your legs on 11 miles of trail. Grab campsite A, which abuts a long sandspit beach. As you paddle back to Bayfield on your last day, check out the 100-year-old wrecks of the Fedora, Ottawa, and Coffinberry, each lurking just below the surface.
Gorge Yourself: Dinosaur National Monument, Colorado and Utah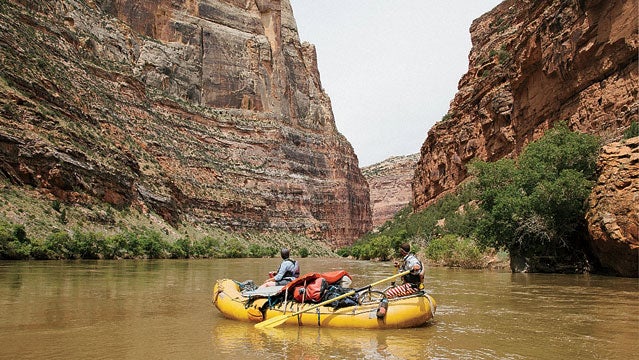 The Grand Canyon is great if you've got three weeks of vacation and $5,000. If you don't, consider Yampa Canyon, a worthy alternative with 2,500-foot-deep tiger-striped sandstone walls, legendary whitewater, and undisturbed native ruins. Each spring, snowmelt from across northwestern Colorado squeezes through the canyon and flings up ten-foot waves for rafters. But because the Yampa is undammed—unlike the Colorado in the Grand—the fun is over by late June.
To DIY next year, apply for a private-party, five-day permit by January 31 (request Mathers Hole campsite, a giant canyon overhang where tents aren't even necessary, $200). To float it this year, snag a spot on Holiday River Expeditions' near daily launches (from $885). The guides will steer you safely down Warm Springs rapid, a notorious boat flipper, set up your tents each night, and fill your plate with salmon filets and fresh baked brownies. You'll leave almost as awestruck and inspired as you would in the Grand, but you'll still have vacation days left for another adventure.
Rise Up: Grand Teton National Park, Wyoming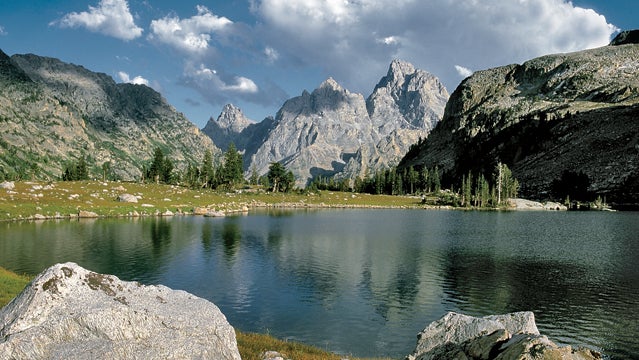 Tourists swarm the Tetons' eastern flanks on trails like Cascade and Garnet Canyons, but almost no one sees the Tetons from the west, which can be accessed only by foot or horseback. Thankfully, the four-day hike along the 32-mile Teton Crest Trail puts you close to the peaks with almost no traffic. Give yourself five days and four nights to traverse the 8,000-foot alpine meadows. Get right to the heart of the trail via Jackson Hole's aerial tram ($26) and hike to Marion Lake, where you can reserve a campsite with 24 hours' notice ($25).
Day two gives you the first real eyeful of the Cathedral Group from the top of 9,570-foot Fox Creek Pass. Don't burn through all your camera memory at once—the peaks will remain in view for the next three days as you cross wildflower-filled Alaska Basin and burbling trout steams. Catch your breath on a sun-warmed rock after a dip in Lake Solitude on your last day, then make your big push over 10,720-foot Paintbrush Divide. Optional refuel: drive your shuttled car the 19 miles from String Lake to a well-earned massage at the Four Seasons ($160) and a butter-braised steak at the newly opened Handle Bar.
Play the Coast: Acadia National Park, Maine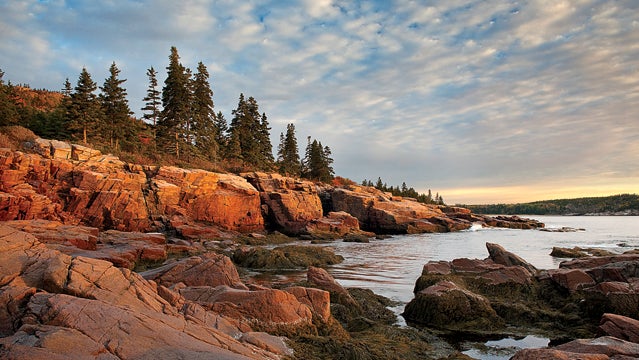 The Maine coast is an ideal place to get around by boat or paddle. But the hiking and biking are just as epic. Get your fill as you ride, sail, and sea-kayak your way through some of Maine's 4,600 rocky, spruce-crowned islands in solitude. Summer Feet weeklong, Cycling's 185-mile journey ($2,795) starts with a moderate 54-mile road ride from Clark's Island to Camden along Birch Point State Park's rocky coast. Rest your legs the next day as you cross Penobscot Bay on a 57-foot, cedar-and-white-oak schooner while hoisting sails and feasting on crab cakes.
In the morning, cycle 16 miles to Blue Hill Bay, where you'll grab a kayak for a 12-mile island-hop past dolphins and seals to Acadia. From there embark on an 11-mile traverse through maple and pine forests, past waterfalls, and over multiple peaks until you reach the oceanfront hot tubs of Bar Harbor's Harborside Hotel. Cap the trip off with an ascent of 1,532-foot Cadillac Mountain, after which you won't feel bad tucking into lobster for the sixth night in a row.
Trending on Outside Online