7 Ways Your Ski Season Is About to Get Better
From expanded resort acreage to turbocharged lifts, we tracked down all the ways you can make this winter your best ever
Heading out the door? Read this article on the new Outside+ app available now on iOS devices for members! Download the app.
All across the country, resorts have been working hard to bolster their offerings and to fix systemic issues, from addressing long lift lines and the mountain-town housing shortage to investing in renewable energy. With the proper precautions, there are more reasons than ever to hit the slopes this season.
There's More Ground to Cover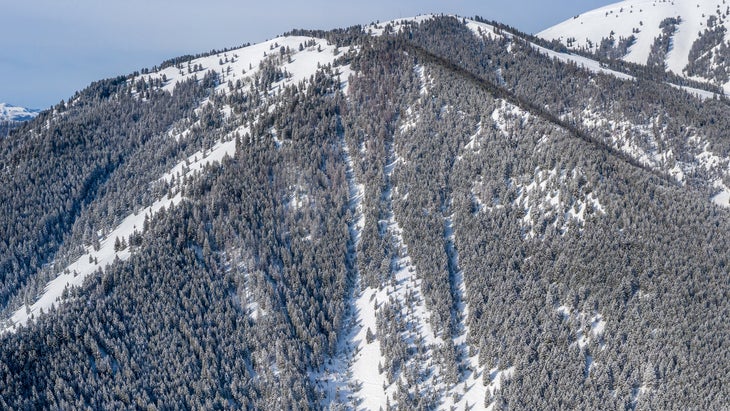 Ski resorts spend years—decades even—building out their terrain. The wait is generally worth it, with new glades, bowls, and buttery runs to christen. This season in Colorado, Telluride is getting 40 new acres of beginner and intermediate terrain, including the Grouse Glades, while Beaver Creek will open 250 acres of easy skiing, with two quads and 17 new trails in the bowlish McCoy Park. Last February, Idaho's Sun Valley pulled the curtain back on 380 acres, but due to COVID-19 restrictions, many weren't able to ski it. This is your year.
The biggest expansion is at Bluebird Backcountry, located near Steamboat Springs, Colorado, and the only no-lift, ­all-backcountry ski area in the U.S. It will open 12 new runs, for a total of 25. This includes four gullies that are patrolled and controlled for slides, with steep pitches that tilt to a puckering 45 degrees, which increases its avalanche-managed acreage to 1,200. If that sounds intimidating, sign up for the Bluebird+ membership for access to backcountry lessons, seminars, and as many half-day clinics as you want all season long (from $250).
Birding on Skis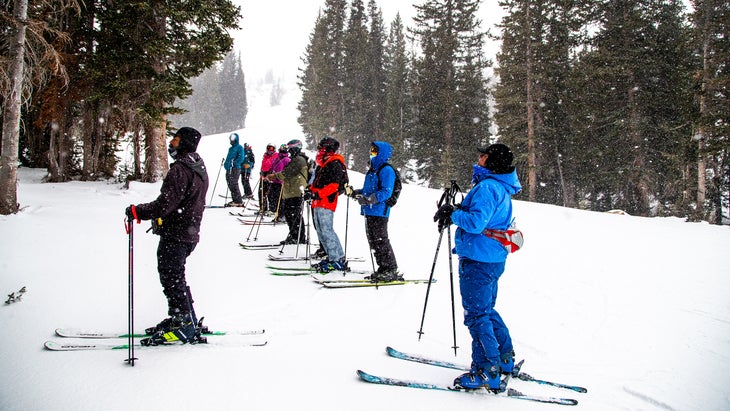 In the early months of the pandemic, Americans took up bird-watching like depraved raptors. It is a surprisingly delightful passion that also happens to pair well with skiing. Sign up for Alta's Birding on Skis tour and you'll head out on a half-day adventure into Utah's Little Cottonwood Canyon to look for resident populations of rosy finches, mountain chickadees, and, if you're lucky, perhaps a pair of the mating golden eagles that frequent the area below 10,920-foot Devil's Castle. Tours start with a 9 A.M. ride up Alta's Collins Lift over epic black-diamond terrain and end at noon at the Albion base area. A conservation ecologist from Salt Lake's Tracy Aviary will be along to help distinguish nuthatches from creepers. Because you'll be contributing to a bird survey of the area, the tour is free and includes a half-day ski pass. Participants need only be at least 12 years old and able to ski a groomed blue run.
Lift Off
This winter will see the unveiling of arguably the most technologically advanced butt hauler on this side of the Atlantic. Introducing the Kancamagus 8, a.k.a. Kanc 8, at New Hampshire's Loon Mountain Resort, the first eight-pack in the East and one of only a few such behemoths in the country. This particular beast features heated ergonomic seats that look like something out of a SpaceX rocket, a locking safety bar, individual footrests, and, of course, a tinted bubble to stave off that icy New England wind. The extra-wide chairs can be spun up to 12.5 miles per hour—­making the Kanc 8 the fastest lift of its size in the U.S.—and can haul 3,500 skiers per hour to a mid-mountain station in 4.5-minute increments, which is barely enough time to cool your quads. It's likely the kickoff of a national overhaul to lift technology. Next up is Montana's Big Sky Resort, which will launch the Swift Current 6, a blazingly fast (read: 13.6 miles per hour), heated six-pack that will increase uphill capacity by 50 percent.
Lodging Gets an Upgrade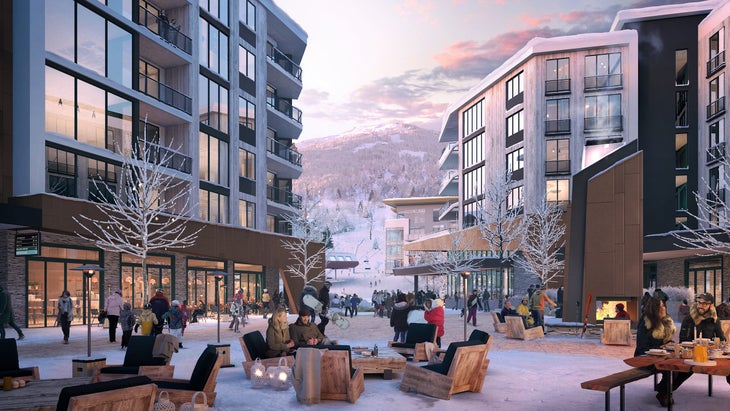 Most destination ski resorts need a robust real estate scene and high ­occupancy rates to help fund all the improvements that keep us coming back. This winter brings a slew of new places to snooze at some of the country's most iconic resorts. Aspen Snowmass will see the opening of Viewline, a mid-mountain luxury complex that includes an Ayurvedic spa, 254 rooms, and 20 suites featuring sheepskin throws and awesome ski-in, ski-out access (from $329). Meanwhile, in Park City, Utah, the Pendry (from $1,500) opens in Canyons Village with 152 rooms and the city's only rooftop pool. The project making the biggest splash is one of the largest of its kind ever to land in Montana: the Montage at Big Sky (from $1,395). Clocking in at a whopping half-million square feet in the heart of the mountain ­village, the 139-room, 39-­residence stunner looks out over the 8,400-foot Spanish Peaks and has six restaurants, an indoor lap pool, a 10,000-square-foot spa, and, just out the door, a 450-foot tubing park for kids. Of course, the 5,800 skiable acres just beyond your black-marble bathroom are the real attraction.
An Innovative Ski-Town Fix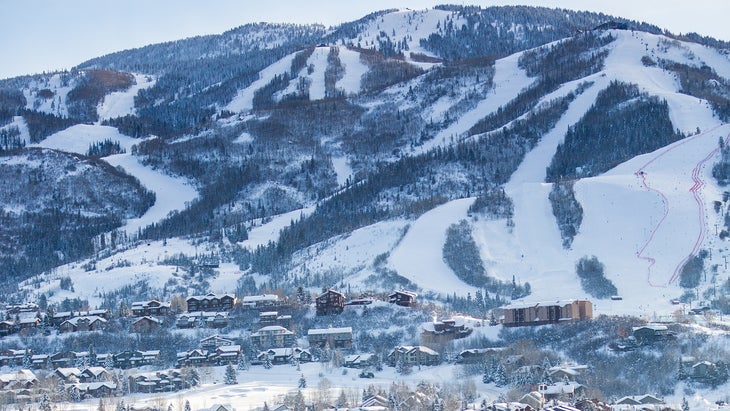 The mountain-town housing shortage intensified after a pandemic-fueled real estate boom drove out longtime residents and decimated the local workforce. Summer visitors to these locales report long waits and fewer services due to staffing shortages. Where does that leave us this ski season?
Resorts planned ahead. Starting this winter, Aspen, Solitude, Sugarbush, Vail, and others will pay non-tipped employees at least $15 an hour, more than twice the federal minimum wage. Mount Bohemia, in Michigan, will trump them all by paying $20 an hour. But finding an affordable place to live is as tricky as ever, especially if you want to settle down.
Enter the Big Sky Community Housing Trust, a newly formed nonprofit that makes the Montana haven of 3,000 full-time residents and some 4,000 vacation homes one of the most promising ski towns to live and work.
The trust, which is partially funded by a resort tax, builds on an idea unfolding in Vail, where the town pays homeowners a percentage of their property value in exchange for saddling the property with a restricted deed that slows appreciation, lowers the sale price, and helps bolster a more affordable housing pool.
The Big Sky version uses grants and money from the resort tax to give the owners of second, third, and even fourth homes subsidies to rent their pads to local workers at reduced rates instead of going the Airbnb or Vrbo route. The trust is also a key player in the construction of 52 gorgeous condos with restricted deeds that will sell for half their market value, with a hard 2 percent cap on annual appreciation.
That's a big difference in a place where the average condo now goes for $1 million and a single-family home will set you back a cool $2.2 million. "A regular working Joe just can't do that," says Laura Seyfang, the trust's director. "We're trying to create a little balance here."
The Other End of the Rockies
There's so much in Colorado and Utah to be excited about this winter, with new lifts at Breckenridge, Keystone, and Snowbasin—to name a few—and a cat-skiing operation opening in Loveland Ski Area's Dry Gulch. But if you have the time and means for only one trip, make it count by going to Taos Ski Valley. The New Mexico resort, perhaps the least corporate of the major resorts in the Rockies, averages 300 inches of snow per year and has a smattering of new offerings this season. For starters, you can sign up for an exclusive three-day learning session with Olympian Deb Armstrong (gold, giant slalom, Sarajevo '84), who will personally coach you out of your poor angulation or whatever it is that ails you. She's in high demand, though, so for the rest of us, there's Taos's new pro-guided experience, where a local ripper will show you secret stashes and the best way to get your tails into the fall line on the double blacks off West Basin Ridge. Back down in the village, you'll find new attractions like an ice rink, dinner sleigh rides, and a skier-services building.
Power for the Powder
For all the fresh air, exercise, and soul resetting that sliding down snow-covered mountains offers, resort skiing can be pretty rough on Mother Nature. So it's worth mentioning that Alterra, Boyne, Powdr, and Vail—some of the biggest resort conglomerates in the game—banded together over the summer to fight climate change by signing an agreement aimed at reducing impact while lobbying for policy changes that make renewable energy the norm in the resort industry. This winter, Park City will take a big step toward fulfilling that goal by tapping into the Elektron Solar Project, an 80-megawatt solar farm southwest of Salt Lake City that will provide every last drop of electricity to the resort by 2023.
Lead Photo: Courtesy Taos Ski Valley