America's Best Towns: 2010 Edition
Where do you end up when you want a community with incredible access to the outdoors, affordable homes, and solid jobs? Some very surprising places. Introducing the top 25 towns in America for cycling, paddling, running, surfing, skiing, and—because you might want everything—all of the above.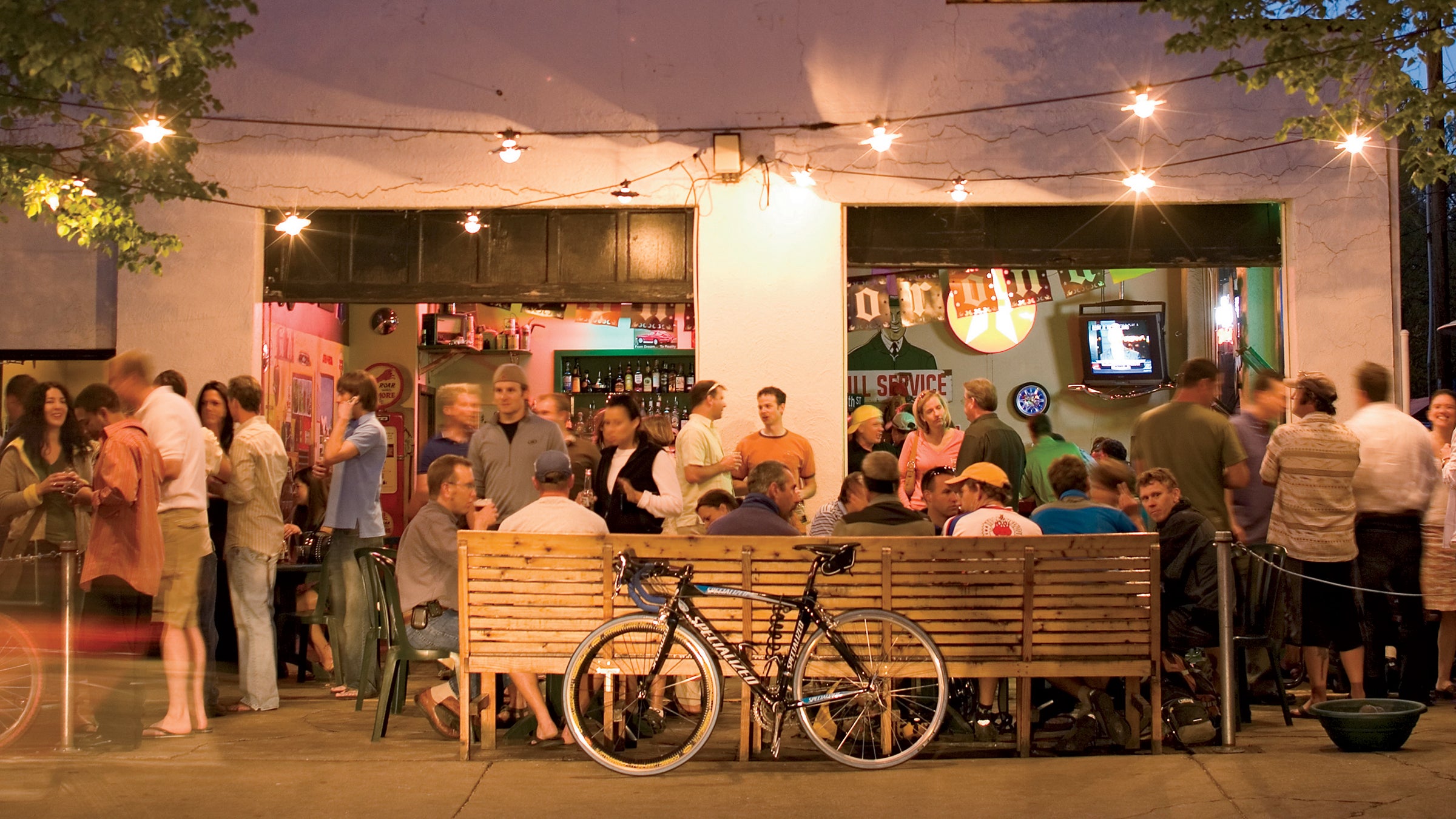 Woods Wheatcroft/Aurora
Heading out the door? Read this article on the new Outside+ app available now on iOS devices for members! Download the app.
Play Hard, Live Here
What makes a great adventure town? Every year, that same question is at the core of the debate over our Best Towns list. The answer, of course, depends on what you're into. That's why, this time around, we decided to try and please everyone. Instead of compiling a single catchall list, we picked the best places for our favorite sports: running, cycling, skiing, paddling, and surfing—and because some of us like a little of everything, the best multisport meccas, too. But while the quality of the sporting life was a defining factor, it wasn't the only one. For a town to make the list, it also had to be balanced—culturally vibrant, with a resilient economy and a sane housing market. Reconciling all that wasn't easy, but the result is a surprising list of places we're sure are about to get the attention they deserve. Even if some of the locals don't want it. 
How We Picked Them
We started by casting a wide net, soliciting nominations from writers, photographers, gear designers, professional athletes, our families and friends, and people who "like" us on Facebook. Next we culled the list by examining a few key stats, like the percentage of a town's population with a bachelor's degree (sorry, Salida, Colorado) and the cost of living as compared with the national average (we'll still dream about you, Jackson, Wyoming, and Ventura, California). To further narrow the field, we fact-checked claims of "epic singletrack!" and "empty rivers!" with sport-specific sources such as the International Mountain Biking Association and American Whitewater and hunted down telling facts, like the miles of trail within an hour's drive, the frequency of group rides, and proximity to worthy ski areas. Then the really heated debates began, and many of these were ultimately settled with two decisive questions: Would we be excited to move there? And can you walk—not drive—from your home and, a few minutes later, engage in the sport you love most?
---
Boise, Idaho
Best Overall (West)
Population (Metro) 606,376
Median Home Price $169,900
Hometown Hero Kristin Armstrong,
2008 Olympic time-trial gold medalist,
bicycling advocate, supermom
The Living: Boise, to put it mildly, has been on a roll. Government, education, and health care remain core industries, but dozens of high-tech startups have moved to town, joining behemoths like Hewlett-Packard and Micron Technology. And while its population has more than doubled in the past 30 years and jaded locals bemoan the sprawl, Boise has managed its growth impressively well: The city is home to nearly 2,000 acres of parks and a 25-mile greenbelt. The outlying areas feel a bit bland, but the older neighborhoods have that Boulder vibe—cruiser bikes, farmers' markets, and prayer flags—only with reasonably priced homes.
The Playground: With a few play waves already in city limits, a $6.7 million white­water park in the works, and life-list runs on the Payette and Salmon within a two-hour drive, the paddling is exceptional and only getting better. There's also a healthy triathlon community and a robust road-biking scene. In winter, before or after work, you can get a quick ski in—nordic or alpine—at Bogus Basin Ski Area, just 16 miles up the road. (Tip: The climb up is also a classic road ride.) And those brown hills above town are laced with more than 135 miles of hiking and mountain-biking trails. Yup, you're going to need a bigger Rocket Box.
The Neighborhood: The Northend neighborhood is as good as Idaho gets: You can walk to the local coffee shop, bike downtown via paths, plant some veggies at the community garden, or hop on singletrack at the end of your block.
—Sam Moulton
---
Carbondale, Colorado
Runner Up: Best Overall (West)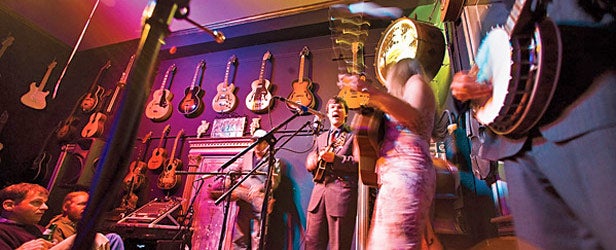 There's a reason Rock and Ice and Trail Runner magazines are based here. But this town of 6,313 is home to some of the state's finest skiing (both backcountry at nearby Marble Peak and inbounds 32 miles upvalley in Aspen) and paddling and fly-fishing in the Roaring Fork Valley's three rivers. The only catch? While home values have come down lately, they're still pricey (median price: $469,000).
—Sam Moulton
---
Portland, Maine
Best Overall (East)
Population 66,194
Median Home Price $235,000
Hometown Hero Adam Gardner, lead singer of the band Guster, local radio host, and co-founder of Reverb, a nonprofit dedicated to creating more-sustainable concerts and tours
The Living: Portland is one of those rare places that really does combine small-town charm with big(ger)-city opportunities. But what we really love is the uniquely Maine mix of generational fishermen and young professionals, the latter lured here by the relatively low cost of living and (for Maine, at least) a diverse economy that includes everything from major financial and insurance corporations to media companies like our partner Outside TV. The cobblestones of Old Port are quaint but not too cute, the working harbor is gritty yet still gorgeous, and the seafood is always fresh: Bon Appetit recently named Portland America's Foodiest Small Town.
The Playground: Casco Bay and the outlying islands are perfect for sunrise paddles or sunset sailing. Roadies can get their fix at lunch on the 28-mile loop to Black Point. Mountain bikers can hit 18 miles of bony single- and doubletrack at nearby Bradbury Mountain State Park after work. You've got Class IV-V rapids on the Kennebec and Penobscot and, come winter, your choice of three resorts (Sugarloaf, Saddleback, and Sunday River) all within three hours. Of course, you can always just grab your longboard (and five-mil wetsuit) and join the hardy surfers at the breaks on Higgins and Scarborough beaches. This is Maine; they're out there year-round.
The Neighborhood: South Portland has the same Casco Bay view (plus the Portland skyline) but two distinct advantages: less congestion and bigger backyards. You can find hundred-year-old, three-bedroom New Englanders for $220K.
—Stayton Bonner
---
Chattanooga, Tennessee
Runner Up: Best Overall (East)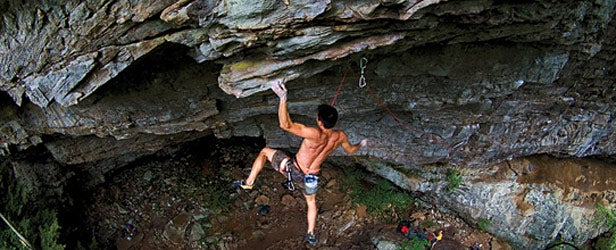 Chattanooga is just right: affordable (median home price, $155,000) and big enough (pop. 524,303) to have great nightlife and restaurants. But with the Tennessee River bordering town, a lifetime of climbing and hiking in the surrounding Appalachians, and 30 miles of singletrack a few minutes away, it's easy to escape.
—Stayton Bonner
---
Grand Rapids, Michigan
Best for Mountain Biking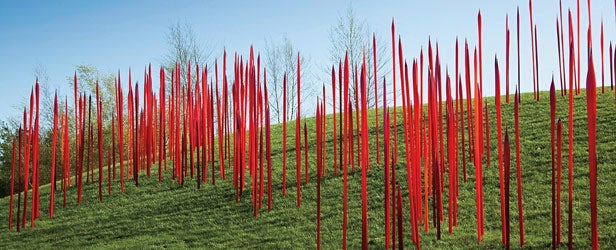 Population 778,009
Median Home Price $136,360
Hometown Hero Nate Phelps, president of the Michigan Mountain Biking Association and champion of local trail building
The Living: Michigan's second-largest city will surprise you. For starters, the regional economy is both more diverse and more robust than Detroit's—and includes everything from furniture (Herman Miller and Steelcase) to health and beauty (Amway) to footwear (Wolverine Worldwide). Plus, despite the state's overall woes and high unemployment, G.R. is, dare we say, thriving. In the past few years, it's gained a riverfront luxury hotel, a medical school, and the world's first LEED-certified museum. What's more, the county recently set aside 1,500 acres for a downtown park, and Grand Rapids' newly established ArtPrize competition—the largest art contest in the world by prize money—resulted in 1,200 works of public art on display throughout downtown.
The Riding: Sure, it's snowy much of the year. But it's neither flat nor boring. Don't believe us? In 2004, the last year they issued report cards, the International Mountain Biking Association gave Michigan a B+, the same grade as New Mexico, Washington, and Alaska. And, especially in G.R., it's only gotten better since then. The in-town mountain-bike park has a pump track (think rollers and berms), a skills area, and a new three-mile loop of singletrack in the works. Throw your bike on your car rack and you've got choices: 75-plus miles of trails in eight locations within a 45-minute drive, from beginner-friendly fire roads to technical singletrack—and that's not including mountain-bikeable stretches on the rugged North Country Trail, which cuts through 4,887 acres of national forest just 73 miles away.
The Neighborhood: Check out the Victorian homes in historic East Grand Rapids: A three-bedroom across the street from Aquinas College or on the shores of Reeds Lake, the town's gathering place, lists for $130K.
—Jonah Ogles
---
Bend, Oregon
Runner Up: Best for Mountain Biking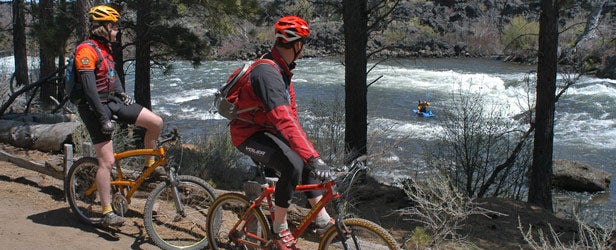 Outdoorsy types of every stripe have long been attracted to this high-desert adventure outpost, which has grown to nearly 160,000 residents. But it's irresistible to mountain bikers. The town possesses a staggering 484 miles of singletrack within an hour's drive, from all-day epics on buffed-out trails to after-work loops that practically end at the brewpubs (there are seven in town). Better still, most of them can be ridden year-round.
—Jonah Ogles
---
Tucson, Arizona
Best for Road Biking
Population 819,000
Median Home Price $151,900
Hometown Hero Michael McKisson, who in January founded the cycling-community site TucsonVelo.com
The Living: Unemployment is low: nearly 2 percent below the national average. Living costs are even lower: 35 percent cheaper than San Diego. Air pollution: almost nonexistent. The American Lung Association ranked the Old Pueblo as the country's sixth-cleanest city for air particulates. And pretension? Fuggedaboutit. As evidenced by the Teva-and-jeans workplace attire, Tucson residents are as easygoing as they are open-minded. (In 2008, they voted against banning gay marriage.) The University of Arizona, Tucson's second-largest local employer, keeps the intellectual capital high, while the town's vibrant arts scene (there's a ballet, symphony, and opera) keeps locals entertained.
The Cycling: Situated at 2,397 feet, this desert community boasts more than 800 miles of roll-around-town bike paths. It's also surrounded by five mountain ranges reaching up to 9,150 feet (think awesome climbing), a national park, a state park, and national forest. But the big sell for Tucson is as a cyclist's paradise: You can pedal through serene desertscapes on any number of the 300 miles of well-maintained loops within 45 minutes of town—virtually all year long. Which is why pro squads like Lance Armstrong's Team RadioShack train here in winter, when daytime temps hover in the sixties. Sure, it gets scorching hot in summer (expect highs in the hundreds in July and August), but that doesn't faze the city's diehards.
The Neighborhood: Small and quaint, the Sam Hughes section is home to adobe homes, university profs, and a palm-tree-lined section of the 3rd Street bike boulevard—Tucson's first of 40 proposed cyclist-friendly routes throughout the city.
—Stayton Bonner
---
Boulder, Colorado
Runner Up: Best for Road Biking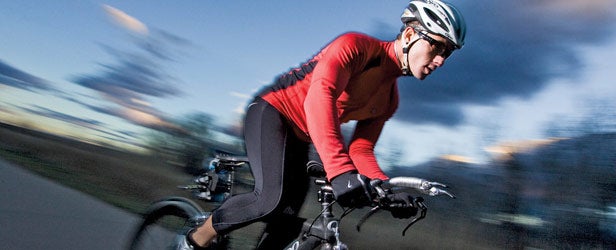 Sure, the disturbingly fit Republic of Boulder (pop. 303,482) has world-class trail running and climbing (among other things). But it's the grinding climbs and screaming descents just outside of town that we dream about. Head up practically any canyon, spring through fall, and you'll find roads with few cars, lung-busting grades, and unsettling swarms of dudes with shaved legs.
—Sam Moulton
---
Port Townsend, Washington
Best for Flatwater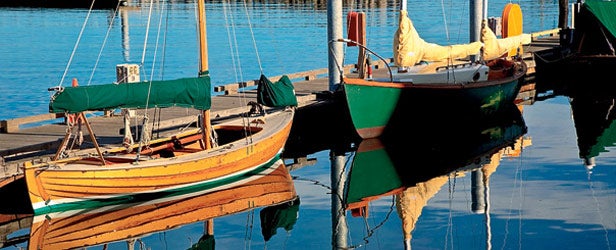 Population 9,136
Median Home Price $320,00
Hometown Hero Michael Kenna, founder of Printery.com, the West Coast's first Forest Stewardship Council-certified print shop
The Living: With its Victorian buildings, wooden schooners, and swarthy past (Jack London spent a night in jail here), Port Townsend is a postcard of maritime history. But don't let its old-school charm fool you. This peninsula outpost, in the rain shadow of the Olympic Mountains, offers the best of Northwest culture: ubiquitous Wi-Fi coffee shops, lively farmers' markets, and, of course, progressive civic planning, including a new $8 million maritime center and oceanfront public walkway. Although Seattle is 50 miles away, the convoluted car/ferry commute takes at least two hours. Better to convince your boss to let you work remotely.
The Paddling: For the past 26 years, Port Townsend has hosted the West Coast Sea Kayak Symposium, the biggest and oldest kayaking event in North America. The reasons are everywhere you turn: You can paddle toward Marrowstone Island and look for porpoises, harbor seals, and bald eagles in Kilisut Harbor. At high tide, you can paddle up Chimacum Creek and see herons, kingfishers, and river otters. And that just scratches the surface. Because the San Juan Islands are just a short ferry ride away, it's also a great launch point for multi-day adventures.
The Neighborhood: Townsend is divided into two main neighborhoods: uptown, with its posh Victorian homes perched along the cliffs, and downtown, which is filled with historic condos. But our favorite spot is the North Beach area, where you can get a beachside home with commanding views of Canada for as little as $400,000.
—Shauna Sweeney
---
Grand Marais Minnesota/Michigan
Runner Up: Best for Flatwater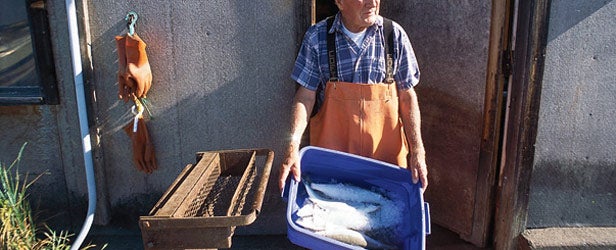 Two things that'll surprise you: Not only are there two Grand Maraises along the shores of Lake Superior—one on Minnesota's North Shore, the other on the northeastern arm of Michigan's Upper Peninsula—but they're both home to some damn fine paddling. Minnesota's G.M. (pop. 1,412) sits at the base of the legendary Gunflint Trail, a paved road that heads 58 miles to the Boundary Waters Canoe Area Wilderness, giving locals fast access to 1,500 miles of the nation's best backcountry canoeing. Come winter, you can learn how to build your own nutshell pram or sew a traditional anorak at North House Folk School (northhouse.org). In Michigan, the start of the 120-mile Hiawatha Water Trail, which skirts the edge of Pictured Rocks National Lakeshore and was a historic water route for the Voyageurs, begins in that state's G.M. (pop. 400). Both have their own paddling festivals, affordable housing, brutally long and cold winters, and, because this is the Midwest, some of the friendliest neighbors and paddling partners you'll ever meet.
—Ryan Krogh
---
Reno, Nevada
Best for Whitewater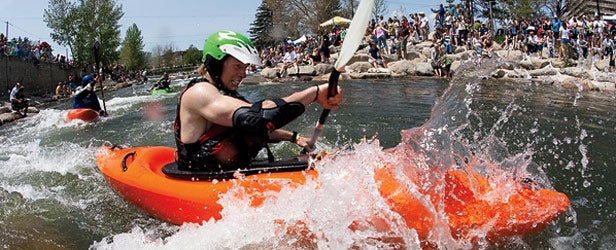 Population 419,261
Median Home Price $176,300
Hometown Hero Jim Litchfield, who established Reno's whitewater park and runs the Reno River Festival, one of the country's largest.
The Living: Reno still conjures images of cowboy/gambling kitsch at its worst. But it shouldn't, at least not entirely. In the past 20 years, public and private investors have sunk hundreds of millions into downtown, building a pedestrian district around the new $50 million baseball stadium and revamping the neglected Truckee River with parks and a performing-arts center. Firms ranging from outdoorsy (Patagonia and Sportif) to techy (Microsoft and AT&T) have all set up big branches in Reno, giving its increasingly young and educated populace reason to stay—especially with housing prices down a whopping 52 percent since 2006.
The Paddling: With 11 pool drops, year-round flow, and a prime location (right downtown, surrounded by green space and an amphitheater), Reno has one of the country's best whitewater parks. Not to be outdone, last year the neighboring community of Sparks, just ten minutes down the road, unveiled its own, even more beginner-friendly park. But the real reason so many pro kayakers call Reno home is its proximity to some of the sweetest western white-water—from Class V hair-boating on South Silver Creek to rafting and canoeing on stretches of the Truckee.
The Neighborhood: Just south of downtown, and only a few blocks from the whitewater park, Cal Ave has renovatedcentury-old Victorians, locally owned coffee shops, and most of Reno's hipsters.
—Kyle Dickman
---
Fayetteville, West Virginia
Runner Up: Best for Whitewater
A lot of young people move to Fayetteville (pop. 2,677) to become raft guides on the renowned New and Gauley rivers. Then they get older and decide to do something that supports a mortgage. But they don't leave. A dozen or so other lesser-known (but kick-ass) rivers are part of the reason. So is the quick access to best-in-the-South rock climbing, mountain biking, and hiking.
—Shauna Sweeney
---
Waitsfield, Vermont
Best for Skiing (East)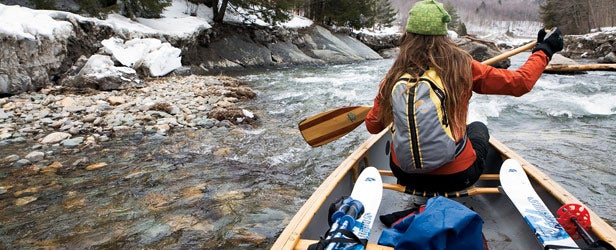 Population 1,700
Median Home Price $349,300
Hometown Hero Extreme-skiing pioneer John Egan, the godfather of Mad River Valley skiing and now the chief recreation officer at Sugarbush.
The Living: Waitsfield is a classic ski town harking back to the pre-timeshare era. The ski resorts and upscale condos are all up the road, allowing the tiny town to remain an authentic, year-round family-focused community. That's why nonprofits 1% for the Planet, the Northern Forest Canoe Trail, and Center for Whole Communities make it their home. It's also the land of artisanal cheeses and maple, with as many cows as people. Locals tap their own trees, wear jeans and wool plaid for formal occasions, and support local food (like American Flatbread and Kingsbury Farm) and businesses (like Small Dog Electronics, one of the largest Apple resellers in the country).
The Skiing: Two of the East's finest mountains are within ten minutes—both with zero crowds midweek. Depending on your mood, you can charge the glades and bumps of barely groomed Mad River Glen, an old-school "skier's mountain" (read no snowboarders allowed) and the only skier-owned co-op in the country, or rip groomers, snowboard, or cat-ski at Sugarbush. Cross-training? Kick and glide the 300-mile Catamount Trail, ski groomed track at Blueberry Lake nordic center, or hit the Skatium open-air ice-skating rink.
The Neighborhood: It you can't find a starter home in view of the ski hills, another option is neighboring Moretown, which is slightly farther from the lifts but only a 15-minute commute from Montpelier, the state capital.
—Berne Broudy
---
Jackson, New Hampshire
Runner Up: Best for Skiing (East)
With 91 miles of cross-country trails in the surrounding Mount Washington Valley, including dozens right in town, this tiny hamlet (pop. 900) is as close to nordy heaven as you can get. The downhill ain't bad, either: Local resorts like Wildcat Mountain and Attitash have a combined 535 acres of skiable terrain. And Mount Washington's infamous Tuckerman's Ravine is just a 15-minute drive away.
—Ryan Krogh
---
Bozeman, Montana
Best for Skiing (West)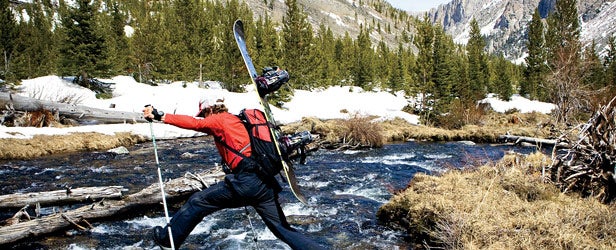 Population 39,282
Median Home Price $259,500
Hometown Hero Greg Mortenson, co-founder of the Central Asia Institute and founder of Pennies for Peace
The Living: Last year, Bozemanites did something that's rarer in Montana than buying a two-wheel drive: They voted to raise their own taxes so the county could afford to purchase (and then preserve) ranches that might otherwise have been sliced and diced by developers. Translation: They put their money where their boots, bikes, and skis go. Cradled by 10,000-foot peaks, hyaline streams, and ragged wilderness, the fastest-growing town in the state has a bustling college campus and brains to match: Residents may wear cowboy hats, but the Ph.D. rate is twice the national average. Free live music in city parks during summer and community sporting events like the spectacular 20-mile Bridger Ridge Run keep the blood flowing.
The Skiing: The joke is that there are two seasons here: winter and August. But with two ski areas and 350 inches of annual snowfall, most locals don't mind. Just 20 minutes away, Bridger features backcountry-style big-mountain runs—now with less hiking required, thanks to the new Schlasman's lift (beacons required)—plus 18 miles of nearby cross-country ski trails. Forty-five minutes south of town, Big Sky Resort and Moonlight Basin offer a combined 5,512 acres of glades and bowls. When the lifts stop running, head to Cooke City or Beartooth Pass for backcountry-corn laps. (And when it all melts, it's time to fish.)
The Neighborhood: Bozeman's too small for any 'hood to be far from anything, but living south of Main can mean living as little as a few hundred yards from trails that run all the way to Yellowstone, 90 miles south.
—Tim Neville
---
Salt Lake City, Utah
Runner Up: Best for Skiing (West)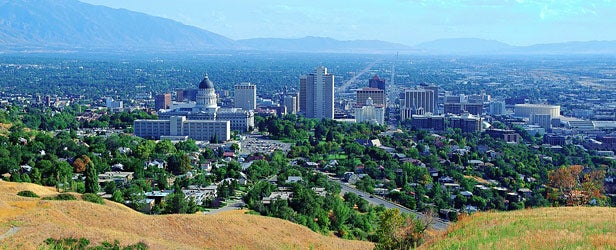 It's a decidely atypical ski town. But this is (mostly) a good thing, because in SLC (pop. 1,130,293) you can do things such as: get a job at a high-tech firm like eBay, Unisys, or 3M; afford a nice home (median price, $250K); see Jazz games; fly direct to Paris; or just head a half-hour up the canyons to Alta, Snowbird, Solitude, and Brighton, four of the best ski resorts on the planet.
—Sam Moulton
---
Charleston, South Carolina
Best for Surfing (East)
Population 659,191
Median Home Price $217,900
Hometown Hero Ever since founding his eponymous surf shop with his dad in 1965, Tim McKevlin has been a tireless advocate for surfers' rights.
The Living: Water is a way of life for Charlestonians: The city is surrounded on three sides by the Cooper and Ashley rivers and Charleston Harbor. And while some four million people visit each year to experience this graceful, 340-year-old city's sweet- tea hospitality, Charleston is more than a charming southern belle. It's got top-notch restaurants, including three consecutive James Beard Award-winning chefs (the only other town that shares this distinction is New York City), a thriving arts scene in the Design District on King Street, and a robust economy: The unemployment rate is well below the national average, while the cost of living remains surprisingly sane.
The Surfing: With half a dozen annual contests and a stoked crew of local surfers, the Charleston area, especially Folly Beach, is home to one of the East Coast's most vibrant surf scenes. The water remains warm enough to trunk it for about seven months a year, and though the continental shelf sucks some of the power out of the waves, it's consistently rideable and occasionally epic (like when hurricanes brush the coast). Two of the most popular spots are the Folly Beach Pier, which works on all swells, and the Washout, where the waves break with more power. When it's flat or too windy to surf in town, you can stand-up-paddleboard in the surrounding marshes and sounds.
The Neighborhood: Folly Beach (pop. 2,412), a six-mile-long barrier island, is the closest beach to downtown Charleston (15-minute drive) and has the best surf. It's also more easygoing—and affordable—than the other nearby island communities.
—Mark Anders
---
St. Augustine, Florida
Runner Up: Best for Surfing (East)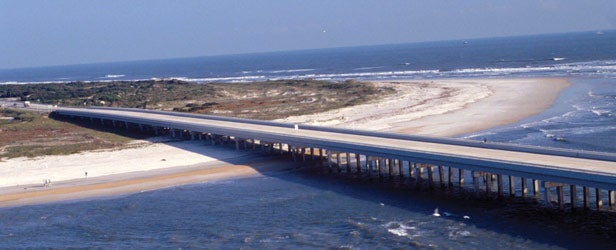 St. Augustine (pop. 12,707) is a rare Florida bird. Not only does this laid-back city offer some of the state's most consistent surfing; you can actually afford to buy a bungalow right on the sand (median price, $225,000). The town pier has a beginner-friendly beach break; you'll find bigger waves at the point break at Matanzas Inlet. Can't work in your pajamas? Jacksonville, 40 miles down the road, is home to several Fortune 500 companies.
—Shauna Sweeney
---
Encinitas, California
Best for Surfing (West)
Population 61,593
Median Home Price $889,000
Hometown Hero Professional surfer Rob Machado, whose annual surf contests are both kid- and enviro-friendl.
The Living: Bordered on two sides by egret-and-heron-filled lagoons, this once sleepy surfers' enclave in San Diego's North County has quietly been cultivating its public spaces. A community-wide initiative is adding millions of cubic yards of sand to the area's eroding beaches, and smart community projects are still, despite the state's overall woes, in the works: Blueprints for a 44-acre park in the Cardiff-by-the-Sea neighborhood feature a skate park, a dog run, and a couple of pools. And the best part? The mom-and-pop-shop-filled downtown has something rare in Southern California: a commuter train that will whisk you into downtown San Diego in just 30 minutes.
The Surfing: While good surf strings almost the entire San Diego coast, you'll never battle traffic to catch the swell here: Even the most inland houses are only a four-minute drive to the water. Swami's, the much-hyped point break underneath the gold-domed self-realization temple, is as consistently good and long as advertised, but Encinitas is also home to a handful of beginner- and paddleboard-friendly reef breaks like Cardiff Reef and Pipes. Of course, surfers aren't the only ones enjoying the warm (no wetsuits needed half the year) water: The greater San Diego area is a triathlon hot spot, and that buoy off Moonlight Beach marks a turnaround point for the swim-cap-clad crowd.
The Neighborhood: Once a slummy enclave of slack-jawed surfers, Leucadia, a.k.a. "Funky Leucadia," sits cliffside above Beacon's, a lesser-known reef break. The houses are a little older, but you can find homes in the $600K range a few blocks from the beach.
—Alicia Carr Troxell
---
Kailua-Kona, Hawaii
Runner Up: Best for Surfing (West)
Kona (pop. 30,889) might be better known as the site of the Ironman World Championships, but the surfing is so good that it used to be reserved for island royalty. Newbies will find gentler breaks at Pine Trees, while hard-chargers will prefer the bigger barrels at neighboring Lymans and Banyans. But here's the clincher: Housing prices are less than half what you'll find on Oahu's famed North Shore.
—Alicia Carr Troxell
---
Denver, Colorado
Best for Road Running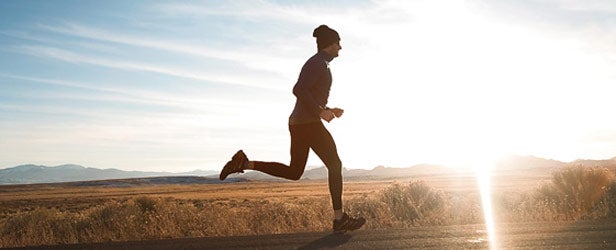 Population 2,552,195
Median Home Price $247,000
Hometown Hero Mayor John Hickenlooper, who recently helped launch the country's largest bike-sharing program
The Living: Denver is soaking up its 300 days of sun. Literally. Over the past two years, 17 solar- and wind-energy companies have moved to the Denver area. And while the cost of living remains near the national average, Denver's economy has been steadily humming away. Thanks to strong aerospace, aviation, and information-technology industries, the Mile High City is now home to the nation's second most highly educated workforce. Equally impressive is its dedication to public transportation. When it's completed in 2017, Denver's FasTracks project, a network of rail and bus routes along the Front Range, will be one of the country's largest mass-transit systems.
The Running: Forty running competitions a year. Eight hundred and fifty miles of paved trails. More than 200 parks (the country's largest park system). A "zillion" running clubs, according to a few sources (we lost count after 50). Add it up and it's easy to see why Denver is one of America's fittest cities. Practically every neighborhood has a marquee run, like Sloan's Lake Park's five-mile loop, in the Highlands neighborhood, or the famous lap around the eponymous park of the Wash Park neighborhood.
The Neighborhood: Highlands, just southwest of downtown, has been on the rise for years. For good reason. It's got great restaurants, fun bars, tons of parks, and (still) well-priced, brick brownstones and row houses.
—Stayton Bonner
---
Mammoth Lakes, California
Runner Up: Best for Road Running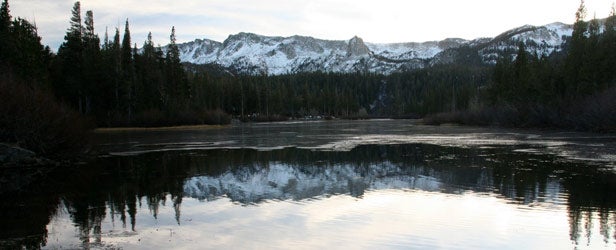 With a world-class ski resort (Mammoth Mountain Ski Area) and the second-largest contiguous wilderness area in the lower 48 (John Muir and others) off the back porch, Mammoth Lakes (pop. 7,392) was a serious contender in our "overall" category. But the city was (re)born to run: In 2001, when Team Running USA, an Olympic training group for long-distance runners, wanted to bring U.S. distance running back to its former glory, they chose Mammoth Lakes as their HQ—and later renamed themselves Mammoth Track Club.
—Jonah Ogles
---
Ashland, Oregon
Best for Trail Running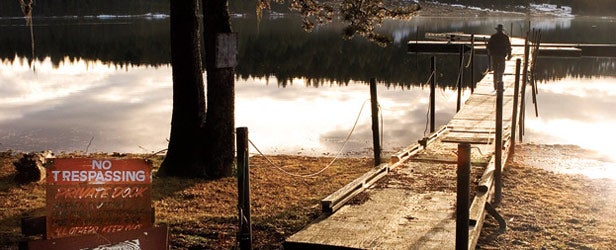 Population 20,996
Median Home Price $395,000
Hometown Hero Hal Koerner, two-time Western States 100 winner, owner of Ashland's Rogue Valley Runners store, and director of four southern Oregon running races.
The Living: Ashland's philosophy: Don't mess with a good thing. The city, tucked into the sun-soaked Siskiyou Mountains, restricted retail-store size 30 years ago— no big-box invaders. That's not to say that Ashland is small-minded: There are now 363 solar panels on public offices, local legislators passed a law in 1973 (!) that requires cars to share all of Main Street with bicycles, and Ashland is still home to the West's best Shakespeare festival. As in most of the state, unemployment is still high (12.4 percent), but the silver lining comes from progressive startups, including not one but two electric-vehicle companies (Brammo and Barefoot Motors) and the United Bicycle Institute, a tech school that teaches students to be ace bike mechanics.
The Trail Running: Where Ashland ends, the trails begin. A dozen in-town trailheads connect 25 miles of multi-use singletrack to the 2,600-mile Pacific Crest Trail and the path-riddled Siskiyou National Forest, enough dirt to keep ultramarathon stars and residents Jenn Shelton, the Skagg brothers, and Hal Koerner (see above) entertained. Rogue Valley Runners offers group runs every Wednesday and Thursday to train for the two annual trail races that start downtown.
The Neighborhood: $300K in Quiet Village will get you a three-bedroom Craftsman within walking distance of downtown, views of Grizzly Peak and Mount Washington, and trailheads and a dog park just down the street.
—Kyle Dickman
---
Spokane, Washington
Runner Up: Best for Trail Running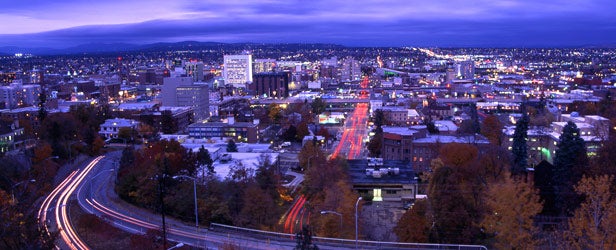 Spokane (pop. 468,684) isn't as polished or hip as Seattle or Missoula. Which is why we like it. We also like how affordable and lush and underrated it is. There's damn fine skiing nearby (five resorts within two hours), serious whitewater, and lots (and lots) of running trails. Like Riverside State Park, whose 75-mile network starts just five miles from town.
—Jonah Ogles