Sponsor Content
The Beginner's Guide to Colorado
Fun, easy-to-pull-off adventures within a couple hours of the Mile High City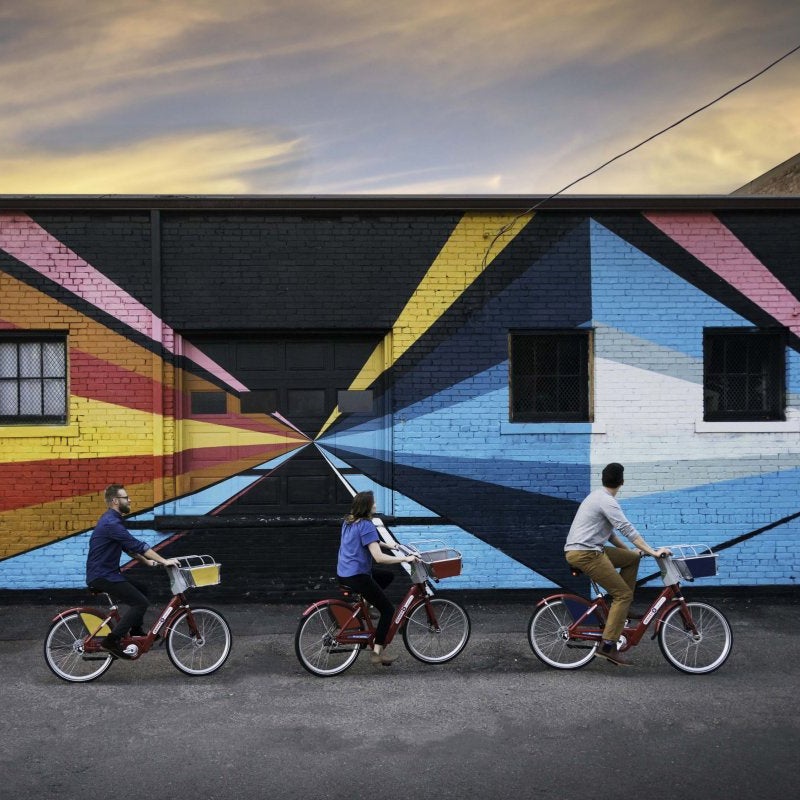 Adventure abounds in Colorado, and there's no shortage of ways to get the whole family outside to explore. From mellow raft trips to scenic day hikes and mountain ziplines, you'll find summer activities everyone will enjoy. Where to start? We chatted with local mountain biking expert Brooke Goudy and fly-fishing guide Jennings Hester about a few of their favorite spots. These fun-focused trips—in and around Denver, Colorado Springs, and Cañon City—are a great introduction to all that Colorado has to offer.
Denver
Hit the Whitewater Park in Downtown Denver
Grab an inflatable tube from Confluence Kayak & Ski and tackle the splashy whitewater at Confluence Park. A few short drops add a little excitement to the otherwise slow-moving stretch of the South Platte River that cuts through the city. On your way to the park, grab snacks at the Denver Central Market, where a dozen vendors set up shop, and have a picnic on the grass next to the water while you watch other tubers and kayakers. Stay at the hip and walkable Ramble Hotel, just a few blocks from the market, and grab a cocktail in the lobby bar, Death & Co.
Cruise Singletrack at Green Mountain
The loop around the mountain's perimeter is about seven miles and is perfect for getting comfortable on a mountain bike. "It's easy to get to from Denver, and you can ride there for your first time and it's just a really fun trail that you can progress on," says Brooke Goudy, the co-leader of Black Girls Do Bike and an ambassador for the VIDA mountain-bike series. "It's my favorite trail for introducing the joy of mountain biking to people, especially women of color." Since this trail is close to the metro area, it can get crowded, so aim to ride during the week.
Pro Tip: If you encounter other riders on the trail, stop to let them by rather than riding off-trail, to protect plants and keep singletrack single.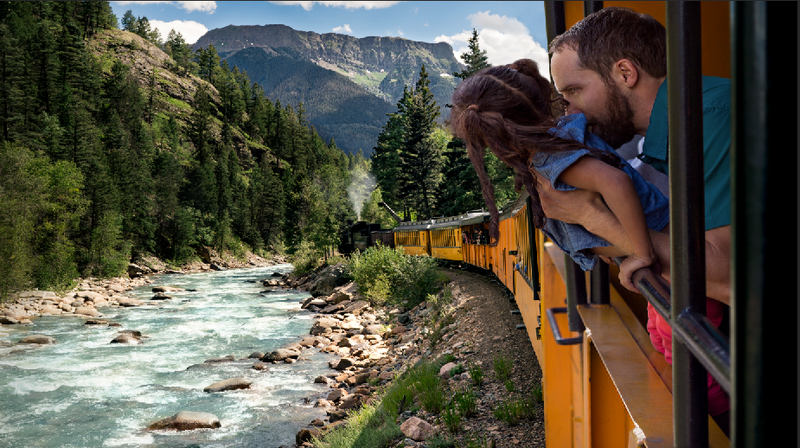 Cañon City
Take the Train Back in Time
A ride on the historic Royal Gorge Route Railroad in Cañon City isn't just a ride through time—it's an unmatched sightseeing experience, especially if you book the Vista Dome, a glass-walled car that offers views of the 1,000-foot-deep Royal Gorge and the rapids of the Arkansas River. You'll also see the continent's highest suspension bridge—the Royal Gorge Bridge—a 1,260-foot steel span across the canyon. Want to get the blood pumping? Other Royal Gorge attractions include a via ferrata—great for total beginners with an adventurous spirit—and a 50-mph Skycoaster where riders soar above the gorge's south rim.
Raft the Mighty Arkansas
After you've seen the splashy water in the Royal Gorge from the train, head for Bighorn Sheep Canyon to raft the Arkansas river. The trip, well suited for kids ages six and up, has fun rapids interspersed with beautiful calm stretches. Enjoy the views of the canyon and see if you can spot the bighorn sheep that call this area home.
Colorado Springs
Go for an Otherworldly Hike at Paint Mines Park
Just 45 minutes east of the Springs, Paint Mines Interpretive Park is home to a mind-blowing four-mile hike through vibrant, multicolored formations like spires and hoodoos—the tall, improbable spires of rock. Expect to fill up your SD card with photos of the white, purple, orange, red, and brown earth (just remember to leave plants, rocks, and historical items as you find them so others can experience the joy of discovery). Back in town, fuel up on rabbit green chili or spiced pork belly at the acclaimed Four by Brother Luck restaurant cooked up by Top Chef competitor, Brother Luck.
Adventure in Artsy Manitou Springs
Just outside Colorado Springs is the eclectic enclave of Manitou Springs. Head there for an adrenaline rush and launch off a zipline at Adventure Out West, which has routes that span 225 to 650 feet (the highest is 100 feet above ground). The town is also home to the famed Manitou Incline, an outdoor staircase that climbs 2,000 feet—or 2,768 steps—in just under a mile. Regardless of the adventure you choose, head to the Manitou Brewing Company for the summery Bigwig Blonde and an Incline Burger.
Fish or Climb at Elevenmile Reservoir
"Colorado is known for its tailwater fishing, which just means rivers that are controlled by dams releasing the flows," says Jennings Hester, whose nonprofit, Fishing the Good Fight, a nonprofit that uses fly-fishing to support men struggling with mental health issues. "The South Platte is one of the most famous tailwaters in the world, and there's five different sections of it that people fish: one is Eleven mile Canyon down by Lake George." Whether your idea of adventure is casting for cutthroat or scaling granite cliffs, you'll find both on offer at the Elevenmile Reservoir and nearby Elevenmile Canyon. On the water, footlong trout are the prized catch thanks to the reservoir's location just below the South Platte's famously fishy "Dream Stream." Hire a guide from 11 Mile Marina to show you how it's done.
In the canyon, beginner-friendly rock climbing abounds. New to the sport? You can learn to climb with the guides at Pikes Peak Alpine School.
Pro Tip: Colorado is home to countless guiding services like Pikes Peak Alpine School—book with one to experience adventures that might otherwise be out of reach.
---
Colorado is a four-season destination offering unparalleled adventure and recreational pursuits, a thriving arts scene, a rich cultural heritage, flavorful cuisine and 28 renowned ski areas and resorts. The state's breathtaking scenic landscape boasts natural hot springs, the headwaters of seven major rivers, many peaceful lakes and reservoirs, 12 national parks and monuments, 26 scenic and historic byways and 58 mountain peaks that top 14,000 feet. For more information, visit Colorado.com/Summer.
Trending on Outside Online