The Best Mud Season Getaways
Trips and activities to keep you outside during the mucky months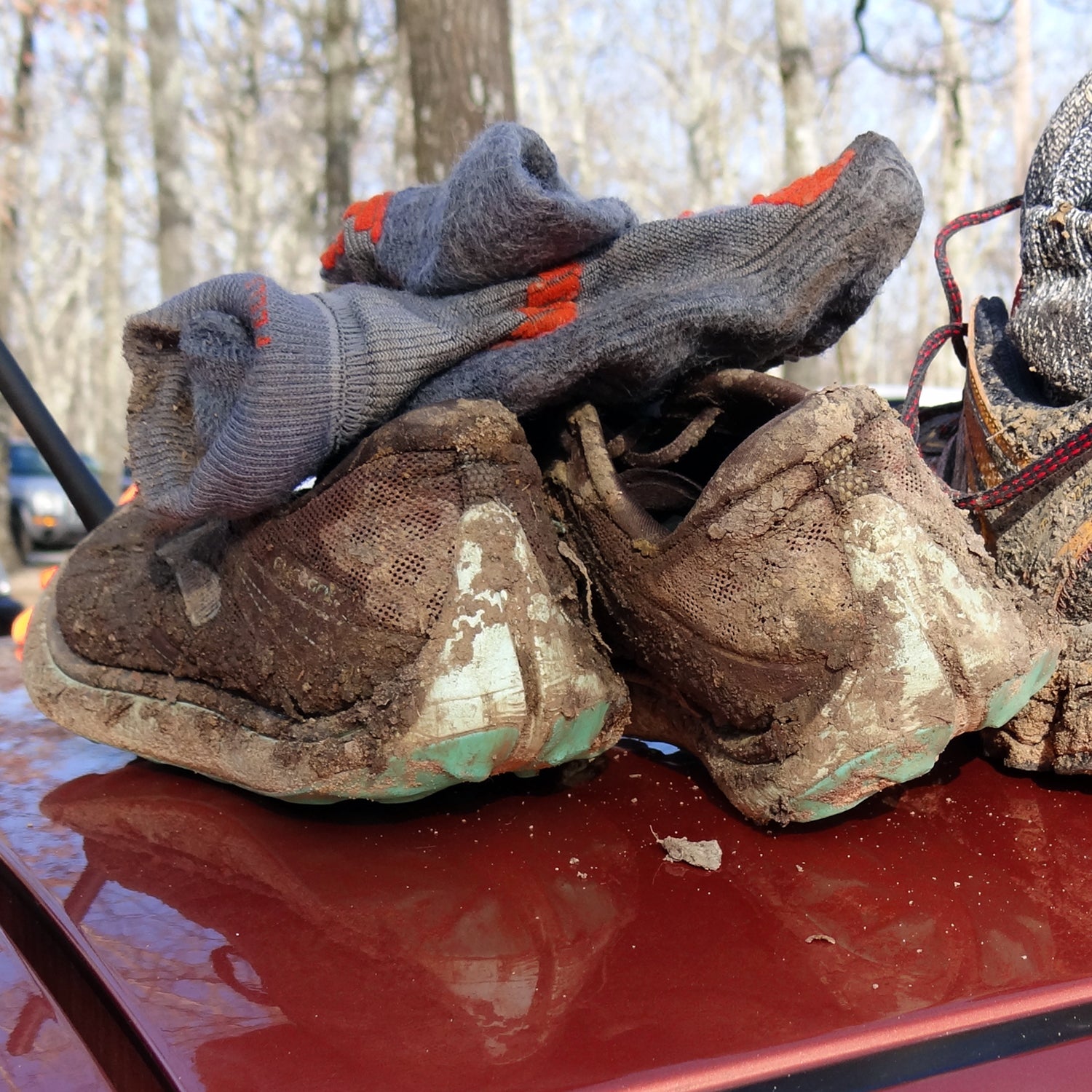 Heading out the door? Read this article on the new Outside+ app available now on iOS devices for members! Download the app.
Spring can be a challenge. The snow on the slopes is turning to porridge and your backyard trail system is a mud slick. On the flipside, the rivers are high, parks are less crowded, and resorts are offering massive deals. Here are our favorite trip ideas to help you get after it through shoulder season.
---
Keep Winter Alive
Bring your bikini for corn skiing in Mammoth, California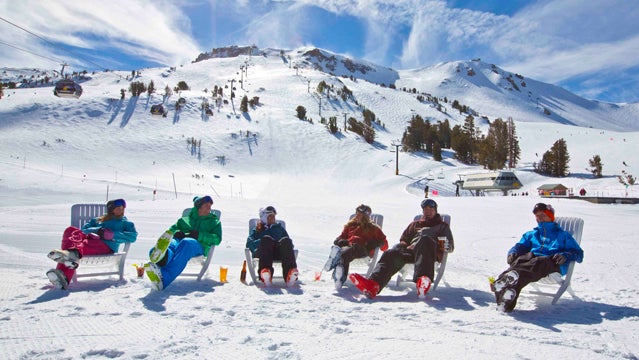 If you're not quite ready to wrap up your ski season, check out California's Mammoth Mountain. The Sierra resort carries an amazing base of 10-20 feet of snow into the spring most years, so typically Stays open into June.
This year will be no different, with all of mammoth's 3,100-vertical feet skiable through Memorial Day via eight of the resorts 28 lifts. It's all corn snow, bikinis, and goggle tans, even with the lift operating hours moving up, from 7:30 A.M. – 2:30 P.M. to keep things from getting too mushy. They'll keep at least one of Mammoth's famous terrain parks open, as well as a superpipe.
And then there are the deals. After April 21, the resort offers $99/night lodging plus lift ticket deals at the main lodge's Mammoth Inn, or check out Ski.com's deal for the swanky slopeside Juniper Springs Resort, including lift tickets for $264 per night. Wherever you Stay, the best deal is undoubtedly to buy a 2014 season pass ($689), which affords free skiing from April 22 till closing this season, and then all of next.
Not rad enough to crush the superpipe yet? Late season is actually a great time to learn to ride—no ice and no frostbite mean two fewer things to worry about. And you'll want to Stay three days at least because it's a long drive from anywhere—five hours from Los Angeles and further from the Bay Area.
Stay: 4 days
Pay: $500-$800
---
Skip the Crowded Surf Break
Catch great waves off-season in Sayulita, Mexico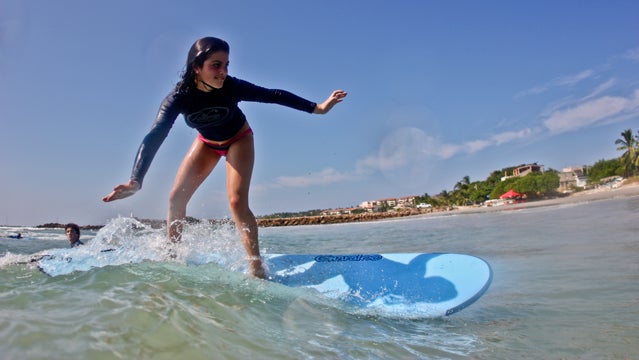 The small Pacific coast surf town of Sayulita isn't a secret anymore. Gone are the days of $10 bungalows, 25-cent tacos and empty surf breaks. But with "discovery" comes certain advantages—the streets are now largely paved, there's a new sewage treatment plant that keeps the beach clean and groups have stepped in to sPay and neuter the once-rampant street dogs. It's still a safe, friendly and quaint little town tucked onto a rock-rimmed crescent beach, and it's still just a 40-minute drive from the bustling Puerto Vallarta airport, which makes it an easy day's travel from most anywhere in the United States.
While the town beach break is a bit of a zoo, uncrowded surf is a short 30-minute drive to the other side of the peninsula. Wildmex, a surf school run by former mountain bike pro Javier Chavez, can set you up with a half-day tour to one of several nearby breaks for just $55. Expect gentle shoulder- to head-high surf in the spring, and speedy, knee- to waist-high waves right off the town beach. Weather can be hot in April and May, so be sure to get a room with air conditioning.
Check out Hotelito Suenos, which has a pool, rooftop smoothie bar, and a yoga studio. In May, rates drop to $50 a night and include a loaner bicycle to cruise around town with.
Stay: 6 days
Pay: $600 – $900, excluding airfare
---
Dive Underwater Caverns and Bike Mayan Ruins
A better beach vacation in Tulum, Mexico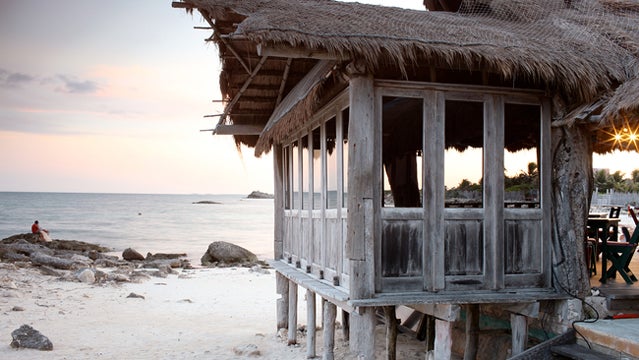 The best scuba-diving on Mexico's Caribbean coast is actually underground. Tulum, Mexico, is famed for its collection of cenotes, collapsed sinkholes filled with fresh water and connected by hundreds of miles of tunnels.
The good news is that you don't have to be scuba certified to plunge into the pristine water and explore stalactites and caves—plenty of outfits lead snorkeling tours of the cenotes as well. Mexidivers offers 3.5-hour snorkeling trips to the Dos Ojos cenote for $45, or a two-cenote, two-scuba dive package for $120.
Tulum is also known for its Mayan ruins, the only of their kind built right on the coast. However, your best bet for a less commercialized visit is to drive 30 minutes west to Coba, which has five different groups of ruins spread across 50 square miles, many of which are still claimed by the thick jungle. There you can still climb the highest pyramid on the Yucatan peninsula and rent rickety bikes for $3 to cruise the ancient limestone roads.
Snag a cheap flight to Cancun, just 90 miles north of Tulum, and rent a car to escape the clueless hordes as quickly as possible—it'll serve you well later getting to and from Coba. Stay at Zamas, a 19-room complex of bungalows on a stretch of Tulum's six miles of beachfront. Staff can lead you on an evening walk to find nesting sea turtles or set you up on cenote and ruins tours. Rates are lower in May, a lull between spring break and the summer season (from $95).
Stay: 6 days
Pay: $1000-$1300, excluding airfare
---
Paddle Inn to Inn
Sea kayak the Maine Island Trail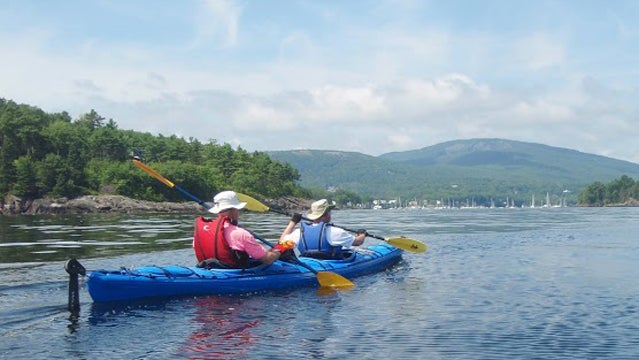 Maine's 3,000-odd islands make for one of the great sea kayak destinations, providing shelter from the open sea for pleasant paddling and great camping. But in May, when the weather is iffy, consider pulling your boat up each night beside a few of the coast's renowned B&B's as you paddle northwards. Sample the exceptional local seafood at a few famous eateries and score 25 percent off summer season inn rates.
Belfast's Water Walker Sea Kayaks can set you up for a fully guided Inn-to-Inn trip. They'll rent you boats, paddles, wetsuits, and navigational equipment and set shuttle, or some hybrid thereof. Some groups hire a guide for the first morning just to get a little brush-up (from $80/day). Beware, conditions can get testy, and Water Walker's Ray Wirth requires May paddlers to have good experience and to use a wet or dry suit. Get outfitted at the Belfast shop and then have Wirth launch you at the Tenants Harbor pier, 43 miles south.
On the first day, paddle 10 miles north past granite shores and the lighthouse on Whitehead Island to the Weskeag Inn in South Thomaston ($95). In the morning, if conditions allow, make the hour crossing to the Muscle Ridge Islands a couple of miles offshore and stretch your legs on Birch Island. Lunch on a stony beach at Owl's Head, below the lighthouse marking the entrance to Rockland harbor and then cross the harbor to the comfortable Old Granite Inn, whose porch overlooks the working harbor ($85). On the third day, take in the lobster buoys and seal sightings on the paddle to Camden and the Victorian-style Hawthorne Inn just a block off the harbor ($130). From there, continue on to Belfast via a night in Linconville at the Spouter Inn ($135), or have Wirth fetch you and your boats in Camden.
Stay: 4 Days
Pay: $600-$800
---
Juleps to Jugs in Kentucky
Hit the Kentucky Derby and then climb at Red River Gorge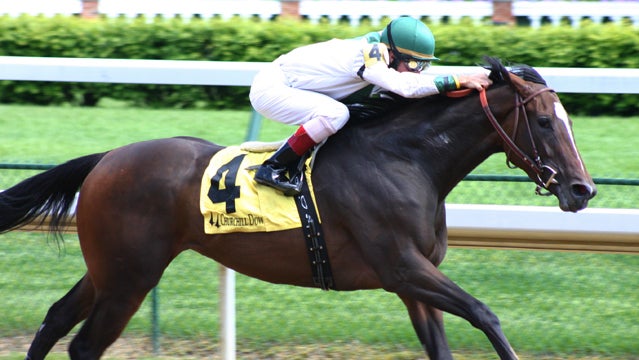 Forget Coachella, the great American spring party is the Kentucky Derby. This year's race takes place on Saturday, May 4 at Churchill Downs in Louisville.
These days, the venerable horse race is known more for the throngs crowding the track's infield 80,000-strong than for the racing. Infield admission is only $40, compared to as much as $3,000 for a grandstand seat. The mint juleps, a sugar-infused bourbon drink, cost the same either place ($15), though the infield crowd consumes a lot more of them, leading to a Mardi Gras Burbon Street scene, complete with flashers. The scene at Turn 1 is milder, and suitable for families, while across the oval at Turn 3, things get pretty wild.
Bring muck boots to stomp around in—and not just for the mud. If you want to see horses, go very early for a spot on the rail, or Stay for the last two races (the actual Derby is race 11 on the slate) when much of the crowd has stumbled off the grounds.
Afterwards, head to the Red River Gorge, a climber's mecca 130 miles east that boasts more than 1,800 routes. For trad, hit Fortress Wall, which boasts a multitude of 5.2 to 5.12 routes with nary a bolt to clip. Bonus: the wall is protected by an overhang, so rainy days are no problem. For sport routes, hit the Motherlode, home of some of the world's toughest climbing, including a dozen 5.13s and a handful that go at 5.14.
There are 80 natural rock arches and bridges within the Red River Gorge Geologic Area, accessed by dozens of miles of trail. Check out the 36-mile Red River Gorge loop system for contiguous hiking, starting at Swift Camp Creek Trail. The seven-mile route follows the creek and passes beneath Rock Bridge Arch. For camping, most climbers squeeze into the dirtbag festival at Miguel's Pizza & Rock Climbing Shop ($2), but there are a few other modest camping and lodging options listed on the Red River Gorge Climber's Coalition site.
Stay: 3 days
Pay: $100
---
Camp On the Beach Beside a Civil War-Era Fort
Simple living at Florida's remote Dry Tortugas National Park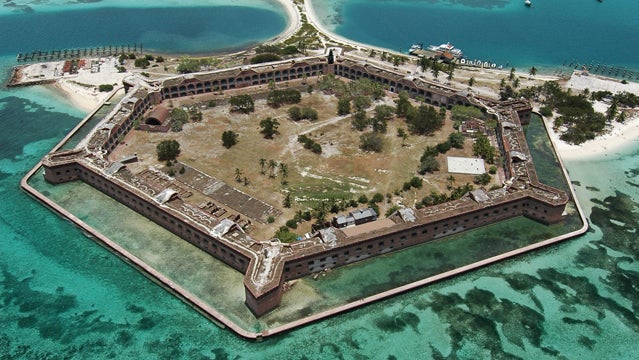 Seventy miles west of Key West, surrounded by the Gulf of Mexico, lies Dry Tortugas National Park. The seven-island archipelago is home to countless sea birds, seventy-odd shipwrecks, and a six-sided, three story red brick building big enough to be visible from 10 miles across the flat, blue ocean.
Fort Jefferson, built in 1846 on 16-acre Garden Key, was eventually converted to an Alcatraz-like prison. Its most famous ward was Dr. Samuel Mudd, the Maryland physician who was sentenced to life for setting John Wilkes Booth's broken leg on that fateful 1865 night. While at Fort Jefferson, Mudd deduced that mosquitoes transmit yellow fever. For his contributions to the public welfare, he was allowed to leave Garden Key in 1869.
Plenty of people are trying to reach the remote national park these days, though it's accessible mainly by float plane ($180) or a two-hour boat ride ($100).
Once there, tour the fort, snorkel coral reefs right from the government dock, and pitch a tent at one of 13 beach campsites ($3) Bring all the groceries and fresh water you need, because there are no stores on the island. The Dry Tortugas are also a tarpon and bonefishing destination of some repute: Throw a kayak onboard the ferry boat and pull it onto the beach at night, or anchor your own fishing boat offshore.
World Angling offers single-day excursions from Key West on a speedy 40-foot Sea Hunter that includes a stop at the fort, the opportunity to snorkel at the shipwrecks, and the mission to catch record-size tarpon, permit, and amberjack (starting at $380/person).
Stay: 3 days
Pay: $250-$400
---
Bike Tour California's Wine Country
Ride Sonoma, Anderson, and Napa Valleys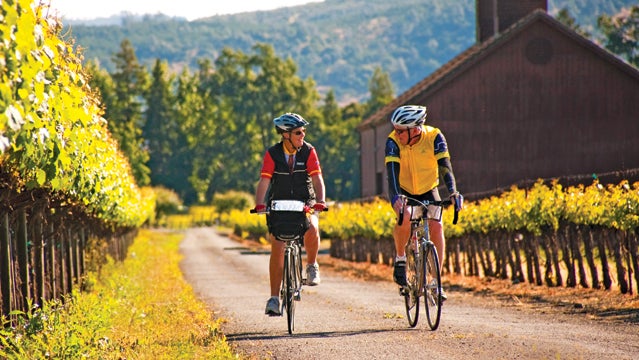 Never mind the booze—with its winding roads, rolling terrain and frost heave-free pavement, wine country makes for the best bike touring, whether in Tuscany or Bordeaux. Ride through Northern California's vineyards, and the bonus is that you're just a day's ride to the rugged Pacific coast and a spin through the redwoods, all of which helps you burn off, yes, the booze.
Backroads' five-night, sag-wagon-supported bike tour is the company's most popular trip, and over the years they've fine-tuned the route to accommodate customizable cycling options from 25-100 miles each day, depending on individual interest. They'll also land you at plush inns and farm-to-table eateries each night. "We get a lot of repeat clients," says Backroads' Massimo Prioreschi.
The first night features the famous roman bathing course at Sonoma Mission Inn & Spa, built above an underground mineral springs. Day two sees you climb over the mountains to Bodega Bay's ocean-view hot tub. The following day brings a ride along the coast to the Russian River, a climb into the towering Armstrong Redwoods grove, and then on to the Michelin-starred Victorian Inn Madrona Manor in Healdsberg. Round the trip out with two days in Napa and big ride options, including the Oakville Grade, a regular feature of the Tour of California race, and the option to pedal up to dozens of different wine tasting rooms.
Stay: Six days
Pay: $2,898
---
Explore Empty Slot Canyons
Hike Utah's Escalante-Grand Staircase National Monument
This 1.9-million-acre stone wilderness is so undeveloped that the hardest thing about hiking there can be finding the trailhead. And the hiking is hardly easy—there are dozens of twisted slot canyons requiring wading and ropework, and miles of blank slickrock that demand solid map-and-compass skills to navigate. The rewards are clear running streams in precipitous red canyons, camping under sandstone alcoves, and days of plumbing labyrinths without ever seeing another soul.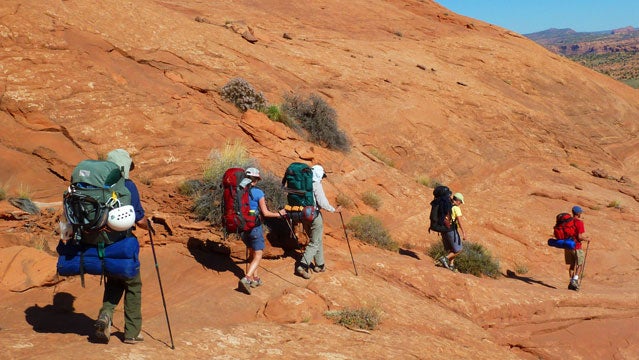 About those trailheads: Bring a four-wheel drive rig with plenty of clearance, and stop in to guide service Utah Canyons in the town of Escalante for some valuable advice. Owner Mark Saunto would be happy to guide you through classics like the Dry Fork of Coyote Gulch, which traverses three consecutive slot canyons Peek-a-boo, Spooky, and Brimstone. Most turn back after the first two, but be sure to continue six miles further to Spooky slot, the narrowest of the three.
For an overnight, have Saunto drop you at the Boulder Airport Trailhead for the start of the 16-mile Boulder Mail Trail, an old pack-mule route that traverses the Navajo sandstone plateau and drops into three separate canyons, Sand Creek, Death Hollow, and Maime Creek, each a classic. Basecamp for two nights in Death Hollow to explore, but beware of flash flooding. Wash the dust off after your hikes at the newly renovated Circle-D Motel ($50)
Stay: Five days
Pay: $200-$300
---
Go Crabbing and Hiking on Deserted Beaches
Road Trip the Oregon Coast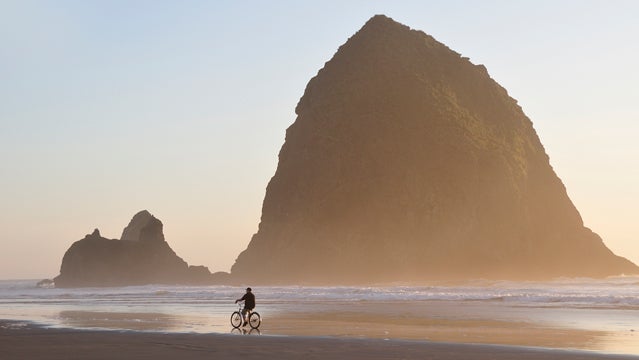 Clear views of Oregon's cove beaches and monolithic sea stacks aren't guaranteed for any month, but your chances are as good in the spring as any other time of year. Furthermore, winter and spring's misty clouds actually enhance the drama much more than the fog which often blankets the coast in July and August—a product of the deep ocean upwellings that also make the already frigid water even colder for swimming.
Start your five-day Oregon coast tour in Astoria, and Stay at the Cannery Pier Hotel, built on the site of a former salmon cannery jutting 600 feet into the Columbia River near its terminus at the Pacific Ocean ($189).
In the morning, head south on Highway 101. Your first stop is the miles of misty hiking trails through old growth forest at Ecola Beach State Park just north of Cannon Beach. Afterwards, check out Cannon's famous sea stacks, and then drive 18 miles south to Wheeler where you'll rent crab pots to catch Dungeness ($15). Head to Kelly's Brighton Marina with your catch and sit around an outdoor fire while they cook it up for you.
The next 140 miles to Florence, Oregon, is studded with state parks. Stop in to Cape Kiwanda to climb the giant dune, and don't miss tide pooling at Devil's Punchbowl. Take a hike at Cape Perpetua, and bunk in at the recently restored 1894 Haceta Head Lighthouse B&B just north of Florence (from $133).
The next day, stop in for a crab melt at the Crazy Norwegian in Port Orford (open only for lunch) and hike at Battle Rock Park. Spend your last night at one of WildSpring Guest Habitat's cabins, tucked into bluff-top 500-year-old fir trees. Be sure to take a soak in their cliff-side hot tub (from $198)
Stay: Four days
Pay: $500-$700
---
Up Your Trad Climbing
Climb Red Rock Canyon's moderate multi-pitches in Nevada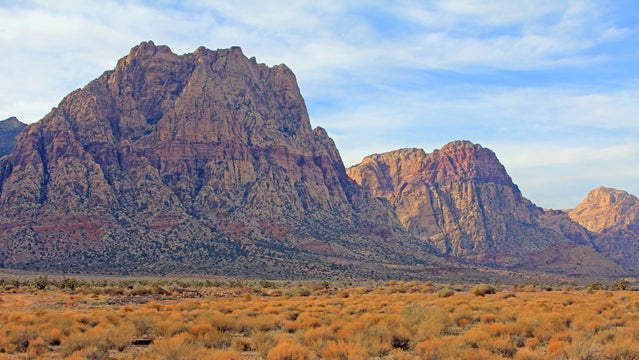 Wanna learn to climb trad routes? There may be no better place than Red Rocks Canyon National Conservation Area, just 17 miles from the Las Vegas strip. The 195,000-acre complex of sandstone ramparts boasts more than 2,000 climbing routes, plenty of them upper-grade pump-fests, but it's known in the climbing world as an all-you-can eat buffet of moderate multi-pitch climbs. Legions of aspiring alpinists have learned anchor and rope management on classics like the six-pitch 5.6 Cat in the Hat and the seven-pitch 5.7 Olive Oil.
Good climbing can be found in Red Rocks' deep, shaded canyons even in mid-summer, but springtime, with its moderate temps and long days, is the ideal season to tackle monumental climbs like 13-pitch 5.9 Epinephrine and the ultra-classic 9-pitch Crimson Chrysalis.
Thanks to a face littered with positive toe and finger holds, the sheer, 1000-foot pillar goes at a very reasonable 5.8+. Many climbers pitch a tent at the BLM's vast Red Rock Campground two miles east of Red Rocks' visitor center for weeks on end ($15/night for up to two vehicles), making it the best place to find climbing partners. The campground's facilities are limited to vault toilets and drinking water, but showers can be had for $4 at the Red Rock Climbing Center, 10 miles away.
The center also hosts a rock school and guide service ($250/day for one, or $375 for two people.) On off-days, make the five-mile scramble to the top of Bridge Mountain or up shady Icebox canyon. If camping in the dust at Red Rocks isn't your thing, you may be able to score one of Vegas' 165,000 hotel rooms. (Red Rocks entrance fee: $5/day/vehicle; Red Rocks Field Office: 702-515-5350.)
Stay: One week
Pay: $400-$1000
---
Ride Moab's New Classics
Mountain bike Utah's recently built slickrock trails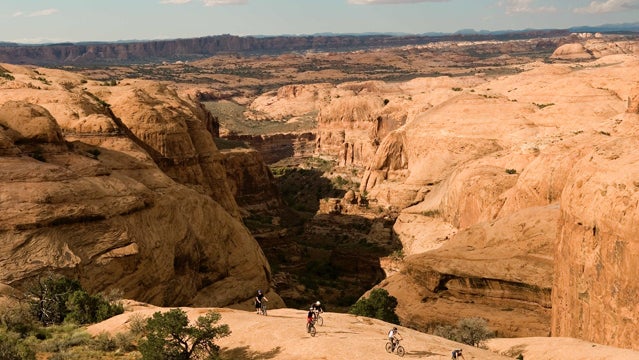 Moab mountain bikers recently realized that the frenzy of singletrack building in Fruita, Colorado—an hour and a half to the northwest along I-70 (and therefore closer to Denver)—was dislodging Moab from the mountain bike throne. Their response: quickly construct dozens of miles of new, beginner- and intermediate-friendly bike trail. In 2011 alone, 40 new miles of trail were built.
To make modern classics like the 16-mile Sovereign and 26-mile Magnificent-7 trail systems, they built stone ramps up and down chunky ledges and painted meandering dotted route lines across the vast swathes of BLM slickrock north of town, each with stunning views of the La Sal Mountains and surrounding canyonlands.
Unlike the old jeep roads that comprised the original Moab routes, new trails like Pipe Dream were built specifically for mountain bikes, so they flow across the landscape rather than jackhammer up and down it in the straightest line from A to B. Grab a trail map from any one of the bike shops in town ($3.) Proceeds go directly to trail building association Trail Mix, helping build more trail.
Of course, the ultra-classic Porcupine Rim still reigns supreme, so get a ride with Porcupine Shuttles as far up into the La Sals as the snowline will allow and let 'er fly ($15-$25; 435-260-0896). There are nine BLM campgrounds along highway 128 on the Colorado River, a popular one at Ken's Lake south of town, and the Sand Flats campground has great views. For showers, hit the Rec center on Park Ave ($4). The best food in town is the Love Muffin Café, which, sadly, isn't open for dinner.
Stay: 5 days
Pay: $250-$400
---
Get Celestial in New Mexico
Camp at White Sands National Monument on a full moon
With 265 square miles of blinding-white gypsum sand dunes, New Mexico's White Sand's National Monument can be tough on the eyes (not to mention any exposed skin) on a spring day. Which is why some of the monument's best-attended ranger talks occur on the full moon. Check out April 27's Full Moon Bike Ride, when the three-mile long Dunes Drive blacktop is open only to bicycles from 9:00 P.M. to midnight ($5), the full moon hike on May 23, or the free full moon string quartet in the dunes on May 24.
If you can't make it on a full-moon night, the stargazing is, uh, stellar thanks to light pollution ordinances in Alomogardo, 15 miles away, set to serve the Sun Spot and Apache Point observatories above town.
Roll your sleeping bag out at one of the 10 backcountry campsites set along a 2-mile loop, each blocked from the other by the tall, white dunes, and drift off watching the constellations wheel overhead ($3). During the day, hike the 4.6-mile Alkali Flats trail or try your hand at dunes sliding. The real experts use specially made sand-boards with gouge-resistant bases and sand wax to reduce friction, but most folks just buy a plastic snow sled from the monument visitor center for $10, climb the highest dune they can find, and bomb away.
Speaking of bombs, the monument is literally surrounded by the White Sands Missile Range, forcing periodic hours-long closures of the monument. Keep an eye on the park web site for advance warning, or call the visitor center at (575) 479-6124.
Stay: Two days
Pay: $50
---
Explore the Buffalo River's Hardwood Haven
Hike and canoe Arkansas' National River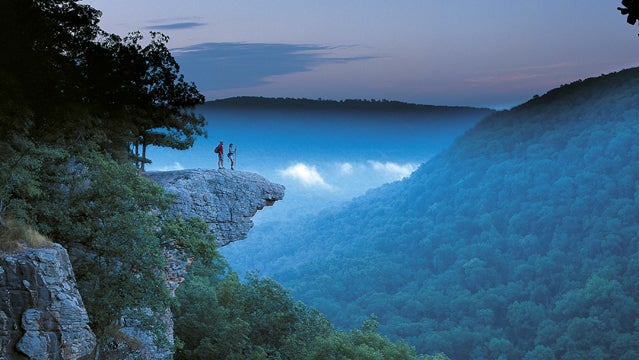 Though it has a low national profile, Arkansas' Buffalo National River is a huge regional draw—the national park service unit saw 1.16 million visitors in 2011, more than Arches, Everglades, and 307 other parks and monuments.
No wonder—one of the country's longest free-flowing rivers at 150 miles from its origin to it's confluence with the White River, the Buffalo tumbles 2,000 feet through the blocky Ozark mountains, beneath 400-foot limestone cliffs and past broad gravel bar campsites. A dozen access points means it's possible to do floats of anywhere from one to seven days. Or hike on more than 100 miles of trail through 95,000 protected acres of oak and hickory country so crenulated that dozens of civil war guerillas found havens along the Buffalo.
Start at the Buffalo Outdoor Center in Ponca, where you can begin or end your explorations in one of the 18 smartly decorated cabins, many with hot tubs and expansive views stretching across the surrounding hollers. (Check out the Presidential Cabin, which once hosted Bill Clinton; $269). The Outdoor Center can rent you canoes ($60/day), provide backcountry permits, and set shuttle to any one of the access points. Or set off on a three-night backpack of the 36.5-mile long Buffalo River Trail (the trailhead lies 200 yards from the main office). Save an afternoon for the 3-mile hike to the iconic overhang Whittaker Point, looking for blooming fire pink and mountain azalea.
Stay: 4 days
Pay: $400-$800
---
Save Some Loonies On Some Corn and Pow
Ride Whistler Blackcomb, British Columbia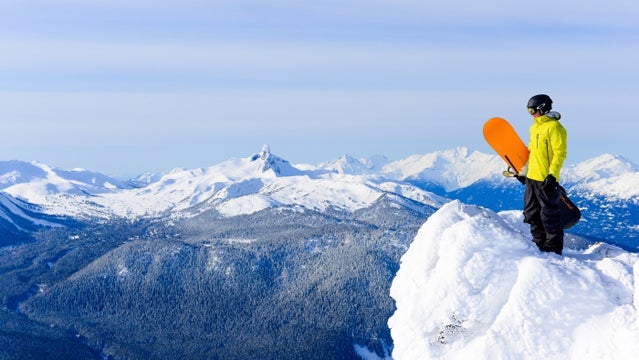 With the dollar frequently south of the loonie these days, skiing Whistler Blackcomb is kind of pricey. Better to check out the legendary resort in late season when deals abound. By legendary we mean the most skiable in-bounds terrain of any resort in North America at 8,171 acres, and the second highest vert at 5,445 feet. It's so tall that in April there's frequently a powder day in the crags up top and spring skiing on the corn snow down low (and you'll see no one else in either spot).
The après scene is second to none, with legendary clubs packed with hard-partying Vancouverites, and between April 12-21, there are bands playing for free every afternoon at the base, including NAS, The Arkells, and G-Love and Special Sauce. The resort offers lodging plus lift tickets starting at $117 per night during that period, and for even cheaper thereafter. Or go up-scale and snag a room at the slopeside Castle-like Fairmont Chateau for just $169 a night, about half the normal rate, which also includes a lift ticket and breakfast.
Whistler mountain closes April 21 in order to plow snow from the resort's notorious bike park, but the other half of the resort, on Blackcomb mountain, will be open until May 20, and it's still so big you'll need a long weekend to see it all.
Stay: 4 days
Pay: $500-$800
---
Kayak Brewpub to Brewpub for Clean Water
Celebrate American Craft Brewing Week with Michigan's Short's Brewing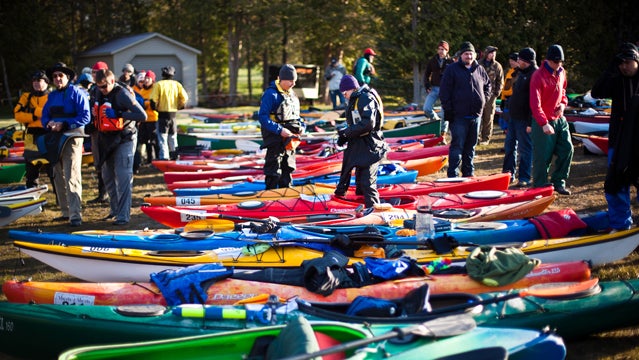 In 2009, when Joe Short opened a second Short's Brewing Company facility in the northwest Michigan town of Elk Rapids, he realized that it was connected to the original brewpub in Bellaire by 27 miles of prime paddling. He'd been kayaking the top-shelf Elk River Chain of Lakes for years, and a lark of a weekend for brewery employees soon grew to an annual spring gathering attended by hundreds of paddlers.
The May 18 event begins at the Shorts Brewpub on the Intermediate River and winds through seven interconnected streams and lakes, highlighted by the Caribbean-clear waters of Torch Lake (blessedly free of jet-skiers at that early date). Most paddlers complete the Short's-to-Short's course in about eight hours, ending at the Elk Rapids brewery within sight of Lake Michigan. "It's not a race," says Short's Matt Drake. "There's no prize for getting there first."
Unless you count lining up first at the taps at course-end, a prize in and of itself. Unavailable out of state, Short's brews like the Huma Lupa Licious IPA and the Soft Parada rye ale have a cult following amongst Midwestern brewers.
Despite being organized by brewers, there's no beer allowed on course, unless you count tying up at the Dockside restaurant on Torch Lake about halfway through the route for a pint over a burger and plate of fried pickles. Other nods to safety include five egress points for those who want to opt out of the eight-hour paddle early, and a new requirement of spray-decked kayaks of at least 10 feet in length.
The event costs $85, but any profits go to local waterway advocacy non-profits Three Lakes and Elk-Skegemog Lakes Associations. Kayak rentals are available for an extra $15.
Stay: 1 Day
Pay: $85
---
Hidden Hawaii
Trek to remote beaches on Kauai
Summer is driest on Kauai, but also the most expensive. Save a little coin on lodging in the spring, the second driest season on the Garden Island, so called because the bounteous rainfall makes the island sprout green. Because of lingering swell from Arctic winter storms, the famed NaPali coast is usually too rough for kayaking in the spring, so opt for a hike on the 11-mile-long Kalalau Trail, a strenuous and precipitous trek along the NaPali's curtain of verdant cliffs to earn a camp spot on Kalalau Beach, one of the world's most iconic. Reserve your $20 permit well in advance. 
The big winter waves that keep kayaks at bay in the spring make for reliable surf just a few miles east in Hanalei Bay. Beginners learn to stand up on the shore break next to the pier, and advanced surfers can saavy the tricks of the outer reef from a local ($65).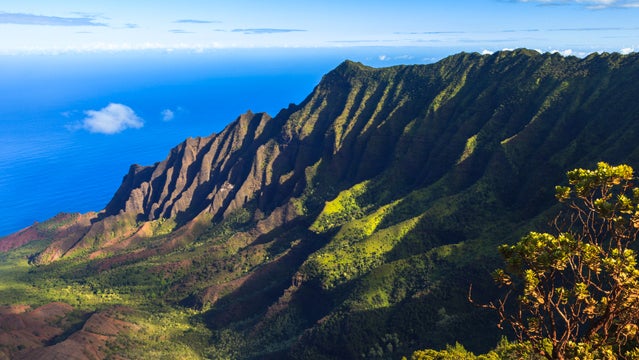 Afternoons, pedal the lush Powerline Trail to Wailua (bike rentals from $20), postingup at the beachfront Hanalei Colony Resort ($275). After a few days on the rainier north shore, dry out at the opulent Koloa Landing Resort on Poipu beach, just opened in 2010 and debuting a new spa and fitness center this month ($320).
There are fewer mai-tai addled crowds this time of year, but if you're after still more solitude, head a few miles east to Mahaulepu beach, protected form the hordes by a gnarly road considered rough even for rental cars. Instead, access it via the three-mile trail from Shipwreck Beach and bring your snorkel, mask, and fins to look for sea turtles in the comparatively calm south-side waters.
Stay: 7 days
Pay: $2,000-$3,000
---
Immerse Yourself in Ancient Culture (and Mud)
Bring the family to raft the San Juan River, Utah
There's nothing like getting gritty on a desert river to make a kid happy. One of Utah's most spectacular canyon floats is also its most family-friendly. The San Juan meanders through a 2,000-foot-tall red-rock canyon for 84 mostly mild miles, rimmed by sandy beaches, limestone plunge pools, and a few epic, gooey mud flats to grease up in. It's also chock full of educational opportunities—the upper river is littered with Anasazi archeological sites, a people who somewhat mysteriously disappeared from the area 700 years ago. Within a few miles of the Sand Wash put-in there are two petroglyph panels and a stunning set of moki steps, stair-like footholds carved into a cliff face to access a defensible stronghold, and a very well preserved riverside cliff dwelling on day two. Further on, harder layers of limestone rock constrain the current to a fast clip, whizzing you through and a handful of splashy Class II rapids and past stone monuments like the sombrero-shaped named Mexican Hat rock.
Some folks opt for a shorter trip, pulling off the river at the town of Mexican Hat, named for the rock formation, but most continue through the towering canyon for three more sun-drenched days to the Clay Hills takeout a few bends upstream of Lake Powell. Private-trip permits were mostly all filled by February ($18/person; check with the BLM field office for cancellations: 435-587-1544), so to go this spring, book a six-day trip with outfitter OARS, and let them set camp each night, cook you omelets and blueberry pancakes each morning, and teach you a thing or two about the archeology and geology you'll be floating past ($1095). Let your guides know you're keen for a mud fight and they're bound to find your family a wallow or two.
Stay: 6 days
Pay: $1,095
Lead Photo: Shannon/Flickr