Northeast Adventures
Our Favorite New England Breweries and Beers
The region is known for its craft brews. Here are eight places we recommend visiting for the best of the best.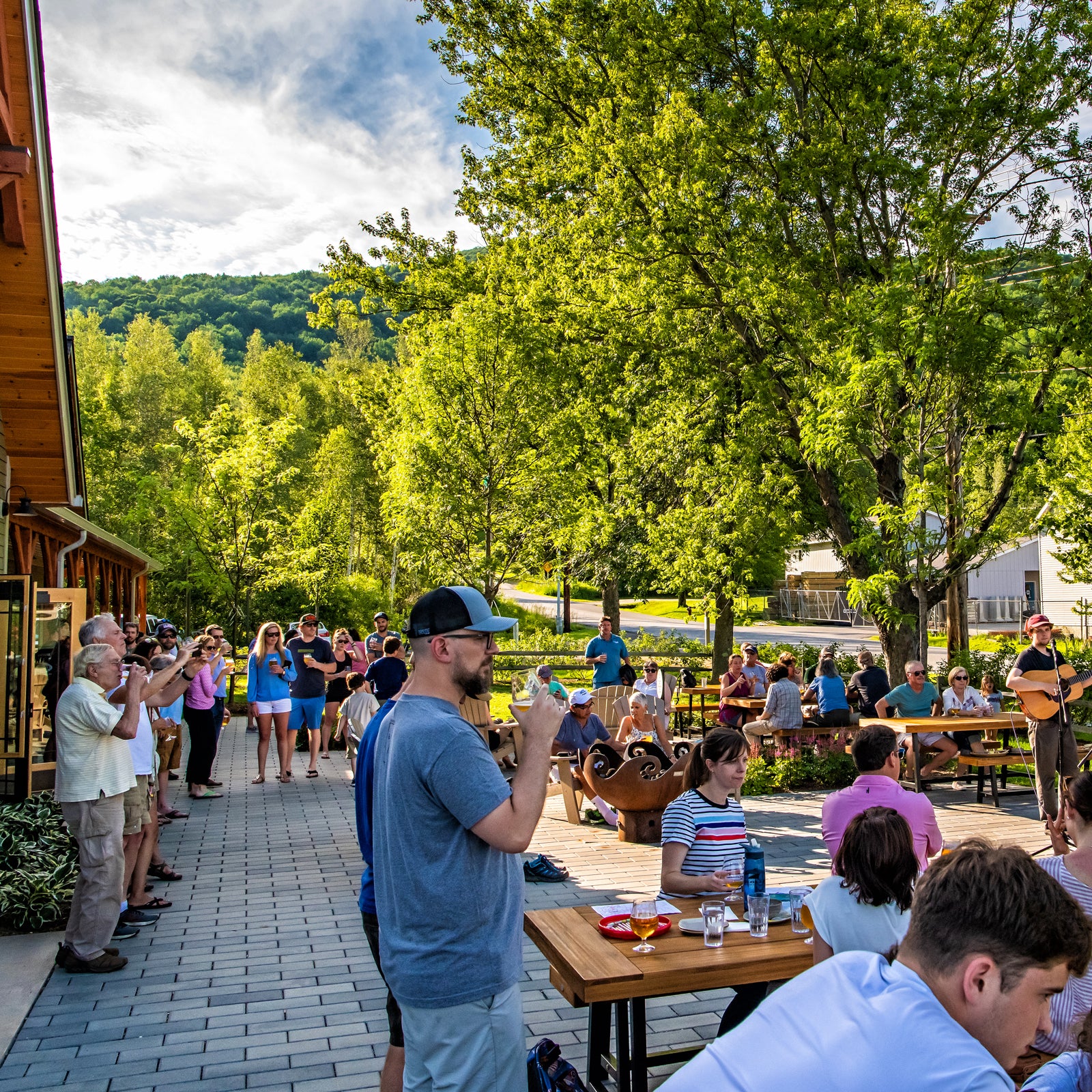 Heading out the door? Read this article on the new Outside+ app available now on iOS devices for members! Download the app.
You could spend years exploring the more than 600 craft and microbreweries that New England has to offer and still never taste all the incredible beer from the region. Luckily, a number of our editors and contributors have spent decades living, adventuring, and drinking in the Northeast. Here are their picks for the breweries and beers you have to experience the next time you're in the area, from the best brewery in the world in an unsuspecting corner of Vermont to a little-known gem on the New Hampshire coast. Consider this your pocket guide to hoppy euphoria. 
Lawson's Finest Liquids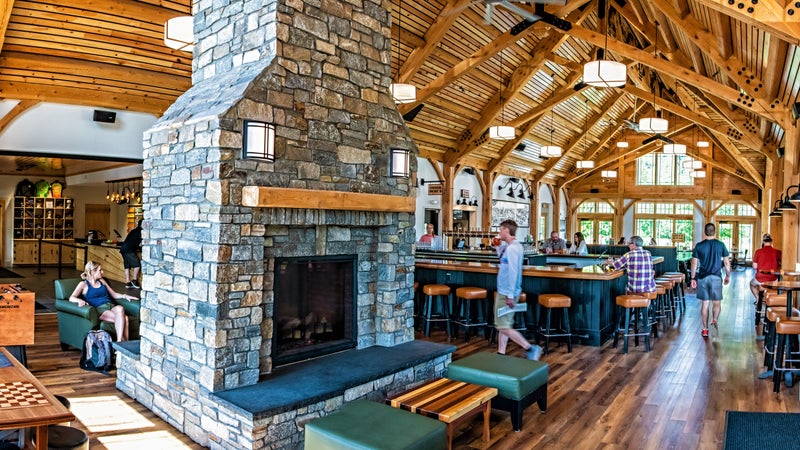 Waitsfield, Vermont
Although I'm partial to my hometown of Stowe's brewery, the Alchemist, and its classic Heady Topper IPA, I'd be remiss if I didn't point brew lovers to Lawson's. This taproom has tons of indoor and outdoor seating in an idyllic small-town setting, and Sip of Sunshine, a cult-favorite fruity Vermont IPA and my brew of choice, is always flowing. Farm-to-table appetizers, pinball machines, and lawn games will keep you here awhile, because what's better than a lazy day of drinking with friends? When you're ready to leave, walk less than half a mile south to Canteen Creemee Company for the best maple "creemee"—that's Vermonter for soft-serve ice cream—of your life. —Abbey Gingras, associate audience editor
Maine Beer Company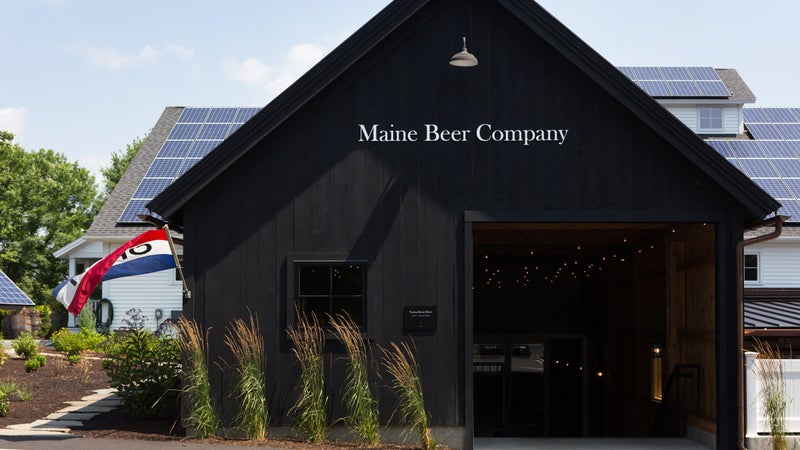 Freeport, Maine
I first tasted Maine Beer Company's Lunch during dinner at a New York City restaurant last spring, a far cry from the charming coastal vibes of its home. The brew's name created a great deal of confusion later on when I asked around about the perfect beer I'd been drinking. But it's cool—Lunch, after all, is an apt moniker for the Maine-based craft brewery's imminently drinkable IPA. As someone's day might hinge on their midday meal, this bold but balanced brew immediately became the cornerstone of my beer-ordering habits. It's frothy, malty, hoppy, and shot through with citrus and pine. At 7 percent ABV, I recommend pairing it with a sandwich if you're drinking it at its designated hour, but you'll be able to find it in stores and restaurants all over the Northeast no matter the time of day. —Xian Chiang-Waren, associate culture editor 
Narragansett Beer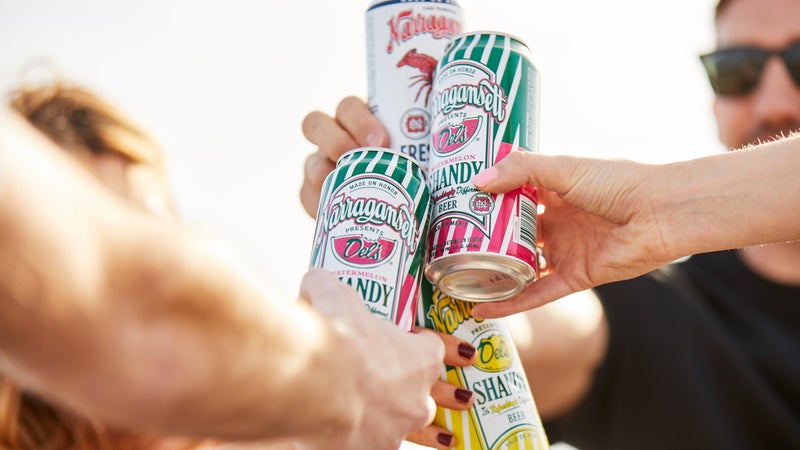 Providence, Rhode Island
When I lived in Boston, I spent the summers with my girlfriend and her family at a small lake house in central Massachusetts. On a typical day, we'd go for a morning swim and then read by the dock, and when the afternoon rolled along, someone would head to the "packie," Massachusetts slang for liquor store, and bring back an assortment of beer to have with dinner that night. My favorite pick of the bunch would always be Narragansett, which is opening a new brewery and headquarters in Providence later this year. I remember one day when we took a trip down to Narragansett Beach in Rhode Island and sipped on the namesake shandies and lagers in between sunbathing and dips in the ocean. Can you get more picturesque than that? —Jeremy Rellosa, affiliate reviews editor
Trillium Brewing Company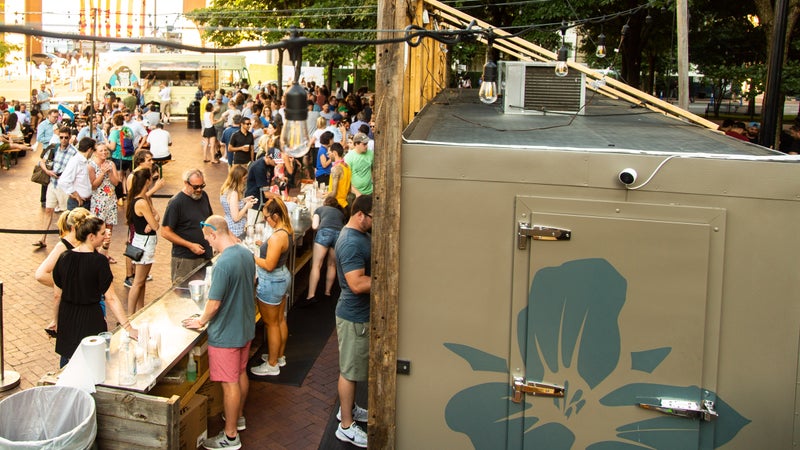 Boston, Massachusetts
The people of Massachusetts truly hate to be outdone, and so when Vermont started getting all the craft-brewing attention, my beautiful Baked Bean State quite literally said, "Hold my beer." While tons of breweries have popped up all over the state in recent years, none can outshine the beloved Trillium Brewing Company. Currently listed as the third-best brewery in the world, according to RateBeer, it has been concocting all sorts of amazing combinations for seven years now. Grab a cannoli at Mike's Pastry in the North End, then walk a mile to the newly developed Seaport, where Trillium has set up a large but cozy taproom. After a beer and some poutine (or if you want to dive deep into the state's coastal spirit, I suggest the lobster toast), head to the nearby Institute of Contemporary Art to see one of the city's best art collections. —Kyra Kennedy, photo editor
Throwback Brewery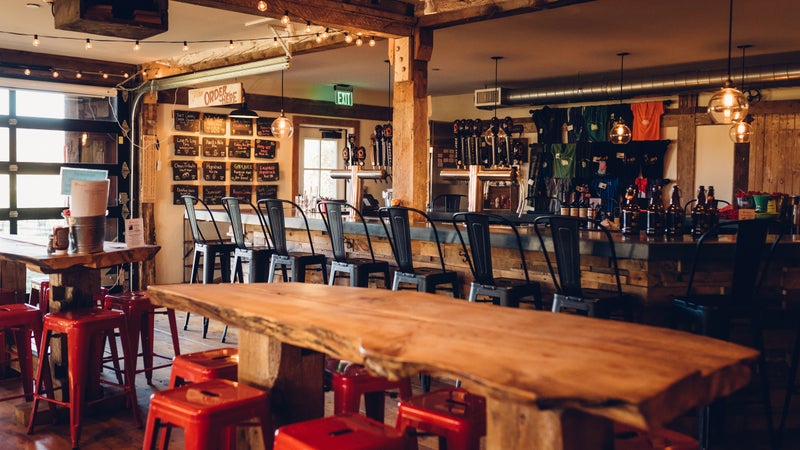 North Hampton, New Hampshire
Like the New Hampshire coast itself, Throwback is tiny and not very well-known, but it's a heavenly place to visit in the summer or early fall. The brewery sources more than 70 percent of its beer ingredients, like fruit and hops, locally, including from the farm on which it's located. Batches are small in quantity, seasonal in availability, and experimental in flavor, and although you can find them in some stores around the region or buy them to go from the brewery, they're best enjoyed on the farm itself. I've spent several late afternoons in bliss on Throwback's dog-friendly patio in scenic North Hampton, taking in a view of goats, chickens, and donkeys (the brewery's mascot), and relishing the scent of salt in the air from the nearby Atlantic. Start drinking with the Spicy Bohemian, a pilsner dry-hopped with jalapeños. It's crisp, light, peppery, and spicy—but not in an overwhelming way—and it happens to be one of the most popular beers on tap every year. —Svati Kirsten Narula, contributor 
Hill Farmstead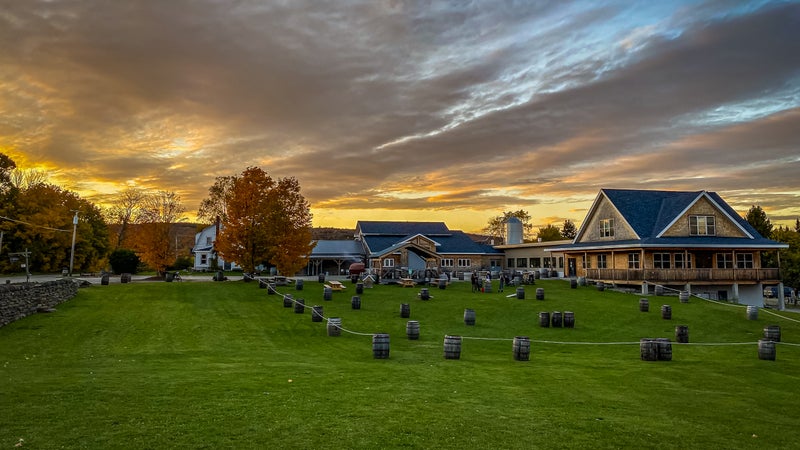 Greensboro Bend, Vermont
Since my colleague beat me to the punch in praise of Lawson's Sip of Sunshine (which is really only to be enjoyed after you've cooled the can in the cold water of Warren Falls in Warren, Vermont), I'm now free to lavish attention on my other steadfast Vermont companion: Hill Farmstead Brewery's Edward. Edward is about as perfect as a beer can be: a crisp but smooth American pale ale with just the right amount of hops and citrus. It pairs well with absolutely everything, complimenting light summer fare as well as brightening hearty winter meals after a long day of skiing. You'll want to drink it year-round, but since it's only available for purchase at the Northeast Kingdom brewery in northern Vermont and select restaurants in the area, you'll just have to make a trip there. Trust us, it's worth it. —X.C-W.
Tree House Brewing Company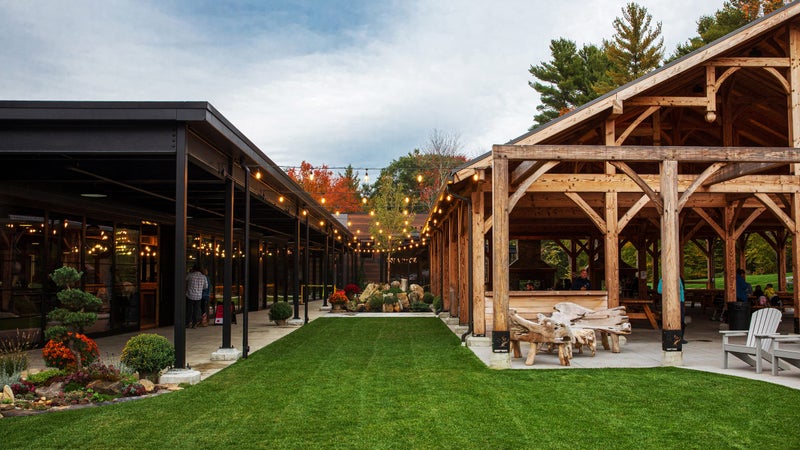 Charlton, Massachusetts
If you find yourself in central Massachusetts, you have to stop by Tree House Brewing's Charlton taproom and experience what can only be described as the Disneyland of beer. Get there via mountain bike, and ride the singletrack that connects the brewery to the abutting 86-acre Capen Hill Nature Sanctuary, then cool off by sipping the ever popular Julius IPA on the patio. Those looking for a more leisurely experience can try one of Tree House's stouts and take a stroll through the on-site orchards, dotted with beehives. I recommend following this pilgrimage by driving 30 minutes northeast to Worcester and grabbing a bite to eat at Armsby Abbey. —K.K.
Rising Tide Brewing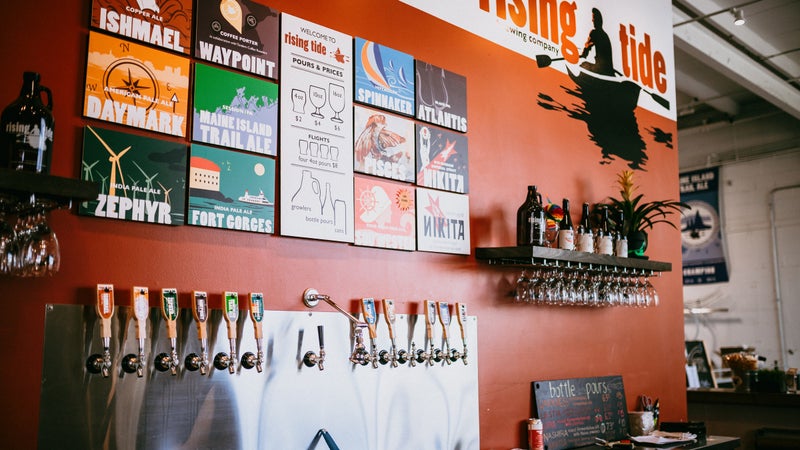 Portland, Maine
This brewery holds a special place in my heart for many reasons. Not only has its Maine Island Trail Ale been my companion on numerous paddling excursions in nearby Kettle Cove, but my sister is on most of the company's wedding marketing materials. In the summer, it opens the garage doors to a patio with gas fireplaces and a rotating selection of food trucks. My go-to brew is the Ishmael—a copper ale that provides just enough flavor without punching you with bitterness, and at just 4.9 percent ABV, I can afford to have a few. If you're looking for an IPA, the Zephyr is an easy choice. A fun bonus: many of Rising Tide's beers are named after Maine's favorite outdoor hubs, and the brewery is a meeting ground for ski films, climate talks, and local activism. —Mitch Breton, video curator
This story was produced in partnership with Down East magazine. Check out more of their Maine beer recommendations here. 
Trending on Outside Online