The Best River Towns in America
Readers voted Richmond, Virginia, the nation's most livable river town. (No joke!) To find out why, Jon Billman paddles, runs, and snorkels for crabs in the former Confederate capital. Plus: the lowdown on nine other great river towns.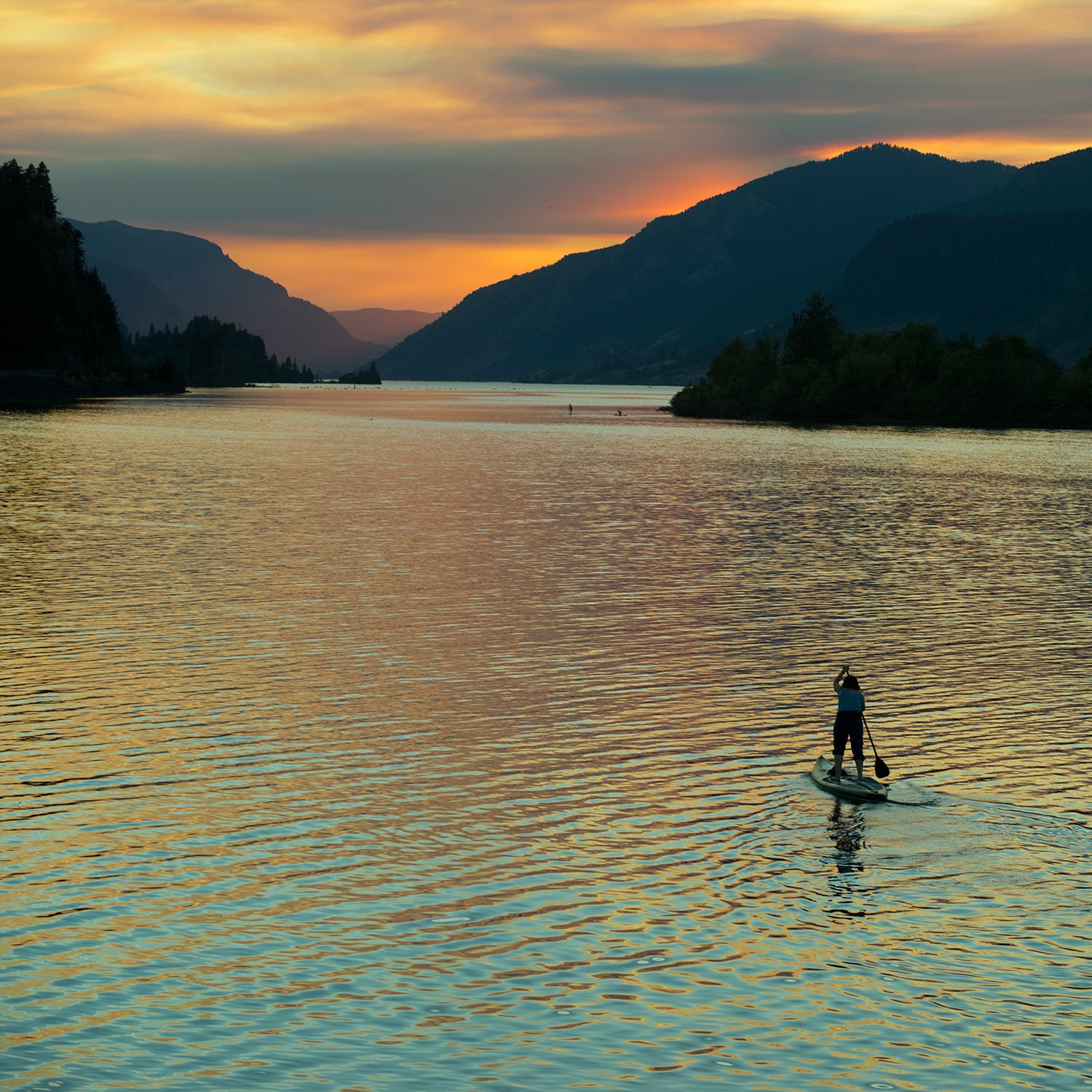 Heading out the door? Read this article on the new Outside+ app available now on iOS devices for members! Download the app.
To help select America's most progressive, adventurous, and livable river towns, we turned to a trusted source: You. Over the past few months, 20,000 readers in 10 finalist towns engaged in a mostly friendly and always opinionated online competition to determine the cities that are most serious about recreation and environmental stewardship. The result: our first-ever crowdsourced guide to the best places to live in America. Starting with our surprise winner, Richmond, Virginia.
---
Richmond, Virginia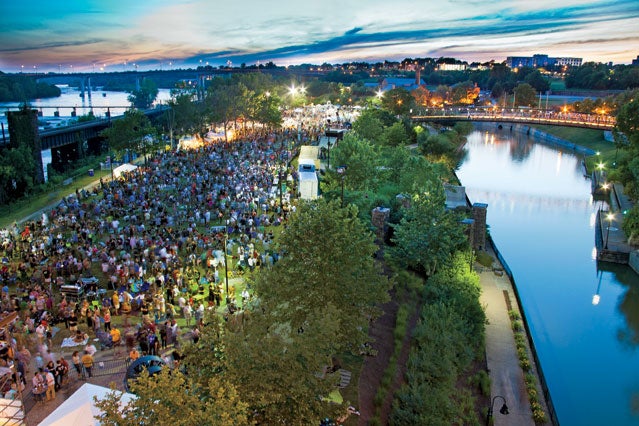 "Who would believe that the city of cigarettes would become the city of mountain-bike trails and triathlons?" asks Ralph White, manager of the James River Park System. We're hiking to the James River, mere minutes from downtown, under an overstory of sweet gum and sycamore. Inner-tubers, snorkelers, fishermen, and sunbathers use this trail to access a beautiful stretch of the fall-line river, which for more than a century held the dubious distinction of being one of the most polluted waterways in the country. "Nobody wears a noseclip anymore," White says. "When I first got here, all the boaters wore them. Not now."
Our destination is 42nd Street Island, a popular swimmers' hangout where I plan to do some rock hopping. But we're held up by an eyesore on a pedestrian bridge that crosses a set of railroad tracks: the word POOP scrawled in barely dry white paint. White, a 68-year-old James River crusader, frowns. He has a graffiti obsession. In 1981, while leading a group of African-American fifth-graders down the trail, he turned a blind corner to find racist tags.
Since that incident, White has made the elimination of graffiti his own art form. He worked with local Pleasants Hardware to devise the precise paint match—rock gray—for the turtleback granite boulders that make up the island. "This is the most important thing we do," White says. "Sweat the small stuff and the big stuff will take care of itself." As White considers climbing back up to his truck to fetch his paint, a shirtless tattooed kid scrambles toward us. I wonder if this is the artist himself, taking offense at what White's about to do to his painting. Rather, the kid praises him. "This is my favorite place in the world," he says. "Thanks for making this happen."
THIS SUMMER, WHEN OUTSIDE opened the campaign season on Facebook for the greatest river town in America, I figured I'd end up writing about Missoula, Montana, or Hood River, Oregon. I've got the Rocky Mountain superiority complex when it comes to rivers; I knew Richmond was a candidate, but I didn't seriously consider the possibility of eastern time zones.
But RVA mustered an intrepid volley. When I arrived to vet the town, the vote still undecided, the good citizens made it their business to persuade me that Richmond was worthy. I was barely dry from a morning of stand-up paddleboarding when I was whisked to a voting drive at Hardywood brewery, fueled by eight percent beer. Even the airport-shuttle driver bent my ear about the vote count. Waiting for my flight home, I read about myself in the Times-Dispatch.
And what I want to tell you is that the city's residents are absolutely justified in their zealotry. Richmond is as metropolitan as it is Waffle House; the former Confederate capital is home to six Fortune 500 companies, including Altria Group. But it's also wild: the James forms a surprisingly rugged seven-mile central ribbon for a dedicated community of boaters, fishermen, bikers, and runners. It's not Boulder coiffed—you can find some impressively tangled pawpaw groves and unwelcoming copperheads in the 600 acres of urban wilderness. Still, urbanites check the river's cubic-feet-per-second levels on their smartphones, and everyone seems to know someone who commutes by kayak. The foodie scene is blowing up. Musicians like Andrew Bird play every night of the week. And while Richmond reportedly boasts the third-highest number of tattoos in the country, it also claims one of the healthiest per capita ratios of marathoners. "When you gotta live somewhere seven days a week during high season, you better make sure you like it," says Matt Perry, 42, a New Jersey Yankee who ditched his job at Capital One to partner at Riverside Outfitters, which provides gear and guides for kayaking, rafting, SUPing, and mountain biking. "People say living in Richmond is good because it's two hours from everything"—the mountains, the ocean, Washington, D.C. "That's cool, but it's also one minute from itself."
So what happened? In the '80s, the city had a major pollution problem, thanks to tobacco plantations and chemical plants. By 1975, the river was so toxic that they shut it down to fishing for 13 years. Crime was on par with Detroit.
These days the murder rate has dropped 75 percent. Downtown neighborhoods have undergone revitalization, and Virginia Commonwealth University, once a commuter school, has evolved into a world-class institution. And what's happened on the James is nothing short of miraculous. That process began in the 1960s, when speedboat builder Newton Ancarrow became the river's unlikely Rachel Carson after watching raw sewage eat the paint off his new boats. It continued when the Clean Water Act was passed in 1972, paving the way for the James' 13-year shutdown and the city-funded reconstruction that followed. "This year marks the 40th anniversary of the Clean Water Act," says Bill Street, executive director of the James River Association. "The James is arguably the most improved river in the country."
ON THE RIVER THESE days, the water is clear enough to sight-fish for carp, and a key indicator species, the American shad, is back. Even Atlantic sturgeon have returned. Depending on the season, a paddler can find Class I–V whitewater within the seven-mile fall line.
"When I paddled the James when I was 12, it was the filthiest river I'd ever been in," Olympian and world-champion canoeist Jon Lugbill, 51, tells me on an hour-long trail run across the river to Belle Isle, a former Civil War prison. Lugbill made the Wheaties box in 1986; he's now executive director of Sports Backers, which organizes Dominion Riverrock, a sports and music festival that attracts 65,000 people to the James. "What makes Richmond better than other urban areas is that our outdoor access is wilder," he says.
That goes for the riding, too. When I ask Brandy Adams, race director for the Thule Urban Assault, what her favorite thing is about Richmond mountain biking, she replies, "Snakes, eagles, poison ivy." That afternoon I taste dirt. For me the sweetest glass of tea is the 20 miles of singletrack sandwiched between the James and the canals and railroads bordering both sides. Adams and I are spinning with ghosts of emaciated Union soldiers on Belle Isle, home to the second most horrendous prison camp of the Civil War. The prisoners were the original Belle Isle outdoorsmen—the Confederacy didn't bother to build them barracks, so they lived in Sibley tents or, worse, under the cold stars. Now the island features a skills park with a pump track and obstacle course beneath the overpass of the 301.
The best way to finish off a ride or trail run is in the river. And in Richmond you don't just go swimming or fishing. You go snorkeling. For native blue crabs. Some local rats I spotted while running, Pat, Chris, and Andy, are kind enough to take me out. We're hunting blue crabs to use for catfish bait approximately three minutes from my hotel room. We can see catfish the size of torpedoes and male blue crabs up from Chesapeake Bay, erroneously looking for love in the fresh water. A CSX coal train creeps and idles on the trestle above us. The glass-and-steel skyline of the capital of Virginia rises beyond. The engineer leans out and peers down as if to check the rapids or his favorite catfish hole. I wave, and he waves back.
From upstream a bobber of color chugs downriver—a red whitewater kayak captained by a guy with a black CSA beard. In his teeth is a cigar the size of a flashlight. The paddler teases the foam with his bow, backs up, and slips and jigs through the channel. When he clears the rapid, we can clearly see, duct-taped to his boat, an orange FOR SALE sign. He disappears downriver, toward Rocket's Landing and the former tobacco warehouses that are now luxury lofts. The sign is a more effective conduit to a sale than Craigslist, at least here in Richmond. I have no doubt he's selling up.
The Stats
Population: 204,214 (metro area: 1.2 million)
Median Age: 32
Median Annual Salary: $38,266
Median Home Price: $218,900
Unemployment Rate: 6.9 percent
Votes Received: 46 percent
—Jon Billman
---
Nevada City, California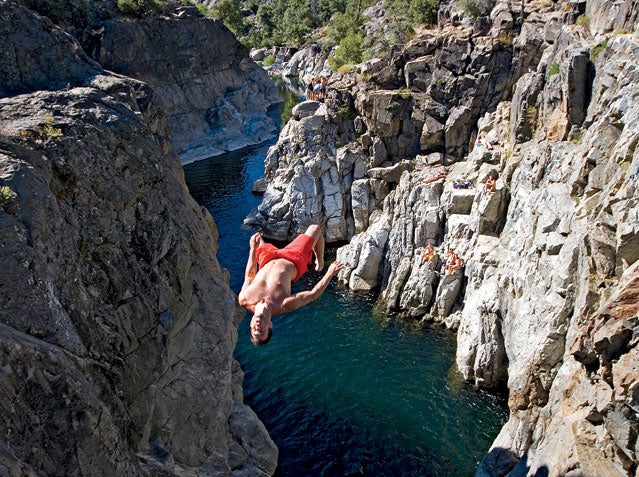 Nevada City was the smallest town in this year's Facebook competition, but no other city turned out the vote in such a big way. A whopping 2,539 people—83 percent of the populace—cast their ballots for this tiny hamlet on the edge of Tahoe National Forest. The next closest per capita average: Hood River, Oregon, with 40 percent voting. And while Nevada City didn't win (sorry, guys!), we understand the enthusiasm. Residents can ski at Sugar Bowl (45 minutes away), mountain-bike 120 miles of singletrack within a 20-minute drive into Tahoe National Forest, and visit five vineyards less than 30 minutes from downtown. But readers consistently cited one selling point: the "magical," "sun-hugged," "granite-lined" Yuba River. Seven miles north of town, the South Fork of the Yuba offers trout fishing, Class V kayaking, and summer lounging as it flows through a granite gorge in the Sierra foothills. "The most beautiful river I've ever seen," says local Judy Meyers. But there's culture, too. As Mike Mooers, creative director at Wicked Good Copy and Communications, puts it: "Nevada City has all the outdoorsy stuff but also some seriously rooted heart and soul." The Nevada Theater, where Mark Twain read in the 1860s, still features monthly plays. In July, the 150-year-old town closes two blocks to cars and lets artisans take over with booths selling wine, craft cheeses, and local veggies. The city also hosts eight annual events, including the acclaimed Wild and Scenic Film Festival and a Mardi Gras parade. There's even a masquerade ball that has been known to attract police attention. "We're trying to tame that down," says George Harper, a former parade organizer. "It's a family event." All of which is to say—as Rich Bodine, a clinical support specialist, did—"Nevada City is alive!"
Best Swimming Hole: "Cliff jumps, nudist beaches, family-friendly sandbars—there are oodles
of options" on the South Fork of the Yuba, says Liza Hestbeck, who works at the Outside Inn. But if you want to combine a hike with a swim, Hestbeck recommends the two-mile Independence Trail from Highway 49 to Rush Creek, where you can dive off granite cliffs.
On the Town: An old mining village, Nevada City has a bar for practically every type of drinker. But if you want to "mingle with the real locals," according to Vanessa Richardson, a freelance writer, head to the Mineshaft, where you can order up 16-ounce PBRs for $2.50—starting at 7 a.m.
What You Get for $1: A one-year membership at Polly's Paladar, a monthly dinner club that brings in prominent chefs from the region to make a seven-course meal with locally sourced ingredients ($50 per dinner for members).
The Stats
Population: 3,068
Median Age: 48
Median Annual Salary: $59,440
Median Home Price: $281,800
Unemployment Rate: 11.3 percent
Votes Received: 12 percent
—Kyle Dickman
---
Boise, Idaho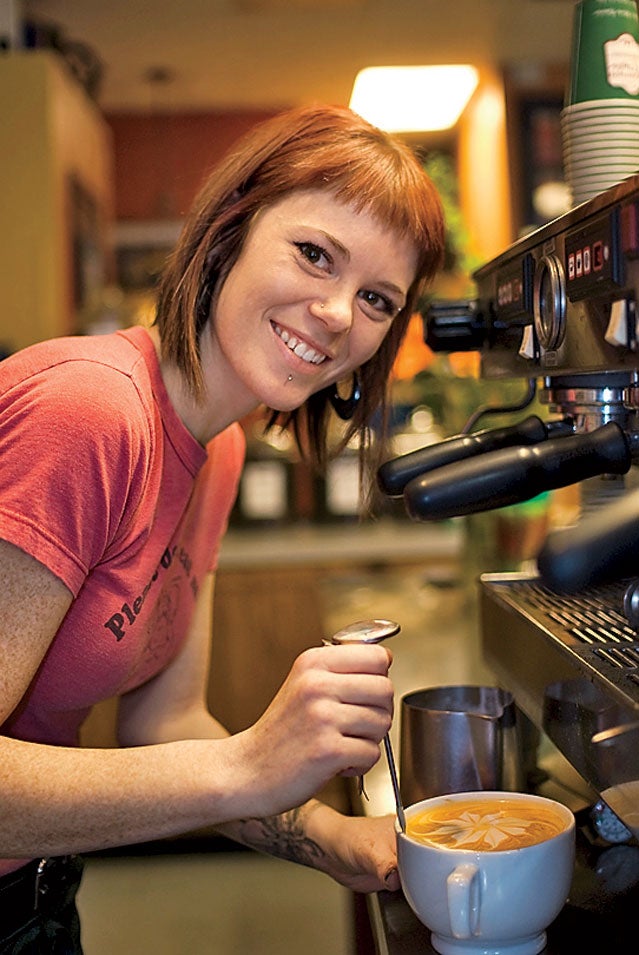 In Boise it's all about the Greenbelt. The 26-mile parkway lining the Boise River and bisecting downtown is the city's lifeblood, providing access to more than 20 parks, multiple biking and hiking trails, pedestrian bridges, and an outdoor amphitheater. "Put simply, life revolves around the river," says Jeff Reynolds, co-owner of ad agency Rizen Creative. It was a common refrain. "We have a whitewater park minutes from our house," notes Sarah Mello. Says local Greg Sims: "I rode my bicycle from home and caught three 30-plus-inch salmon in the course of an hour." Reynolds even offered a dare: "I challenge you to find a Boisean who didn't float, fish, walk or ride along, play in, SUP, or kayak a Boise-area river last year." Off the water, readers highlight everything from Alive After Five, a free summer concert series, to the city's farmers' market to the 130 miles of singletrack in the nearby Ridge to Rivers trail system. The political climate (mostly conservative) won't appeal to the liberal-leaning crowd—"Don't care for Idaho politics but love Boise and its people," says Rob Love. But the city's also home to Boise State University, which adds collegiate verve and, of course, the Broncos' trademark blue turf.
Best Saturday Itinerary: "Tubing the Boise River from Barber Park to Ann Morrison Park," says Rachel Hugens, a nurse at St. Luke's hospital. Afterward, you "can't go wrong with brew-pubs like Highlands Hollow and TableRock."
On the Town: Since 1977, the Idaho Shakespeare Festival has staged plays during the summer, and
in 1998 it constructed a 770-seat amphitheater next to the Boise River. "Being at the Shakespeare Festival on a summer night, having a picnic with a view of the river before the play, and feeling the cool river air as the sun sets is one of the absolute best ways to enjoy Boise," offers Lisa McMillin, a library assistant at the Boise Public Library.
What You Get for $199: A season pass to Bogus Basin Mountain Recreation Area, just 16 miles from town. For one week each February, the 2,600-acre non-profit ski area sells the tickets at a deep discount, a generous nod to its mission to create "accessible, affordable, and fun mountain recreation" in Treasure Valley.
The Stats
Population: 205,671 (metro area: 616,000)
Media Age: 35
Median Annual Salary: $50,402
Median Home Price: $163,000
Unemployment Rate: 8.8 percent
Votes Received: 4 percent
—Ryan Krogh
---
Durango, Colorado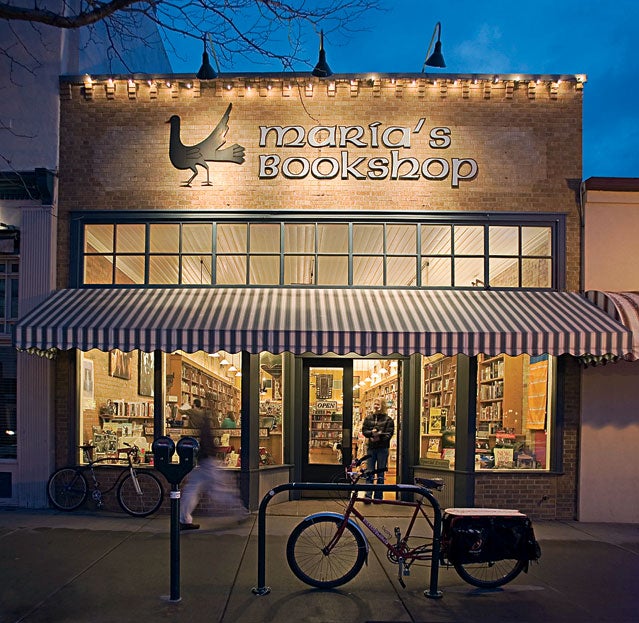 The Animas River, which parallels Main Street, was the main reason why more than 1,700 readers voted for Durango. "It's super accessible," says Haakon Samuelson, a sales associate at 4Corners Riversports. "And it has something for every ability—from Class I to Class V within a 50-mile stretch." In summer, the river hosts a non-stop parade of rafters (there are eight guiding outfits in town), kayakers, and tubers sipping beers from one of four local micro-breweries. Then there's the fishing. "The Animas is arguably the best urban trout fishery in America and 100 percent public within city limits," says Ty Churchwell, backcountry coordinator for Trout Unlimited's Durango office. Readers were also quick to point out the on-land fun, too. "The hiking and backpacking are as good as anyplace else, and there's rock climbing, backcountry skiing, and more bike and running trails than you can imagine," says Keith Rausch, owner of Pine Needle Mountaineering. The town itself is less pretentious than other Colorado tourist hubs, mainly because of the balance of working ranchers, young professionals, athletes, artists, retirees, and the 4,000 liberal arts students attending Fort Lewis College. "It's a real town, not a faux fancy place that relies on the mythic West for its identity," says Stephanie Moran, program coordinator for the Durango Adult Education Center. One drawback: it's remote—three hours from the nearest Interstate and four from the nearest major airport. But residents see it as the center of everything. "There's the Weminuche Wilderness with fourteeners, meadows, and aspen groves and then Moab and the high desert within a few hours," says Ryan Huggins, a water-resource specialist. Also, Huggins notes, the 300 days of sunshine a year don't hurt.
Best Mountain Bike Trail: "Dry Fork loop," says Phil Wehmeyer, of Durango Mountain Realty. "It's 12 miles of singletrack that starts in the oaks, heads up through some big pines, then takes you through a beautiful aspen grove. On the downhill portion, it heads back via Hoffeins Connection trail, which has some wonderful swooping high-speed turns."
On the Town: With beer-soaked floorboards and surly bartenders, it may not be the classiest joint, but readers consistently touted El Rancho Tavern as the place to grab a beer. (There are 20 of them on draft.) "If you don't have anything important to do the next day, the Ranch is the place to go," recommends Eric Parker, an ER nurse.
What You Get for $17: An all-day pass to Trimble Spa and Natural Hot Springs, a laid-back soaking haven seven miles north of town. "The setting is really relaxing, with trees overhanging the pools," says Ellen Stein, membership coordinator for Great Old Broads for Wilderness. "Test your mettle in the hot pool."
The Stats
Population: 16,887
Median Age: 31
Median Annual Salary: $53,882
Median Home Price: $302,400
Unemployment Rate: 7 percent
Votes Received: 8 percent
—Kate Siber
---
Missoula, Montana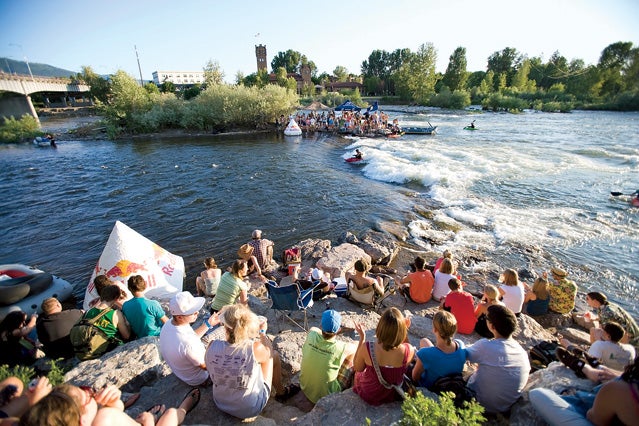 Plenty of people—including more than a few famous writers—have endeavored to sum up what makes Missoula great. But we were hard-pressed to find a better account than the one offered by local artist Teshia Freseman, who describes the town as a place where "outdoors fanatics, hippies, crazy college kids, retirees, horse-whispering cowboys, creative entrepreneurs, activists, rugged rednecks, collegiate-sports aficionados, adrenaline junkies, and everyone in-between meet downtown on Thursday nights for two-for-ones." The reason they all call Missoula home, as other readers point out, has a lot to do with the city's proximity to world-class fly-fishing (the Blackfoot, Rock Creek, and Bitterroot rivers), hundreds of hiking and biking trails in the Rattlesnake and Lolo wilderness areas (five minutes from downtown), and the college-town vibe. "I lived there 10 years, and not once was I ever bored," says librarian Jill Munson. Residents highlight everything from tubing on the Clark Fork with a crew of friends and a cooler of Kettlehouse Cold Smoke to mountain-biking old pack trails in the Rattlesnake to hucking cliffs at Snowbowl to eating yellow-cake ice cream at Big Dipper. Summer evenings are spent at Caras Park, where families come to walk the dog and listen to open-air concerts while kayakers practice at Brennan's Wave whitewater park. Careers can be hard to come by—with 15,642 students, the University of Montana dominates the economic landscape, as does the forest service. (One of the largest bases in the country is located here.) But if you're living here, chances are you're not too interested in climbing the corporate ladder. (Locals call the lack of career opportunities the wilderness tax.) As attorney John Hart puts it, "People who could live anywhere choose to live here."
Best Sick-Day Itinerary: "I'll run the kids to Bernice's Bakery for breakfast, drop them off at school, then take the dog for a lap over Mount Jumbo, whip up a salad with freshies from the Saturday farmers' market, maybe hit the mountain bike for some laps up Rattlesnake Canyon, load the raft and kayaks, grab sandwiches from Rattlesnake Trading Company, pick the kids up from school for an evening dinner float and fly-fish on the Blackfoot, and still get them home for bedtime," says Dan Pierce, an emergency physician at St. Patrick Hospital.
On the Town: It only started seven years ago, but the River City Roots Fest has quickly become Missoula's signature celebration. The two days of art shows, family events, and free concerts on a downtown stage (past headliners include Robert Earl Keen and the Infamous Stringdusters) make for a community-centric August weekend.
What You Get for $20: Roughly one pound of hand-picked wild huckleberries from the Missoula farmers' market.
The Stats
Population: 66,788
Median Age: 31
Median Annual Salary: $36,547
Median Home Price: $225,000
Unemployment Rate: 6.6 percent
Votes Received: 5 percent
—Meaghen Brown
---
Nashville, Tennessee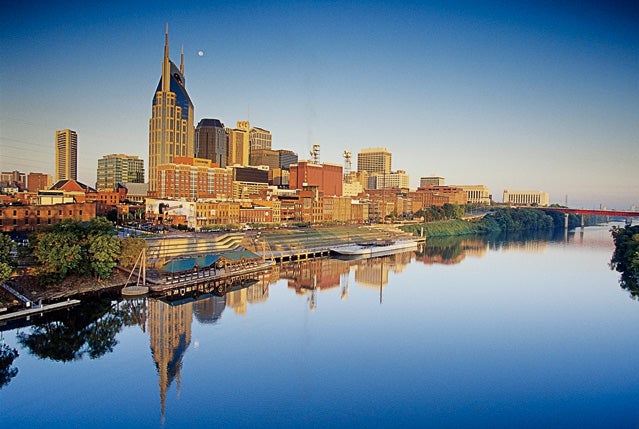 When you think of Nashville and water, you think of the 2010 flood that lifted the Cumberland River 12 feet above its flood stage, filling the honky-tonks of Lower Broadway and drowning Brad Paisley's guitars. But Nashvillians have always spent weekends getting wet—boating and bass fishing on Center Hill, Percy Priest, and Old Hickory reservoirs and paddling the Harpeth and Caney Fork rivers. Now the town is extending its longtime conservation spirit—witness the Land Trust for Tennessee's 75,000 preserved acres—into restoration along the Cumberland River. Two examples: the city recently opened the new downtown Cumberland River Park and offers primitive camping in its 808-acre riverfront Bells Bend Park, in the heart of a 18-square-mile undeveloped swath of working farmland within the city limits. There are plans for 22,000 more acres of protected open space (including 3,000 acres of metro parks), three times the number of working farms, double the downtown tree canopy, and 25 miles of greenways—all in the next 10 years. "We've embraced the river," says reader Stephen McClure, "and keep adding greenways and bridges, boat access, and view corridors." As resident Rebecca Selove points out, "Thanks to organizations like the Cumberland River Compact, there are opportunities to participate in protecting our watersheds and celebrations like the annual Dragon Boat Races." (Rebecca, don't forget the Catfish Rodeo!) Of course, the Cumberland is still home to more barges than boats, but Nashville, as McClure says, "keeps getting better." You can stalk carp on Old Hickory, cycle the leafy Natchez Trace, track down Yayo's O.M.G. food truck for tacos, ride horseback through 2,684-acre Edwin Warner and Percy Warner parks, and, as reader Dustin Ogden puts it, "slip out to 1,700-acre Beaman Park, only 15 minutes from my house, and hike seven miles of nice, densely wooded trails."
Best Pro-Kayaker Endorsed Day Trip: Paddling the Caney Fork River, home of Jackson Kayak founder Eric Jackson. "Our family traveled for eight years, scouring the best outdoor places," Jackson says. "Our first choice was the Caney Fork." His prescription: fuel up at the Rock Island Market, paddle and fish all day—"the bass, walleye, and muskie are incredible here"—and finish off with trout and a Calfkiller on draft at the Foglight Foodhouse.
On the Town: Music is the heart of Nashville, and you can still catch Justin Townes Earle at the Ryman, boot-scoot at Robert's Western World, and take in serious banjo picking at the Station Inn. "It's a local institution in a cinder-block building surrounded by high-rises and bars for the beautiful people," says local realtor Bill Bainbridge. "If you like bluegrass and cold beer, it's hard to find a better spot in a big city."
What You Get for $15: Admission to Friends of Warner Parks' Full Moon Pickin' Parties, which bring out a constellation of pro and amateur bluegrass musicians for monthly autumn jams. Only $5 for pickers who bring "an approved bluegrass instrument."
The Stats
Population: 601,222 (metro area: 1.5 million)
Media Age: 33.9
Median Annual Salary: $45,063
Median Home Price: $169,100
Unemployment Rate: 7.3 percent
Votes Received: 2 percent
—Elizabeth Hightower Allen
---
Milwaukee, Wisconsin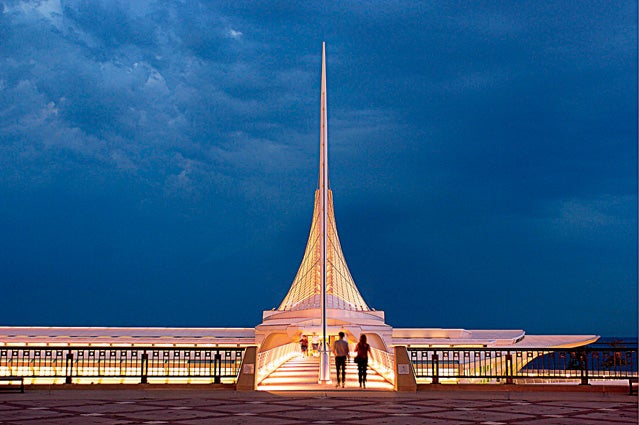 "People underestimate Milwaukee," says reader Nancy Welch. It's a common theme among residents who voted for their hometown. So are the innovative ways the city has reinvented itself over the past decade, most of them involving water. The city is steadily transforming into what former Wisconsin governor Tommy Thompson hopes will be "the Silicon Valley of water." More than 130 water-technology companies—such as PaveDrain, which created a permeable paving system to help reduce runoff, and Aquarius Systems, which designs river skimmers and other surface-water cleaning products—now call the city home. And in 2009, the University of Wisconsin, Milwaukee, opened the country's first School of Freshwater Sciences. The focus makes sense: Milwaukee has more than 410 miles of streams, 85 lakes, and three rivers—the Milwaukee, Menomonee, and Kinnikinnick. As nearly every voting resident noted, the Milwaukee and Menomonee rivers are now home to greenways bustling with boaters, fishermen, runners, walkers, and bikers. Even the beleaguered Kinnikinnick, which in 2007 was listed by American Rivers as the seventh most endangered in the country, is being nurtured back to life, thanks in part to a $2 million clean-up project. The other upside to all that water: the trails that border it. "You can run for miles along Lake Michigan without ever hitting a stoplight," says personal trainer Sara Bayer. The biking's not bad, either. Some 50 miles of bike trails lace the city and surrounding areas. So many, notes Valerie Tergerson, who volunteers at Vulture Space, a free DIY-bike-repair shop, that "you can practically ride to Chicago," 90 miles to the south. Of course, "sipping a beer at the pubs along the river" is perfectly acceptable, too, as native Jim Harings notes. And this might be what Milwaukee does best. Several voters simply wrote "BEER." But the most common response by far was "summer." Which makes sense. Because while winter here can be brutally cold and dreary, there's nothing better than whooping it up in the sun with a bunch of Milwaukeeans.
Best Endorsement from a German: "I feel very comfortable with the German heritage in the Milwaukee area!" says Dagmar Strack-Bidinger, who works for the German investment firm Ascent.
On the Town: "The Hank Aaron Trail goes right past Miller Park, home of the Brewers," says bike-shop owner Evan Pack. "So we'll load up a bike trailer with a grill, brats, and beer and tailgate right next to our bikes before heading into the game."
What You Get for $305: Membership at the Milwaukee Community Sailing Center. "From April to October, members can take a boat out free of charge for two hours," says reader Jacqueline Haessly.
The Stats
Population: 594,833 (metro area: 1.7 million)
Media Age: 34
Median Annual Salary: $35,921
Median Home Price: $112,900
Unemployment Rate: 11.2 percent
Votes Received: 3 percent
—Sam Moulton
---
Asheville, North Carolina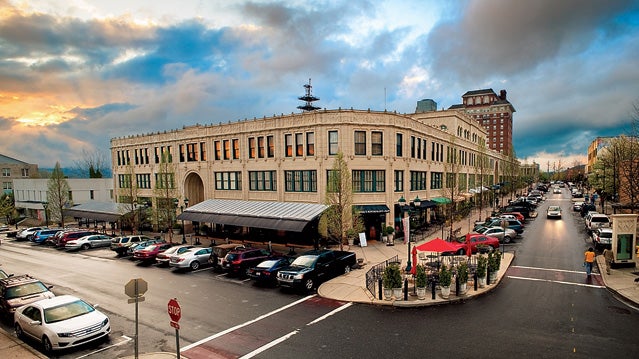 Two things stood out among Asheville commenters: water and beer. "Time to marry Beer City USA with the Best River Town Ever," says local Julie Mayfield. "Join a flotilla from the Wedge Brewing Company to the Bywater bar: Is that a perfect day or what?" says political science teacher Tish Szurek. But there are other worthy distractions that helped put Asheville on our list. "There's a national park—the Blue Ridge Parkway—and two world-famous trails, Mountains-to-Sea and the Appalachian, that run through the city or nearby," notes Chris Cavanaugh, president of Magellan Strategy Group. "During or after a paddle, stop off at the Asheville Outdoor Center for some of the best barbecue ever, smoked with Scottish peat," suggests reader Tom Boeger. And the recreational opportunities are only getting better: in March, the city will debut its new marathon, which runs through the meadows and gardens of the 8,000-acre historic Biltmore Estate. Manufacturing companies and a smattering of tech firms keep the economy pumping. The city can occasionally feel like it's overrun with tourists, especially in summer. But it's a small price to pay for a town with a thriving arts district, a different festival nearly every weekend in the spring and fall (everything from the French Broad River Festival to Beer Week), a community that values preservation and sustainable living, and yes, more microbreweries per capita than any other city in the country.
Best Post-Paddle Beer Spot: "Take out from French Broad River under the Haywood Road Bridge and walk five minutes to Wedge Brewing Company, one of Beer City USA's 11 craft brewers," says Cat Kessler, a marketing assistant at Asheville's visitors' bureau. "Grab a Belgian-style Golem and nab a slice of pizza at Tin Can Pizzeria's food truck on your way out."
On the Town: Saturday evenings in the summertime, "enjoy the best bluegrass on the east coast at Shindig on the Green," says Boeger.
What You Get for $5: A lifetime membership with the Bywater, a hopping riverside bar that offers lawn games, food trucks, live music, and grills for BYO barbecues.
The Stats
Population: 83,393 (metro area: 424,858)
Median Age: 38
Median Annual Salary: $39,408
Median Home Price: $201,300
Unemployment Rate: 8.5 percent
Votes Received: 6 percent
—Madison Kahn
---
Hood River, Oregon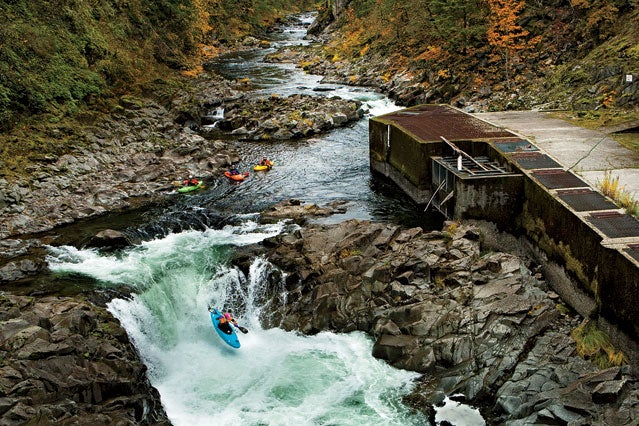 This tiny town in the Columbia River Gorge is world-class for two sports: kiteboarding and whitewater kayaking. For others it's merely excellent. "Winds blow spring to fall right on the town waterfront," says real estate broker Maui Meyer. "It's the most consistent kiting in the United States." As for whitewater, Heather Herbeck points out that maybe half of America's sponsored whitewater kayakers, including herself, now live in the gorge. "There is year-round paddling, Class II-V on classics like the Wind, Little White Salmon, and White Salmon, rivers" she says. Add in hundreds of miles of mountain-bike trails, two towering glacier-topped volcanoes—Mount Adams and Mount Hood—internationally celebrated steelhead fishing, and nearly year-round chairlift operations on Mount Hood, and you get a remarkable variety of recreational opportunities, no matter the season. The gorge also hosts a thriving locally sourced food scene: "We bought and smoked 18 Columbia River salmon this year in order to trade other people for produce they pick," explains green-business consultant Becky Brun. Like a lot of resort towns, jobs can be hard to come by. The timber industry served as the city's lifeline for years, but these days locals build careers with Full Sail Brewing, sporting-goods companies like Dakine and Slingshot, and a cluster of aerospace-engineering and electronics firms. The one big drawback is the sometimes dismal winter weather. "There's often a 1,500-foot cloud ceiling, and horrible icy winds rip through town," says Temira Wagonfeld, creator of TheGorgeIsMyGym.com. Still, a 40-minute drive up to Mount Hood Meadows ski area will put you beneath sunny skies. "Hood River," according to Shelley Toon Hight, "is the definition of perfection."
Best Ladies' Night: Every Tuesday evening during ski season, women can snag a $17 lift ticket at Skibowl on Mount Hood, a 45-minute drive from Hood River, arguably the nation's steepest night-skiing terrain.
On the Town: Wednesday is Kill the Keg Night at Mosier's Thirsty Woman Pub—$2.50 pints till said keg is kicked. "Ride your bike," says Kristin Dahl, owner of voluntourism outfit Restoration Expeditions. "It's only seven miles from downtown, four of which are on the closed-to-cars Historic Columbia State Highway Trail."
What You Get for $15: A night at the 75-year-old Tilly Jane A-Frame on the north side of Mount Hood, which is stocked with wood, cookware, and the occasional bottle of whiskey.
The Stats
Population: 7,100
Median Age: 36
Median Annual Salary: $50,362
Median Home Price: $252,000
Unemployment Rate: 7.7 percent
Votes Received: 13 percent
—Frederick Reimers
---
Ithaca, New York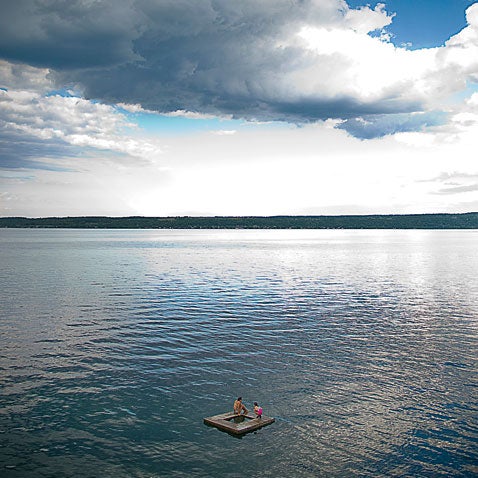 Ithaca isn't your classic river town. It's on the shores of 40-mile-long, 400-foot-deep Cayuga Lake, after all. But all that water is replenished by nine creeks, which create hundreds of waterfalls and geologically stunning gorges along the city's front stoop—something readers consistently pointed out. "I can carry my kayak half a block from my house, put it into Cascadilla Creek, and head out to Cayuga Lake," says resident Cat Holmes. There's also readily accessible kiteboarding, fishing, cliff jumping, road cycling, backpacking, and cross-country skiing. "Shindagin Hollow State Forest is the reason Ithaca is one of the top-five mountain-biking towns in the country," notes attorney Dick Ruswick. Vineyards and orchards abut organic farms. One hundred and fifty of the vendors at the farmers' market, on the shores of Cayuga Lake, are from within 30 miles of town. Breweries like the new Bandwagon Brewpub and the Ithaca Beer Company pump out local favorites like High Step Weizenbock, which "won the New York State gold medal this year," points out Jenny Emerson, a fourth-grade teacher in the Ithaca City School District. While the vibe can be crunchy ("Mate herbal tea is the dominant religious group," says local Dan Hersky), the place is full of arts, theater, and highly educated individuals, thanks to the two universities that face off above town: Ithaca College and Cornell University, which locals claim is the most beautiful Ivy League campus. Winters can be tough, and so can the job prospects, unless you work in academia. But the appeal of living in the city can be life changing, as longtime resident Nancy Lazarus can attest: "I came to visit friends in Ithaca in 1974. I've lived here since."
Best New Trails: "The community is working to establish an Emerald Necklace that would encircle Ithaca with preserved land," says Ruswick. "For bikers, the Black Diamond trail is scheduled to open this year between Ithaca and Taughannock Falls park, 10 miles away, and more extensions are planned." Also, the last section of the multiuse Waterfront Trail, connecting Cass Park to Stewart Park via the farmers' market, should be open soon.
On the Town: "If music is your thing, bring your lawn chairs and blankets to the outdoor summer concerts at Taughannock Falls State Park," says Christine Peterson, a veterinary technician at Cornell.
What You Get for $10: One Ithaca Hour, a local currency developed in 1991 by residents to help keep money in the local economy. Today there are an estimated $150,000 worth of Hours in circulation, redeemable for goods and services at dozens of local businesses.
The Stats
Population: 30,014
Median Age: 22
Median Annual Salary: $30,919
Median Home Price: $197,000
Unemployment Rate: 7.2 percent
Votes Received: 1 percent
—Ali Carr Troxell
---
How They Were Picked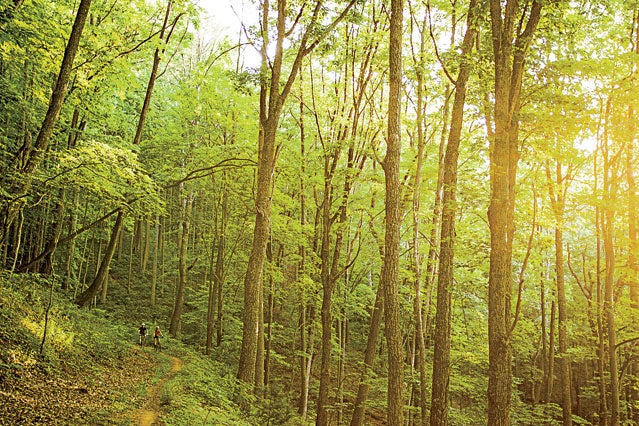 To select the greatest river town, we partnered with American Rivers, the nation's leading fresh-water non-profit, and evaluated 50 cities on criteria such as cost of living, cultural vibrancy, job prospects, environmental stewardship, and access to the outdoors. We trimmed the field to 10 finalists, then turned the process over to you, inviting readers to vote on Facebook. Over four weeks, more than 20,000 of you weighed in. A panel of editors then judged the towns based on the enthusiasm of its residents. Nevada City, California, scored high points, since about 80 percent of the town voted—and a local radio station picked a fight with front-runner Richmond. But Richmond won out in the end with 9,315 votes, a public endorsement on Twitter from governor Bob McDonnell, and an impressive last-minute display in which 14 kayakers held up signs advocating for their city while floating on the James River.
---
Write-In Candidates
La Crosse, Wisconsin: Thousands of years ago, when glaciers bulldozed their way down the spine of the continent, they missed a 16,000-square-mile swath of bluffs, hills, and valleys along the upper Mississippi river. La Crosse (pop. 52,000) now sits in the heart of that region, known as the Driftless Area. "This section of the state will make you feel like you're out west," says Tammy Vanden Heuvel. "Hundreds of miles of top-shelf terrain," says financial adviser Brian Harris. Local Michael Scott notes: "It's in the middle of the Upper Mississippi Wildlife Refuge, giving us 240,000 acres of river and wetlands to explore." Residents consistently praised Human Powered Trails—a local nonprofit that has constructed 15 miles of singletrack in and around 800-acre Hixon Forest Park—as well as the roughly three dozen arts organizations, more than a dozen annual festivals (including Weinerfest), and the vibrant, pedestrian-friendly downtown.—Ryan Krogh
Bristol, Vermont: Clear water and mountain access—that's what stands out in the sleepy little town of Bristol (pop. 3,700), which lies at the foot of the Green Mountains. In a state full of swimming holes, Bristol is home to an unfair number of great ones. "Split Rock, Bartlett's Falls, and Circle Current"—on the New Haven River, just nort of town—"are less than a quarter-mile apart," notes Bristol native Caleb Elder. Other readers pointed to "Camel's Hump, of course," the 4,083-foot mountain just north of town—great for hiking and mountain biking. The family-oriented town is a diverse community with a sizable number of architects, contractors, and professors (Middlebury College is 15 miles south). A big Saturday night is "homemade ice cream at Lulu and dinner and beers at the Bobcat Inn and Brewery," says Middlebury adjunct professor Bill Hegman. But Burlington is only about an hour away, as are Stowe's slopes. —Abe Streep
Great Falls, Montana: Long known as a rough-and-tumble railroad stop, Great Falls (pop. 58,000) has experienced a resurgence thanks to an expanding recreation corridor on the Missouri River, jobs from Montana State University and Malmstrom Air Force Base, and the C.M. Russell Museum Complex, which houses some 2,000 pieces by prominent western artists. These days, residents say, it holds its own against any Montana river town. "If it isn't the waterfalls on the Missouri or the out-of-this-world trout fishing, it's the fact that you can roll out in any direction and find yourself in true wilderness," says local Mark Cruse. And that's the real appeal: situated where the Great Plains smack into the Rockies, the city is within two hours of one of the largest and most remote wilderness areas in the lower 48, the Bob Marshall. —Meaghen Brown
Davenport, Iowa: As one-fourth of the 400,000-strong Quad Cities metro area, which straddles the Mississippi River on the Illinois state line, Davenport (pop. 100,800) defies the region's rep for cornfields and grain silos. There's culture (the local Figge Art Museum houses some 4,000 pieces) and rugged recreation (local nonprofit Friends of Off Road Cycling manages some 30 miles of flowing singletrack within city limits). Readers were quick to highlight the Bix Beiderbecke Memorial Jazz Festival, which brings some of the world's top jazz musicians to town for four days each August, as well as the more common Midwest outdoor pursuits: "Unreal bass and walleye fishing on the Mississippi" says local Brandon Morris. Corwin Kruse sums up the city best: "Bix, blues, and the lovely Mississippi." —Ryan Krogh
Cle Elum, Washington: Tiny Cle Elum (pop. 1,800) is part of the only slightly larger Roslyn and South Cle Elum metro area (pop. 3,300). But what the town misses in population it makes up for in access to the big outdoors: Four-million-acre Okanogan-Wenatchee National Forest, Cle Elum and Kachess lakes, and the fish- and float-friendly Yakima River—Washington's only blue-ribbon trout stream, where conservation groups are working on a comprehensive salmon and steelhead recovery project. "Great town with a rich history, and steps away from superb fly-fishing, scenic trails, and the best doughnuts ever at the Cle Elum bakery," says local Derek Young. "The surrounding area is spectacular," says Brian Lenihan. "Great early-season hiking, biking, and skiing." And while the nightlife is lacking, Seattle is only an hour and a half away. —Ryan Krogh
Jackson, Wyoming: There's a reason Jackson (pop. 9,500) is home to Exum Mountain Guides and approximately half the sponsored skiers in the country. But what's overlooked in the panorama of the Tetons is the hundreds of miles of world-class fishing, rafting, and kayaking on the Snake River. In 2009, local conservation groups celebrated the passage of the Snake Headwaters Legacy Act, which protects some 400 miles of river. Today, as resident Scott Bosse points out: "Teton County has more Wild and Scenic river miles than any county in America." Sure, real estate is astronomically expensive (many "locals" actually live in Victor, Idaho, just across Teton Pass). Then again, you're paying for a front-porch view to what reader Eddie Lee calls "the best of the Rockies—totally God's country." —Meaghen Brown
Salida, Colorado: Salida (pop. 5,200) is all about the Arkansas River, which offers multiple options: rafting Browns Canyon, kayaking the whitewater park at F Street Bridge, and fly-fishing for wild trout at Stockyard Bridge. "Salida equals water, mountains, sun, and snow," says Anthony Newsom. Mountain bikers get their fix on the 25-mile Monarch Crest Trail—nearly half of which is above the tree line—and skiers can rip some of Colorado's best backcountry (1,000 acres' worth) through Monarch Mountain. Plus, every June the city hosts FIBArk, the oldest whitewater festival in the country. In other words, there's a lot to love here. As resident Kyle Benson put it: "Please stay away from Salida. Don't ruin the last great holdout." Sorry, Kyle. —Ryan Krogh
Columbia, South Carolina: Residents consistently touted three things about Columbia (metro-area pop. 768,000): the Broad, Congaree, and Saluda rivers, along with the seemingly endless number of forests surrounding them. "Congaree National Park, Harbison State Forest, Sesquicentennial State Park, Three Rivers Greenway, Riverfront Park, Earlewood Park," says native J. T. Martin. "You can go tubing right through town" on the Congaree, says local Linda Oakleaf—which, just downstream of Columbia, flows through the last remaining old-growth bottomland forest in North America. The food's great (lots of southern comfort staples mixed with the now ubiquitous food trucks), and the gallery scene in the riverfront Congaree Vista District is terrific. Summers get sticky, but as Marc Donald points out, "It's an hour and a half to the Blue Ridge Mountains and coastal beaches." —Ryan Krogh
Eugene, Oregon: Readers were quick to note, as resident Jacob Bendicksen did, that Eugene (pop. 156,200) is a "runner's paradise." There are 42 miles of trails inside city limits, track legend Steve Prefontaine called the place home, and Nike was founded here, on the University of Oregon campus. But there's also Cougar Hot Springs, the Oregon coast, Class III kayaking on the McKenzie River, and skiing at Willamette Pass. "It's all minutes away," says Sean Gumin. Economically, the Euge is bustling, and it's as progressive as any Oregon town ("Awesome politics!" says resident Nick Birdseye.) Plus, a new LEED-certified housing unit is being built downtown for the city's four colleges, which add 45,000 students to the population each fall. Its nickname may be Track Town, USA, but the city is a whole lot more than that. —Kyle Dickman 
Sacramento, California: Fun fact: the Sacramento River valley once held one of the largest grizzly bear populations in North America. The wilderness has since been tamed, but California's capital city (pop. 471,900) gets props for its ongoing effort to revitalize downtown—its 20-year Railyards Project calls for some 12,000 new housing units, a marketplace, and pedestrian malls on a 240-acre riverfront site. What hasn't changed is the great outdoor access. "We've got the 32-mile American River Bike Trail, Lake Natomas, and great trail running around Folsom Lake," says Clint Welch. "One or two hours west and you're at the coast; one or two hours east and you're in the Sierra Nevada." A surprising number of residents complained that the NBA's once promising Kings weren't doing so hot. But if you ask us, fealty for a suffering sports team is always a good sign of a town's collective spirit. —Ryan Krogh