Between a Rock and Wet Place
Exploring remote canyons is dangerous fun, but expert advice will get you through it alive. Marc Peruzzi learns the ropes, deep in the Arizona backcountry.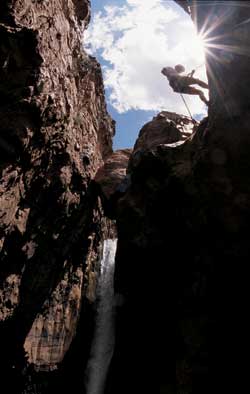 Peter McBride
Heading out the door? Read this article on the new Outside+ app available now on iOS devices for members! Download the app.
Suffice it to say I'm no rock rat. And although no real fear is washing through me at the moment, I'm not exactly comfortable walking backward on a slimy vertical wall above a swirling hydraulic, either. I'm 20 feet down a 50-foot rappel, the rope hot and wet in my braking hand, the climbing harness digging at my kidneys with a steady burn. As my clenched jaw reminds me, I haven't drawn a decent breath since I left the sun behind and slipped into this cool, dark gorge.

Dry run: clearing a creek in southeastern Utah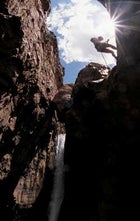 Curius gorge: A canyoneering student rappels into Cibecue Canyon.

This is canyoneering, or at least this is what canyoneering should be: more rigorous than hiking, less technical than mountaineering, with a healthy dose of swiftwater swimming thrown in. Exploring the best canyons, like the best caves, mountains, and wrecks, demands specialized skills, which is why I've signed up for a three-day technical course from the American Canyoneering Association. But the rewards are ample. If only because they are so perilous, canyons have remained slivers of delicate wilderness, cool oases in the generally brutal Southwest. And then there are the plunge pools: blue water cascading into perfect swimming holes carved into the polished bedrock. Wade from one to the next, or scramble along the sides and jump—ten, twenty, thirty feet. Relish that knot in your belly, embrace the electric charge on your skin as you whistle through the desert air.
Here in Cibecue Canyon, a stair-step gorge of quartzite and basalt on the White Mountain Apache Reservation in east-central Arizona, Cibecue Creek collects in at least 30 plunge pools between seven major falls. A tributary of the Salt River, it spills from pool to pool before cascading over the 50-foot waterfall to my left and into the large pool below. After two days spent preparing for this excursion—two days under the buzzing, engorged Arizona sun—that final pool is a temptress. So I breathe deep, exhale, and feel my muscles go slack. The rope slithers freely through the figure-eight rappel device I'm using to control my descent. Ten feet from the surface, I release my braking hand and drop into the cool water.

By all accounts, canyoneering's popularity has boomed in recent years, and not just in Europe, where adventurous athletes have been canyoning, (as it's called there) for at least 60 years, but also in Australia, New Zealand, South Africa, Brazil, Mexico, and, more recently, in the canyon country of Arizona and Utah. My level-one ACA course was designed to make me a canyoneer, and fast, by covering the skills needed to navigate a Class 3 canyon: one that is exciting and technical with flowing water, but safe for anyone with a firm grasp of the basics.
We spend the first day in rope school. Camped under an open-air shelter by the mouth of the canyon, we tie Münters and cloves, figure eights and prusiks, and the essential canyoneering combination—the Münter-mule. Embroiled in the abstract-puzzle world of knots, carabiners, and devices, beads of sweat rolling down my face, I curse my ineptitude and wonder if I'm falling into yet another gearhead sport. My eyes wander across the creek as an Apache boy, maybe 13 years old, whimsically climbs the opposite canyon wall. Unfazed by the slurry of fist-size rocks he unleashes with every step, he moves with the easy grace of uninjured youth. Forty feet up, he turns, sits, and smiles down on his worried friends.

Even when I was 13, I was never that lithe or confident. Give me a rope.
In the morning, the class moves to the girders beneath a bridge spanning the Salt River. Rich Carlson, our instructor and the driving force behind the ACA, has us practice rigging various rappels, this time with consequences: Get it wrong and you send your partner for a ten-foot tumble into the gravel. (My partner is a six-foot-two bow hunter who outweighs me by 40 pounds, so the consequences are greater for me.) Placed in the context of an actual fall, the training takes hold and soon we're setting up canyon-ready rappels with quick hands.

Just as important as all this rope work, though, are the lessons on canyon etiquette. We learn the proper use of natural anchors and the ethics of placing bolts, how to wade in streambeds instead of on delicate shoreline plants, and how to stay safe so a search-and-rescue team won't have to save us, destroying fragile rock formations in the process. Surprisingly, flash floods, the cause of the tragic high-profile deaths of 21 canyoneers near Interlaken, Switzerland, in 1999 and 11 in Antelope Canyon, Arizona, in 1997, are low on Carlson's list of what to watch out for. "Flash floods are a real danger," he tells us one night, "but they're not as common as people think. It's not like they're a surprise. If you look at a canyon with a 100-square-mile watershed and you have a 40-percent chance of rain, it's probably not a good day to go."
A simple enough formula, but flash flood or no, canyon waters can be strong and fast. Canyoneers are human kayaks—jumping waterfalls, skidding down water slides, ferrying from bank to bank. To prepare, we spend the afternoon practicing swiftwater-swimming techniques in the Salt River. Donning wetsuits, helmets, and PFDs, we wade into Class II whitewater until the current sweeps us into a series of wave trains, holes, and boulders. The goal is to get through the main flow without breaking any bones or inhaling too much water. I go first, struggling not to get taken out at the ankles as I work my way along a ledge. I'm a hack kayaker, but I know how to read a river. If I can't get into the main channel, I'll be run through the rocks. One more step and the rapid is too strong for standing, but I take it anyway, scrambling to the left as I fall. No dice. The current spits me out, and I'm immediately pushed feet-first onto an SUV-size boulder. After multiple ass-poundings, I'm sucked back into the main channel. One by one we pull our bruised bodies up on the riverbank, coughing brown water out our noses.

With two days of rope and river work behind me, I feel capable of handling any canyon. And indeed, the Cibecue trip we take on day three goes flawlessly. We scramble, we climb, we jump, we swim. No one catches a rock on the skull. No one practices 60-foot vertical cartwheels. The day-hike-accessible lower canyon, with its boulders, lush willows, and cat's claw butting up against warm sandstone walls simply pales compared to the hidden, upper reaches—a massive sculptural landscape swept clean by gravity and water.

As we begin our final descent through the lower canyon, storm clouds cast the gorge into shadows. I smell the rain before I see it; the air is sweet. A few drops fall on my upturned face as I scan the walls. At 200 cubic feet per second, the creek pulls at my knees, but this, apparently, is nothing; in the mid-70s, Carlson tells me later, 22,000 cfs roared through Cibecue, pouring over all seven of the major falls until they disappeared. I stop and look over my shoulder, but the only rumble is that of thunder. And then it begins to pour and we stomp through the creek like kids.

When we're young, all we need for fun is deep water and something to jump off—the town pier, an abandoned railroad bridge, the walls of a flooded quarry. At its best, canyoneering lets you act like a kid again. Sure, you need a rope and a harness, but that's just so you can rap to that next set of pools. There's no summit to strive for, no best time to beat, nobody critiquing your technique. Take a nap in the sun, explore the next bend, rappel down a waterfall—chill out. Just keep your wits about you.
Despite the dramatic accidents—New Jersey man half-alive after flash flood rips clothes from body; two Australians found hanging like icicles midway down rope—canyoneering is not absurdly dangerous. It's a sport of many manageable risks. A typical day presents the predictable hazards common to rock climbing, hiking, and water play—falling rocks and falling bodies; lightning strikes, dehydration, scorpion and snake bites; hypothermia, drowning, head injuries—not the singular "Is my bungee cord attached?" sort of danger that characterizes truly extreme sports. Your best bet: Start with a basic skills course, or take a short, guided trip with a reputable, safety-conscious outfitter. You won't go wrong with any of the offerings below.

American Canyoneering Association
Founded in 1999 with help from its more established European counterpart, the Commission Europeene de Canyon, the Phoenix-based American Canyoneering Association offers a comprehensive series of classes designed to take you from clueless boob to certified guide (though you can, of course, stop at bumbling novice if you like). The author participated in the beginner/intermediate course and learned rappelling, ascending, and swiftwater-swimming skills, along with basic canyoneering etiquette. Classes in advanced canyoneering and canyon rescue are also offered. Three-day classes run $225 for ACA members, $270 for non-members. Call 480-902-3120 or visit www.canyoneering.net for the ACA's fall schedule.
Zion Adventures
Dozens of canyons wind through Utah's Zion National Park, the American labyrinth. Problem is, regulations forbid commercial guiding and instruction within its boundaries. You'll be ready to tackle the park's canyons on your own if you complete Zion Adventures's three-day beginner course ($495) or their five-day intermediate course ($695), which covers whitewater swimming techniques, both held in nearby Springdale, Utah. The Zion Adventures crew will happily share route info, and rent everything from drysuits and canyoneering shoes to ropes and camping equipment. For details, call 435-772-1001 or check out www.zionadventures.com.

Desert Highlights
If you're not ready to commit to a multiday canyoneering course, consider an introductory trip offered by Desert Highlights, a small Moab, Utah-based company run by nine-year canyoneering veteran Matt Moore. Virtually every day between March and October (less often in winter), Moore guides two to six people through cool canyons just outside of town. On the challenging, eight-hour Medieval Chamber route ($120 per person), you'll rappel over a 100-foot bluff, descend into a narrow sandstone shaft (the route's namesake chamber), then drop 100 feet from a natural arch into a blissful grotto. There's no whitewater swimming involved, so canyoneering purists might not consider it "technical," but that's not the point. It's simply a taste of what's to come. To schedule this or other one-day trips (all priced $80-$160) call 800-747-1342 or visit www.deserthighlights.com.