Indefinitely Wild
Coyote Flat Is the Coolest 4×4 Camping Destination
Everything you need to know to get there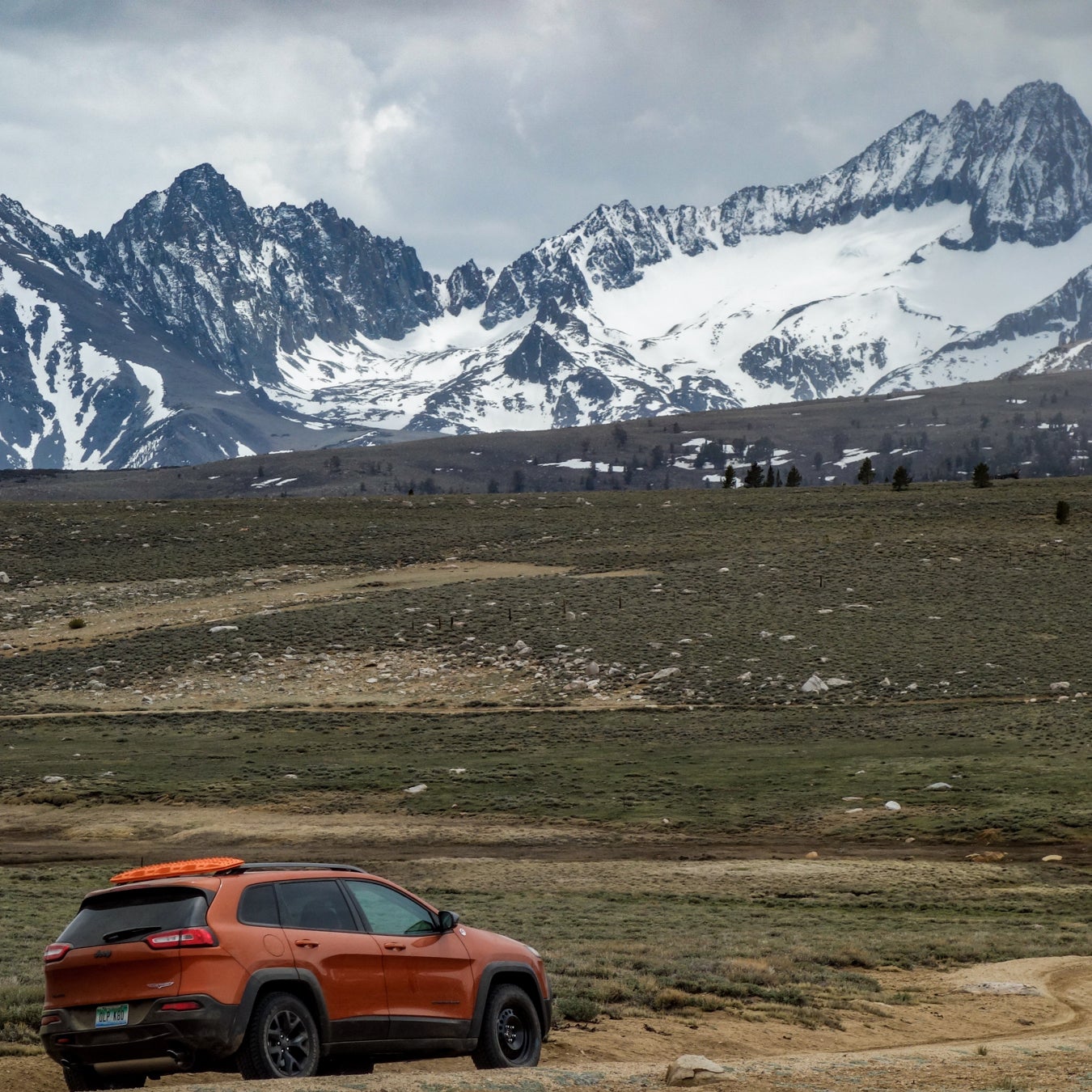 Heading out the door? Read this article on the new Outside+ app available now on iOS devices for members! Download the app.
Live in or near California? Well, between June and October, it's too hot to go to the desert, and the beaches are too crowded. That leaves the Sierra Nevada, which is mostly on national park land, so is mostly closed to vehicles. That's what makes Coyote Flat unique; reaching elevations of over 11,000 feet, it's the highest place you can drive off-road in these mountains. You can spot coyotes, bears, and mountain lions, and even catch a few trout. It's the perfect summer camping destination, if you have a 4×4 and know how to use it. 
That was our thinking this Memorial Day weekend, so armed with a Jeep Cherokee Trailhawk, my old Land Rover, and a bunch of 4Runners, we packed our bags and hit the road. The forecast called for snow across the week before our trip, and it's been a fairly heavy year in the Sierra, at least by recent standards, so I feared that even in late May, we may encounter snow or ice along the trail. On the way up from Owens Valley, onto the Flat, the trail passes through a narrow, undulating ravine, shaded by its walls. I figured if any frozen stuff remained, it'd be in this ravine, and it could make our trip through a little tricky. So rather than each vehicle make its way on its own, we arranged to meet at the bottom, and convoy our way up. My truck had the only winch, so I made sure to pack a set of MaxTrax, a few of the other vehicles brought shovels, and I also threw a snatch strap, tree strap, extra shackles, and an inflatable jack in the back of the Discovery, just in case we needed to effect a recovery, or work vehicles through a tricky spot. 
Ever the over-preparer, I wasn't too surprised when the trail was bone-dry the entire way. Two hours of easy off-roading was made into four by some miscommunication, a wrong turn, and the Jeep getting constant flat tires. Still, we rolled into camp (at 10,222 feet) by 3pm, and had another five hours of sun to relax, drink some beers, hurl a throwing knife at a dead tree, and set up tents.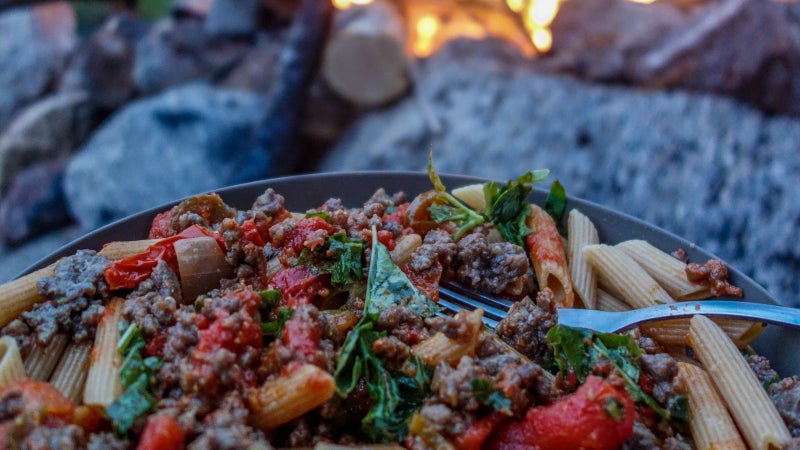 A bright sunny day suddenly turned dark around 6pm, and it began snowing heavily enough to turn the ground white. I bundled up, unpacked my camp kitchen, and made everyone venison pasta from scratch while flakes melted in the sauce. 
The next morning, we woke up late, had bacon and eggs for breakfast, then hiked a couple miles to a nearby lake to go trout fishing. Another thousand or so feet up, the lake was swarming with gnats, making it unbearable to any but the determined fishermen, so Wiley accompanied a group who set out to explore local mountains while I watched my friends catch fish in frustration. My total? Zero. They caught 15, enough for dinner that night. 
My friends Ty and John decided to climb the peak looming overhead, so they took off with their dogs, while I walked Ty's pregnant wife back down to camp, carrying her injured shibu/coyote mix on my shoulders the whole way. 
A few hours later, Wiley came trotting back into camp, with our friends a half-mile or so behind, and we watched through binoculars as Ty, John, and dogs glissaded down the snow-covered slopes of the mountain across the meadow. Ty fried up the trout alongside some tri-tip, we broke out the whiskey, made s'mores, and watched as a snow squall raged in the next valley over. 
We'd spent downtime all weekend shoving plugs into the the tread and sidewalls of the Jeep's tires, filling them with Fix-A-Flat, and hoping for the best. On Monday morning we got up, packed up, and planned to spend a totally unnecessary amount of time nursing the Jeep back down the trail. 
Those tires are a unique type of Firestone Destination A/T, as far as I can tell, made specifically for the Cherokee Trailhawk. While they may wear the tread pattern of a light all-terrain tire, they're built like a lightweight road economy tire, of the kind you'd find on a Corolla or Prius. That means extremely thin, weak sidewalls, and a tread face that's just not built to handle rocks. 
It's good, general practice to air down a tire for off-road use; doing so generally increases the tire's contact patch, smoothes out the ride, and actually makes the tire more puncture-resistant, as they're able to deform better over sharp obstacles. Sadly, we didn't find that true of the Firestones. At a very conservative 20 PSI, we experienced multiple pinch flats, in additions to punctures on the tread surface. This was exacerbated by the Jeep's front-biased all-wheel drive system, which sees significant wheel spin occur on the front "axle" before the rear begins to add drive. For the way back down to the highway, we took pressures all the way up to 35 PSI, left the power-robbing traction control system switched on, and were able to slowly make it back to the paved road without further issue. A tire shop was located, new tires were mounted for the highway home, and we learned a lesson about the true capability of modern, AWD crossovers. Even ones that wear "Trail Rated" badges.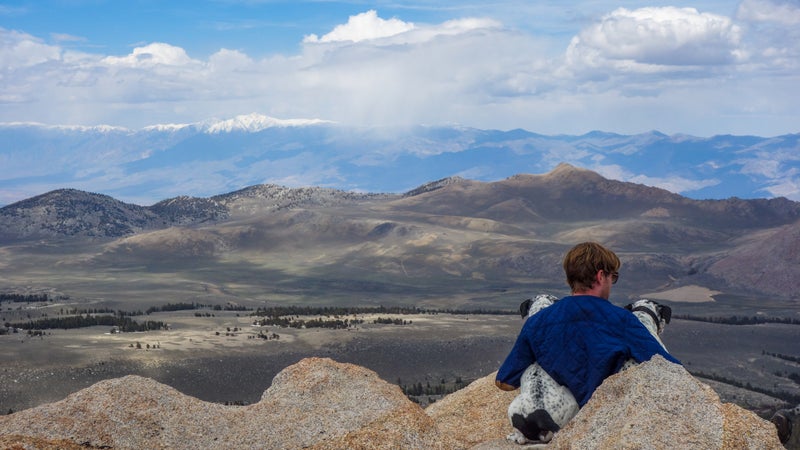 How Do I Visit?
It couldn't be easier. So long as you have a vehicle capable enough to complete the off-roading, you just drive to Bishop, hit the trail, and camp where you please. Coyote Flat is part of the Inyo National Forest, which goes by dispersed camping rules, so prepare to be self-sufficient as long as you intend to stay. You can have a campfire, so long as you fill out California's online campfire permit and observe rules. Off-roaders should stick to marked trails; the environment this high up is very fragile. You can bring dirt bikes, quads, and other off-highway vehicles, and there are good trails where you can really use them. 
Because this is a fragile environment, take care to camp in pre-existing sites (there's plenty of them), and use existing fire rings. Bring supplies to pack out all your trash, bury your poop, and generally be respectful of your surroundings. 
A paper map is always a good idea, but apps like Backcountry Navigator, or Hema Explorer may make navigating and finding the trails a little easier. Know how to use them, and load your routes before you go, there's obviously no cell phone signal up here. 
Into one of the further campsites, and out again, you'll be completing 20-40 miles total off-road, and climbing a steep mountain. You don't need to bring a jerry can, unless you plan on doing a bunch of vehicle-based exploring while you're up here. 
Observe local weather reports, but factor in the elevation when estimating temperatures. You lose 3.5 degrees Fahrenheit for every 1,000 feet you gain. So the predicted temperatures for nearby Mammoth Lakes (7,880 feet) will be around 10 degrees warmer than what you can expect at Coyote Flat. Weather up in the mountains is extremely localized, often severe, and can change quickly. It's impossible to predict accurately, except by direct observation. So keep an eye on the sky, make smart, conservative choices, and don't get in over your head. Take warmer clothes than you think you'll need, even on Memorial Day weekend, it got down to about 20 degrees at night.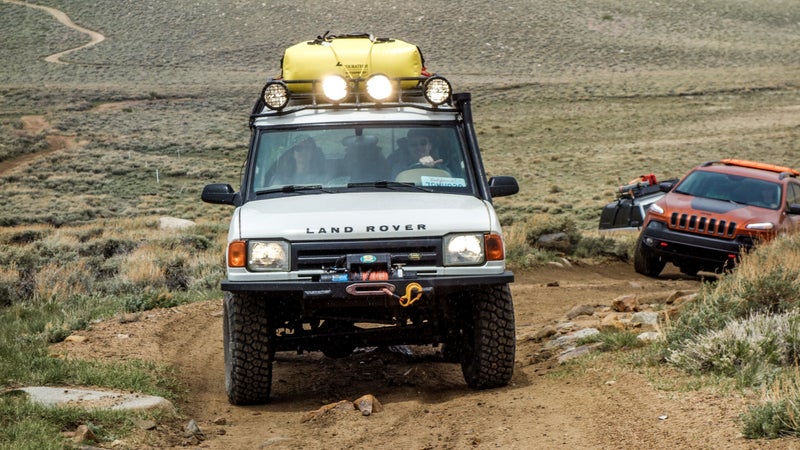 What Type of Vehicle Do I Need?
The trails here are too challenging for an AWD crossover, but any stock four-wheel drive pickup, or off-road oriented SUV should be just fine. If you're worried about your vehicle's capability, go to TireRack, search for the correct size BF Goodrich K02, and have five of those shipped to your local installer. The sharp rocks up here will make quick work of road tires. 
A stock Jeep Wrangler, older Cherokee, or any Grand Cherokee will make it in just fine. The current-generation Cherokee and Renegade will not. The trail was at (if not beyond) the upper limits of the Cherokee Trailhawk. A stock Toyota Tacoma on a crappy set of all-terrains completed the trip in two-wheel drive, without scraping, and I've made the trip in a stock current-generation Ford F-150, despite its street-biased rubber.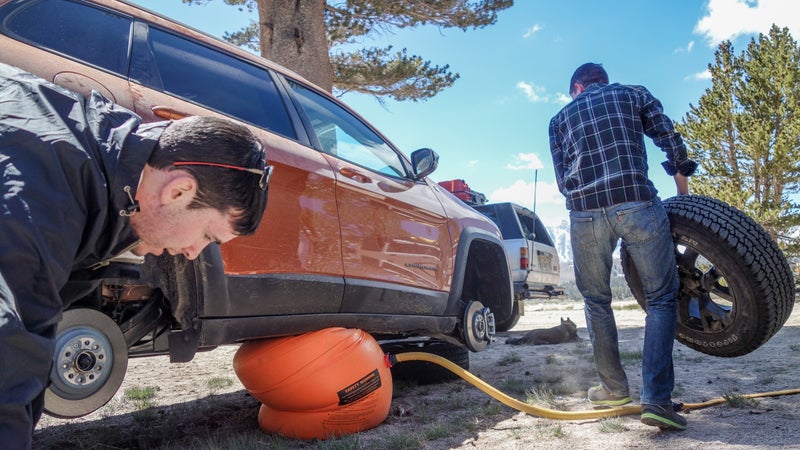 Having said that, you will have an easier time if you have a more trail-focused vehicle. With one, you'll be able to have more fun, and explore some of the more challenging routes that spur off from the main trail. You may be able to get in and out without a proper low-range transfer case, but I certainly wouldn't want to try the climb, or risk the descent, without one. 
With any vehicle, arm yourself with significant tire repair capabilities. A fifth, full-size spare tire, of the same make, model, and size as your mounted wheels should be considered a necessity. As are a plug kit and compressor. Some basic car repair tools and knowledge are probably also a good idea. Here's the gear anyone needs to go off-road. 
You can find very challenging terrain up here, or simply encounter an unexpected obstacle on an otherwise mild trail. One capable of tearing off a diff or suspension arm. Be careful, you're a long, long ways from help.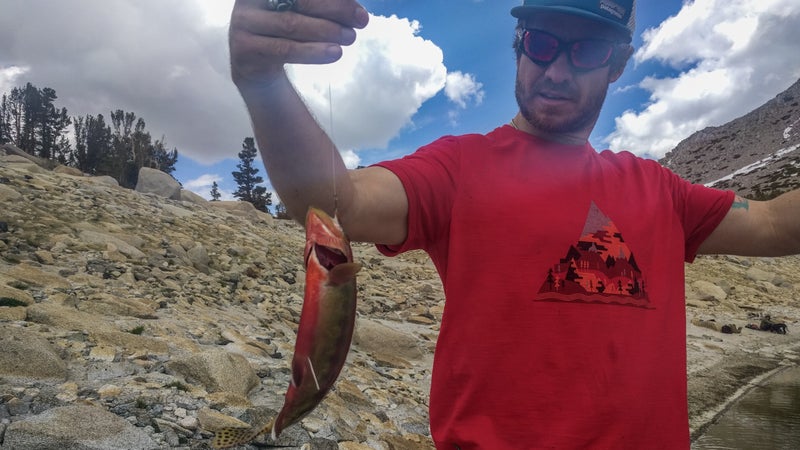 How Do I Find Remote Camp Sites and Fishing Lakes?
You'll start seeing camp sites just off the main trail as soon as you climb the first mountain. Take your pick. Better ones are further in, off the side trails, in areas you may find it challenging to access. Allow some extra time, do a little exploring, and find one to your liking. 
Weather up here varies significantly between ridges. You may find a snow storm in one valley, while the next remains dry and sunny. Stay flexible, and chose what kind of experience you want to have.
Locals will tell you that all the lakes up here don't have trout. Yes, some lakes and fish have disappeared due to the drought, but fish are still numerous in others. I'm going to suggest that you pay the same price everyone who's caught fish up here has, and go look for trout yourself. That's part of the fun. Bring polarized sunglasses, and you'll be able to see the fish under the water. If they're not there, move higher up.
If you plan to fish, make sure you get a California fishing license ahead of time. They're cheap, and the funds help support conservation. For us, fish were biting orange Power Bait cast on a light line, with a single lead weight fixed 8-10 inches up. These guys are small, bring small hooks.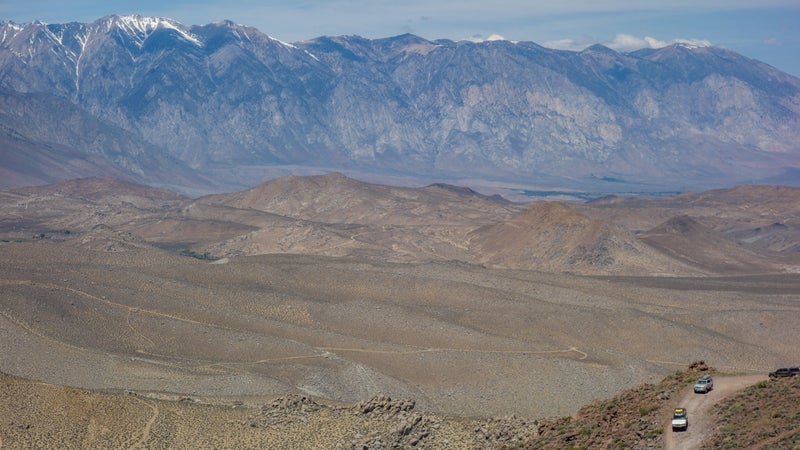 Should I Be Scared?
Risks up here include vehicle breakdowns, crashes, weather exposure, and the usual dangers that come with recreating outdoors, a long ways from help. None of that should prove too intimidating with proper preparation, and a cautious attitude. 
As it climbs the mountain, the trail hugs the edge of a multi-thousand foot cliff, and passes around tight hairpins. It's stunningly beautiful, but the inexperienced may find it a little intimidating. The ravine that comes shortly after the climb has some mild side slopes, and involves some potential for sliding off trail, into ditches and the like. Go slow, be cautious, and you'll be fine. Up top, the flat is intermittently strewn with large, loose rocks. Be very careful on those, that's where you're mostly likely to damage your vehicle. Look ahead, decide if the terrain is getting to be too much for your vehicle, tires, or experience, and turn around if going gets too rough; there's other trails to explore. Here's how to drive off-road.
Practice basic wildlife precautions in camp, storing food in bear canisters, or in a totally-shut vehicle. Even if you don't see a bear, the coyotes, marmots, squirrels, and mice will get into your food otherwise. 
If you're of the small dog persuasion, keep them in sight, and leashed at night. As the name suggests, there's a ton of coyotes.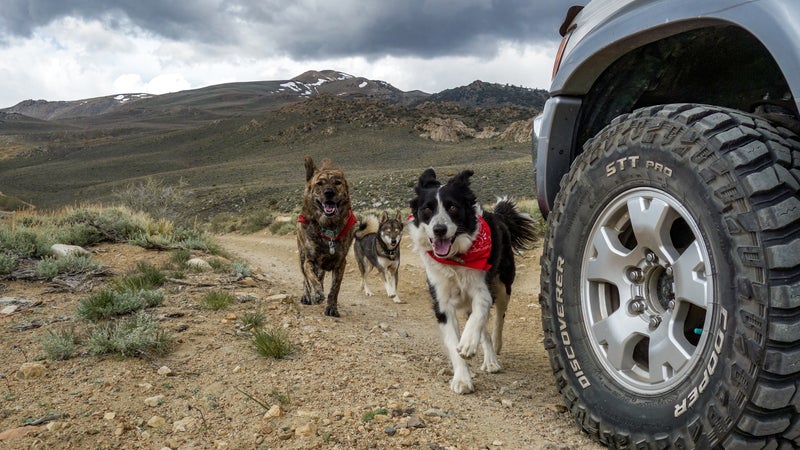 What Do I Need to Bring?
Comfortable car camping gear that's capable of withstanding strong winds and cold temperatures. I'd pack for below-freezing and rain, no matter what time of year you visit. 
If you want to have a campfire, bring firewood (from a local source, to avoid contaminating the environment with invasive beetles or fungus), and the tools to process it. You'll also need a shovel, a container of water to extinguish it, and a California campfire permit. Observe seasonal restrictions. 
Dress in layers. Hiking during the day may call for shorts and a t-shirt, but you'll want base layers, down and shells at night. This high, the sun is also exceptionally strong, so you'll need sunglasses, a brimmed hat, and sun block, no matter the time of year. 
You can fly or bait fish up here, we saw equal success with each method. Make sure you have a license. 
It's a good idea to bring your own water, if for nothing other than convenience. If you pull it from local sources, use a filter or purification methods. 
Coyote Flat is a great place to bring a dog.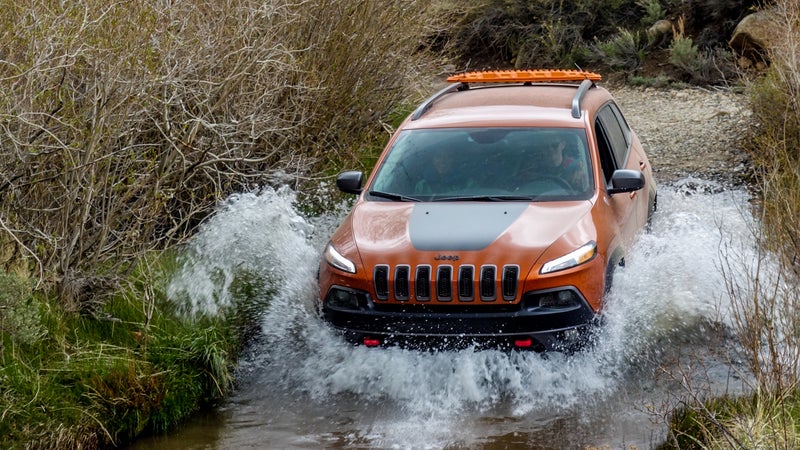 Should I Go?
If it's 100 degrees at sea level, it should be around 65 on Coyote Flat. There's running streams, mountain lakes, big trees, and tall mountains. Heck, put in a mile or so on a hiking trail and you'll even be able to find snow. 
Do you like off-roading? What about camping? Fishing, hiking, or maybe even some light mountain climbing? You can do it all up here, while hardly breaking a sweat. 
Trending on Outside Online