Crash Pads
Eight amazing lodge trips for those craving comfort and instant access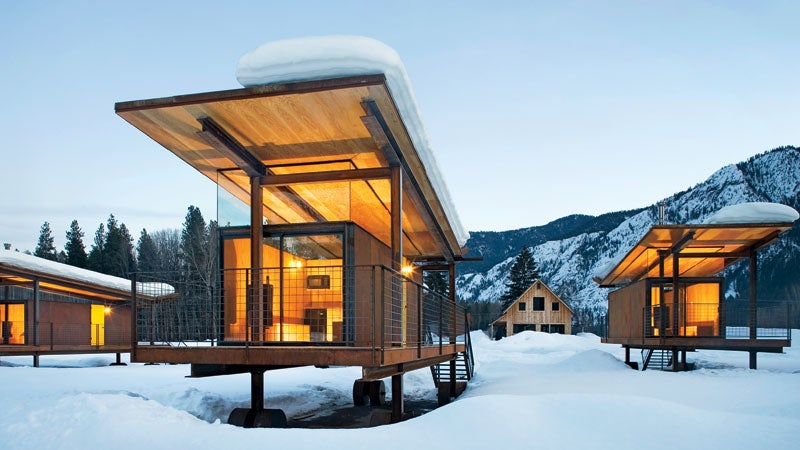 Rolling Huts
Heading out the door? Read this article on the new Outside+ app available now on iOS devices for members! Download the app.
A good lodge is all about access. Whether you crave empty surf, northern lights, or hip-deep powder, these eight adventure-ready base camps put you right on top of the action.
---
Rolling Huts, Winthrop, Washington
The Methow Valley's network of cross-country ski trails includes 120 miles of immaculately groomed routes through pine-studded forests and fields. It's also perfect for one of winter's fastest-growing sports: fat biking. A local ban on the bikes was lifted last winter, and the Methow Valley Sports Trail Association has since opened a total of 18 miles of trails to the behemoths. "We're finding that the bikes actually have less impact on ski trails than a skate skier does, and people are going crazy for them," says the association's Kristen Smith. Rent one at Methow Cycle and Sport (from $35), and base yourself at one of Rolling Huts' six steel-and-wood, two-room structures.
They come complete with cork floors, modular furniture, kitchenette, wood-burning stove, and Wi-Fi. All have mountain views, but an outdoor spigot provides the only running drinking water, and the toilet is a chilly Porta-Potty-style outhouse. Thankfully, there's a bathhouse with hot showers 50 yards away. Of course, you can always book the Rolling Huts' less chic—but fully plumbed—three-bedroom farmhouse. Huts from $135, farmhouse from $250.
---
Las Flores, El Cuco, El Salvador
There's nothing wrong with dorm-like surf lodges that make you sleep on cots and serve bean burritos at every meal. But you can do better without breaking the bank. Las Flores features a full-service spa, a pool with a swim-up bar, and 11 suites tricked out with private decks or terraces. It's also set on a right point break where clean tubes make rides of 300 yards possible even in moderate conditions. Better still, the beach is part of a secluded stretch of El Salvador's untrammeled east coast, a two-hour trek from the El Salvador airport. Which means the only competition in the line-up will be from other hotel guests. If that's still too crowded, Las Flores will ferry you to five other remote breaks within 20 minutes of the resort for the kind of solitude surfers dream of. The lodge offers lessons for beginners and intermediates, so book a trip now for March, when the waves start rolling in. From $244 all-inclusive, with rentals and lessons. 
---
Sutton Place Hotel, Revelstoke, British Columbia
The secret is getting out on Revelstoke's almost silly combination of powder and affordable prices, but there's only one lodge at the base: Sutton Place Hotel. Each room or suite boasts plump mattresses, gas fire-places, and a washer and dryer—not to mention easy access to a heated outdoor pool and hot tubs. But our favorite part? The elevators—really. That's where the lodge staff posts daily snow reports, so you know whether to book a last-minute seat with the resort's cat-skiing operation or on Selkirk Tangiers's choppers. If you can swing it, hop on the Powder Adventure trip, which gets you five runs from a Bell 205 (US $924). It's the best run-to-dollar ratio for less than a grand.
Grab breakfast at La Baguette and dinner at the Rockford Wok (order the seared squid with jalapeños). Revelstoke does have a club scene, but it happens downtown, a cold four-mile walk away. Which is just as well. You'll want to conserve your energy for the mountain's 5,620 feet of vertical—North America's biggest. Doubles from US$155, including lift ticket. 
---
Cabbage Key Inn, Pine Island, Florida
Located 20 miles northwest of Fort Myers in the Gulf of Mexico, Pine Island is perhaps best known for the Cabbage Key Inn's always packed open-air restaurant, which has been festooned with dollar bills taped to the walls and ceiling over the past 60-plus years. By late afternoon, though, the crowds head back to the mainland, leaving the 100-acre wooded island empty. Book one of the six waterfront cottages, each with a private dock and a screened-in porch, or one of the six rooms in the main inn. From there you'll get to hike under a canopy of oak, mangrove, and cabbage palm, or devour a novel or three by the water in solitude. If it gets too quiet, join Captain Erik Flett and chase redfish and snook (from $375), or rent kayaks on the mainland (from $40; 239-314-8300) and strike out on the Great Calusa Blueway, a 190-mile water trail through protected Pine Island Sound and Estero Bay. From $125.
---
Gonzo Inn, Moab, Utah
Come April, hordes of mountain bikers descend on Moab's legendary singletrack. Which is why you should book a trip now: in February and March, daytime temps hover around 55 degrees, and there's still plenty of sun. Set up shop at the Gonzo Inn, which offers individual patios or balconies with views of the sandstone cliffs. The lodge's best feature: you won't need a car. It's right downtown, so you can walk to every notable Moab eatery, rent a bike at Poison Spider Bicycles (from $50), and catch shuttles into the high country from just down the street. Moab has plenty of classic rides, like the Slickrock Trail and Porcupine Rim, and Moabites keep expanding them—they've constructed dozens of miles of new world-class singletrack in the past decade. Our favorite: Captain Ahab, a 4.3-mile route built last year that descends a series of narrow sandstone ledges. From $169.
---
Whiteface Lodge, Lake Placid, New York
There's a reason Lake Placid has played host to the Olympics twice—the area has 288 acres of downhill and over 30 miles of cross-country ski trails through dense forest and snowy meadows at Mount Van Hoevenberg. That's not to mention the ice climbing—some of the best in the country—which can be experienced with Cloudsplitter Mountain Guides ($250 per lesson). The easiest way to access it all is a stay at Whiteface Lodge—the trails are less than ten minutes away—although the place is so packed with amenities, you may never make it off the premises. The resort has a two-lane bowling alley, a movie theater showing three flicks a day, an ice cream parlor (with adult flavors like Whiteface Mudslide with Kahlúa), a full-service spa, a skating rink with complimentary skates, and luxury lean-tos stocked with wool blankets and a full menu of single-malt Scotch. From $349.
---
Winterlake Lodge, Finger Lake, Alaska
If you're headed to the Last Frontier in winter, chances are you're heli-skiing or dogsledding. For the latter, no place matches Winterlake Lodge. Everything is included in the price of one of the five upscale one-to-three-bedroom cabins (each with views of frozen Finger Lake), which means you can snowshoe to views of the Alaska Range's Trimble and Hayes Glaciers, soak up northern lights from the cedar hot tub, or take a cooking class with Cordon Bleu–trained chef and owner Kirsten Dixon (sample dish: butternut squash and chive gnocchi with mushroom ragout). But be sure to try the four-day mushing courses, which teach you to harness and drive your own team. Plus, if you visit on the first Monday in March, you can watch the Iditarod as it passes through. From $600.
---
Wildwood Hotel, Snowmass, Colorado
It's hard to beat luxe accommodations combined with easy access to great skiing. Last summer, the Wildwood Snowmass and the neighboring Westin underwent $55 million in renovations that converted the place into an upscale rendition of a seventies-era playroom, with a lobby full of board games, a pair of hot tubs, and a New Belgium Brewing beer hall. Rooms are decked out in bold colors, and each one is equipped with an iPod docking station and trundle drawers beneath the beds for ski bags. It's also home to the new Double Black Noodle House, a gourmet ramen spot scheduled to open during the X Games in January. And it's a two-minute walk to Snowmass, the largest of Aspen's four resorts and the one with the shortest lift lines. From $199.
Trending on Outside Online