Sponsor Content: Florida Keys
Disconnect in Paradise in Key Largo
On the water or underwater, Key Largo makes it easy to set your watch to island time and settle into vacation mode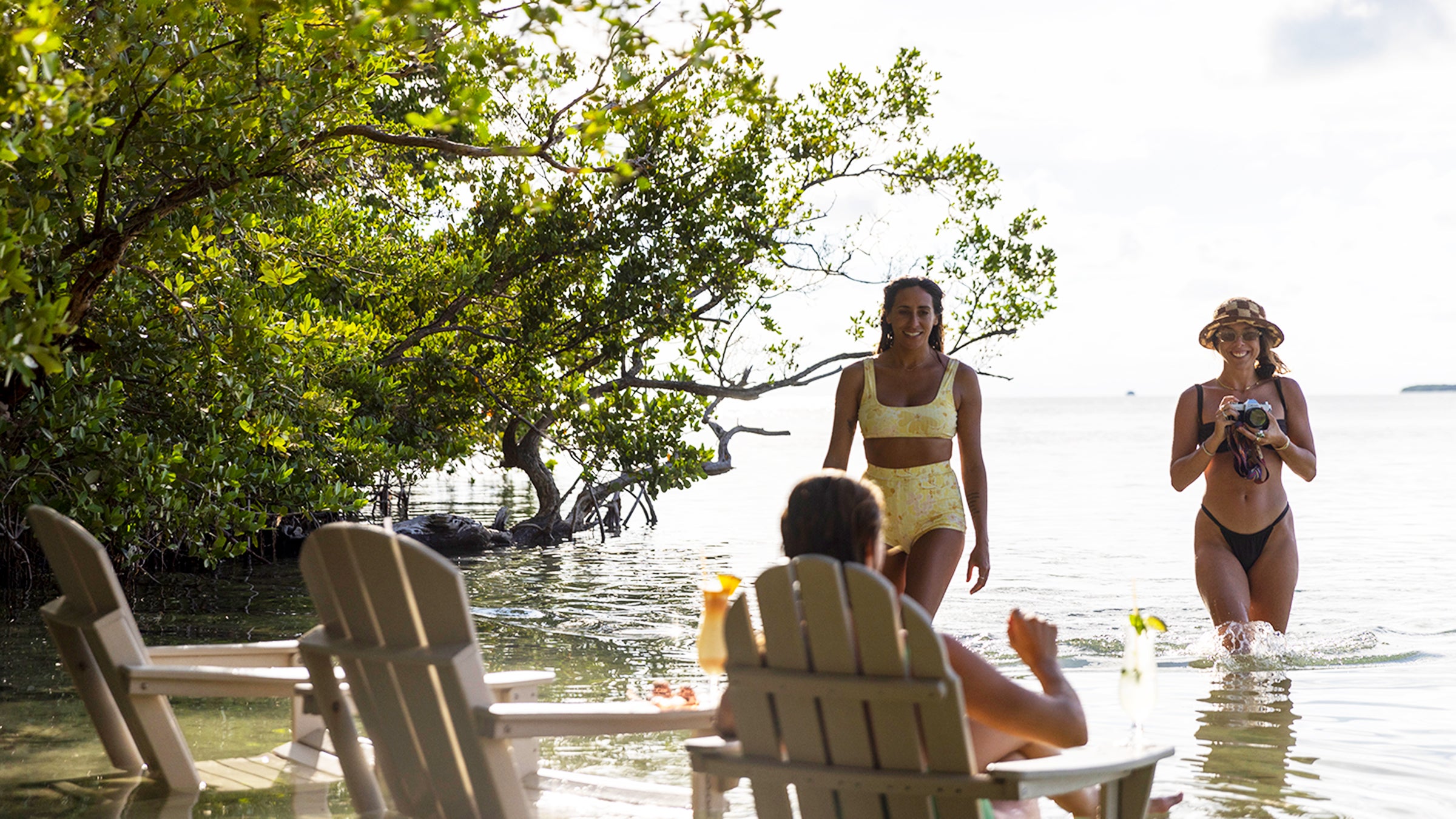 At about 32 miles long, Key Largo is the longest island (largo means "long" in Spanish) in the Florida Keys. Which means you get even more of a good thing. The waters surrounding Key Largo are what make this area truly special. With the Everglades National Park backcountry (mostly accessible by boat) off the west coast and the Atlantic Ocean and clear Gulf Stream waters to the east, Key Largo is the ultimate base camp for connecting with marine wildlife and disconnecting from all your hustle and bustle. When you're immersed in the unique ecosystem here, you can't help but focus on the amazing world we live in. Here's how to tune in to nature and leave the rest behind.
Go Scuba Diving, Naturally
When it comes to disconnecting, nothing compares to submerging yourself in the sea. There's something about hovering over a mesmerizing reef with only the sound of your breathing that erases the world above and immerses you in the underwater present. Sounds exotic, but you don't have to venture to far-flung tropical destinations to get a taste of underwater tranquillity. Just off the coast of Key Largo, John Pennekamp Coral Reef State Park protects more than 178 square nautical miles of live coral reef—the only live barrier reef in the continental United States. As the country's first underwater state park, the preserved area is a sanctuary for vibrant corals and the diverse sea life they support. It's no wonder Key Largo is often called the Dive Capital of the World.
Learn more escaping the everyday in the Florida Keys.

Because Key Largo's waters are calm and its dive sites relatively shallow, it's a great place to try diving for the first time. Local dive shops offer Open Water Diver courses, which include classroom sessions, pool training, and four open-water training dives, year-round. After completion, you'll be certified to dive down to 60 feet—perfect for most sites in Key Largo. Don't have time for a multiday course? Try a Discover Scuba Diving class, also offered at most local dive shops, to get a taste of diving without committing to a certification.
Of course, tranquillity isn't the only way diving helps you to disconnect from day-to-day life. It's also about the people you meet and the dive culture that gives even the most novice divers a sense of belonging. The dive community in Key Largo is as vibrant as the reefs themselves. No matter what time of year you visit, a local divemaster will be happy to take you out to the best dive sites. You may even be lucky enough to join one of the many special dive events throughout the year, like Key Largo's Reef Fest—an annual celebration of marine conservation.
Tip: Disconnecting is about getting absorbed in the present. A great way to do that is to volunteer while you're visiting a new place. Check out options for coral-reef restoration programs or cleanup dives so you can connect in a whole new way with the local environment.
Explore the Shallows
Scuba diving isn't the only way to get a firsthand look at the ocean habitat in Key Largo. The shallow, nutrient-rich waters near the coast teem with life, making it rewarding to explore at the surface. The calm, sheltered waters—nurseries for juvenile fish, sharks, and other marine life—are great for snorkeling or paddling. Join a snorkeling tour with a local guide who can show you all the best places to explore and teach you about the local ecosystem and species you'll encounter. 
You can even experience the reef without getting wet—on a glass-bottom boat. The Key Largo Princess tours John Pennekamp Coral Reef State Park and the Key Largo National Marine Sanctuary, and its flat windows allow you to see the reef without any distortion. It's about as close to scuba diving as you can get without getting in the water. When you're not belowdecks seeing the underwater sights, the boat's sundeck is a great spot for 360-degree views of the surrounding seascape. Or book a stay at Jules' Undersea Lodge, an underwater hotel with porthole views and unique offerings, including underwater pizza delivery.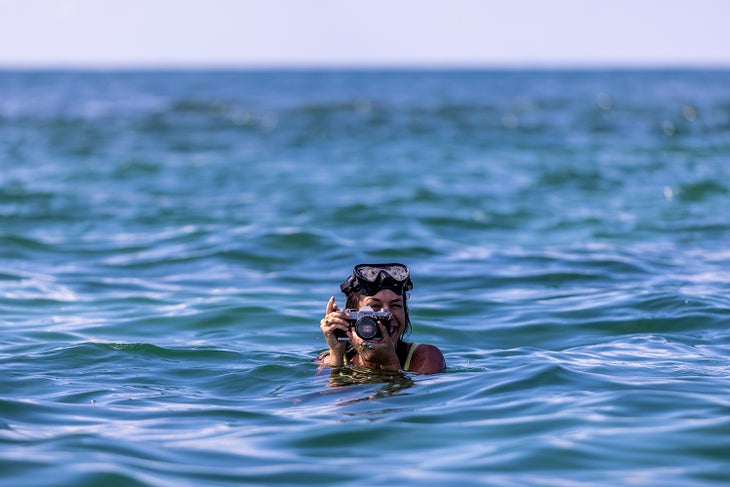 Tip: Whether you decide to snorkel, go for a cruise, or stay the night underwater, put your phone away and opt for a Polaroid camera or GoPro so you can focus on the fun instead of on your phone.
Join a Fishing Charter
Good news for anglers: the nutrient-rich waters that make for great snorkeling in Key Largo also sustain large populations of game species like bonefish, permit, redfish, snapper, and trout. Because of the healthy fish numbers, some of the best fishing guides in the Atlantic base themselves in Key Largo. From offshore charters to flat-bottom boats for the shallows, there's something for every type of angler. Or for a more low-key fishing experience, cast a line from shore in one of the sounds where you'll have a chance to land spotted sea trout, snook, and other inshore species. 
If the season and species regulations allow, anglers can keep some of their catch. Bring your catch of the day back to your vacation rental for a fresh-from-the-sea meal. Or let a chef at The Buzzard's Roost cook your fish any way you'd like.
Tip: Fishing dates back more than 40,000 years. Although it's more sport than necessity when you're on vacation, this primal activity is a great way to disconnect from modern worries and focus on what's on hand (or on the hook).
---
Most people know the Florida Keys and Key West as a great getaway. One of the most unique places on earth. Calm. Serene. Laid back. Just the right setting to recharge your batteries and rejuvenate your spirits. But a getaway to the Florida Keys and Key West is much more than peace and quiet. And not just because of the legendary fishing and the world's most spectacular dive sites. The Keys mean history. Art. Theater. Museums. Shopping. Fine dining. Entertainment. And much more. All told, 120 miles of perfect balance between natural beauty and extra-ordinary excitement.
Lead Photo: Florida Keys