Escape From New York
The island traps you. That's what Manhattanites say when rationalizing their inability to travel freely. But with a little crea­tivity, finding adventure is easier than you think. Outside fan Joe Sacaridiz, an ad-agency art director who lives in Hell's Kitchen, spends spring and fall weekends climbing upstate and winters snowboarding in Vermont. Here's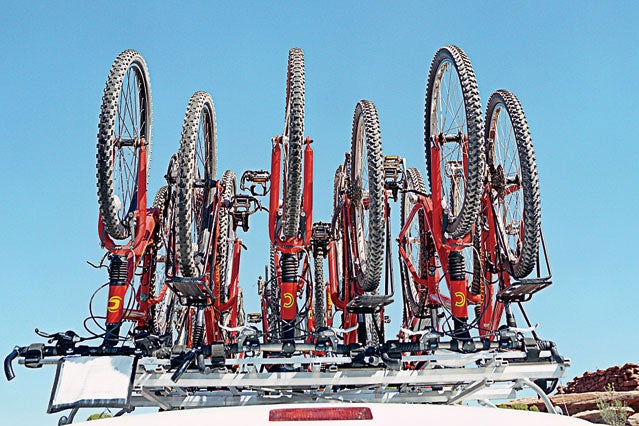 Matthew Wakem/Aurora
Heading out the door? Read this article on the new Outside+ app available now on iOS devices for members! Download the app.
BE DEDICATED: "When it's climbing season, most weekends I go up to New Paltz or Brewster, in Westchester," Sacaridiz says. "I'll leave the city at 8 a.m. and be back by 9 p.m. I practice at Brooklyn Boulders, a great gym in Gowanus. I take a few four- or five-day trips, too—Alabama, North Carolina, Texas—then snowboard twice a month in winter."
STAY ORGANIZED: "I have a storage unit that houses all my gear a few blocks from my apartment. It's my second bedroom."
CHOOSE GOOD FRIENDS: "I don't have a car, so I freeload," says Sacaridiz. "Every weekend in spring and fall, I'll find out on Facebook who's going climbing and hitch a ride. I have a friend with a house in Mount Snow, Vermont, so I'll stay with him when I go snowboarding."
AND PARTNERS: Sacaridiz's wife, Leah, is also a climber and snowboarder. "It helps that she's psyched to get out," he says. "Our vacations tend to involve exploring."
GO LONG: Sacaridiz and his wife have traveled to Iceland twice in the past three years—a smart pick, since it's just a six-hour flight from New York City and Iceland Air offers big discounts. "We figure out which towns we're going to each night, but we don't know what we'll do once we get there," he says.
Trending on Outside Online