Extreme Nudity
The Top Spots to be in the Buff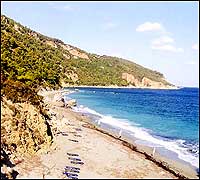 Heading out the door? Read this article on the new Outside+ app available now on iOS devices for members! Download the app.
Our picks for ten of the best (and most surprising) places to hike, snowshoe, fly-fish, snorkel, body-surf, or bird watch in the buff.



Plage de Tarare, Grande-Terre Island, Guadeloupe

Snorkeling
Just below Pointe de Chateaux, a sloping, mile-long bluff jutting east from Grande-Terre, sits the island's only coral reef. Look for octopuses, barracuda, cuttlefish, and bare bums. Directions: Guadeloupe Tourist Info, 011-590-820930.
Stanley Hot Springs, Idaho

Snowshoeing
Located deep in the Selway Bitterroot National Forest, where even grizzlies are making a comeback, these springs are crowded during summer. But snowshoe up the narrow five-mile trail in the cold, and you will likely have to share one of the pools with a moose. Directions: Kooskia Ranger Station, 208-926-4274


Verde Hot Springs, Arizona

Hiking
A now-defunct 1930s wilderness health spa at the junction of Tonto and Coconino National Forests two hours north of Phoenix, Verde's spa buildings are gone, but the half-dozen tubs ranging from 90- to 104-degrees are still there. Requires a mile hike in from a forest road. Directions: azhoffs.home. mindspring.com/verdehotspring.html.


Chapada Dos Guimaraes National Park, Brazil

Wildlife-watching
A national park in name only, this 33-million-acre preserve is pretty much left alone by the Brazilian park service. Skinny-dipping traditions that started in the 1970s have held strong, as have common sightings of jaguars, tapir, and coatis. Directions: Dos Guimaraes Tourist Agency, 011-55-65-791-1133.


Red Rock Beach, California

Climbing, surfing
The red sandstone walls that separate Red Rock Beach from the "textile" (i.e., clothing mandatory) Stinson Beach next door have a series of intermediate, edgy face routes. Or bring a surfboard to shred the breaks and you'll be spared the inevitable wedgie. Directions: www.redrockbeach.com/home.html.



Velanio Beach, Skopelos Island, Greece

Hiking, swimming
Designated nude since the ancients walked it, Velanio's not as nudie as it once was. Bring shoes, at the very least; getting here means a 15-minute hike on a trail that gradually turns from shale to softer sand. Directions: www.greekisland.co.uk/skopelos/ibeaches.htm.


Indian Creek Canyon, Utah

Hiking, climbing
The entire canyon—located just south of Moab and controlled by the Bureau of Land Management—is heated like a sauna even in winter, making it perfect for a December hike (although you'd do well to watch out for park rangers from nearby Canyonlands National Park, who'll ticket for nudity). And the climbing? Plan to warm up on climbs with a 5.10 rating or higher. Directions: Monticello BLM office, 435-587-1500.
Shelly Beach, New South Wales, Australia

Fly-fishing
Not the Shelly Beach adjacent to Sydney—this Shelly requires a five-hour drive north from Sydney, keeping all but the most dedicated away. And leaving more of the inshore gamefish for you. Directions: Australia Nudist Federation, 011-61-8-8234-5485.


Virgin Falls, Tennessee

Hiking
The falls emerge from a cave, shoot over a cliff, and plummet 110 feet before disappearing into another chasm. The six-hour hike to the site winds past streams, pools, and smaller waterfalls, all perfect for skinny-dipping. Directions: Bowater Wilderness, 865-376-6185.


Playa Papagayo, Canary Islands

Bird-watching
The sand beach at the southeastern tip of Lanzarote Island (otherwise covered in fields of black lava and cactus) is great for birdwatching. It draws kestrels, gray herons, falcons, and, for your life-list, occasional rare purple herons, Egyptian vultures, and oystercatchers. Directions: Holistic Holidays Resort, 011-34-928-524-216.



Trending on Outside Online