Leaf-Peeping Looks Different This Year
Climate change is wreaking havoc on the timing and quality of fall foliage, but scientists have a few tips on how to catch the season's best colors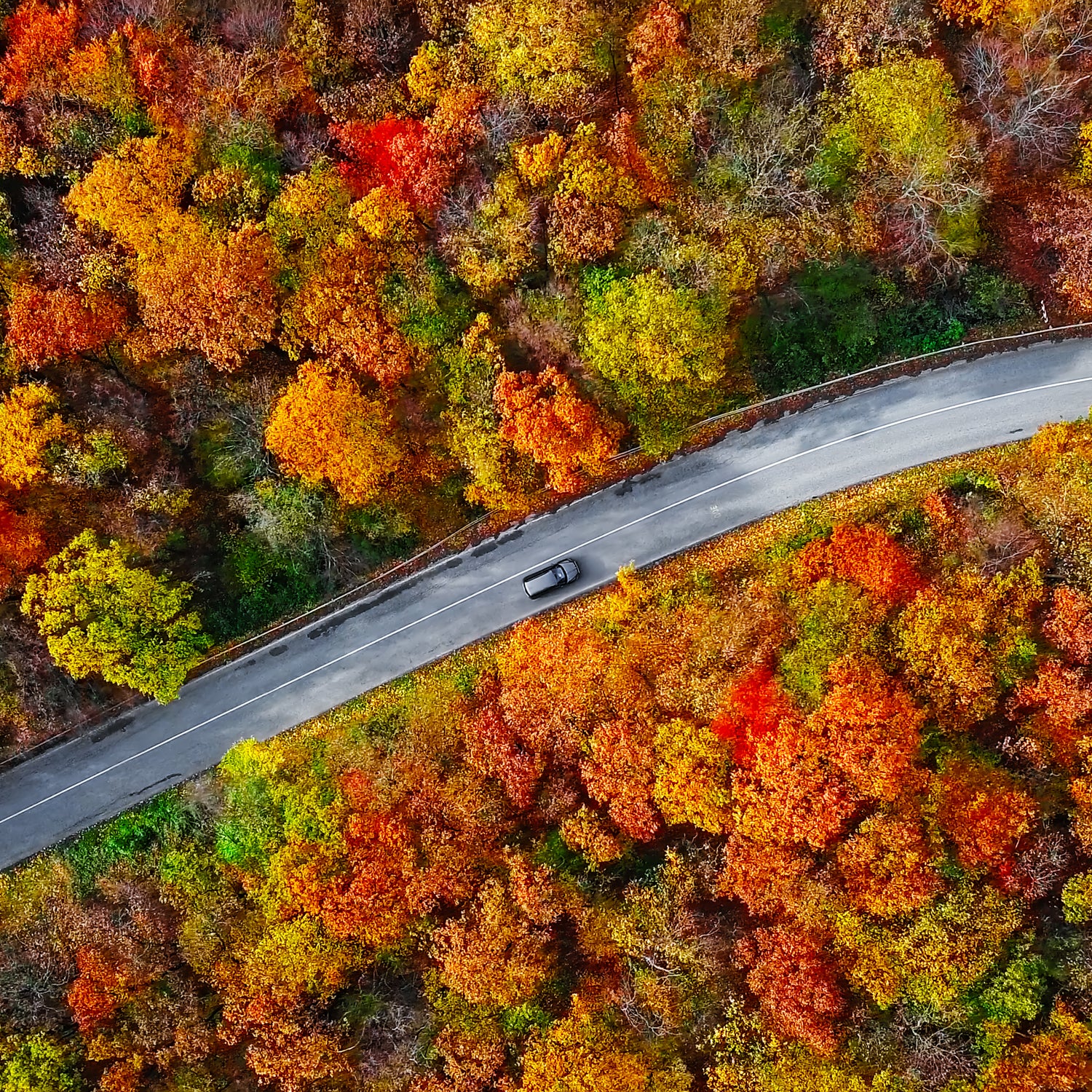 rusm/iStock
Heading out the door? Read this article on the new Outside+ app available now on iOS devices for members! Download the app.
In 1938, Wilfred Dexter and his wife, Polly, opened Polly's Pancake Parlor in Sugar Hill, New Hampshire. In those early days, during the Great Depression, Polly began charting the weather daily, as well as attendance at the restaurant. She recorded temperatures and snowfall, and in autumn, she indicated the week when fall foliage was at its peak. As was the case then and even today: leaf-peeping season always resulted in an uptick in business.
Eventually, Polly and Will's daughter, Nancy, took over the restaurant and continued her mother's tradition of recording the weather and the fall foliage. These days, Nancy's daughter, Kathie Côté, runs it alongside her husband. Kathie still keeps diligent, hand-written records on graph paper of the climate and fall colors and the impact on their day-to-day number of day-to-day customers. (Kathie's daughter, Emily, has finally started putting the data online.)
"The weather doesn't seem to make that big of a difference if customers come in or not. But when the leaves are changing colors, that's our busiest season of the year," says Côté.
Today those stacks of clipboards and binders of penciled-in spreadsheets remain one of the longest-standing records of peak season in New England. And scientists are turning to this data as part of continued study into how climate change is impacting its timing and quality.
"We're looking at historical documents starting in the 1950s. Our data shows that peak fall foliage is getting a day later each decade," says Stephanie Spera, assistant professor of physical geography and environment at the University of Richmond in Virginia, who's in the midst of a research project on how climate change will impact fall foliage in Maine's Acadia National Park. (Spera is using the data from Polly's notes as part of her study.) "In the fifties, peak foliage was the first weekend of October, and now it is a week later, around the 12th or 13th of October, depending on where you are."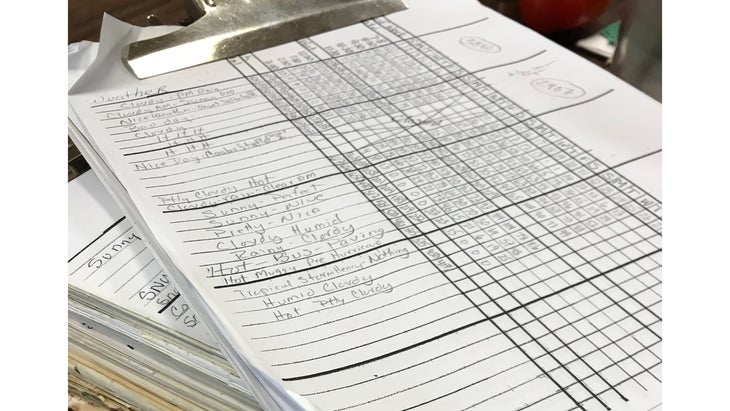 Warmer temperatures later in the fall mean the timing of the leaf-peeping season is shifting, but so is the brilliance of the colors. "We'll see more bad years than in the past, with less consistently good colors, because of the various impacts of climate," says Andy Finton, landscape conservation director and forest ecologist for the Nature Conservancy, who is based in Massachusetts. "We'll see more yellows and browns, which can still be attractive, but fewer of those bright reds and oranges. Droughts provide less opportunities for the leaves to build up sugar, which is what gets turned into those brilliant fall colors."
Severe droughts can also lead to trees dropping their leaves before they even turn colors. The same thing can happen as a result of extreme precipitation: wind and rain events can strip trees of their leaves before the color changes.
"Drought causes leaves to fall earlier, before they have a chance to develop orange and red colors, and warmer temperatures mean trees hold their leaves longer, when there is less daily sunlight," Finton says. "They therefore photosynthesize less and make less sugars, which are necessary for the red pigments."
Tree species are also migrating to different locations and elevations as a result of warmer temperatures. A 2011 study published in Science showed a rapid shift of tree species moving to higher elevations and latitudes. The iconic sugar maple, for example, which needs colder temperatures, is shifting farther north and upslope.
The impact of the shift will affect tourism economies and businesses—like Polly's Pancake House—that depend on leaf peepers. "If the quality and timing of the display is off, that's a huge effect on the economy and communities," Finton says. "From an ecological standpoint, that's putting more stress on trees and the species dependent on them. The timing has a compounding effect on the forest ecology."
But don't despair if you still want to catch fall colors at their finest this year. "Leaf-peeping is not canceled," Finton says. "There's still going to be something special to see."
Most states maintain a fall-foliage tracker online. Spera recommends that as your best resource to determine when the peak colors will happen near you. Once your decide where you want to go, fire up Gaia GPS online or through the smartphone app, select your region, and add the Fresh Sat–Recent and Fresh Sat—Cloudfree layers, which superimpose recent satellite images from the U.S. Geological Survey and European Space Agency to the map, showing you the highest concentrations of fall color. (Gaia GPS is owned by the same parent company as Outside, and Gaia GPS Premium is now included with an Outside+ membership.)
"Get out of the car and into the woods," Finton says. "Sometimes it's the understory or underbrush that's turning bright colors. If you open your expectations to the varieties that our forest provides, you can still find an amazing display."
Lead Photo: rusm/iStock
Trending on Outside Online