These Beautiful Fishing Lodges Now Offer MultiSport Adventures
As angler numbers declined, lodge owners cast about to appeal to a changing world, offering way more adventures in spectacular corners of North America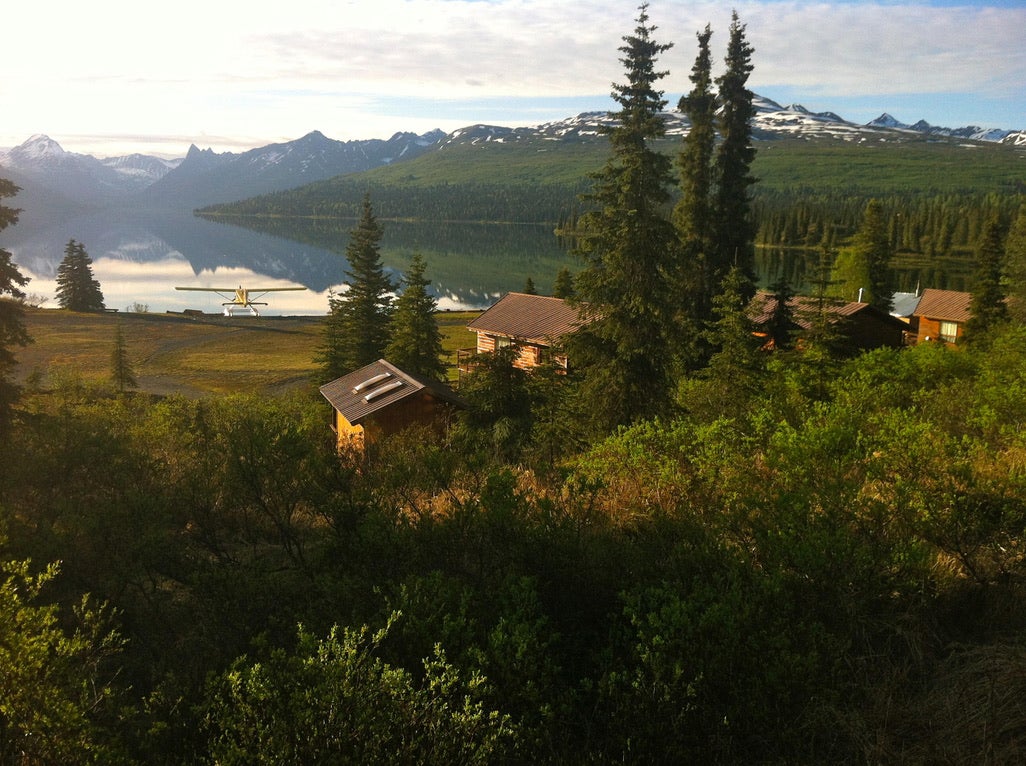 Matt Bertke
Heading out the door? Read this article on the new Outside+ app available now on iOS devices for members! Download the app.
Our 42-passenger plane lands with ease on the mile-long sand runway just south of the Arctic Circle. Scraggly black spruce trees line the sides of the airstrip and water laps gently at one end. We are 200 miles from a road; 240 miles from the closest town, where our plane had to refuel; and more than 600 miles from Winnipeg, Manitoba.
Side-by-sides (that is a type of ATV) take us down narrow sand roads, past a "Welcome to Gangler's" sign to our cedar cabins on the shores of Egenolf Lake, also in Manitoba.
The name Gangler carries meaning in the fishing world. Advertisements for the facility run in fishing magazines across the country. Anglers come here from around the world to catch the Canadian Grand Slam, which means landing a northern pike, lake trout, Arctic grayling, and walleye in a single trip.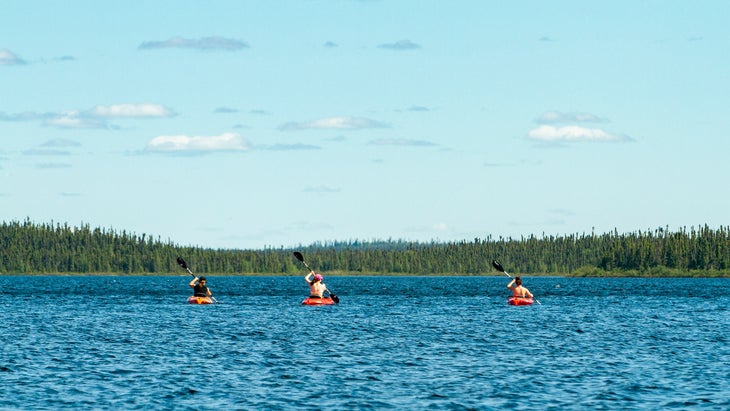 I'm a fishing writer, but I'm not here to fish from dawn to dusk on the hunt for a grand slam. Neither are an increasing number of other visitors to this remote outpost in northern Canada. We have come for more than fishing.
"With a fishing lodge, to make money, you have to run more people through. When you run more people through, you destroy your fishery," says Gangler's owner Ken Gangler, a tall 62-year-old from Chicago who is also a bass guitarist.
Gangler, who got into fishing lodges with his dad, Wayne, and mom, Gerry, almost 40 years ago, is now trying to change up the fishing lodge they started together in 1985. He's not the only one adapting.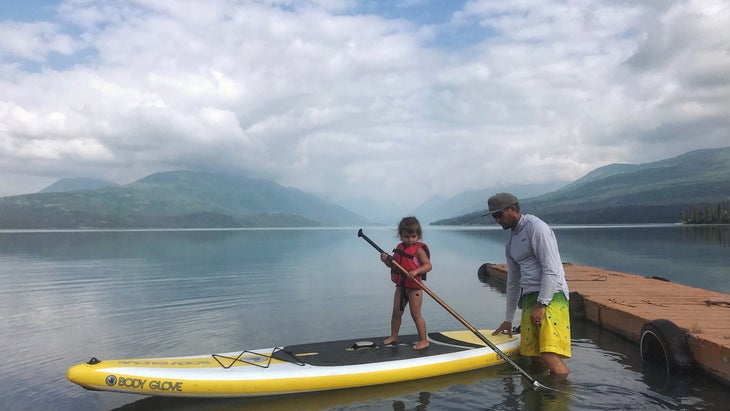 Lodges are evolving across North America not to abandon fishing but to appeal to a broader market, in much the same way ski areas like Jackson Hole Mountain Resort are expanding their summertime offerings to via ferratas and downhill mountain-bike courses. Longer seasons and more options mean a greater chance to weather the next recession, bubble burst, or—God forbid—global pandemic.
Adaptation is a way for owners like Gangler to protect a fishery he loves in the face of overuse and impacts from climate change. And it's a way to respond to an overall declining population of anglers and also to the changing face of fishing in the U.S. and Canada—what was once an almost entirely white male sport is, according to data from the Recreation Boating and Fishing Foundation, slowly becoming more diverse by gender and ethnicity.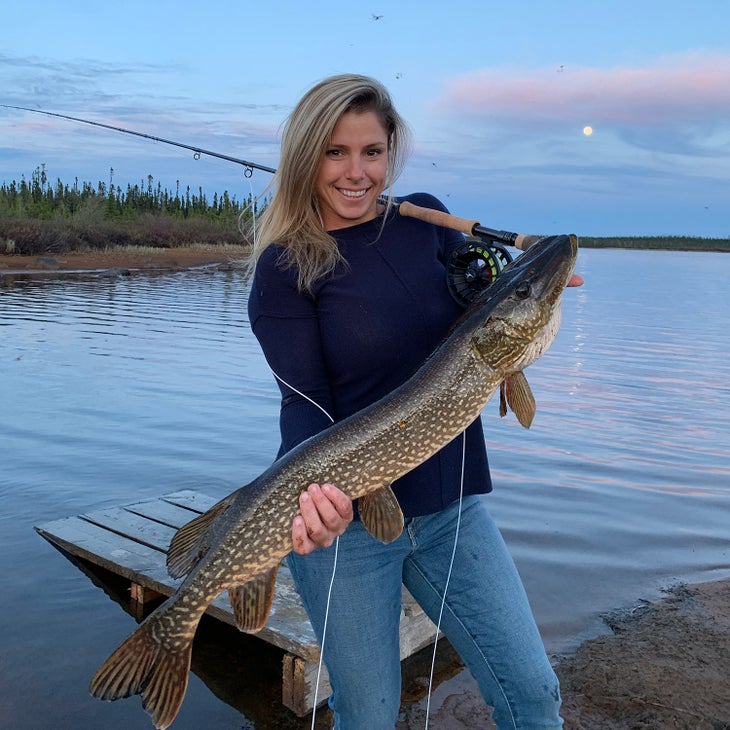 Meeting a new demand
Thousands of miles to the west, tucked along the edge of Alaska's Denali National Park, sits another cedar lodge with matching chalets along the shores of an Instagram-worthy lake.
Matt Bertke, 33, took over Chelatna Lake Lodge from his parents, Duke and Becky, a handful of years ago. They ran it for decades as a hardcore salmon-fishing lodge, rotating in 16 clients every four days and flying them each morning to remote lakes and rivers to cast for red, silver, and king salmon. Fishing was the point of the lodge. And it worked. (My husband and I worked for the elder Bertkes at the lodge for several years, finishing in 2011.)
Duke Bertke started scaling back around 2001, and by the time Bertke took over in 2016, the place was more of a rainbow-trout-and-grayling fishing lodge with a few salmon runs at the end. Bertke faced a decision: Scale back up to what the lodge had always been or rethink the business model to better suit the changing world of angling.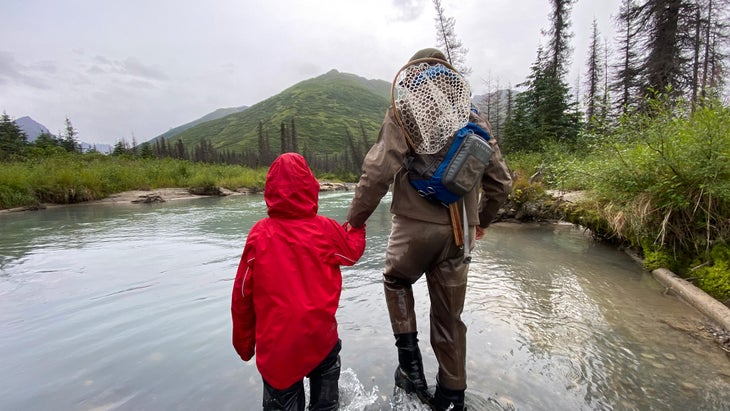 He went with the latter. Today, three years post Covid, he offers fishing but also hiking, bird watching, kayaking, rafting, and helicopter adventures. He's done photoshoots with the high-end outdoor clothing company Filson and is hosting photography groups.
"Everybody is more interested in capturing and sharing their experience more than 10 years ago," Bertke says. "Because everyone has Instagram and TikTok, they want to be in a beautiful place doing different things."
Bertke says he isn't sure if anglers are changing or if he has changed, but either way he is attracting people who want a more varied experience. The change is taking pressure off the local fishery and bringing in more families and groups with mixed interests.
Expanding to offer more than just fishing to clients may actually help the fishing industry in the long run, says Stephanie Vatalaro, senior vice president of marketing and communications for the Recreational Boating & Fishing Foundation.
It's no secret that fishing numbers across the U.S. dropped in the past few decades as the traditional angler—white, male Baby Boomers—aged out of the sport and recruitment didn't quite keep up. By the mid-2000s, about 17 percent of the U.S. population fished, according to numbers from the Recreational Boating and Fishing Foundation, which tracks fishing trends. Those numbers have stayed steady for the past 15 years, except for a brief jump to about 20 percent during the Covid pandemic, when people flocked outdoors.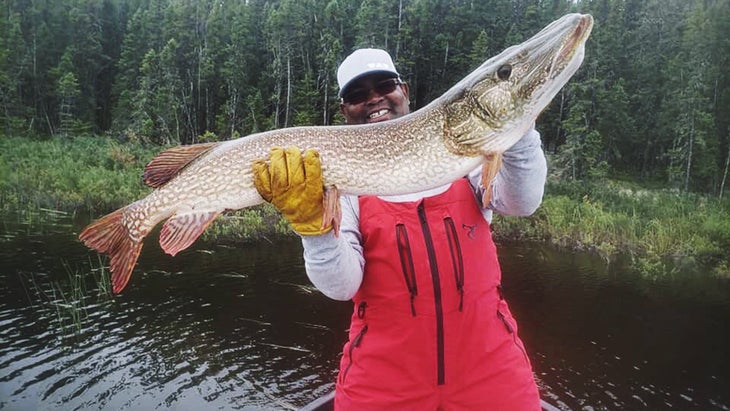 But most notably, the anglers making up for losses in numbers over the last few decades are women. Almost four million more women fished in 2021 than in 2011. And one of the main motivations for women to begin fishing, at least according to the data, is to spend time with friends and family.
This fits what Bertke sees at his lodge, and Gangler encounters at his as well. It's also likely why some serious fishing lodges in places like Alaska's Bristol Bay are now combining fishing with bear viewing, wildlife photography, and private sightseeing flights. It's worth noting, though, that while remote lodges like Bertke's and Gangler's also open up backcountry spaces to more participants, the price-point of flying to a remote lodge stocked with food and supplies and offering full-day guided activities, is not, by its nature, accessible to everybody.
The Recreational Fishing and Boating Foundation doesn't track numbers from fishing lodges, so it doesn't have data to show how angler numbers affect the lodge industry. Vatalaro is also clear that numbers show generalizations—many women fish to be with friends and families, sure, but many of them also just love to fish. And plenty of fishing lodges will continue catering to the dawn-to-dusk angler, even as others rethink the future.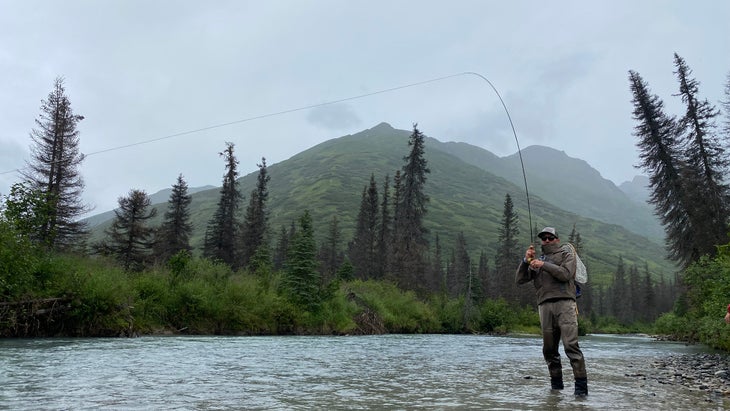 Ecology with a side of fishing
The afternoon before we head out to fish or hike, we settle onto couches in the Gangler's main lodge. A projector screen occupies the middle of the room, and Brian Kotak, a Ph.D. scientist from Manitoba, introduces the area, with its 12 river systems and 100 lakes. He explains how all the sand around us, which makes the lodge area feel more like a beach in Mexico than a lake shore in northern Canada, came from glacial retreats 8,000 years ago. Sand and gravel eskers (ridges) crease across the landscape like scars. The tops rise about 400 feet above most of the rest of the flat landscape, giving hikers endless views of trees and lakes.
Kotak has been a critical cog in the lodge's transition from die-hard angling to something akin to eco-tourism. He takes visitors for hikes on the eskers and to sit in a blind on the runway to watch as wolves wander by. He calls to bull moose, explains caribou migrations, and tells people which berries are safe to eat. He and other staff members stay up late to monitor northern lights for anyone interested in the celestial phenomenon.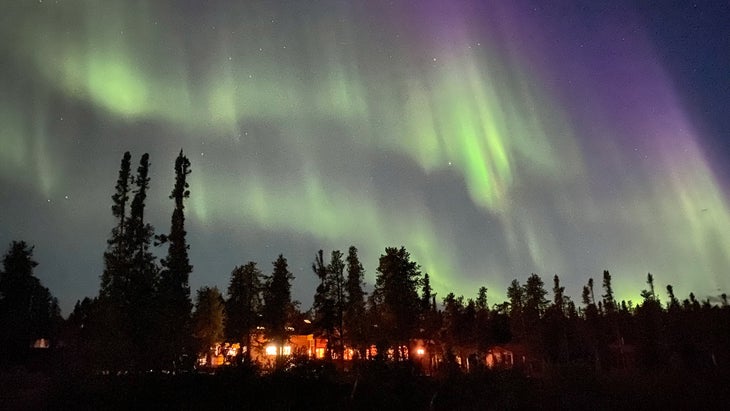 To Gangler, the transition to a more nature-based experience makes sense. He's always been focused on the history and context of the location, and his entire guide staff are Indigenous from either the Cree or Dene First Nations.
Gangler founded the lodge with his father in 1998 on about six million acres of land allocated by the Canadian federal and provincial governments specifically to his business. Any Indigenous people, per their treaty rights, can still use the land, as can Canadians in general, but the allocations prevent other outfitters from setting up shop. Over the years, Gangler has added nine cabins and five smaller lodges, which he calls outposts, on other lakes in the area.
For years, he kept a full schedule with fishing clients from June to the end of August and hunting in September. But he started to see signs: devoted clients aged or died out. Today's anglers, he realized, still wanted to fish but also wanted their families involved.
"I've got a son who plays travel baseball, it eats up all your time," he says. "Whenever we have vacation time, we want to spend it together." When fishing numbers went down, he decided to make changes.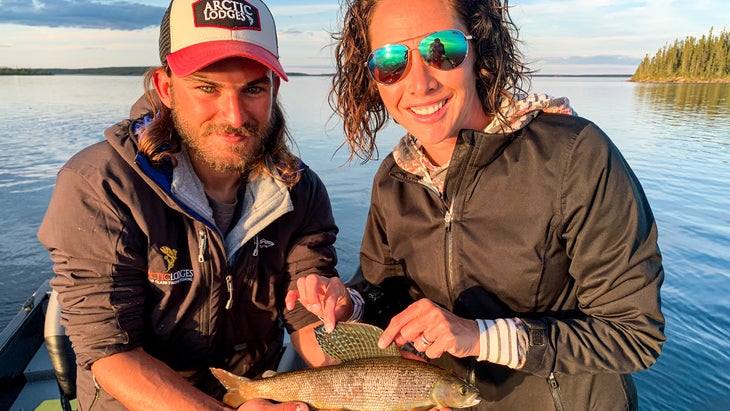 He figured maybe he could give people a grand fishing adventure and also provide something for everyone else in the group to do. Maybe the mom fishes and the dad is just getting into it, or the other way around, but a lodge that offers canoeing, bird watching, tundra hikes, and nature walks is bound to capture more of those families looking for vacations.
So far, as it is for Bertke, the gamble is paying off. Gangler runs about 200 eco trips each year and keeps adding more. He hired another biologist to give additional tours.
During the five days I'm at Gangler's, none of us catch a Grand Slam, but we do reel in some nice northern pike that our guides filet and fry on a beach. We also catch fat lake trout and cast flies to grayling at the mouth of a river. One morning we spend several hours hiking over lichen-covered ground in a forest that looks best suited for fairies.
The day we say our goodbyes in the main lodge, a dozen women with gray hair and sun visors walk in. They're part of an alumni reunion, and not the historic clientele for fishing lodges like Ganglers. Some will fish, others won't; most will do some combination of activities.
More Fishing Lodges That Offer More Adventure
From Alaska to Virginia, Manitoba to Montana, high-end fishing lodges across the U.S. and Canada are starting to cater to more than just anglers. Do you like to fish but your partner is a kayaker? There's a lodge for that. Do you want to fish a little but heliskiing is really your thing? There's also a lodge for that. Check out a few possibilities as you plan your next adventure.
Todrillo Mountain Lodge in southcentral Alaska: This iconic Alaskan lodge walks the line between the ski and fishing worlds, and in June, it does both when guides takes guests heliskiing in the morning and fishing for king salmon at night. The lodge also offers yoga, a via ferrata course, and rafting.
Primland Resort in Meadow of Dan, Virginia: This lodge nestled in the Blue Ridge Mountains gives anglers plenty of trout fishing on the Dan River but also offers wine-tasting and cookie-making classes, mountain biking, archery, hiking, horseback riding, shooting clays, and cooking classes.
Montana Fly Fishing Lodge: Despite its name, the Montana Fly Fishing Lodge now offers more than just fishing in the Yellowstone River Basin. A stay could also include horseback riding, whitewater rafting, shooting sports, and riding ATVs.
Big Cedar Lodge in Ridgedale, Missouri: Johnny Morris, the legendary angler and Bass Pro Shops founder, created the Big Cedar Lodge for anglers and families. Expect plenty of golf, a spa, clay shooting, go-carts and yes, bass fishing.
Bristol Bay Sportfishing in Bristol Bay, Alaska: Go to Bristol Bay for iconic Alaskan salmon and rainbow trout fishing,and stay for unparalleled brown bear and wildlife viewing. The lodge flies guests on tours to view caribou and moose, wolves and whales.
Morrisons Rogue Wilderness Adventures and Lodge in Merlin, Oregon: This lodge opened almost 80 years ago for fishing, and decades later added rafting the Wild and Scenic section of the Rogue River to its offerings. Go for the day or stay multiple nights. 
Arctic Lodges: Nestled on the edge of Reindeer Lake in Saskatchewan, Canada, the 11th largest lake in North America, the lodge offers world-class fishing. But it also offers wildlife viewing, canoeing and a full restaurant in the boreal forest.
Christine Peterson of southeast Wyoming has fished from Alaska to Argentina, though spends most of her time chasing trout in her home waters of Wyoming. She writes about fishing for Outdoor Life, TROUT, and the Casper Star-Tribune, among others.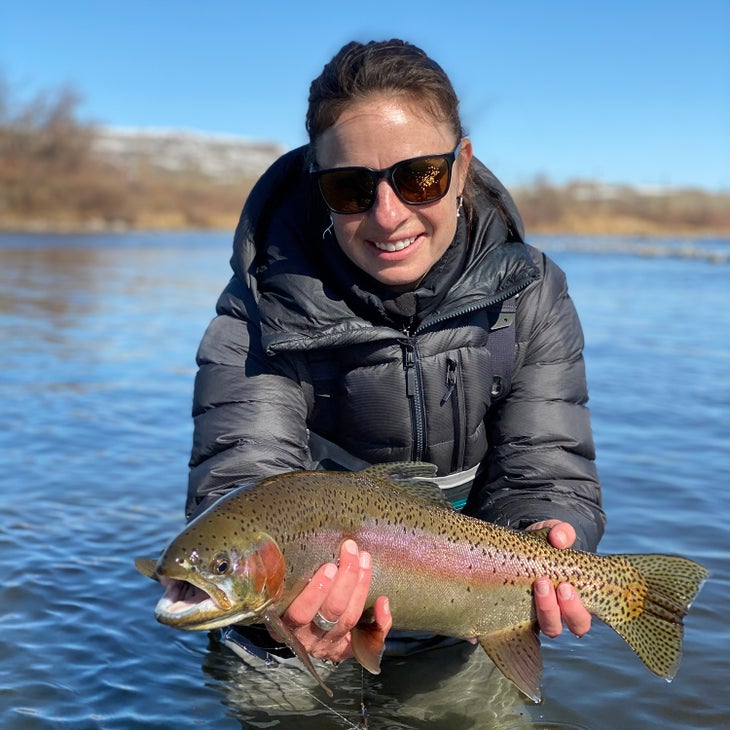 Lead Photo: Matt Bertke