Food for Oil
Thirty vehicles, 16,000 miles, and not a single tank of gas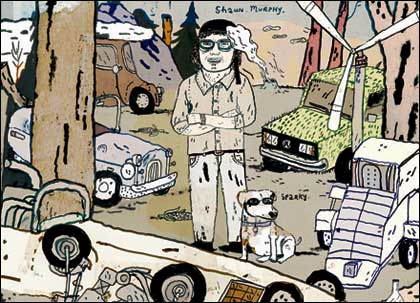 Heading out the door? Read this article on the new Outside+ app available now on iOS devices for members! Download the app.
If your knowledge of alternative fuels consists of nothing more than electric cars and the far-off promise of fuel cells, Australian adventurer and television personality Shaun Murphy, 39, wants to show you something. Coolfuel Roadtrip (www.coolfuelroadtrip.com), a 13-part series debuting this fall on UPN, chronicles Murphy and his dog Sparky's recent 30-state, 16,000-mile lap of the U.S. using 30 vehicles—including cars, trucks, motorcycles, a boat, and an airplane—powered by 12 of the cleanest fuel sources around. "You can watch fuel grow in your backyard," says Murphy. "You've just got to open your eyes and have a little bit of a vision." His vision for Coolfuel included "hempoline" (a mix of hemp oil and ethanol), cow manure, and a food-powered Hummer (one of two in his fleet) that motored through New Orleans on fresh beignets. "I always thought I'd dig the food in Louisiana," says Murphy, "but I never thought my car would be into it."
Are You Pumped?
Want to take your own enviro-cruise? Biodiesel, made of everything from soybeans to veggie oil, is available at nearly 450 stations nationwide. B20 (20 percent bio and 80 percent regular diesel, the most common mix) costs about five cents more per gallon than regular gas, and any diesel car can use it. Find your nearest green pump at
www.biodiesel.org
A sampling of his transportation alternatives: a 1982 four-seat Mooney 201 airplane that flies on corn whiskey (100 percent ethanol); a 125-mile-per-hour biodiesel dragster; a 1995 Chevy S-10 pickup—powered by a hempoline-burning helicopter turbine—that can hit 160 miles per hour; a 2003 Vogelbilt electric motorcycle with a top speed of 75 miles per hour and juice from ten car batteries; and a 32-foot-long Hummer H1 stretch limo that can reach 75 miles per hour on a combination of solar power, biodiesel, and food scraps.