Indefinitely Wild
How to Visit Baja by Motorcycle—No Motorcycle Required
Mexico's Wild West is best seen from two wheels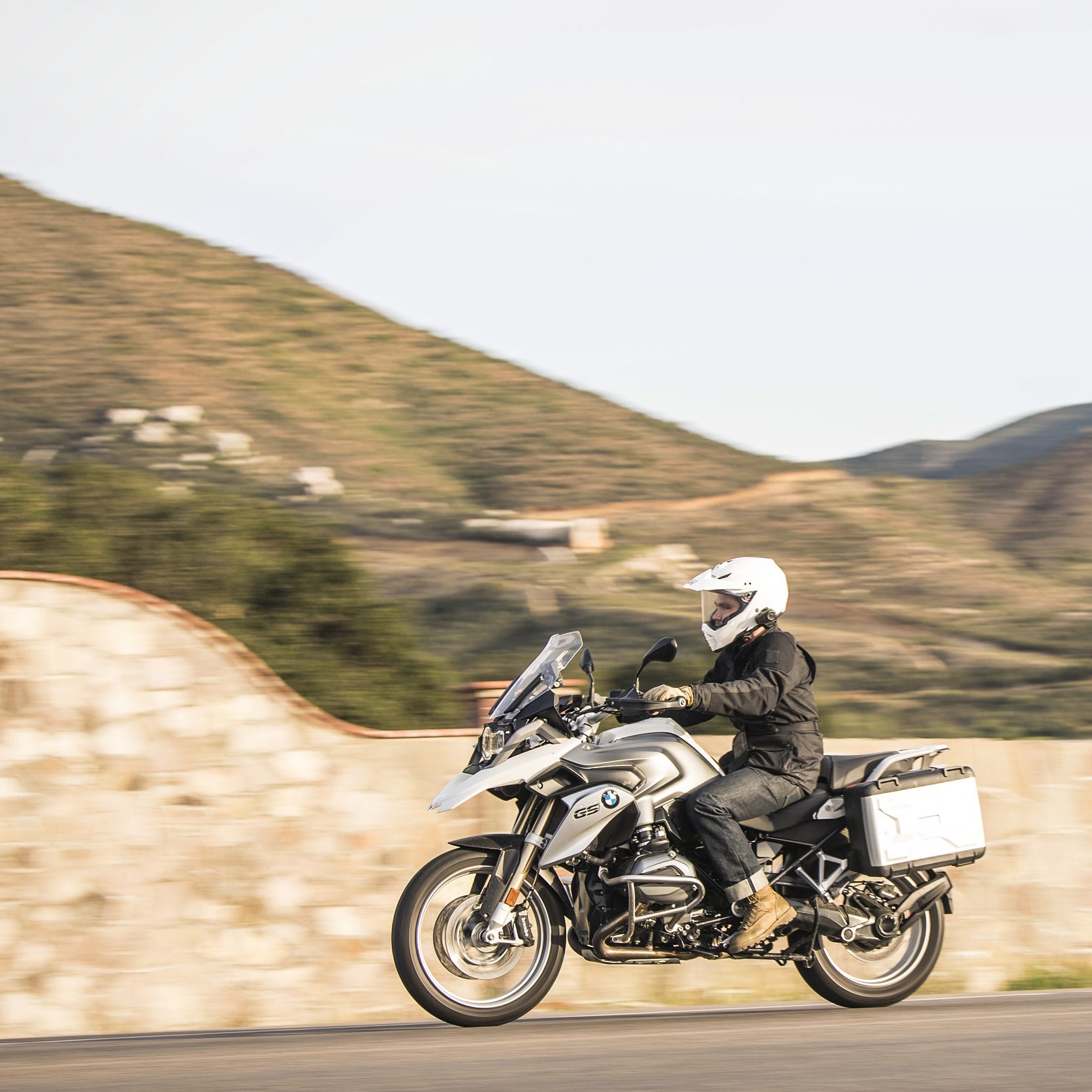 Heading out the door? Read this article on the new Outside+ app available now on iOS devices for members! Download the app.
Why do we feel more free in Mexico? Baja—a 775-mile long peninsula off the country's west coast—is a place for those that prepare and those who are self-reliant. And for those people, there are no rules, just good food, great surf, and almost unlimited miles of dirt trails. 
The best way to explore it? A motorcycle. Here, not only will no one tell you where you can't ride it, but the beaches, the mountains, and the desert are ideal two-wheeled terrain.
So how do you do it? Despite the international border and the vast, empty spaces, getting down there on the right bike is way easier than you might think. Here's how.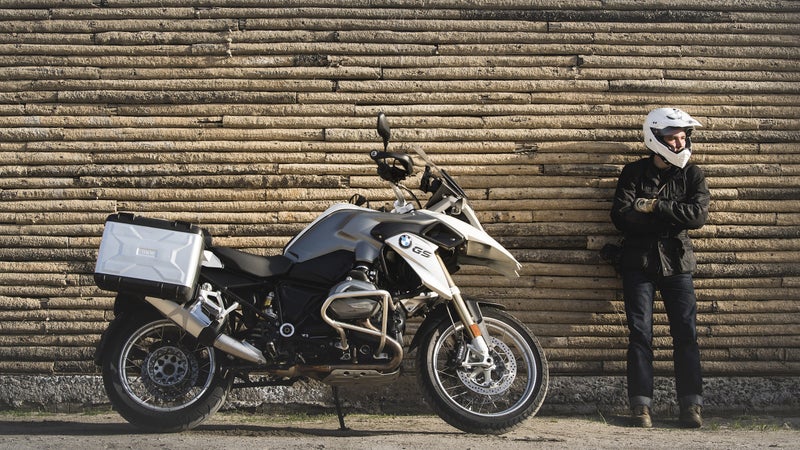 Step One: Get A Bike
You can't drive a rental car across the Mexican border. But you can ride a rental motorcycle. In fact, Eagle Rider's San Diego location caters to riders who want to do just that. 
The core of their business is renting Harleys to elderly Germans wearing leather trousers, but they also rent out the awesome BMW R1200GS adventure bikes, which could have been purpose-made for Baja exploration. Not only is it supremely capable off-road, but it's comfortable for long days in the saddle, has plenty of room for camping gear and cases of Tecate, and is probably the best bike for carrying a passenger ever made. Eagle Rider rents them for $179 a day or just $39 a day to members.
You'll also need Mexican insurance for the motorcycle. You can get that through Eagle Rider, or do what we do, and buy a year's insurance for any vehicle you're driving from BajaBound.com. 
Eagle Rider can also rent you helmets, boots, gloves, suits, and other riding gear. This should go without saying, but you want to be wearing the best safety gear possible if you're headed to Mexico on a motorcycle.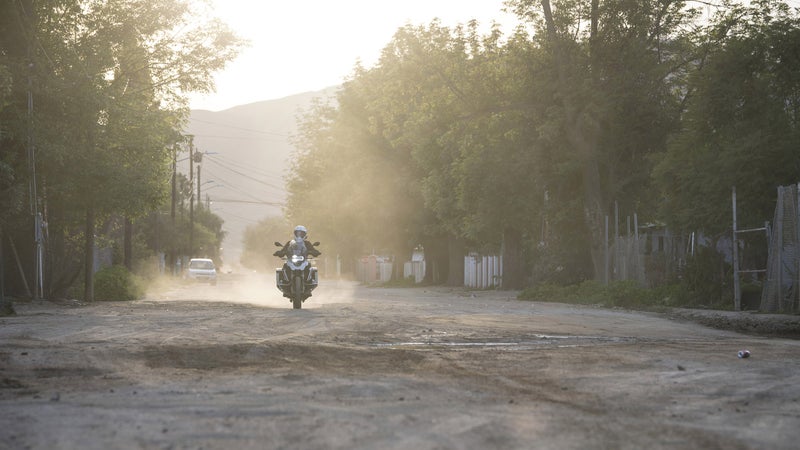 Step Two: Cross the Border
You'll need a passport, driver's license with motorcycle endorsement, the bike's registration, your rental paperwork, and a printed copy of your Mexican vehicle insurance. They won't look at any of that as you head south, but they'll ask for all of it when you head back to the U.S.
The hardest part, when you're headed south, is figuring out where you're going, while tackling chaotic traffic, foreign signage, and often dangerous road conditions. You're going to want some sort of navigation aid. If that's your phone, make sure it's going to work in Mexico. And make sure you have a secure way of mounting it where you can see it. We like Ram Mounts. 
On this trip, we crossed the border just south of San Diego, into Tijuana, then turned right for the coastal highway down to Ensenada. Tijuana's potholed roads and narrow streets quickly give way to the smooth pavement and dramatic coastal views of Mexico's Highway 1. Make sure you bring a bunch of small bills to pay the tolls. $40 in fives and ones should be plenty, both ways. 
Which brings us to currency. Seasoned Baja travelers will tell you that you'll get better prices if you're spending pesos, but everywhere in Baja accepts the American dollar. You'll be able to use your credit card at Pemex, Mexico's chain of nationalized gas stations, but you'll likely need cash pretty much everywhere else. Plan accordingly as there aren't a lot of ATMs outside of the cities.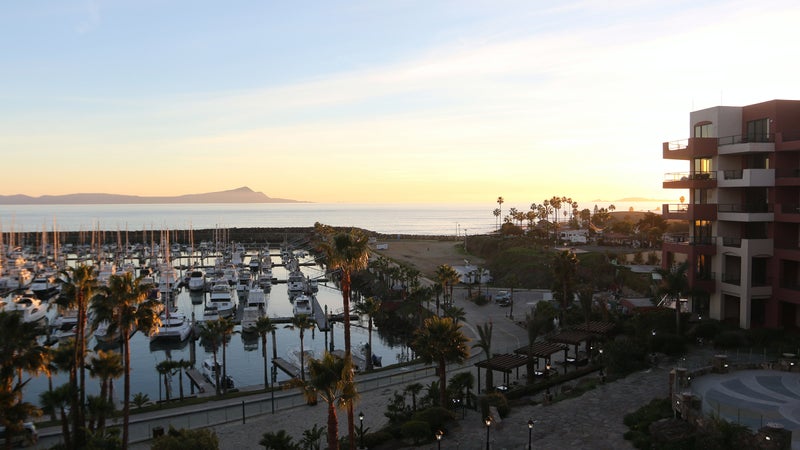 Step Three: Pick A Destination
Want to find your own private beach, a dusty dirt trail, or just endless miles of open road? Just head south and explore—the possibilities are limitless. 
Want to sit in your own private hot spring? Guadalupe Canyon Hot Springs are a half-day's ride from Tijuana (or just two hours or so from Mexicali), and involve 35 miles or so of fun dirt roads to reach them. Make sure you book your camping site ahead of time online. 
For first-time visitors to Baja, those springs offer just enough adventure, complete with the secure feeling that comes from a gate that gets locked at night, the proximity of fellow humans, and the incredibly friendly family that runs the place. You can buy ice and the bare bones basics of food making on-site (and they'll cook you tacos if you show up at the right time), but we'd suggest bringing your own supplies, including ample gas.
Want to see marine wildlife like gray whales, manta rays, dolphins, and whale sharks? Head for the warm waters of the Sea of Cortez. Bahia San Luis Gonzaga offers world famous fishing. Once you're there, ride a little further south on the highway to find the turn off for Campo Beluga. There, you can rent a palapa, buy firewood, and catch yellowtail. We caught 30 last time we were there. Plan on a full day to reach it, and there's a Pemex and a basic grocery store across from each other on the highway outside of town. 
We headed for Ensenada, a couple hours south of the border, on the Pacific Ocean. There, the Hotel Coral & Marina offers one of the nicest hotel experiences in northern Baja, all for less than $200 a night. It's popular with Baja 1000 racers, and is an easy place to book fishing trips or sight-seeing tours. 
That night, we drank margaritas at their self-proclaimed birthplace, Bar Andaluz, which is also a former haunt of Al Capone's. When we got hungry, we wandered over to La Guerrerense, the new brick-and-mortar home of the famed tostada street cart of the same name. Anthony Bourdain is a fan. 
Want to spend a day or two in wine country, without the Napa prices or the tourist hoards? Highway 3 runs northeast out of Ensenada, and takes you through Guadalupe Canyon, which feels near-as-damnit like Italy, completely with great wine. There's a multitude of tours, wine tastings, and nice hotels, but we stayed at Hotel Boutique Valle de Guadalupe where, if you're tired of the bike, you can rent a horse for a few hours, too. 
A great entree to how friendly and accessible Baja can be would be a three night trip that connected those hot springs, wine country, and Ensenada. And, as a bonus, the roads in between the Highway 3 feel like a race track.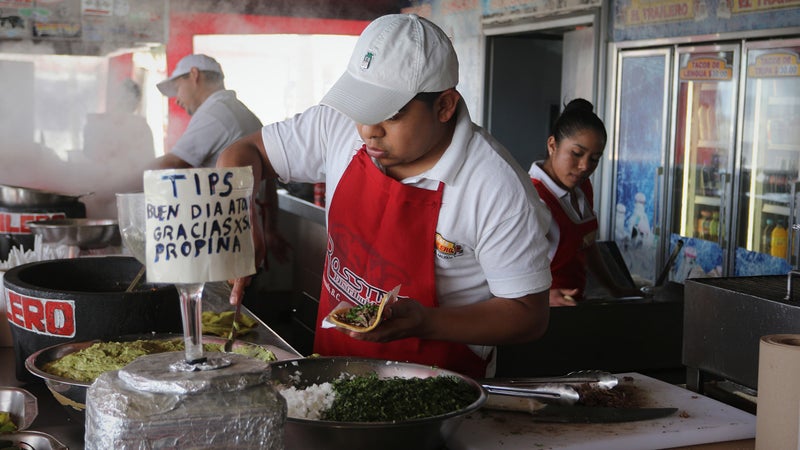 Step Four: Avoid Danger
Is Mexico dangerous? Not if you have some common sense and treat authority figures respectfully. 
Whatever other mistakes you make, never try and take a gun to Mexico. They are serious about this, and you will go to Mexican jail if you try it. In fact, it's a good idea to avoid any obvious weapons. While we've gotten away with a can of bear spray, and some awfully big knives, they have raised eyebrows at the military checkpoints. If you really feel the need to carry something dangerous, making it something that appears innocuous, like a camp shovel. 
Drugs are another bad idea. Definitely don't try to take them across an international border, but think twice before buying them from a local too. We're not saying you shouldn't, or that we haven't, but again, your common sense will go a long ways. 
Egregious speeding should also be avoided, at least on paved roads. We've never seen a Florida-style ticket trap here, but there are poorly-driven trucks all over the road, pavement conditions can change from smooth to, well, non-existent in an instant, and black cows roam all over the place at night, and there's no street lights outside the cities. Road design is also haphazard. On the way down the eastern coast, for instance, they just paved through the natural contours of arroyos and drainage ditches, rather than route floodways under the road. These can create unexpected pits and ramps, which are fun or deadly, depending on what kind of mood you're in. Off-road, of course, anything goes. Just remember you're a long ways from medical care. 
The one surprising thing new visitors are always taken aback by are the military checkpoints. They're frequent, and at them you'll encounter pimply teenagers wearing hand-me-down fatigues, toting rusty old assault rifles. They're just looking for guns, and other contraband, so once they realize you're just a tourist, they'll wave you through. If they ask to look in your luggage or vehicle, smile and let them. 
The only other real danger is mechanical breakdowns. That R1200GS you're going to rent is dead reliable and well-maintained, but that won't stop your tires from getting punctured. You should carry an appropriate tire repair kit and a compressor, and know how to use them. 
Mexico is full of friendly people who would be happy to sell you stuff, happy to help you, or happy just to hang out. Be nice, dust off your high school Spanish, and you'll have a great time. 
Worried about the food? It's delicious. The rule of thumb for finding a taco stand that won't make you sick is to look for one with a line out front. Preferably a line of Mexicans.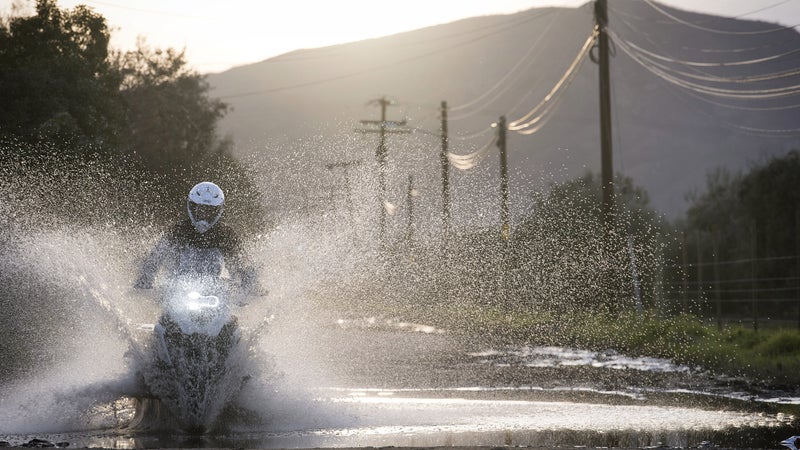 Step Five: Come Home
Crossing the border back into the U.S. is…an experience. Have your paperwork together and ready to go, then just ride on up the front of the line. While cars have to wait up to eight hours to cross at the busier ports of entry, lane splitting is legal in both Mexico and California, so motorcycles are free to cut the lines. Just make sure you don't have any fruits or vegetables on you, and watch out for the beggars, vendors, and stray dogs as you cut through border traffic.