Island Escape
Where do you want to go? Whether you're planning a weekend getaway or a full-blown vacation, Outside Online's Adventure Advisor is here to show you the way.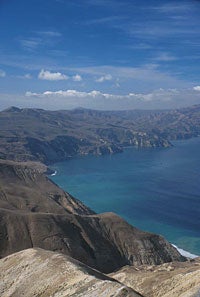 Heading out the door? Read this article on the new Outside+ app available now on iOS devices for members! Download the app.
Q: What's the best way to get to Santa Barbara Island off the California coast and do I need permission?
The forecast: Sunny and lonely. Windswept solitude on California's Channel Islands
-Keith Gill, Las Vegas, Nevada
Adventure Advisor:
A: You don't need anyone's permission to visit Santa Barbara Island; all you need is a way to get there. If your first thought is, kayak!—let it go. While paddling to some of the closer Channel Islands may be a viable option, the 46-mile journey from the mainland to Santa Barbara's dock would likely be the most miserable adventure of your life—and it could be the last. A wiser choice is to hop onboard an Island Packers shuttle (www.islandpackers.com, 805-642-1393) in Ventura Harbor. If you plan to stay overnight, they'll drop you off and pick you up for $75 round-trip. Day trips are cheaper, but I don't recommend them unless you like the idea of spending most of the day on a boat that locals call the Vomit Comet.
Once you're on the island, drop your gear at the primitive campground and proceed to the nearest trail, where you can immediately begin acting out your Robinson Crusoe fantasies without the inconvenience of an audience. Better yet, if you happened to bring along a kayak, you can explore the volcanic island's coastal cliffs from their base, where your only company will be the occasional elephant seal. Sit-on-tops can be rented in Oxnard at the Channel Islands Kayak Center (www.cikayak.com). For closed-decks, try the Southwind Kayak Center in Irvine (www.southwindkayaks.com). Since there are only eight campsites, you should reserve as early as possible: 800-356-CAMP.