Sponsor Content: LOUISIANA
Louisiana Is a Fisherman's Paradise
From saltwater to fresh, here are the best spots in the state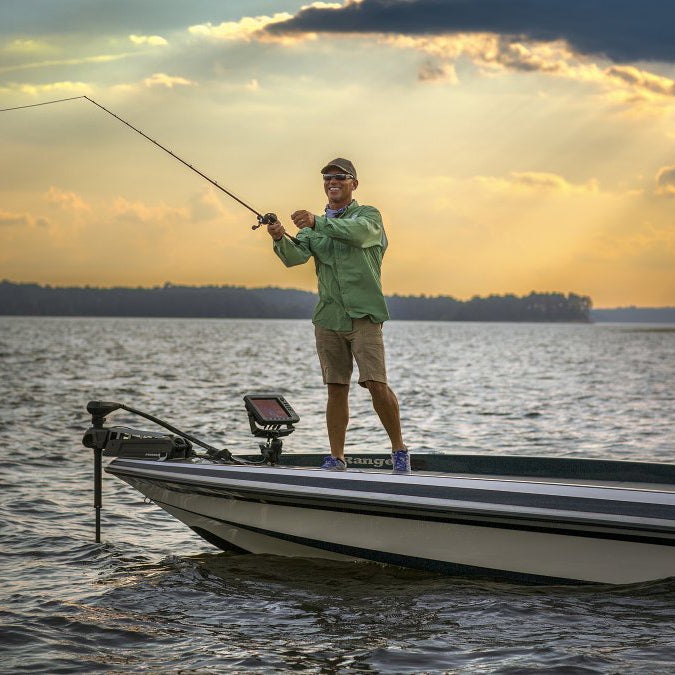 Catfish or redfish? Freshwater or saltwater? Lake or offshore? These are the questions you'll be forced to answer when you prep your line to fish in Louisiana, a state that has become one of the lower 48's angling hot spots. Almost 18 percent of Louisiana is made up of water—that's more than 9,000 square miles of rivers, lakes, and bayous—and that doesn't take into account the saltwater extending from the southern coastline. Here's where you should start.
---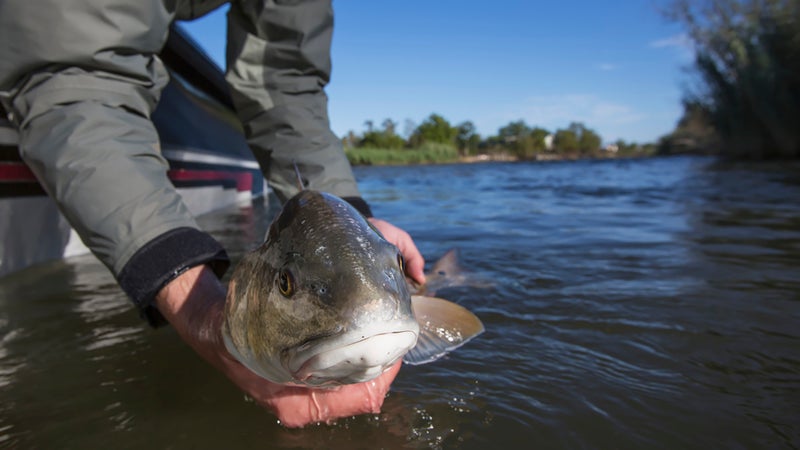 Sportsman's Paradise: Bass Fishing in Lake Claiborne and Jimmie Davis State Parks
North Louisiana is known as the state's hill country, a heavily wooded area with rolling topography dominated by pine forests and sandy bluffs. And lakes. Lots of lakes.
Lake Claiborne State Park
If you're a go-getter, you can try to fish the entire Louisiana Bass Trail, which spans seven different lakes in eight state parks across the region. Start your epic journey at Lake Claiborne State Park, between Shreveport and Monroe. The lake is stocked with all sorts of species, from bluegill to catfish, but you're most likely seeking largemouth and striped bass. Claiborne is a perennial stop on the regional bass tournaments because the lake always delivers for anglers, especially during the winter when water temperatures hover in the high 40s and the bass stay active well into the afternoon. Come summer, you'll have to get up early to catch the largemouth and striped bass before they sink back to the colder depths as the sun rises. Start at one of the park's piers, or rent a flat-bottomed boat to explore some of the deeper pockets away from the shore.
Jimmie Davis State Park
The second stop on your epic bass quest needs to be Caney Lake, in Jimmie Davis State Park. At 5,000 acres, it's not the biggest lake in Louisiana, but it has some of the biggest bass. Jimmie Davis State Park covers a peninsula that juts out into the clear, shallow water offering a fishing pier and two boat launches. For the best feeding grounds, head into the fingers that extend into the north shore of the lake or to one of the creek channels that feed into the shore. After a long day on the water, drive into Shreveport, where Johnny's Catfish serves up the best fried "cats" in north Louisiana. You can get them fried whole, or in thin, crispy strips.
---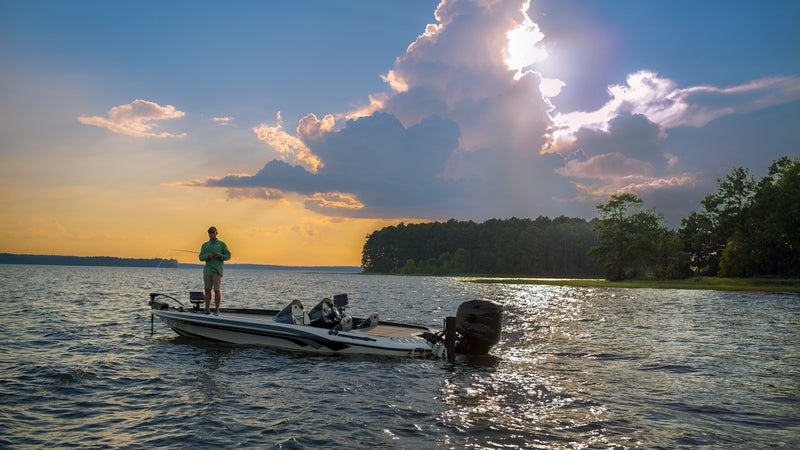 The Crossroads: Toledo Bend Reservoir
The Crossroads region sits in the heart of Louisiana, both geographically and culturally, bridging the gap between the French-heavy southern portion of the state and Louisiana's rural and remote northern woods.
The region's biggest draw, Toledo Bend Reservoir, is so large and productive it practically has its own gravitational pull, as anglers from all over the region are attracted to its 185,000 acres of possibilities. Toledo Bend is so fruitful, in fact, it's been named the number one bass lake in the nation by Bassmaster Magazine two years running. The lake is known for its lunkers (bass more than 10 pounds) and has a dedicated catch and release program where anglers receive a fiberglass bass replica if they surrender their catch to the Toledo Bend Lake Association, which tags and releases the fish so they can be caught again. You'll find plenty of crappie, bream, and catfish lurking below the surface as well.
More than a dozen boat launches are scattered along the Louisiana side of the reservoir, but you can narrow things down by heading to South Toledo Bend State Park, one of the newest parks in the system. If you want to spend some time away from the lake, head east to Natchitoches, the oldest city in Louisiana and the first French colony in the region. The downtown retains much of its original European flair, and the town is known for its meat pies, which blends Louisiana's Native American heritage and Spanish influence into an empanada-like pocket of seasoned meat and veggies.
---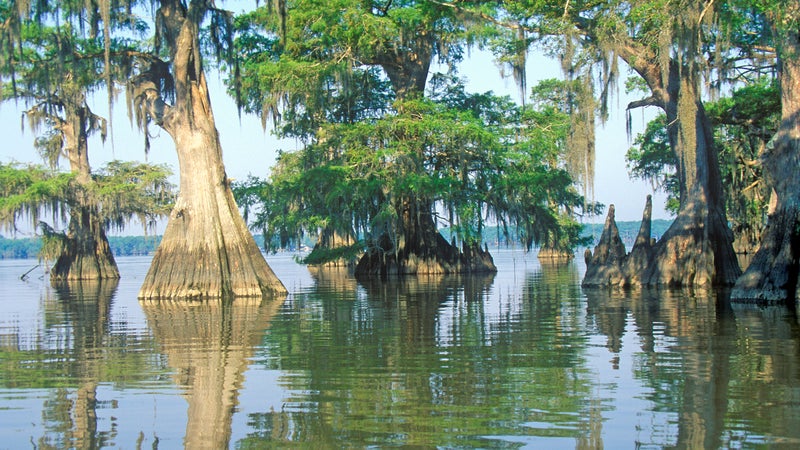 Cajun Country: Lake Fausse Pointe State Park and Spanish Lake
Cajun Country covers a large swatch of Louisiana's Gulf Coast, and was home to the first French Canadians to settle the state. The region is the birthplace to some of the cultural hallmarks that have come to help define Louisiana, from the state's unique dialect to locals' penchant for spicy food. Visitors have a rich culture to explore, but fishermen have it best, with both offshore and inland waters to choose from.
Lake Fausse Pointe State Park
Lake Fausse Pointe State Park oozes bayou charm, with cypress trees and alligators occupying the corners of this cocoa-colored, 17,000-acre lake. It's a shallow lake, with canals bending through the woods surrounding the main body of water. The lake is stocked with bass every two years, but the catfish and bream will keep you even busier.
Cypremort Point State Park
For easy offshore fishing, head to Cypremort Point State Park, which sticks out into Vermilion Bay, offering easy access to saltwater fishing with a half-mile sandy beach, fishing pavilion, and boat launch. You'll need your own boat to reach the Gulf waters, but you're surrounded by coastal marsh full of flounder and redfish, and a pier stretches 100-feet into the bay. Cypremort offers particularly good fishing during the fall and winter, when the rivers leading into the bay are low. If you have a boat, head toward Marsh Island, a 71,000-acre uninhabited island that helps separate Vermilion Bay from the Gulf of Mexico. It's also home to the Marsh Island Wildlife Refuge, and a popular spot for crabbing and oystering. The island is also a magnet for redfish as well as drum, speckled trout, and cobia.
---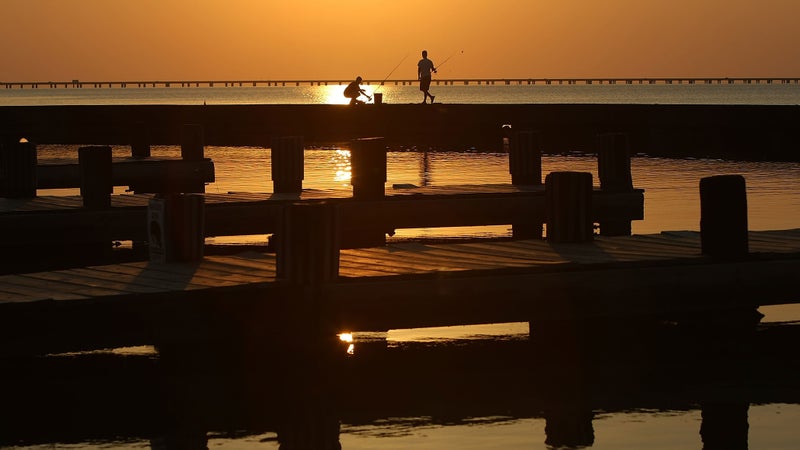 Plantation Country: Lake Maurepas and False River
Sure, Plantation Country has plenty of those iconic antebellum homes with ancient oaks lining outstretched lawns, but the area is also home to Lake Maurepas and False River.
Lake Maurepas
Sprawling across 15,000 acres of freshwater and cypress trees sitting between New Orleans and Baton Rouge, Lake Maurepas is heaven if you're looking for crappie and catfish, which love the cypress stumps that are submerged beneath the surface. Tip: You'll need a boat to get the most out of the largely undeveloped lake. If you want to see how a Maurepas catfish is supposed to taste, pull up a chair at Middendorf's Restaurant, in the tiny fishing village of Manchac, on the northeast shore of the lake. Middendorf's has been cooking thin-fried catfish pulled from the lake the same way since they opened their doors in 1934.
False River
False River is an oxbow lake north of Baton Rouge formed in the early 1700s by the Mississippi River. It's a deep lake, with some holes hitting the 60-foot mark and has a growing reputation as a home to lunkers. Spend your time throwing lines beneath the many piers that line the edges and attract fish looking for cover.
---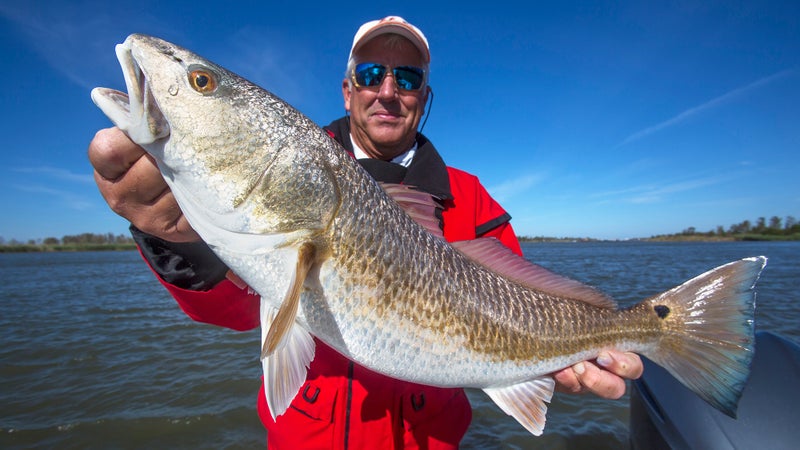 Greater New Orleans: Lake Pontchartrain and Venice
You could easily be sucked into the city of New Orleans and spend your entire vacation eating your way across the city's distinct neighborhoods, but you'd be missing the best aspect of Louisiana's most famous city: the fishing. 
Lake Pontchartrain
Massive Lake Pontchartrain extends from New Orleans' northern edge, offering 630 square miles of deep water to explore. The lake's bottom is relatively smooth, with no features for fish to hunker down in, so your best bet is to head to one of the lake's many bridges and train trestles, where redfish and speckled trout tend to congregate near the pilings. The Lake Pontchartrain Causeway—the longest continuous bridge spanning a body of water in the world—is held up by 9,000 concrete pilings, which have become feeding grounds for massive redfish who thrive in the lake's deep water. The state has also established several artificial reefs with recycled material from bridges that were destroyed in hurricanes. One of the best areas for fishing is Dudley's Reef, which covers four acres of lake bottom near Slidell.
Venice
If you want a saltwater adventure, drive south to Venice, which sits near the convergence of the Mississippi River and the Gulf of Mexico. It's a wet crossroads for a variety of fish species, so the sheer volume of big game has earned the area a couple of nicknames; some people call Venice "Tuna Town," others simply refer to it as the "Fishing Capital of the World." A number of guides operate out of Venice, so you can hunt for tuna, wahoo, and marlin offshore with locals in the know. Catch something good and take it to CrawGator Bar and Grill, in the Venice Marina, and they'll fry or grill it for you on the spot.
---
You can enjoy Louisiana's world-class fishing in our brackish marshes, freshwater lakes and off our coastline in the Gulf of Mexico. No matter where you drop your line, you're never far from the unique food, culture and music of #OnlyLouisiana. Plan your next adventure at LouisianaTravel.com/Fishing.