This is the Mexico for Adventurers
---
When travel resumed in early 2021, Americans in droves headed south of the border, with most opting for popular tourist meccas. But why follow the masses when you can explore wild corners of the country few others visit? We rounded up 18 ways to do just that—and to support local economies while you're at it.
---
Heading out the door? Read this article on the new Outside+ app available now on iOS devices for members! Download the app.
As vaccination rates rose and air travel returned in full force, the first trip abroad for more than two million Americans was to Mexico. Of those who traveled south in early 2021, close to 1.8 million flew into just four airports—Cancún, Mexico City, Puerto Vallarta, and Los Cabos—and the vast majority of them stayed in or near these tourism centers.
On your trip to Mexico this year, go beyond the typical stomping grounds and unlock a part of the country that few know about. From paddling an aqua blue lagoon in the shadow of a dormant volcano to riding a horse bareback through the sea to a small island, here's to skipping packed beach scenes for local-helmed experiences and new discoveries.
---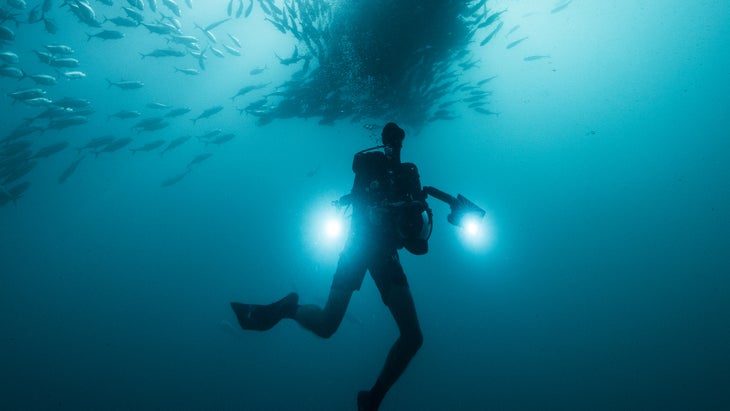 The Dive: Cabo Pulmo National Marine Park
In the 1990s, Cabo Pulmo, a three-by-nine-mile reef off Baja California's East Cape, was so ­damaged by overfishing that the local community petitioned the federal government to protect it. In 1995, Cabo Pulmo National Marine Park was established, relying on a patrol of dedicated locals to enforce the strict no-take fishing policy. This partnership marked the beginning of the most successful reef regeneration project in the world. By 1999, the fish biomass on the reef had increased by 463 percent, and every formerly endangered species, like the gulf grouper, had rebounded. Today the reef is a stunning spectacle of hard corals and sea fans. The park's public-use program requires anyone working there to pass a test and follow best practices. The result is a unified goal of maintaining the health of the marine reserve while still allowing guests to visit sea lion rooker­ies, swim with whale sharks, mobula rays, and humpback whales, and snorkel among giant damselfish, groupers, turtles, and schools of African pompano. Luxury homes and hotels like the new Amanvari, slated for completion in 2024, are popping up along the region's shores. But travelers to the area don't need a champagne budget to enjoy the park. In the village of Cabo Pulmo, the Cabo Pulmo Beach Resort offers a two-night, two-person Eat, Sleep, Dive package starting at $549. The resort's bungalows are a three-minute walk from the beach. —Stephanie Pearson
---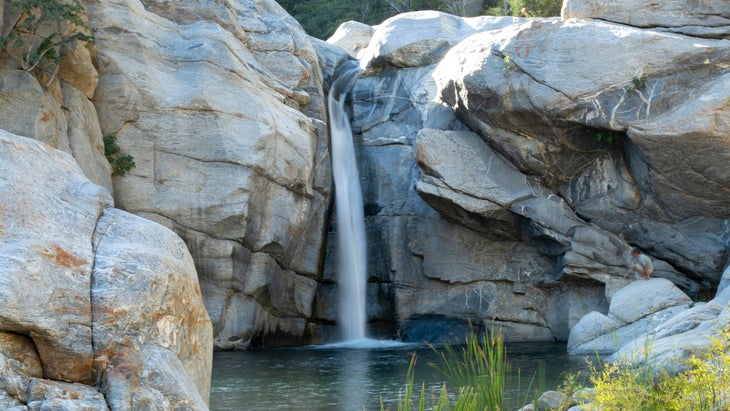 The Hike: Sierra de la Laguna
While the Baja peninsula is primarily desert, the southernmost tip is a subtropical dry forest that contains most of the region's endemic species, from the Xantus's hummingbird to the cape pygmy owl. There's no better way to experience the density of wildlife and variety of landscape than via Cañon San Dionísio, a 14-mile trek through the Sierra de la Laguna Biosphere Reserve. From the town of Santiago, drive 14 miles along a sandy road to Rancho San Dionísio, where you'll start your hike, passing between deep canyon walls and over giant boulders before hitting waterfalls and freshwater pools. After gaining 6,600 feet in elevation, you'll reach your end point, which overlooks the confluence of the Pacific Ocean and the Gulf of California. While it's possible to venture out on your own, do yourself a favor and sign up with guide Edgardo Cortes Nares of Baja Sierra Adventures for an all-day trip (from $60) or a five-day camping excursion (from $460), meals included. —Kristen Gill
---
Local Expert: Kayaker Sofia Reinoso on the Best River to Run
https://www.instagram.com/p/B81yNU3F88f/
The small city of Tlapacoyan, in the Veracruz region on the Gulf of Mexico, is one of the greatest places on earth to paddle. Nearly 40 miles of the Alseseca River, winding down 8,530 feet, are lined with aquamarine waterfalls of all sizes. Some stretches are very technical, and others are more relaxed. That's why it's such a good place to progress. I grew up paddling the beginner-friendly Filobobos section of the river. When I'm not traveling, I still work as an instructor at Aventurec, the main hub where all the kayakers hang. They have rentals, guides, cabins, a pool, good food, and shuttles that drop you at different sections of the river (from $30 a night). These days, Big Banana is my favorite section of the Alseseca to run. It packs more waterfalls per mile than any river in the area. After a day on the water, I like to head to town for fresh seafood and tacos from Asadero los Compadres. For something more off the beaten path, go to Rio Micos, north of San Luis Potosí in central Mexico. Instead of jungle, you're surrounded by travertine rock and warm, crystal blue waters. There are a few challenging sections, but it's mostly Class III and IV water. Local eco-operator Huaxteca runs rafting and paddleboard trips from Hotel Salto del Meco (from $193), which has rustic cabanas along the banks of El Salto River. The kitchen is very good—try the region's unique style of enchiladas, which are folded, not rolled. —As told to Jen Murphy
---