The Most Adventurous Ghost Towns to Explore Across the U.S.
From Arkansas to Wyoming, these abandoned towns are packed with history and located on stunning public land. For some of them, it's an adventure just to reach them.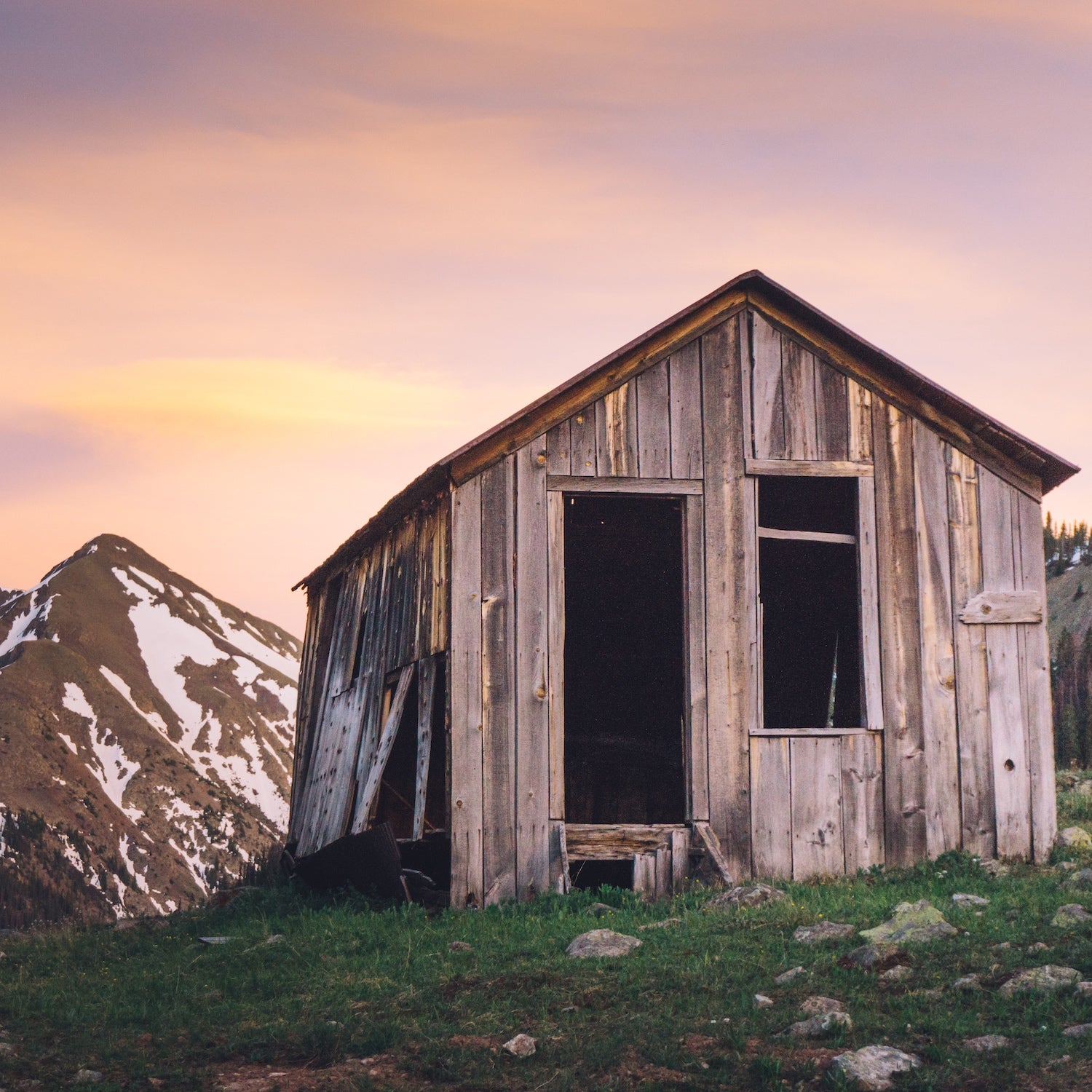 Daniel Weber, Flickr
Heading out the door? Read this article on the new Outside+ app available now on iOS devices for members! Download the app.
When you think about a ghost town, maybe you picture a spooky, abandoned collection of old buildings where you poke around curiously for a half hour. Or a tourist trap with pricey boutiques and bistros tucked inside old-timey facades.
Those ghost towns certainly have their place, but there's another kind: the wild ghost towns on public lands, where getting there is half the fun and exploring them is an adventure. Whether traveling on foot or by boat, inside a 4×4 or on a bike, here are some of the best ghost towns across the U.S.
Animas Forks, Colorado
High in the San Juan Mountains of Colorado, you'll find Animas Forks, a preserved alpine mining camp with all kinds of accolades for elevational prowess. Established in the mid-1870s, it's one of the highest ghost towns in the country at 11,200 feet. By the mid-1880s, it was home to 450 people and a newspaper with the highest elevation printing press in the U.S.
The town was abandoned by the 1920s. The area is now managed by the BLM, and is a can't-miss stop on the Alpine Loop Backcountry Byway. This 63-mile 4×4 route travels through some of the tallest mountains in Colorado, and skilled drivers will have to navigate challenging terrain and two rugged passes—Cinnamon Pass at 12,600 feet and Engineer Pass at 12,800 feet—to get there.
If you want a more direct route to the town, the easiest access is by a mellower spur of the Alpine Loop that starts near Silverton, Colorado, and follows the upper Animas River through pristine mountain terrain. This road is unpaved and rough but can be navigated by experienced drivers in high clearance 2WD or AWD vehicles. Four-by-four vehicle rentals and guided tours can also be arranged in Silverton.
Old Cahawba Archeological Park, Alabama
Ruins from the past five centuries live in the center of Alabama's Black Belt region. At one time a village home to numerous Southeastern Indigenous tribes, the site of Cahawba became Alabama's first state capital from 1820 to 1825. The now-abandoned town was later a Confederate prison during the Civil War and a village of freed slaves during Reconstruction.
It's this history and more which Old Cahawba Archeological Park seeks to preserve for active exploration. Visitors can walk or bike through what was once a grid of city blocks, today lined by dense foliage instead of buildings. Along the way, explore the remaining structures, including antebellum brick columns rising up from rubble piles. There's also a nature trail and two canoe ramps, which allow for a three-mile paddling trip on the Cahaba and Alabama Rivers. Paddlers will need to bring their own boats or rent from outfitters around nearby cities like Montgomery or Birmingham.
Kirwin, Wyoming
Near the headwaters of the Wood River, in the little-known Absaroka Mountains, Kirwin is one of the best-preserved ghost towns around. Gold was discovered in 1885, and soon a bustling mining community followed.
In February 1907, after nine days of heavy snow, a massive avalanche roared down from the 12,000-foot mountains above the town. Several buildings were swept into the river, and three people died. The town was mostly abandoned the following spring. In later years, the area became home to a dude ranch and was visited by Amelia Earhart, who was having a cabin built here when she disappeared over the Pacific Ocean in 1937.
Today, the ghost town is part of Shoshone National Forest. You can explore the many intact buildings and hike upstream for about a mile along the Wood River to the remnants of the Amelia Earhart cabin site. Reaching Kirwin from the town of Meeteetse is itself an adventure. A 4×4 vehicle is required for crossing several streams and rough stretches of road.
Vehicle rentals are available in Meeteetse and Cody, Wyoming. If you're not up to the drive, sign up for a guided tour from Cody.
Paria Townsite, Utah
In the southwest corner of Grand Staircase-Escalante National Monument, a pair of dirt roads snake through jagged desert terrain toward the Paria Townsite. A small Mormon farming community originally settled there in the late 1860s, but the soil was too dry for sustained irrigation. In the early 20th century, residents attempted to mine for gold, but those efforts proved equally limited. A lone prospector remained until 1929, after which the townsite was finally abandoned. The following decades saw the arrival of film productions, primarily Westerns, including The Outlaw Josie Wales in 1976.
Sometimes called Old Pahreah, the highlight here is hiking either of two routes through an unreal valley in the chinle geological formation, which resembles a red velvet cake, with layers of rock. The easier access is via Paria River Valley Scenic Backway, a rough dirt road leading north from US-89 at milepost 31, and then walking a short sandy trail and crossing the river. The longer option is the Paria Box, a partially wet hike through a box canyon, requiring stream crossings and hiking shallows for about two miles to the ruins. The Paria Box trailhead is accessed via Cottonwood Canyon Road, an unpaved scenic backway, which runs from US-89 through the Cockscomb to near Grosvenor Arch.
Because this site is in a sensitive desert environment, please limit your steps to paths regularly tread by previous visitors.
Buffalo National River, Arkansas
Instead of a single ghost town, how about a ghost river? Along its 150-mile course through the northwestern Arkansas Ozarks, the Buffalo National River passes remnants of frontier-era settlements. From old homesteads to abandoned cabins, at this National Park Service unit, two sites in particular offer a glimpse of the old days on the Buffalo.
The ghost town of Rush, on the lower Buffalo, was once the location of a zinc boom. The mining rush began in the 1880s and peaked during World War I before the bottom dropped out. Upstream from Rush Landing, there's a perfect 7.5-mile canoe trip which starts from Buffalo Point. The river on this section is a mellow class I and II, with towering bluffs rising overhead. Downstream from Rush Landing, there's a 23.5-mile run through the Lower Buffalo Wilderness, which most paddlers do as a two- or three-day overnight trip.
On the upper Buffalo, the Boxley Valley Historic District preserves structures from the 1870s to 1930s, with family farms continuing the traditions of the original homesteaders. Nearby, the Buffalo River from Ponca to Kyles Landing offers a 10.5-mile run mostly through the Ponca Wilderness. Much of this class II trip is lined by sheer limestone bluffs. There's also a side hike to Hemmed-in-Hollow Falls, which at 209 feet is the tallest waterfall between the Rockies and Appalachians.
The National Park Service maintains a concessionaire list for boat rentals and shuttle services along the upper, middle, and lower sections of the Buffalo National River.
For more information about rivers in the area, check out Paddling the Ozarks, by Mike Bezemek.
---
Create custom maps to explore each of these ghost towns by signing up for our sister brand Gaia. Join thousands in planning and discovering 550,000+ miles of off-road trails.
Lead Photo: Daniel Weber, Flickr