Neptune Calling
When the sea summons you, answer! Fourteen idyllic beach escapes, from Cape Cod to Sanibel.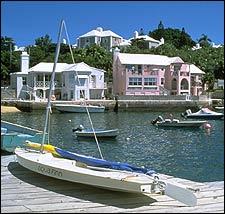 Heading out the door? Read this article on the new Outside+ app available now on iOS devices for members! Download the app.
I would be lying if I told you that the vacations my husband and I take with our two daughters have been a series of far-flung, educational adrenaline fests, mounted in tireless pursuit of the kind of peak bonding moments that can come only from, say, sharing a cup of ibex-milk tea in a wind-whipped mountain shelter or spotting a giant croc from the bow of a dugout canoe. Here's the truth: In the decade-plus since we became parents, we have never done any traveling as a family that has required immunizations, mosquito netting, headlamps, or even the regular wearing of socks. When it comes to family trips, we have been and remain unrelentingly, unapologetically boring. We go to the beach.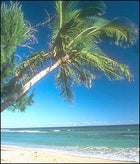 Welcome to your una-beach, with all the requisite ingredients in place

Happy days and the gang

Bermuda: Offshore haven where your vacationing tax dollars can go a long—or short—way

We go to the beach because we are happy there. We like sand and water and a big sky. We like the way the waves line up in the first light of morning and the way the sea goes that indelible metallic blue at dusk. We like the way pelicans commit when they dive for dinner and the way sandpipers flee every surge of foam. We like the way our skin and hair feel after we've been in and out of salt water all day. We like the way there is always something interesting to do with seaweed and the way each day is open to whim and circumstance: If there is surf, we'll ride it; if there are fish, we'll try to catch them; if there is a Frisbee, we'll consider tossing it.

We've had moments of pink-tinged transcendence (Palm Island, Florida, where we sat at twilight on a silvered driftwood log and watched dolphins leap just offshore with astonishing synchronism) and near-disasters (Kauai, with a tantrum-prone toddler who never got over jet lag and manifested it in appalling and very public ways). We've schlepped bags of canned tuna and Oreos from mainland Florida out to North Captiva Island by water taxi, and we've dined—on our very best behavior—by candlelight in Bermuda. We've played Marco Polo in countless overchlorinated pools. We've been stung by jellyfish and nipped by crabs and startled by fast-moving rays. We've spotted starfish and sea lions. We've built hundreds of sand castles and collected thousands of shells. And we have never gotten tired of going to the beach.


To have a great beach vacation, you must first, of course, come up with a great destination. While there are nearly as many choices as there are beaches, my family has found that the best spots are the ones that give the illusion of being exotic without requiring major time-zone shifts. We like places that have just enough things to do—but no obvious must-see attractions. We like places where you can venture out at dinnertime with the legitimate hope of discovering some great local dine-in-the-rough seafood shack.

Every April, for example, we flee New Hampshire's mud season by heading for the southwest coast of Florida. We love the low-key islands west of Fort Myers—Captiva, Sanibel, North Captiva, Palm—with their brilliant blue shallows, broad shell-strewn beaches, critter-filled conservation land and waterways, and pastel stilt-house architecture.

In August we find the same kind of satisfying and easy escape on Nantucket Island, a two-hour ferry trip from the Massachusetts mainland. Even when summer crowds jam the downtown chowder houses and shops, we can still be alone on long stretches of footprint-free sand and on hidden paths that wind through the broom-scented moors. Nantucket has beaches suitable for everyone—from nanny-intensive shallow-harbor crescents like Children's Beach to the big surfer-dude hangouts like Nobadeer on the island's open-ocean south side.

Once you decide where to go, you'll have to determine what kind of accommodations are right for your family. Depending on your budget, your desire for privacy, your need for space, and your hunger for action, that could be anything from a remote cottage in the dunes to a thumping, full-scale resort. We've tried them both—and just about everything in between.

Some of our best finds have been hybrids—places that are part rental, part resort. Florida's North Captiva Island Club Resort, for one, is a very quiet, car-free enclave of rentable beach houses about 15 minutes by water shuttle from Pine Island, which is connected to Fort Myers by a causeway. Renters get golf carts and membership in the "club": two swimming pools, a couple of restaurants, a playground, a spa, a nearby 18-hole golf course, a fleet of beater bikes, and a small marina. South Seas Resort, on Captiva Island, which is nearby and accessible by car, is bigger and slicker but offers the same kind of experience, with villas on the beach and the bay and access to the marina, pools, and restaurants. Kalmar Village, in North Truro, Massachusetts, is a whitewashed cottage colony with a huge pool and shallow beach on Cape Cod Bay that we loved when our kids were really little because there were so many other families there with young children.
In recent summers we have rented a cottage in the tiny village of Siasconset for our annual two-week stay on the southeastern shore of Nantucket. We always book the nicest one we can afford—even if it means sacrificing proximity to the beach. We began this practice after barely surviving two weeks of nearly nonstop rain while staying in what was basically a shack, albeit with a fabulous ocean view. But when the rains came and the fog closed in, it was just a shack—with sand on the floor and ticks on the worn bedspread and nowhere to go. We've also learned to start hunting for next summer's cottage while we are in the middle of the current vacation. On forays around the island we fantasize about getting that architectural gem that sits alone on the point—with its turrets and climbing roses and private steps to the beach—for less than $3,000 a week. A resort hotel is a good option when you crave parasailing excursions, room service, and counselors with craft projects for your offspring that allow you to hit the tiki bar. You may have to squeeze the whole family into a double room in order to afford it—but it may well be worthwhile. We once spent a perfect long weekend with my parents at the sprawling and quite formal 600-room Fairmont Southampton Hotel in Bermuda—soaking up the faultless service, lunching alfresco, switching from pool to beach and back to pool again. Our kids still talk about playing on the elevators and the tuxedoed waiters who good-naturedly tucked their napkins into the collars of their sundresses.

Though much of our vacation time is spent on the beach (weather permitting), we periodically drag ourselves off the sand to do something that requires a little more effort. On Nantucket, we cycle the paved bike paths and occasionally rent a small sailboat or borrow a friend's Boston Whaler for tubing. We tie raw chicken legs on a length of string and fish for giant snapping turtles—just to look at them, then send them off—in the brackish ponds off Madaket. We four-wheel out to remote Great Point to cast for the phantom bluefish and stripers feeding in the fierce-looking rips.

In Florida, we always try to rent a skiff to buzz through the channel markers and weave around the low, house-free cays that dot the Gulf. We paddle sea kayaks through the maze of mangroves and, at least once a trip, end up pedaling like maniacs into a stiff breeze—hopelessly far from shore—in one of those torturous bicycle boats.

Mostly, though, our beach vacations are about hanging out together, about not having a plan. It always takes us a few days to get into the rhythm of it—or, more accurately, to learn how to live with no particular rhythm at all. Sometimes I feel pangs of guilt for not planning something more productive or enriching or challenging, or at least better for our skin. But then I remind myself, as I watch the kids play in the sand utterly need-free, that there is plenty of time for that. After all, isn't that why they invented Elderhostel?
Florida
The north Captiva Island Club Resort (800-576-7343, www.northcaptiva.com) has one- to eight-bedroom houses, many waterfront, that rent from $2,200 per week, golf cart included. Be sure to have a meal or two at Barnacle Phil's, a classic beach shack known for its beans and rice. Island Girl Charters (239-633-8142) operates a water taxi service to North Captiva for $35 per person round-trip. Pine Island Taxi ($60 one-way; 888-777-9653) will pick you up at the Southwest Florida International Airport in Fort Myers, stop at the Publix grocery store (941-458-8900) to get your pre-ordered groceries for an additional charge of $10, and deliver you to the water taxi marina.

South Seas Resort, on Captiva (doubles from $2,030 per week; 800-965-7772, www.south-seas-resort.com) has everything from hotel rooms to four-bedroom houses. Captiva Cruises (941-472-5300, www.captivacruises.com) runs shelling excursions to the isolated paradise of Cayo Costa. We had good luck renting a condo on Sanibel Island with Gopher Vacation Rentals (800-794-3107, www.gopherrental.com), which lists dozens of properties on Sanibel and Captiva.

Nantucket
On Nantucket, try Edith Delker Real Estate (508-257-4538), which specializes in Siasconset rentals, and Nantucket Real Estate Company (800-228-4070), which has a large pool of rental houses throughout the island. Expect to pay at least $2,000 a week for a two-bedroom cottage; add about $1,000 for each additional bedroom. Rates drop in the shoulder months of May and September. We've also booked—and received better rates—directly from the owner through www.cyberrentals.com.

Cape Cod
On Cape Cod, Kalmar Village (508-487-0585, www.kalmarvillage.com) has accommodations from apartments to three-bedroom cottages starting at $1,195 per week. Bring a bike; you'll be just a short way from Provincetown's excellent bike path network through the Cape Cod National Seashore dunes. For information on transportation to Cape Cod and Nantucket via land, air, or sea, check out www.smartguide.org .

Bermuda
The Fairmont Southampton (441-238-8000, www.fairmont.com/southampton) is Bermuda's largest hotel. Rates start at $399 per night. Save an evening to get dressed up and dine at the hotel's 323-year-old Waterlot Inn, which is amazingly welcoming to children. Jacket required.