Sponsor Content: Land Rover
The New Rules of Adventure: Colorado
There's never been a better time to explore the Centennial State. Here's why.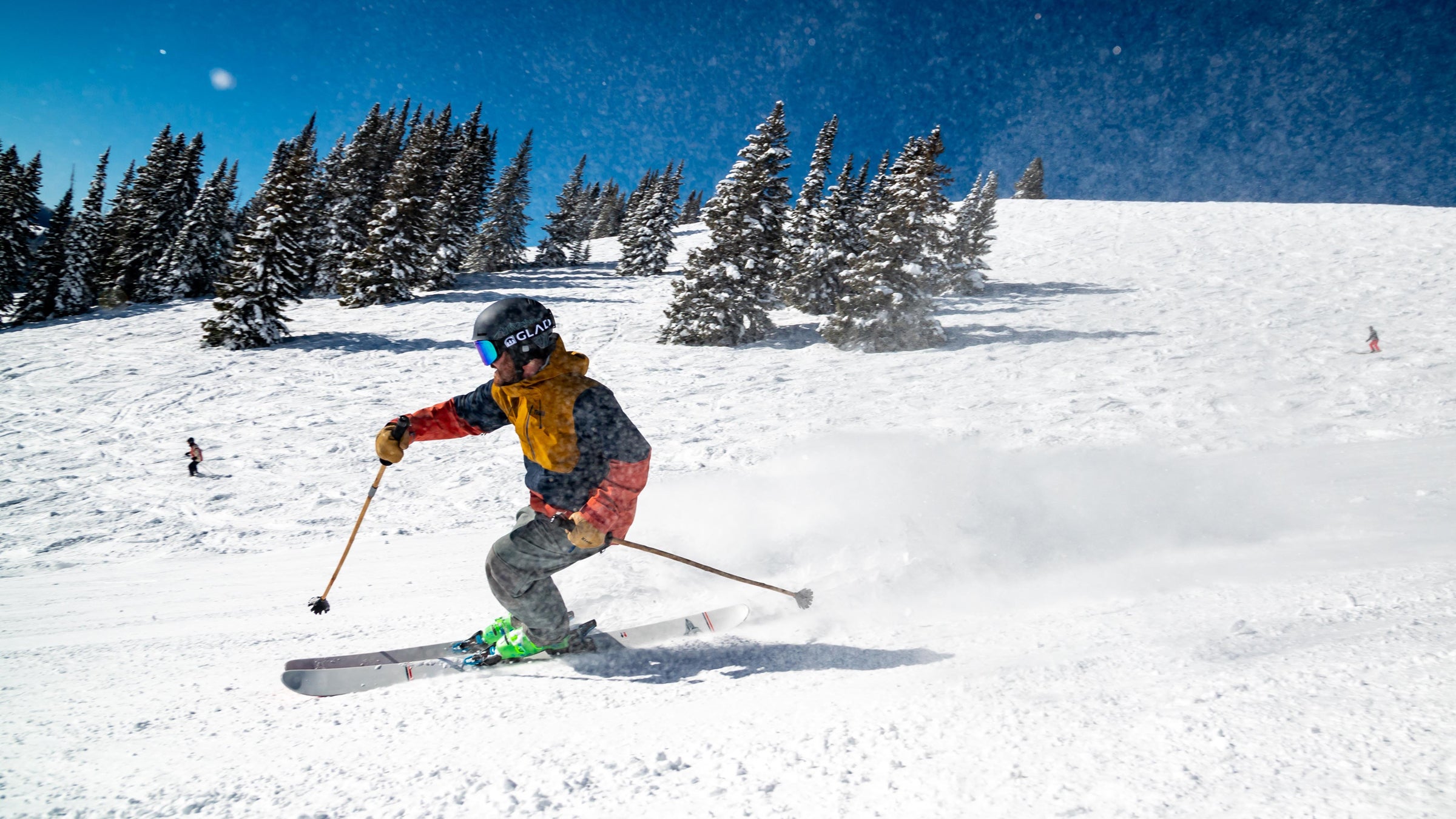 From backcountry ski resorts to via ferrata, there have never been more or better ways to get after it outside—and Colorado is on the cutting edge. We teamed up with Land Rover to celebrate this modern adventurous spirit and the launch of its all-new Defender, the most iconic adventure vehicle of all time. See below for three of Colorado's newest and coolest adventures. Then, head over to The New Rules of Adventure for even more inspiration from around the country.
Rule #1: Backcountry Skiing Is No Longer an Out-of-Bounds Affair
Meet the country's first in-bounds backcountry ski area: Bluebird Backcountry, with 1,200 acres of supreme B.C. terrain and many of the trappings of a downhill ski area. While there are no chairlifts—everything is human-powered—Bluebird provides ski patrol, guides, gear rentals and lessons, a lodge and warming hut, and avalanche courses. The in-bounds, avalanche-evaluated, yet totally ungroomed terrain comprises much of 9,845-foot Bear Mountain on the Continental Divide, with 1,245 feet of vertical and seven marked skin tracks. The main area abuts another 3,000 acres of guided-only, out-of-bounds terrain. The mountain is super COVID-aware: contactless check-in, and only 200 guests permitted a day. There's no on-site lodging, but you're allowed five nights of free camping, and Bluebird is just 30 minutes from Steamboat.
Rule #2: Cliffs Aren't Just for Climbers
The cliffs of Ouray, ice-climbing capital of the world, are the fitting home to Colorado's newest via ferrata—850 iron rungs of airy traverses, staircases, and vertiginous gorge crossings on the exposed walls of Uncompahgre Canyon. "The crux is what we call the Sky Stair," says Mark Luppenlatz, whose San Juan Guides provide gear and guides for a half-day outing. "You walk a 75-foot span of the gorge that rises at a 35-degree angle, with cables a-wobbling." The via ferrata was put in by local rock and ice farmers—"people who like to hang from ropes all day and drill holes." Meaning it shows off the beauty of the place while serving up challenges and pulse-racing exposure. Best of all it's free, if you have the right gear. Or rent a kit from San Juan Guides at their shop in town. The route will open up again next Spring when the ice melts.
Rule #3: The Adventure Continues After Dark
"I tell people, come for the mountains, stay for the dark skies," says Charley Ellison of Dark Skies Vacations. But more often these days, it's the other way around. Charley rents out a collection of secluded rural cabins with views of the Sangre de Cristos by day and dazzling skies by night. They're all in the vicinity of Westcliffe (about three hours south of Denver), the first certified Dark Sky Community in Colorado. Lack of city lights, low humidity, and 300 clear nights a year all add up to superb atmospherics. The hot tip is to book an architectural showcase called Rancho Bendito, which has its own 17-inch telescope, but bring your own scopes to savor celestial showtime at any of the properties. Or head into Westcliffe's Bluff Park and gawk through the scope at Smokey Jack Observatory. Spend daytime hiking, fishing, riding, or just gazing at the Sangres while waiting for the sun to go down
 
Trending on Outside Online