Not Dying in Alaska: A Profile of the Kilcher Family
Along for the ride with the homesteaders of the Discovery Channel's Alaska: The Last Frontier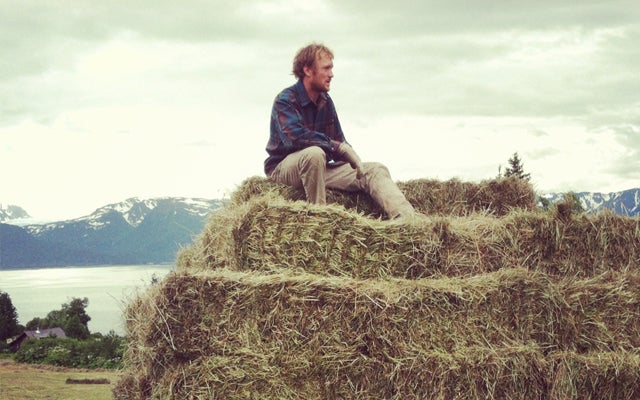 Heading out the door? Read this article on the new Outside+ app available now on iOS devices for members! Download the app.
Eivin Kilcher doesn't sit down much. He's too busy doing the things you can only do in action mode. He'd rather teach his dog how to ride his horse, which he recently did. He'd rather set up a new bolted climbing route through the Kenai Mountains so that if he did sit for a moment, he'd have a better view of the glaciers, which he did. He'd rather build a moose-proof fence around his orchard, which required being seated in the cab of his tractor part of the time, if you can call that sitting, which most people don't.

Eivin Kilcher.

Eivin Kilcher and his wife Eve.

Eivin Kilcher.
He will sit for dinner, but only after he and his wife Eve have hunted or gathered from their garden—which is to bend to the ground and pick whatever's ripe. And when dinner is over, he takes his dog for a walk through the forest surrounding the cabin to look for wild berries and edible mushrooms. He'll kneel to gather, but won't sit down, because not doing something is a thing he can do later—when he's dead. Being Alaskan, there is tremendous motivation to survive, or at least not die.
Anyway, he will sit to clean his shotgun, or make a leather quiver for his arrows, or knit a cap to keep out the cold. He'll sit to catch fish through a hole in the ice, but that's only because he has to be very still and very patient. Eventually, his wife will get hungry for rabbit stew, which means he'll have to hunt. It may take all four hours of a mid-winter day, but that's OK with Eivin because it's a day well-spent beating death.
For much of the summer, he was forced to sit for the cameras that have become a fixture in his home—the cabin he built—telling the cameramen from the Discovery Channel about all the sitting he hasn't been doing. For viewers of Alaska: The Last Frontier, it's fascinating television to sit on their couches and watch him talk about plucking pheasants for dinner and making sleds out of the roofs of antique, snow-buried Subarus deep within the Kilcher homestead. In fact, it's interesting enough to want to be there and do what he does. So I did something about it. I went to Alaska and did what Eivin does, which means getting dirty—if you can keep up, which nobody can if he doesn't let them.
But he wants you to keep up. He likes to show you how he can do what he does, which he does as a guide part-time with a non-profit called the Homer Wilderness Leaders. He and other guides take local kids camping in the coves of Kachemak Bay State Park, where bears pawed at the rocks the night before, but the kids are never in danger, because Eivin shows them how to be ready for everything. He brought me along for one of the summer survival retreats to remind me just how overrated sitting can be.
The kids sign up to do what Eivin does best, which is survive and camp in the wilderness and tell ghost stories at night. He takes them fishing and shows them how to build a shelter from the rain. They'll eat the fish they caught during the day and laugh about Eivin being on TV and making Alaska even more famous. One kid, in his early teens, told me why Alaska is a big deal on TV. He said it's because people watching reality shows probably think Alaskans are savages, which the kid also thought was "pretty cool." He emphasized this when he pulled out his knife, picked some salmon guts off the blade, stabbed a marshmallow and melted it in the fire. He never even blinked. In case you're wondering, melted salmon guts and marshmallows have the aftertaste of a sticky, old penny.
I almost went canoeing with Eivin in the shadow of China Poot Peak the next morning, but he preferred to stand and go fishing—which he did with feet planted on a large paddleboard, wearing a wetsuit and aviators. Later that night, Eivin sat by the fire and showed me the knife he made from an antler and a piece of steel he bought from a blacksmith in Thailand. The blade was almost too sharp, and the handle was tacky with salmon that he disemboweled as he knelt at the low-tide line below camp. It would have made great TV, but the cameramen weren't there. They went on vacation to take a rest from keeping up with Eivin.
The TV show is ultimately about what the Kilchers do, and about what happens if they don't do what they need to. At least for the purposes of television drama, not getting something done in time means the Kilchers will most certainly die—but they won't die anytime soon, because they can do anything. This is true for all the Kilchers except for Eivin's cousin, Atz Lee, who can't do anything except play music, which he does better than most anyone—at least as good as his sister Jewel, the pop star.
I saw Atz Lee buying tortillas and shredded cheese at the general store in the heat of early August. As he walked up the stairs of the Fritz Creek General Store, he paused and almost screamed, then he tugged at his shirt and flailed his arms all around himself and ran inside. You could easily assume he was going insane, but he wasn't (that part comes in the winter). He was being attacked by a bee because he's the Kilcher who gets picked on because he can't do anything. After fleeing the bee, he told me he was determined to be better on TV this year—specifically, that he wouldn't be the Kilcher who can't do any of the things that all the other Kilchers can do so well.
The Kilchers were notorious before the TV cameras found them—thought of as a feral clan of slightly brilliant, slightly insane, self-actuating pioneers. They are a rich sourdough—an acquired taste. They are a delight to some, amusing to all—especially to themselves. They're the all-terrain vehicle of people, which they've had to become because they live beyond the western-most point of the western-most road in the North American highway system, past the very last post office and the last grocery store. They homesteaded there in the 1940s where the spruce forest swells down to the beach and to the view of blue and white glaciers beyond the bay. The homesteading didn't exactly stop, which is why they're on TV hunting for dinner and collecting timber from the forest and coal from the beach to heat their homes. It's the kind of life that keeps them bushy and wiry. It's rough, which is the way they like it. As they see it, an easy life just isn't as interesting.
Fans perceive the Kilcher lifestyle as exotic and unnecessary, and fun—as long as your idea of fun is to collect drinking water from a spring at the end of a treacherous switchback trail and wear scars and calluses all over your hands. It's fun if you like chasing bloodthirsty wolves on horseback like Atz Lee's father Atz Sr. (who is Eivin's uncle).
Atz Sr. is the cowboy of the Kilchers. He's the wild man who hunts the 10-foot-tall grizzlies that made snacks of the Kilcher cattle. Up close, he's kinder and gentler than who he is on TV. He's also a musician—a guitar-playing balladeer who sings his songs in concerts about his adventures, his ex-wives and long-gone girlfriends. That, and the scars, the wolves, the plucking of feathers: it's all part of the Kilcher allure, he says.
"We've been doing this shit all of our lives. When I think about it, I'm blown away by how much hard work it is to homestead—and I was raised that way," Atz Sr. says. "I can't blame anyone a bit who might be watching from the suburbs and say, Wow. It's still amazing to me. I'm right there with them. Just like when I do a concert and people say, I like your songs. I say, Yeah. Me too."
And because people like his songs, and because the Kilchers insist on doing everything themselves, Atz Sr. wrote and recorded the show's theme song with his daughter, Jewel the pop star, which is a gritty "Ghost Riders in the Sky"-style saddle song about blood, sweat and tears and being an Alaskan in a place where many of the things that will kill you will probably also eat you. But the Kilchers won't get eaten by wild animals, not only because there's nothing they can't do, but because they won't let themselves get eaten—especially when the cameras are rolling.
Atz Sr.'s brother Otto, the father of Eivin, also avoids death on camera and otherwise, although he very much could have died in countless circumstances before. He didn't die during decades of deadly cattle drives. He didn't die when he ate rancid moose meat. And he didn't die when he climbed so many slippery, mossy trees. Otto is Alaskan, and this is what Alaskans do—they defy odds and cultural norms, most of the time. Otto, for example, defies in ways that normal people would never dream: Whereas normal people would use chainsaws and tractors to destroy an old tree stump, Otto uses a cocktail of explosives, which makes great TV.
What makes it even better is that the Kilchers do the things they do even when the cameras aren't there. Because it's the kind of stuff they've always done, and will always do, if they don't die in the process.
Writer Layton Ehmke spent a month this summer living and working with the Kilchers on their homestead on the Kenai Peninsula in south central Alaska. He lives in Chicago.