The Secret to Happiness? Hot Springs.
Hot springs are a luxury, even though you're just sitting right there in the ground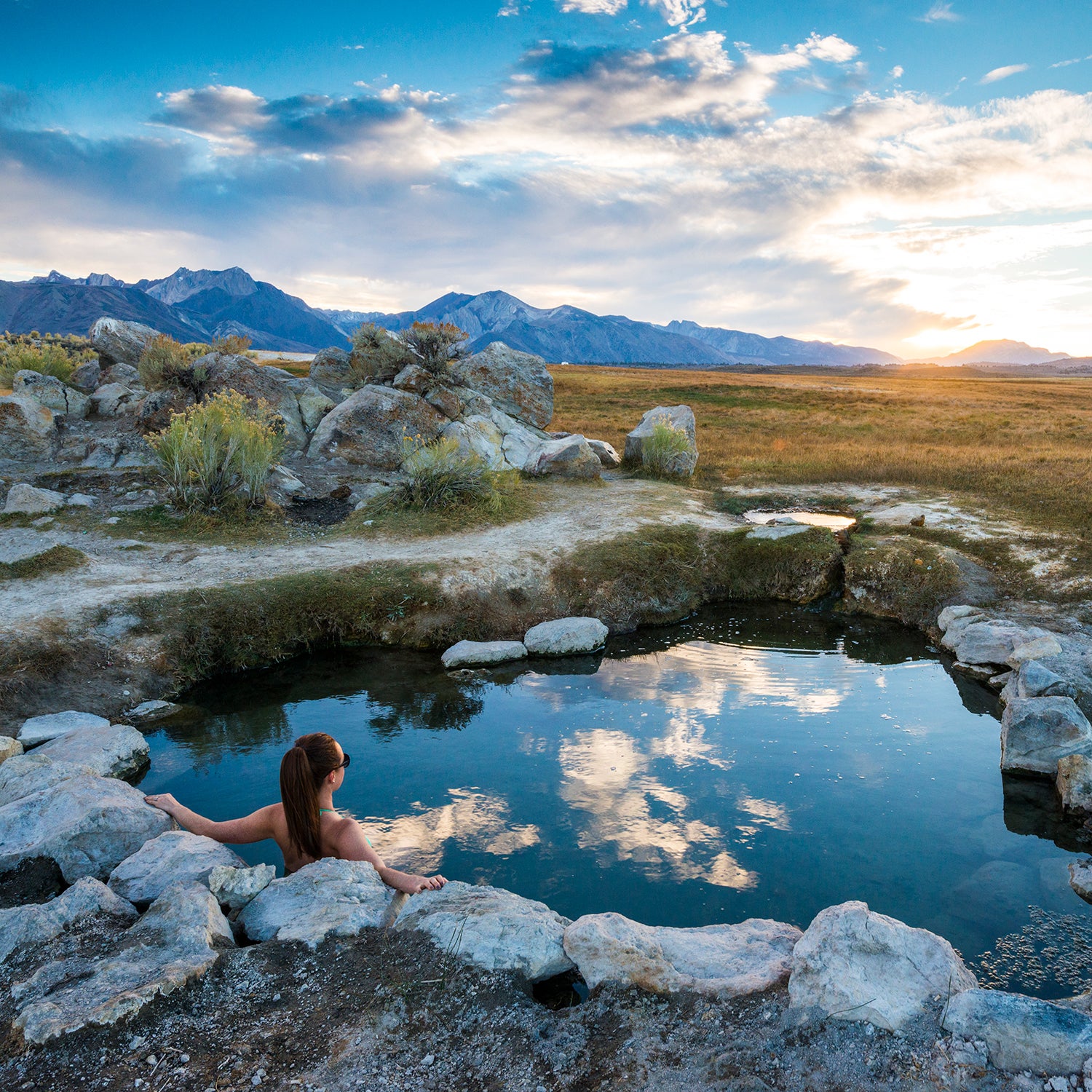 Rachid Dahnoun/TandemStock(Photo)
Heading out the door? Read this article on the new Outside+ app available now on iOS devices for members! Download the app.
Matt McDonald, an early adopter of the #vanlife lifestyle and Instagram handle, had been living out of his 1986 Volkswagon Westfalia for two years in February 2015 when I interviewed him for a story about how to get the most out of a road trip. While he was full of excellent suggestions—like using GPS to find free camping on BLM land—I ultimately took him up on just one of his tips: Plan a road trip around hot springs.
"If I was going to be in a single place for an extended period of time," McDonald said, "I would try to be near a hot spring. It completely changes the dynamic. Camping for days on end is really fun and freeing, but if you can find a way to get clean and warm and have that refreshing feeling like you have in your own shower? That is amazing."
Seven months later, my wife and I planned a road trip through a few national parks and made sure to budget a down day in specific hot springs along our route every three to five days. They were the highlight of the trip.
Hot springs are proof that Mama Nature wants us to be happy. They are a luxury, even though you're just sitting right there in the ground. If you're taking a day off from an adventure, the combination of heat and sulfur in the water is amazing for aching bones. After a 20-mile ski tour, I hopped into the Travertine Hot Springs in Bridgeport, California, while sipping a cold La Croix, and I'm pretty sure that was the most pampered I have ever felt in my life.
And the price is right. Hot springs are usually free in both spirit and actual cost (unless the spring has been co-opted by a fancy resort). They are also usually clothing optional. I understand this can be a bummer if you're traveling with your kiddos or are uncomfortable with nudity—I've had bad experiences with people creeping on me and my wife in the past—but if you're alone or with a partner, nude is really the only way to swim in nature.
It isn't easy to stay clean when you're on the road based out of a vehicle. This is particularly true when hotels aren't in your budget. Jumping into a glacier-fed creek is an awesome way to shock your system, boost your adrenals, and get rid of some grime—but it's also damned uncomfortable. There's no such problem with the hot spring.
So chill out on the six fourteeners you scheduled into your seven-day road trip this summer. Maybe scale it down to two or three, pack a few more beers, and replace some of those big summits with hot-spring objectives. Sometimes mountains are better watched than climbed.
Here are my three favorite western hot springs, just to get you started:
California: Travertine
I have placed Travertine Hot Springs somewhere on my list every time I have an adventure in the Eastern Sierra. The tubs are amazing, there's ample free camping just down the road, and the views of Sawtooth Ridge—the gateway to Yosemite—are unparalleled. These pools are well-known, so don't expect solitude during the busy summer and fall months. The good news is that the crowd is usually a diverse one, ranging from European tourist families to core Yosemite climbers. Someone in the crowd is always good for some interesting conversation.
Nevada: Bog Hot Springs
The arid desert landscape, open space, and solitude of Bog Hot Springs is a direct contrast to the busy feel of Travertine. You'll know you're close when you start wondering if the person who gave you directions into the middle of the high desert was planning to strand you. The springs are huge—the size of a large swimming pool—and temperatures vary through the creek that makes up the swimming area, which is ideal if you have a group with different heat preferences.
Oregon: Umpqua Hot Springs
The tiered pools that make up Umpqua Hot Springs are surrounded by vegetation that is so damned lush, the place is as relaxing to the eyes as the hot water is to your sore muscles. While Bog and Travertine are both essentially car-side hot springs, Umpqua requires a relatively strenuous quarter-mile hike, so bring decent footwear. The view of the Umpqua River below is as serene as the abundance of green trees and moss that surround you as you soak in the pools.
Lead Photo: Rachid Dahnoun/TandemStock
Trending on Outside Online