The Beginner's Guide to Off-Roading in Moab
How to prepare, what to learn, and where to drive in Utah's greatest four-wheeling playground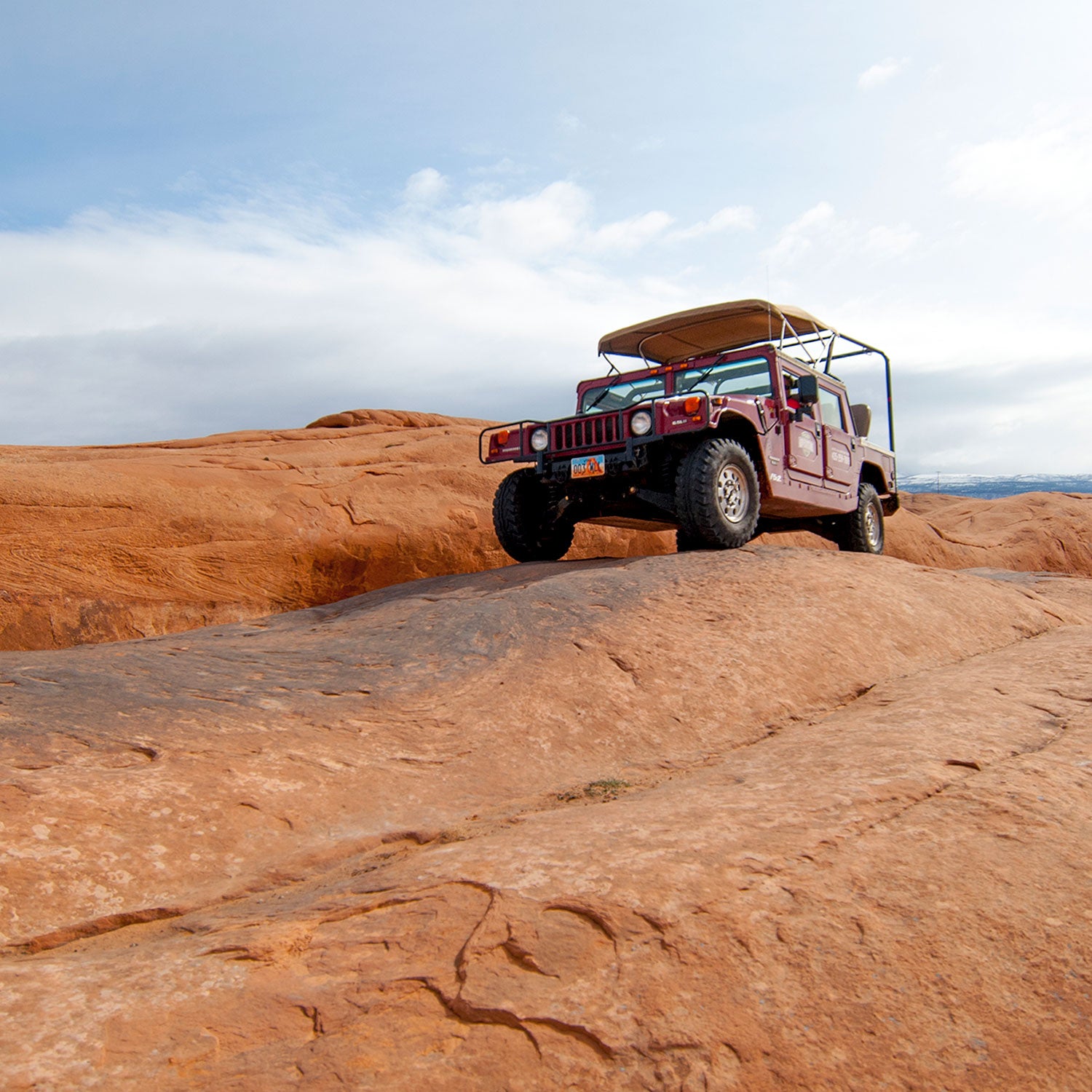 Heading out the door? Read this article on the new Outside+ app available now on iOS devices for members! Download the app.
Moab may be the best place on the planet for off-pavement driving. Think that's hyperbole? Consider the backdrop: Swaths of fossilized sand dunes, eroded red sandstone pinnacles, and tiered canyons cut by mighty rivers make for mesmerizing scenery. And it's vast, comprising some 1.8 million acres of public lands with nearly 1,000 miles of motorized trails. Although the town of Moab does get crowded (tallying about 3 million tourists each year), its plethora of route options disperses vehicles and lets off-road drivers enjoy surprising solitude on routes that range from high-stakes rock crawling to smooth, dirt-road driving and overlanding. The following tips apply to both, and offer ideas for solo and guided trips.
But first, a clarification: Off-road driving doesn't actually mean driving off the road, which is environmentally irresponsible because it destroys the network of plants (including a living crust composed of algae, cyanobacteria, and fungi) that prevents erosion of the sand and soil. Instead, off-road driving refers to off-pavement travel, on trails that range from graded dirt roads to rugged, boulder-strewn routes. Don't drive anywhere that's not explicitly signed as being open to motorized vehicles.
The Right Rig
You can bring your own capable vehicle to Moab, or plan on renting one once you're there. Most guided trips let you drive your own or a rental, and a wide array of adventure-mobiles can successfully navigate the area's routes. All-wheel-drive Subarus and two-wheel-drive vans easily handle Moab's graded dirt and gravel roads (though rain can change road conditions dramatically; see note below). Careful drivers might even steer AWD or 2WD vehicles over rougher paths that include small ledges or ruts. Just make sure your rig has all-terrain tires capable of handling rock and gravel, which can damage tires that are optimized for pavement.
With their higher ground clearance, stock pickup trucks and sport utility vehicles (SUVs) allow newbie off-roaders a more forgiving array of line choices, because these vehicles generally clear all of the rocks or ledges you'll encounter on Moab's easy to easy/moderate routes. It's also helpful to have low-range four-wheel-drive, which improves slow-speed traction on steep pitches that are loose or rocky.
Jeeps are even more maneuverable, thanks to their shorter wheelbase and compact dimensions that let them whip around tight switchbacks and clear deep, V-shaped washouts (where trucks might drag a bumper). Many of Moab's avid Jeepers modify their vehicles by lifting the suspension, swapping in larger, 35-inch tires, and fitting protection plates to the doorjambs and undercarriage. Such upgrades certainly improve the vehicle's rock-crawling capability, and they're common features among the rental Jeeps offered by Moab outfitters, but they're not a requirement for negotiating the area's easier routes.
Rental motorcycles and side-by-sides, also known as UTVs, are available too, but note that off-highway vehicles (OHVs) aren't allowed in Arches or Canyonlands National Parks. Also, because OHVs are faster, louder, and easier to operate than standard vehicles, they've garnered rancor from local recreationists and land managers who claim that the proliferation of careless OHV drivers is spiking trail erosion and user conflict. Drive one if you're so inclined, just mind your trail manners.
Guides and Rentals
Deciding whether to hire a guide comes down to two things—your risk tolerance and your ambition. Some people prefer to learn through trial and error, even when errors can include sustaining damage to your vehicle or getting it stuck. Others prefer to learn alongside a master who can minimize the consequences of newbie mistakes. And anyone who aspires to completing intermediate or advanced routes can fast-forward their progress by working with an expert. It's well worth the cash, and Moab is home to several off-road aces that guide trips and offer instruction.
Not all are dedicated to aspiring rock-crawlers: Several of these pros also cater to drivers of crossover vehicles or newbies wanting to learn how to exploit their vehicle's traction control settings. They're Moab's most respected experts; a few also rank among this country's very best off-roaders and have guided us on unforgettable adventures.
The off-roading equivalent of a Top Gun instructor, John Marshall is a Certified Master Off-Road Driving Instructor from the International Four Wheel Trainers Association (I4WDTA) who routinely works for auto manufacturers looking to train their engineers or build off-road courses to test their vehicles. Marshall also guides recreationists who want to tackle exciting terrain with the safety net of an expert companion. His one-day outings start at $525; three-day trips on the ultra-remote, 60-mile Lockhart Basin route include food cooked on your engine's manifold, instruction on spotting and line selection, demos on using a winch and getting unstuck from sand, and spectacular scenery bordering the Needles district of Canyonlands National Park.
John Marshall's son, Jamie Marshall, is also an expert offroader who tailors trips for owners of Subarus, Rav4s, and other all-wheel-drive vehicles. His day trips (from $475) let you safely explore your vehicle's capability; his three-day overlanding journeys lead participants through lesser-known corners of Moab's backcountry that most tourists miss.
Offroads Inside Line
A rally racer and offroad instructor, Charlene Bower founded the Ladies' Offroad Network to support and train female-identifying drivers. That group, which is welcome to new converts, meets in Moab every October for the four-day Ladies' Offroad Convention to combine group rides and gal power. Group instruction starts at $120 per person; Bower also offers one-on-one clinics for visiting offroaders of all genders who want to gain confidence in whatever vehicle they happen to drive, from Sprinter vans to Earth-roamers. She helps drivers understand their vehicles and exploit the value of mapping applications.
Nena Barlow is one of the few women to have achieved Master Trainer certification from the I4WDTA and her company offers both private trips (from $695/day) and rental vehicles. Workshops vary in focus, from sand dune driving techniques to backcountry navigation (Barlow is a regular competitor in the annual Rebelle Rally). Go guided, or go it alone using one of Barlow's upgraded Jeep Wrangler Unlimited Rubicons (from $375/day).
This outfitter rents side-by-sides (from $369) and smaller motorcycles (from $219) that are suitable for beginners. Guided rock-crawling trips in Jeeps are also available (from $299).
Beginner-Friendly Drives
You'll want to introduce yourself to Moab off-roading with one of these high-reward, low-consequence routes. All are appropriate for any licensed driver with the right rig.
Potash Road/Shafer Trail
Parts of this 18-mile dirt route snake through Canyonlands National Park, which urges visitors to have a vehicle equipped with low-range four-wheel drive. But under typical conditions, Subarus and the like can capably handle the smooth, graded Shafer Trail through the park, as well as the slightly rougher Potash Road. From US 191 north of Moab, follow route 279 past a dinosaur tracks interpretive site and the trailhead for Corona Arch and continue onto Potash Road, which follows a scenic bench overlooking the Colorado River. Overnight at Shafer Camp (permit required), 33 miles from Moab. Or continue up the Shafer Trail, which makes many switchbacks as it climbs through panoramas of tiered mesas and buttes to the top of Canyonlands' Island in the Sky unit ($35 vehicle fee). Camp at the NPS campground, or at one of the BLM campgrounds along route 313—or just drive 33 paved miles back to Moab.
Gemini Bridges
Stock SUVs and cute utes are all that's required to negotiate this mostly-smooth dirt road, which climbs for 13 gloriously scenic miles from US 191 north of Moab to paved route 313 atop a high mesa where, from 6,000 feet, you can gaze across the sheer sandstone cliffs framing Moab. Stop 7.5 miles in to make the short hike to the namesake bridges, separated by a six-foot gap. Consequences for missing that leap involve a 160-foot fall over sheer cliffs, making it smarter to explore each bridge separately.
Chicken Corners
Staggeringly scenic and thrilling—yet requiring basic driving skills—this may be Moab's most rewarding option for stock, high-clearance SUVs and pickups. A few small rock ledges and a short stretch of cliffside exposure add occasional spice to 21 miles of otherwise smooth, straightforward road. From Moab, follow Kane Cree Road for 12 graded-dirt miles to Hurrah Pass, on a panoramic anticline that lets you peer into the Colorado River canyon. Descend the pass's west side, then follow signs to Chicken Corners, sluicing between large boulders and the cliff's edge (the road is easy, only the exposure is puckering) to end at an airy viewpoint opposite Thelma and Louise Point (where the heroines of that 1991 movie gunned their Thunderbird over the canyon's rim).
Easter Jeep Safari
If solitude is your priority, you'll want to avoid any trip to Moab during this nine-day springtime gathering of off-road enthusiasts, which attracts thousands of vehicles. But participating in the safari and its group rides is also great way to explore new terrain while gleaning tips from more experienced off-roaders. There's even a Vendor Expo where you can browse covet-worthy products and vehicle modifications.
Want more options? Charles Wells's Guide to Moab, Utah Backroads & 4-Wheel-Drive Trails is a veritable off-roading encyclopedia that provides difficulty rankings, route descriptions, GPS waypoints, and advice on appropriate vehicles and required modifications. Trip-planning is best done using the book, though Wells has also created smartphone apps for Android and Apple users that locates you on downloaded maps and offers turn-by-turn directions.
Terrain Tips
Moab is a high desert that gets infrequent rain—hence the sparse vegetation. Some areas contain slabs of slickrock, a wind-polished sandstone that's actually extremely grippy beneath rubber tires. You'll also find stretches of sand, ephemeral streams (called washes) that may or may not have water, and lots of bouldery rocks. The rocky nature of Moab's backcountry explains why area wheelers recommend slow, smooth progress rather than the Dukes of Hazzard approach. Blazing around like Bo and Luke is likely to result in a busted axle or dented doorframe.
When rain does fall here, it can create radical changes to the landscape and various hazards for off-road drivers. Many Moab routes contain stretches of bentonite clay, which is pavement-hard when dry but notoriously gluey when wet. On flat roads, wet clay traps vehicles. On hills, it's slick as Vaseline and sends vehicles into an uncontrolled slide. Rain can also turn a dry, easily-navigable wash into a flood of raging water, sludge and boulders. Heavy rain sometimes triggers mudslides and rockfall. After all, erosion created this landscape's unique beauty, and those natural processes remain in progress.
Check the weather forecast before you head out. Ask local land managers about the surfaces you'll find along your intended route, particularly in March and April, when clay may still be wet from winter precipitation. Should soaking rains make your route impassable, wait it out (even if that means spending an unplanned overnight in the backcountry) rather than attempting gluey clay or flooded washes. Moab's arid conditions typically return within a day or two.
Packing List
Guided or solo, here's what you should pack when driving into remote places. You don't have to be an expert with these tools, but having them makes it easier for you to enlist the help of a passing car (and saves you from looking foolishly unprepared).
Bare-minimum must-haves:
tire-changing kit (lug wrench, scissor jack, spare tire)
tow strap and two D-rings or soft shackles for connecting it to your vehicle and the recovery rig
pair of work gloves
jumper cables
shovel (for repairing washouts and digging out stuck tires)
Bonus parts:
tire jack that's optimized for off-road use (like a hi-lift jack or bottle jack)
battery pack (such as The Athena by Uncharted Supply Co.) that's capable of charging your vehicle
MaxTrax (these plastic traction boards get vehicles unstuck from mud, sand, gravel and snow)
tire deflator (for lowering tire pressure when driving on dirt and rock) and air compressor (for airing up when returning to pavement)
Off-Road Etiquette
Moab's trail users (motorized and non) have enjoyed a remarkably cooperative relationship over the years. To preserve that amicable balance and Moab's access to motorized trails, it's important that visiting drivers don't fuel anti-motorized sentiment with maneuvers that damage the landscape or upset other recreationists. Case in point: A recent lawsuit from Southern Utah Wilderness Alliance prompted the BLM to propose closures to motorized trails within the Labyrinth Rims/Gemini Bridges area, including several iconic off-road routes. So don't drive like a jerk. That means:
Keep your tires on the trail. When passing other vehicles on narrow roads, pull over at an already-impacted spot rather than creating a new turnout. Do the same when choosing a dispersed campsite: Occupy a previously established area rather than driving into pristine landscapes.
Use pit toilets whenever possible. When you must answer nature's call with a roadside bio-break, be sure to pack out your paper. "People pee behind a bush but leave their baby wipes behind, and they blow around the desert and become a plague," explains John Marshall, an off-road expert and equipment captain for Grand County Search and Rescue. In Moab's arid climate, trash takes decades to decompose—so pack it out.
Don't drive through potholes. Those tiny pools that form on slabs of sandstone support an array of plants and animals that depend on that water for survival.
Don't spin your tires or fling rocks when cornering. Doing so accelerates trail erosion and angers neighboring trail users. "The terrain around Moab offers so much traction, you don't need to stomp on the gas pedal," says Marshall. "Here, it's all about slow, methodical tire placement, speed control, and finesse."
Marshall offers these tips and others in a video on responsible off-roading produced by the Moab Area Travel Council. The state of Utah is also upping its role in off-roading education and outreach: Beginning January 1, 2023, a new law takes effect requiring OHV drivers to complete a 30-minute online course that certifies them to operate side-by-sides. Says Marshall, "It'll encourage responsible use, particularly among the rental crowd."
Lead Photo: Nik Wheeler/Getty