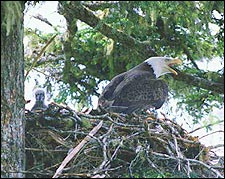 Heading out the door? Read this article on the new Outside+ app available now on iOS devices for members! Download the app.

Blackwater NWR is the center of the greatest nesting density of bald eagles in the eastern United States north of Florida.
Q: I'm thinking of taking a kayak trip around the Chesapeake Bay. Can you point me to some resources for planning a route, camping areas, maps of the Bay, and any restrictions that may exist?
— David Wheeler, Amherst, Mass.
Adventure Advisor:
A: If you count all the islands, the marsh guts, and the serpentine shores, you'll find Chesapeake waters lap at something like 11,000 miles of coastline around Maryland and Virginia. So, "taking a kayak trip around the Chesapeake Bay" presents some unique problems. But there are plenty of manageable spots for you to check out. Still, you should know that there isn't much high ground for camping and the bugs in summertime can be atrocious. Head out in the spring or fall, though, and you can expect gorgeous, insect-free days and loads of swimming.
Some of the best areas to explore are those you'll find around Martin National Wildlife Refuge, just north of Smith Island in the middle of the bay. Again, there's serious dearth of land more solid than muck, but fortunately there are three tiny towns on Smith Island that are very much worth visiting. Tylerton has an inn, The Inn of Silent Music, with three rooms starting at $105 a night (410-425-3541; www.innofsilentmusic.com). There are also strings of sandy islands that run north from Smith, such as Holland Island, which make for a great day trip. Holland once was home to a town of about 400 people or so around the turn of the last century. Since then, the tides have reclaimed the entire lot. Combing the beach there once I found a bottle embossed with 'LONDON 1770' on the side. Also, don't miss the Blackwater National Wildlife Refuge near Cambridge (410-228-2677; blackwater.fws.gov). At 26,000 acres, it's a treasure trove of mucky marsh where bald eagles float overhead. Again, there isn't much in the way of camping here, but it's still an excellent place for paddling.
As far as information goes, tour first stop should be Tangier Sound Outfitters, located on Maryland's Eastern Shore in Crisfield. The company leads backcountry kayaking trips around the bay and is a wealth of information on where to go. For instance, Jane's Island State Park is right off their doorstep. There you'll find well-marked water trails meandering around stands of cordgrass stuffed with waterfowl. Go in May and you'll likely hear the ruckus of nesting birds, like herons and egrets, as they jockey for territory. The park recently added new camping platforms around the park: Amen! Reach Tangier Sound Outfitters at 410-968-1803, www.dnr.state.md.us/outdooradventures/tangier.html. Jane's Island State Park: www.dnr.state.md.us/publiclands/eastern/janesisland.html, 410-968-1565.
If you plan to paddle the southern reaches of the bay near Cape Charles, Virginia, look up Bo and David at SouthEast Expeditions (877-225-2925; www.sekayak.com). These fellas know the best spots for paddling like no others and can help you with logistics, such as shuttles, rentals, food and water drops, and accumulating general good karma.
Lastly, the folks at the Chesapeake Bay Foundation, a non-profit that lobbies hard to keep the bay clean and healthy, are a good source for paddlers interested in what they can do to keep their trips as low impact as possible. Although they are more of an educational organization than a tourist information booth, the workers at the foundation will be able to tell you about restrictions as well as the best spots to witness firsthand the beauty of one of the nation's largest watersheds. (410-268-8816; www.savethebay.cbf.org)
Planning a trip of your own? [ask the AA]
Trending on Outside Online