The Quick Fix
Escape urban gridlock in West Virginia, where country roads and mountain mamas are only a fraction of the attraction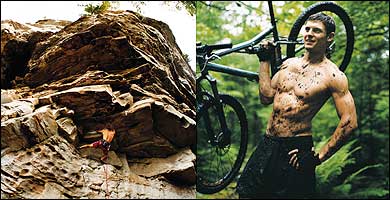 John Huba
Heading out the door? Read this article on the new Outside+ app available now on iOS devices for members! Download the app.
A FEW YEARS AGO, fresh from 21 days of kayaking the gigantic waves of the Colorado River, I returned to my home state of West Virginia to paddle the Cheat River, where I'd been a raft guide for the previous three springs. It was May, just after flood season—and I was feeling badass. In a moment of bravado, I followed a friend into the meat of Class V Coliseum Rapids, the toughest on the river, and whompf—a huge wave clobbered me and everything went dark. Lesson one: The grand old western rivers have nothing on these eastern monsters.
The Wicked West of the East
West Virginia is frequently overlooked by East Coast urbanites, who tend to flock to the closer and more pastoral Blue Ridge Mountains and Shenandoah Valley of Virginia—or fly right over on their way to Rocky Mountain highs. But this inattention has been a blessing in disguise. Since coal mining started its big decline in the 1980s, the state has been spared from heavy development and sprawl. And with 4,000-foot mountains, thundering rivers, 45 inches of precipitation per year, some of the best crags in the country, and miles and miles of rooty, rocky singletrack, it's beginning to enjoy a new cachet as a recreational oasis. Need I mention the 910,155-acre Monongahela National Forest ("the Mon" to locals), which includes the Otter Creek, Dolly Sods, Cranberry, and Laurel Fork wilderness areas and takes up practically the entire eastern third of the state? Perhaps West Virginia has been misunderstood because of its rustic personality. True, the state passed a law in 1998 making it legal to collect (and, presumably, eat) roadkill. And, should you drive down a road to nowhere through the steep and leafy "hollers," you're likely to end up in a forgotten coal hamlet that brings to mind 19th-century sepia-tone photographs—all part of the state's real-deal backwoods charm. I lived in West Virginia for six years, sharing a cabin bordering Coopers Rock State Forest that rented for $190—and we had a hard time coming up with even that tiny sum because we were too busy biking, hiking, and kayaking.
Since I left, in 1997, West Virginia has averaged a 4 percent increase in tourism per year, and an adventure infrastructure has developed with it. So now you can rent mountain bikes, pick up a river shuttle, buy essential climbing gear, and hire a guide to take you wherever your heart desires. Here's a guide to the best of the Mountain State.
Rafting

Crash course: rafting the Gauley River
Rafting the Gauley River
Come fall near Summersville, in south-central West Virginia, the hardwood forests turn bright orange, the air cools, mist gathers in the steep canyons, and raft guides start to get butterflies in their stomachs. At a time when the rest of the country's rivers have dried to a trickle, hundreds of river rats pack up their VW buses and head to the 107-mile-long Gauley, where the annual fall drawdown of Summersville Lake feeds whitewater rafting's biggest frenzy. Don't come here looking for a placid float. The Gauley's Class V rapids—which combine high volume with steep, boulder-choked runs—are jammed with rafts.
HOW TO GO Wildwater Expeditions (800-982-7238, www.wvaraft.com) runs one- and two-day trips on the Upper or Lower Gauley (your choice—there are five Class V rapids on the 12-mile upper section and a dozen more Class IV and V rapids on the lower 12 miles) from $90 to $250. Or do the entire 24 miles in one long day for $200. Rent wetsuits and paddle jackets for $15 per day.
LODGING Opossum Creek Retreat (888-488-4836, www.opossumcreek.com) sits off a classic serpentine West Virginia road. Seven hot-tub-equipped cabins in varying sizes fit four to 20 people and can be rented for $120 and up per night or $800-$2,000 per week.
Mountain Biking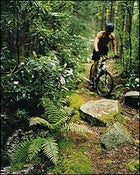 Singletrack of champions: mountain-biking the Davis Trail, near Davis
Mountain-Biking the Monongahela National Forest
The tiny town of Davis (pop. 624), on the northern edge of the Mon, is home to not one but two members of last year's U.S. World Mountain Bike Championship Team, Sue Haywood and Nick Waite. Surprised? Don't be. The town is a launching pad for hundreds of miles of technical, slick, and muddy mountain-bike trails. And the locals have the appropriately masochistic attitude to tackle them—the same outlook that, in 1992, gave birth to the first 24-hour mountain-bike race, the 24 Hours of Canaan (which has since been moved and renamed the 24 Hours of Snowshoe). If you have time for only one route, try the Mon's 25-mile Plantation Trail system. It tunnels through thick rhododendrons, over creeks, rocks, vines, and moss, in a rainforesty wonderland reminiscent of Vancouver's North Shore.
HOW TO GO Blackwater Bikes, in Davis (304-259-5286, www.blackwaterbikes.com), rents Kona mountain bikes for $25 per day and sells the Canaan Valley Adventure map ($8), the most reliable and up-to-date trail resource.
LODGING Bright Morning Inn (866-537-5731, www.brightmorninginn.com), next door to Blackwater Bikes, is a lumberjack boardinghouse turned bed-and-breakfast. Rooms range from $75 to $85, biscuit-and-eggs breakfast included.
Fly Fishing
Fly-Fishing the Elk River
An eight-mile section of the Elk cuts a lush, remote canyon through the southern Mon Forest, actually diving underground for stretches. These detours keep the water a chilly 50 degrees throughout the summer, a major reason why the Elk is one of the only mid-Atlantic rivers that supports wild trout. The Gauley Divide, which rises 2,000 feet above the riverbank, helps, too—it's the first mountain ridge to snag all that rain that skips the Great Plains en route to the East. Then there's the river's limestone bedrock, which neutralizes acid rain, keeping the fish healthy. All of these forces conspire to produce feisty 20-inch-plus browns and rainbows that would trick an angler into thinking he's in Montana.
HOW TO GO Elk River Touring Center (866-572-3771, www.ertc.com), located on 150 acres on Old Field Fork, one of the headwaters of the Elk, provides maps, rental gear, water levels, local hatch and fly information, and a guide, if desired. Guided outings for experienced anglers are $195 a day, or rent a rod and waders for $60 a day.
LODGING Stay in one of the five guest rooms at the Touring Center's inn for $75-$100 per night.
Climbing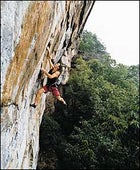 Smorgasgorge! Climbing at the New River Gorge
Climbing the New River Gorge
Rumor has it that the 352-mile-long New River is the second-oldest river in the world, dating back approximately 320 million years. Geologists go round and round on that figure, but everyone agrees that one 15-mile section of the 60-mile New River Gorge, which is 1,200 feet deep in places, offers spectacular climbing—it regularly draws the likes of Lynn Hill and other first-tier climbers. More than 2,000 mostly bolted climbs follow the rim. The draw is the very durable Nuttall Sandstone, with beautiful horizontal fissures and climbing that ranges from dime-edge face climbs to fist-size cracks. If you need a break from the one-pitch 5.11's and 5.12's of the New, you can head up to Seneca Rocks, in the northeastern corner of the Mon Forest, a 400-foot fin of sheer quartzite that offers long, classic routes in the moderate range of 5.2 to 5.8, with several others rated 5.10 to 5.12.
HOW TO GO Hard Rock Climbing Services (304-574-0735, www.hardrockclimbing.com), in Fayetteville, offers guide service for $120 per person per day. At Water Stone Outdoors (304-574-2425, www.waterstoneoutdoors.com), also in Fayetteville, you'll find the latest edition of the area's bible, New River Rock, by Rick Thompson.
LODGING Country Road Cabins (888-712-2246, www.wvcabins.com), located just north of the gorge, rents log cabins, complete with front porches (and the requisite swings), that sleep up to three people for $125-$235 per night.
Hiking
Hiking the Cranberry Backcountry and Wilderness
West Virginia has more than 1,500 miles of hiking trails, including the Allegheny Trail, a 300-mile north-south path, mostly in the Mon Forest. If you can't spare a month to take it on, head down to the Cranberry Backcountry and Wilderness, a little-known 62,000-acre wildlife oasis with more than 100 miles of remote trails. Start with the Cow Pasture Trail, which flanks the Cranberry Glades, a bog where orchids grow. From there, head north and hike to spruce and hemlock forest on Trail 102 along the South Fork of the Cranberry River before heading east (Trail 271) along the Williams River. The entire wilderness is a black bear sanctuary, but keep your eyes peeled for mink and bobcat, too.
HOW TO GO You don't need a permit to hike or camp in the Cranberry. There are three-sided Adirondack shelters along the South Fork of the Cranberry that are free to use on a first-come, first-served basis; tents and good navigation skills are required. Information and free trail maps can be found at the Cranberry Mountain Nature Center, just down the road from the town of Mill Point. Stock up on bug spray and stove fuel at Appalachian Sport (304-799-4050, www.appsport.com), in Marlinton.
LODGING Off trail, check out the funky, restored pre-Civil War cabins at the Jerico Bed and Breakfast (304-799-6241, www.jericobb.com).
Cycling
Cycling Along the Cheat
John Denver didn't get it all right in "Take Me Home, Country Roads," his 1971 ballad to the byways that wind through pastoral West Virginia. The Blue Ridge Mountains and Shenandoah River mentioned in the song are actually found in Virginia, not the mountain-mama state to the west. But the rest is true: These undeveloped areas offer smooth and empty roads for cyclists. Monongalia and Preston counties, along the Cheat River, offer pure rural countryside. Don't plan on finding a prepackaged inn-to-inn tour, but Whitetail Cycle and Fitness, in Morgantown, can set you up with a hilly 100-mile loop from there to Kingwood, then south along the Cheat River. Be sure to stop for the banana cream pie at Mary's restaurant, in Kingwood. Another option: Down south in Lincoln County, follow county roads 214 and 3 to the town of Mud and the 6,000-acre Big Ugly Wildlife Management Area. This is bona fide Appalachia; you'll see wheelbarrows parked next to residents' personal coal mines.
HOW TO GO In Monongalia and Preston counties, find spare tubes and route information at Whitetail Cycle and Fitness (304-291-2270, www.whitetailbikes.com). For the Lincoln County ride, Charleston Bicycle Center (304-925-8348) has county-road maps, equipment, and advice.
LODGING For the Cheat River ride, the Preston County Inn (304-329-2220, www.prestoncountyinn.com), in Kingwood, has rooms for $65-$125. While lodging is scarce in Lincoln County, just north, in the friendly capital of Charleston, is the Brass Pineapple Bed & Breakfast ($89-$139; 304-344-0748), a short ride from local delicacies at the Capital Street Farmers' Market.