Raising North Dakota
Horrible winters. A dwindling, aging population. Abandoned farms reverting to prairie grass. Perfect, says our writer.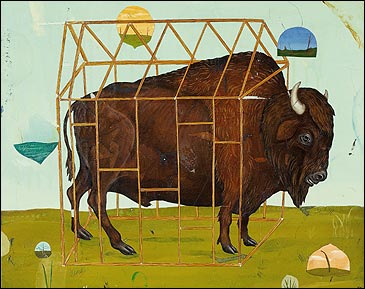 Heading out the door? Read this article on the new Outside+ app available now on iOS devices for members! Download the app.
THIS WAS THE BEST MOMENT to walk among them, right after the crash and thunder of their annual orgy, when the bulls have fought and fornicated to happy oblivion and the cows are pregnant. Grasping a fistful of prairie grass like that shuffling caveman in Quest for Fire, I edged close enough to the herd of wild bison to smell the sweet musk on their shaggy coats. Though these behemoths seem ponderous and in their aprés-party torpor sleepy and docile, a panicked one-ton bull can accelerate to 30 miles an hour in less time than a quarter horse, as the beast's gored and flattened victims have discovered too late. Plus, you never know what might piss one off. Double plus, both boys and girls have horns.

"Mute testimony to nature's grim fury": decaying North Dakota farms in the thirties and forties

"Mute testimony to nature's grim fury": decaying North Dakota farms in the thirties and forties

"This battered land": North Dakota's past tense, circa 1936
"This battered land": North Dakota's past tense, circa 1936

"This battered land": North Dakota's past tense, circa 1936

So I retreated. But not before taking a hard look into the face of North Dakota's history, and what may be its future. I'd been hearing that much of my beloved old state—where I spent three gloriously wanton years as a teenager—is marching back into its past as the Indian population grows and the white population declines, bison herds are resurrected, and prairie grass replaces wheat. Imagine it: a vast chunk of America beginning to hum again with the romance and true grit of the frontier.


While I drove the 600 miles from my swampy ranchette in western Montana to the North Dakota state line, I concocted a heroic picture of myself on these brave new savannas, loping on my mare through stirrup-high bluestem waving narcotically in the wind, riding out to check on my own personal herd of bison. In this fantasy I looked like Kevin Costner in Dances with Wolves. Only I sat the horse better. In reality, I was looking for new digs, a climate healthier than the overpriced acres of buggy floodplain my wife, Kitty, and I owned. In my ancient Ford Bronco, I planned to crisscross North Dakota, searching the emptied, down-and-out spaces between its little cities for that sweet thing every American covets: a killer bargain in real estate. Some wild and abandoned place where we could afford to surround ourselves with a serious chunk of turf.


Prairie that looked just like this, I thought. On a golden autumn day on the bluffs above the Missouri River 25 miles upstream from Bismarck, it was easy to experience the illusion of the frontier; the riverscape was nearly identical to the one Lewis and Clark described. I wandered down a coulee, looking for an old ghost town I'd read about named Sanger, one of scores of vacant villages no one has the heart or energy to tear down, places amateur historians like to say are "mute testimony to nature's grim fury," or suchlike. Since no one else seemed to want Sanger, I figured maybe Kitty and I could grab it for a song. I pictured us quartering ourselves on the second floor of a former bank, say, or a hardware store.


At the bottom of the bluffs I made my way across a terrace plush with yellow grass as high as a prairie wolf's eye, mindful of the open wells and basements that riddle these old towns. I entered what looked like Main Street—or, rather, a game trail that used to be Main Street. From a window in one of the broken houses, a lace curtain flapped madly, like a cheap trick in a theme park, and was sucked back inside. Through the door of another house, a shadow fled across the bare laths of a sun-drenched wall. Something thumped and crashed, and there was a scritch of little feet. In the wind I heard voices singing. Or was this distant song only magpies yelling in a chokecherry thicket?


As the startling hush of night in North Dakota began to fall, I decided that Sanger would be perfect, if the price was right, and began planning our big move. Corral here, garden there, bison pastures on the terraces, beehives on the bluff. But the next morning I realized that my search for a little house on the prairie had just begun. As it turned out, the Nature Conservancy owned Sanger, and had a plan for its future, one that didn't include immigrants from Montana. Well, better the Conservancy than some rat bastard of a subdeveloper, I thought.


But who am I to cast the first stone?
TOWNS LIKE SANGER are one of the reasons I love North Dakota, what I call the Halloween State, a haunted land crowded with ghosts and suffering from an acute inferiority complex—a place described by one of its famous natives, the late CBS news anchor Eric Sevareid, as a "meaningless rectangle" on the "cold, flat top of our country." Cold and flat, to be sure. But, for me, fraught with significance. When I first crossed into North Dakota the week before, I had been exhilarated instantly by the drama of abandonment, the pageantry of forced marches in the direction of zero, the comedy of vines pulling down walls.


The Census Bureau reports that, during the 1990s, North Dakota's white population declined from 604,142 to 593,181. Of North Dakota's 53 counties, 47 of them lost population. When you get to the 2000 Census Web page for the state, it reads like the parish registers of French villages during the Black Death: Bottineau had lost 862 souls since 1990, almost 11 percent of its population; Cavalier, minus 1,233, a 20 percent decline; Renville, down 550 for a net loss of 17 percent. In 1990 there were 5,383 people living in LaMoure; in 2000, only 4,701. In 1950, Hettinger boasted 7,100 names on its rolls; in 2000, a mere 2,715.


Old people die in North Dakota, of course, just as babies are born. What accounts for much of this staggering loss of humanity is the chronic illness of the farm economy, especially in the western parts of the state—the river country sometimes called the Coteau du Missouri—and across North Dakota's midsection. The decline in agricultural income is due to depressed prices for cattle and grain coupled with the rising costs of fuel, equipment, and fertilizer and a lingering drought that, in some parts of the state, has entered its third year.


More for me, I thought as I drove toward Slope County, in the state's parched southwestern corner, feeling only a small twinge of guilt for lusting after land in a place where people are losing theirs. According to a couple of guidebooks I was packing, Silent Towns on the Prairie and Ghosts on a Sea of Grass, Slope's county seat, Amidon, is a ghost town. Because it lies inside the Little Missouri National Grassland and just north of White Butte—at 3,506 feet the state's highest point—I got excited: Here was protected range and, I hoped, embarrassingly cheap real estate. But on the cold and windy day that I drove into town, I was disappointed to discover that the joint was jumping.


"Do I look like a ghost?" a cattle rancher asked me outside the courthouse after I showed him my books.


Doris Preiss, the deputy county treasurer, whose brother is the mayor, told me that she'd heard rumors of Amidon's death, but they were exaggerated. "None of our houses are abandoned," she said. "Well, yes, we're losing people all the time. I'm 68, and one of the youngest in town. But then there are also people like Linn."


Thirty-something Linn Holloway, the deputy auditor, and her husband moved to Slope County from the Seattle area, where he'd been a shipfitter; he now works as a welder, commuting 50 miles north to Dickinson. They bought 40 acres outside town with three barns, a big shop, and a solid four-bedroom house, all for $74,000. Then they moved in some horses.


"Although everything's brown this year, we've got snapshots showing our place in July, a couple years back, as lush and green as anything in Seattle," Holloway said.


I hoped she didn't see me salivating. Once Kitty and I sold our Montana riverfront, we'd have $300,000 to shop with. Kitty was eager to leave our bottomland, because the sun rarely appears in the winter and the air is smudged by the puke belt surrounding a paper mill upwind, pollution that aggravates her allergies. I began calculating the number of acres you'd need to surround yourself with to eliminate the friction that causes neighbors on abutting ten-acre ranchettes to despise one another. Fifty? Probably something more like a hundred.


"North Dakota is a well-kept secret," Holloway told me. "You don't have to lock your house when you go on vacation. You can leave your car running on cold days in front of the stores in Dickinson. You can buy houses in Slope built before World War I, well-maintained, with original oak paneling and floors, for less than $30,000, and move them wherever you want. People are always moving houses around."


That's the good news. But as I reminded myself while driving out of town, North Dakota is no place for wimps. The summers are hot, and the winters will break your balls. (The record high is 121, at Steele, and the low is minus 60, at Parshall.) Dakotans like to believe that their long winters encourage reflection and reading, and the open view across the prairie inspires a broad-minded intellectual armature. The Ojibwa Indians, according to North Dakota anthropologist James Howard, found their spirits lifted and a new swagger in their step when they were forced from their dank forest heartland around the Great Lakes and out onto the shiny plains.


On the downside, the state is past due for a biblical shitstorm like the Winter of the Blue Snow, which began in 1886, when a bulge of arctic air strangled the northern plains for six months and gale-force winds piled snow into drifts so high that the following spring, cattle ranchers like the young Theodore Roosevelt came across their dead beeves suspended in cottonwoods. The Winter of the Blue Snow helped put an end to the fenceless, open-range era of cattle ranching and ruined Roosevelt's operations around Medora. Still, as he said later about his character-building stint here, "if it had not been for my years in North Dakota, I never would have become president of the United States."
I LOOKED AT A COUPLE of small cattle spreads in Slope County whose prices were right, but restoring these treeless, browned-out pastures seemed like more work than I wanted to take on. On the way to the next county, I stopped at a 1,700-acre wheat operation owned by Ernie Holzemer. The buildings were cocooned by more than five linear miles of ash and elm trees planted in dense shelterbelts to combat wind erosion, giving the place the gentrified appearance of a country club. Because North Dakota is sprinkled with thousands of these islands, like the archipelagoes of the South Pacific, I decided to add abandoned farmsteads to my quest.


Holzemer, 52, has, in fact, fabricated his own golf course—four holes in the strips of grass between the shelterbelts, with another two holes planned. He is a self-taught golfer. "I bought my clubs," he told me, "at a pawn shop." Well, why not prairie golf, I thought, adding the sport to the other inducements for life on the range. A few rounds of small ball every morning after the chores, followed by a martini and lunch at the clubhouse. Sweet. The next morning the sun finally drilled a tunnel through the smother of clouds that squatted on the plain so low I stooped when I got into my Bronco. As I headed south from Interstate 94 toward the burg of Regent, the ground haze evaporated and a stunning flatness was grandly illuminated. What a map I have calls 100th Avenue SW (as if a mighty city might someday stand here in these windblown fields of Stark County) is a 32-mile stretch that locals call the Enchanted Highway. Installed here and there along this remote two-lane blacktop are enormous, striking metal sculptures standing against the unsheltering sky. Here's a covey of gaudy ring-necked pheasants on a hillside, featuring a rooster 70 feet long; the world's largest metal grasshopper (according to Guinness World Records 2002); a 70-foot buck bounding over a mammoth rail fence; and a tin family whose huge, propeller-hatted boy grasps a lollipop. They were created by artist and retired schoolteacher Gary Greff to attract visitors and to counter what the Web site RoadsideAmerica.com calls the "dire depopulation predictions" of the national media. "Spunky North Dakotans say 'BITE ME!' to out-of-touch urban doomsayers, with their weepy laments of prairie beauty," the Web site maintains.


Much as I admired Greff's work, what was beginning to absorb all my attention was the ultimate product of North Dakota throughout much of its natural history: bison. According to the North Dakota Bison Association, there are 23,000 animals in the state, out of some 270,000 across the country. Eric Rosenquist, the manager of 6,000-acre Cross Ranch, the Nature Conservancy's model stock operation and preserve sprawled across the bluffs above Sanger, admires the animal because of its heroic ability to thrive in the worst storms that North Dakota can throw its way. "We never feed them hay in the winter," he told me. "They'll dig through two feet of snow to get at the grass, which is dormant seven months of the year. Then sometimes you'll see them standing on the tops of the hills looking right into the face of the blizzard. It just doesn't faze them. At the same time, you'd see cattle huddled in a gully trying to get out of the weather."


Rosenquist said that the animals, along with fire, are the perfect tools for maintaining grasslands so all of the hundreds of varieties of plants growing on North Dakota's epic lawn have a chance to thrive. "These grasslands are dynamic," he explained. "They need to be constantly disturbed." It's the nature of bison to graze a patch of prairie right down to the nubbin and then move on to another patch so the first piece has a chance to rest and recover. Because they eat every kind of plant, all the competing varieties of native flora are compelled to play fair.


Farther east, near the James River, in LaMoure County, I suddenly pulled over because of the way an abandoned wheat farm caught the late-afternoon light. There was something about the rise on which the buildings had been erected—or maybe it was the hedgerows of trees radiating from the once elegant multi-eaved house, built in the 1920s—that reminded me of farms I've seen in France, earthy and gracefully at ease with the landscape. On the lawn was a velveteen couch that looked like it had been dragged out of the house so someone could gaze at the stars in comfort.


Since the windbreaks concealed me from all directions, I built a campfire in the yard, warmed up the buffalo burger I'd bought earlier, and sat down to enjoy it. When you dine on one of these wild, grass-fed, hormone-free animals, you're struck by how dense and dark the meat is. All four of the state's Indian reservations are building and managing their own herds, and many of North Dakota's bison producers are already supplying a boutique market in the big cities, where porterhouse steaks sell for $40 in restaurants. You can see what a potential bonanza there is for ranchers who do it right.


After I finished dinner, I decided that this particular area wasn't quite right. For one thing, there wasn't much grass, only fallow fields plowed for grain. I decided to concentrate my search on land that had never been bludgeoned by a plow.
DRIVING NORTH FROM FARGO, I didn't bother looking for bargains, because the Red River Valley is one of those national sacrifice areas that has been surrendered to industry and is largely controlled by dynastic families. In this case the industry is intensive grain and sugar beet farming. Although the grass here once stood to a horse's withers, almost all of it has gone under the blade, and most of the acreage in this river corridor costs more than we could afford. The only reason I ventured onto this nearly rockless and relatively lush edge of North Dakota was because I wanted to revisit Grand Forks, site of the most exhilarating years of my life.


We lived on McKinley Avenue in a trailer court called Presidents Park, scraped from a cornfield, while my old man planted the prairies with Minuteman missiles tipped with thermonuclear howdies. Although I was enrolled—at least on paper—at Central High School (Go, Knights!), when my cronies and I weren't in class, we would hit the streets, the malt shops, anywhere but the halls. Piloting a tractor-size 1948 Chrysler sedan (which I bought by delivering the Minneapolis Tribune on foot in the snow), I woke up every morning believing I'd ascended to heaven. Presidents Park was a largely parent-free zone under the strict control of teenagers.


In order to piss off almost every adult I knew, one autumn I campaigned door to door for Barry Goldwater. His campaign slogan ("In your heart you know he's right!") was bowdlerized by the Democrats to read, "In your guts you know he's nuts!"


I dismissed the widespread predictions of a Lyndon Johnson landslide. Voters lie in order to look like conformists, I reasoned, but when they actually step inside the booth they'll do the right thing and vote for the guy who isn't afraid to launch a few of those rockets my daddy spent his long working hours planting under the wheat. I changed the name on our street sign from mckinley to au h2o and ignored the frosty reception I got on the doorsteps of voters. Especially after a Central High junior named Maggie joined the campaign.


The night before Halloween, we stood grasping our campaign brochures on the porch of some leading citizen's grand old Victorian house, on Belmont Road. Maggie suddenly plucked the cigarette from my lips and, with a deft and practiced gesture, flicked it into the yard. Then she put her tongue in my mouth.


"Vote for Barry?" I said when a housewife came to the door.


"Go neck somewhere else," the woman said.


Now Presidents Park is just a low-rent island in a sea of condos and apartment buildings, without a stalk of corn in sight. I decided to check out the devastation caused by the 1997 flood, when the river inundated downtown, which then caught on fire, supplying the media with days of astonishing images of what appeared to be some war-torn city overseas, symbols of North Dakota's anguish. But I was comforted now; except for a few bare lots, it didn't appear that much had changed, especially not Central High.


After my brief tour of Grand Forks, I drove west through Rugby, which lies at the precise geographical center of North America. I was thinking that for urban paranoids who don't feel safe unless they're in the deepest part of their apartments, North Dakota is just what the doctor ordered. Pushing farther on through congealed fog in McHenry County, I pulled into the alleged ghost town of Berwick. Sidewalks from busier times had been torn asunder by roots and frost heaves, and none of the 20 buildings along its few tree-lined streets seemed to be occupied. I got excited again. Maybe this was the place. I checked out a brick one-story, a former bar called Holmes'. But what really caught my eye was an abandoned Lutheran church that was in excellent shape, its 40-foot whitewashed spire rising out of sight in the gloom. Although Berwick was surrounded by grain fields, there was some native prairie here and there that might be coaxed to expand while we converted the church into a place to live. We could stable the horses on one side of the nave and live in the other. Keep chickens and warbling finches in the spire and ride every warm-season day from one end of the empty horizon to the other.


"Some guy from Rugby beat you to it," I was informed by a man who rode up on a lawn tractor. This was Bob Forrest, a retired construction worker who invited me into his house to meet his wife, Marjorie, a longtime North Dakota resident. "They bid $600 for it," Marjorie said, offering me a cup of coffee. She showed me her school albums from the days when Berwick had been a bustling little farm center where country people came on Saturdays to sell their cream to the long-gone general store. "Now there's just us three old couples," she said wistfully. "Oh, and Moose. Moose is a farmhand."


"It sounds like a close-knit place," I allowed.


She looked away. "We don't socialize much anymore."
THE NEXT DAY I drove through the Fort Berthold Indian Reservation, much of which was flooded when the Garrison Dam backed up Lake Sakakawea, in 1953. At the time it seemed like insult added to injury to the Three Affiliated Tribes who live there—the Mandan, Hidatsa, and Arikara. After all, more than 80 percent of the Mandan tribe—who had befriended Lewis and Clark, helping Jefferson's predatory henchmen through the winter of 1804—had been wiped out by a smallpox epidemic introduced by whites in 1837. But like the bison, tribal people have not only held on; they may yet enjoy a sort of sweet demographic revenge. For one, their birth rates are far higher than those of whites. The Census Bureau reported that 25,870 Native Americans lived in North Dakota in 1990, 60 percent of them on four reservations and the rest scattered throughout the state. Ten years later the Indian population was 31,329, a 20 percent rate of growth. Also, more than 40 percent of the state's Indians—composed of the Three Affiliated Tribes, the Turtle Mountain Band of Chippewa, the Standing Rock Sioux Tribe, and the Spirit Lake Tribe of Sioux—are less than 18 years old. Gary Bell, a 31-year-old Mandan-Hidatsa-Arikara who wears his hair in a long black braid, works in New Town as an announcer and disc jockey spinning country-and-western, rock, and tribal tracks for KMHA, the Native American-owned public FM radio station. As we stood outside a traditional circular Mandan earth lodge, in which Kitty and I could live pretty comfortably and have plenty of room left over for our dogs, he said that, like a lot of Indians, he has connections to relatives in big cities all over the country but decided to stay put and raise his little girls right here.


"I want them to know who they are," he said. "I want them to live here, where we've always lived."


Marilyn Hudson, who's Mandan-Hidatsa, worked in San Francisco in 1960 before returning to her reservation to work for the Bureau of Indian Affairs and, later, to administer the tribal museum. "Many Indian people are coming home after they retire," she said. "It's just easier to live here than in a city. You have more independence. It's cheaper. The roads are straight, and it's not as hard to get around."


But while Native Americans and old-timers are welcomed home with open arms, there's an undying distrust among North Dakotans for out-of-state opportunists (like me, I suppose). It was resentment among farmers about their subservience to distant moneyed classes—which controlled the railroads, paid low prices for wheat, and charged high prices for flour—that spawned the Nonpartisan League. This confederation of hayseeds took control of North Dakota after World War I, established a state-owned bank and grain elevators, and transformed the government into the closest thing to a socialist state America has ever had.


The modern incarnation of this paranoia about outsiders has created a law that bars most nonprofit organizations from purchasing agricultural land. The exceptions, including the Nature Conservancy, must get approval for any such purchase directly from Republican governor John Hoeven and a board of advisers that includes the state agriculture commissioner and the head of the Farm Bureau. This legislation, passed in 1993, was fueled by fear that North Dakota would be overrun by rich environmental organizations that would hammer down local competition for the best land, withdraw moneymaking acreage from production, and ban hunters.


Luckily, the state's xenophobic legislation doesn't apply to me, a private citizen. And I'll say it now, people: I have no intention of planting any damn wheat here. Or barley. I've seen buffalo all over the state, from the Logging Camp Ranch, in Slope County, to the Cannonball Ranch, in Mandan, near Bismarck, and am convinced of the importance of the beast in restoring this battered land to health.
I HAD PUT 3,000 MILES ON MY BRONCO in a state that's 300 miles wide. I'd looked at dozens of ghost towns and buildings in dysfunctional burgs, vacated farmsteads mildewing in the rain, gorgeous, melodramatic sweeps of land wrapped in shelterbelts and crying out for someone to adopt them. Everything was good, but nothing struck me as exactly right.


So I drove a few miles west of Minot, up in the north-central part of the state, to check out some land for sale in Gassman Coulee. I parked in the stubble of a wheat field that was part of the property and hiked down into the coulee. Every step took me farther away from the wind. When I descended to the pastures on the floor of the draw, where an intermittent creek meandered, my heart began to thump. Thick stands of bur oak and hawthorn marched up the draws. As I strolled along a heavily used game trail, a covey of wild turkeys fled before me and hid in a thicket of wild roses. I stopped to sweep my hand through a lush, waist-high carpet of grass and forbs. Although the ground was matted with the tangled, un-natural mulch that fire and then grazing buffalo would quickly groom, it seemed like I was peering down at the canopy of a rainforest, there were so many species of grass. I looked away, certain that every blade was numbered. And, of course, the place felt haunted. The clapboard house had caved in and surrendered to saplings and vines. There wasn't another human habitation in sight, and if I had anything to do about it, there never would be. Hold on, I told myself, I think someone's about to say "Eureka!"


I looked at the price on my printout again. When I called the realtor from my cell phone, she assured me that it was accurate: $70,000 for 112 acres. The reason it was so cheap, she said, was that farmers didn't want it—most of it was too hilly to plow. But it was an ideal place to raise bison. And ride horses, at least from April to November, because from December to March the average daily low here is two degrees, a good temperature for killing insects but too cold to burden the lungs of horses with heavy effort.


A minor matter, I thought. I was suddenly seized with an image of spending the winters here like the mad Norwegian immigrant writer Jon Norstog, who penned a score of epic Old Testament passion plays in the early 1900s, setting them in type by his own hand and printing them in a shanty on the prairie.


I dialed Kitty, imagining the expression on her face when she heard the good news. I figured that, like North Dakota itself, she could be coaxed into seeing the wisdom and rewards of making old things new again.