The Climber's Guide to Bouldering in Roy, New Mexico
Tucked away among farms and barren grasslands in a forgotten corner of the state lies one of the best bouldering destinations in the country. Our video producer, a Roy fanatic, outlines how to visit the growing location without harming its fragile ecosystem.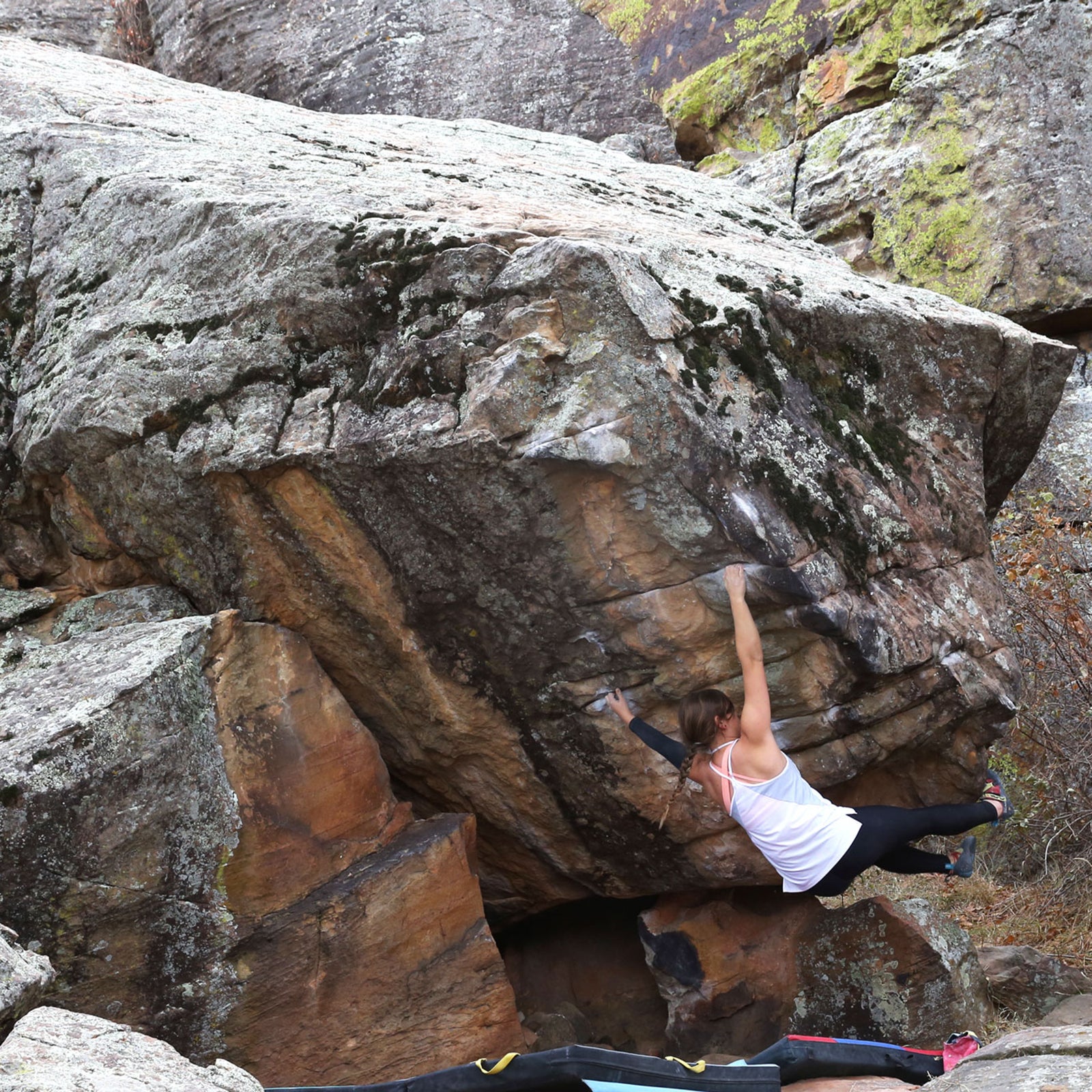 Heading out the door? Read this article on the new Outside+ app available now on iOS devices for members! Download the app.
It was March 2018, and I'd just moved to New Mexico from the frigid climes of Minnesota. I relocated for a job at Outside, my long-term relationship had just ended, and I was searching for something to tell me that I hadn't just ripped my life up by the roots for nothing. So when a new colleague asked me to go bouldering one weekend, I was stoked. I had been climbing indoors for years, but this was an opportunity to test my outdoor skills and learn about my new home.
We drove out early one Saturday morning. Roy is a 2.5-hour drive northeast of Santa Fe, and the farther we got from town, the louder the whispers of doubt became in my mind. Signs of civilization were quickly replaced by swaths of dried-up grassland dotted with free-range cattle. I started to seriously question the verity of my new friend's testament to world-class bouldering in New Mexico. Sure, Climbing magazine had just covered Roy, declaring it "America's Next Great Bouldering Destination," but was it really all the author had made it out to be? We turned off Interstate 25 and into a little village called Wagon Mound, population 291. There wasn't much—small houses, two gas stations, and a public school. Thirty-four miles down a two-lane road later, we arrived in Roy.
Roy is even smaller than Wagon Mound, with 234 residents nestled in homes down the back alleys off a run-down main street. An iconic orange-and-white-striped water tower looms over the primary drag, which is scattered with small semi-abandoned shops and hotels. At first it's easy to feel that this farming town peaked 40 years ago. But beyond the main street, there's a whole new community unfolding in Roy, one drawn to the area's dozens of canyons packed with top-notch bouldering routes.
The sheer volume and density of high-quality climbs in Roy make it different from anywhere else I've been in the United States. Unlike big climbing destinations, like Red Rock near Las Vegas, Roy's remoteness adds a sense of raw adventure that reminds me of running around in the woods as a kid—like somehow you're the only one in on this magical secret. Giant, high-ball boulders are piled up at the bottom of streambeds, just asking to be cleaned and ascended. A 30-mile cliff band borders the canyons, with over 1,800 documented routes ready and waiting inside their walls. After that first trip in 2018, I would spend every weekend the following season exploring the area's endless trails with a new group of friends.
Although smaller groups explored Roy in the 1990s, the area was largely uncovered in 2003 by archaeologist and climber William Penner, who was conducting a survey for the U.S. Forest Service. He, along with fellow early developer Tom Ellis, kept their secret mostly under wraps for the next decade, occasionally taking out small groups of friends. In 2011, word broke when a photo of Roy circulated online among the Colorado climbing community. In that same year, pro climber Jason Kehl made a trip to the area, and Paul Robinson followed in 2013. Traffic from both local and out-of-state climbers has steadily increased ever since, bringing a slew of environmental issues. "For somewhere so remote and quiet, it was a sudden change of gears," says Owen Summerscales, author of the New Mexico Bouldering guidebook. According to a recent Santa Fe New Mexican article, 80 percent of the state's thousands of bouldering routes were undocumented before the book was published in 2016, and that guide was the first to include Roy, giving climbers a window into a treasured area previously passed on via word of mouth, while attempting to educate new visitors on how vulnerable it is.
Roy is more susceptible to impact than other major climbing destinations, due to a lack of developed trails or roads, waste management, and restroom amenities. Currently, there are only two established campgrounds: Mills Canyon, which is difficult to reach and far away from climbing areas, and Mills Canyon Rim, a site that has two pit toilets and six official campsites. The sudden influx of climbers caught townies and Forest Service land managers off guard, not because they didn't want people coming to Roy, but because they, like me, didn't trust the clamors of world-class climbing in the otherwise barren landscape. "With the advent of social media, the release of the guidebook, and other publications talking about it, it's been like the mining boom," says Michael Atkinson, a district ranger for the Forest Service who covers Cibola National Forest and the Kiowa and Rita Blanca National Grasslands, where Roy is located. "As soon as people heard there was gold, everyone with a shovel went out there."
The guidebook has since sold out, and Summerscales has no immediate plans to print more. In a statement on Instagram, Summerscales wrote, "I am very aware that the book brought Roy in particular to the masses, and some weight is on my shoulders. I do not want to publish any more updates for Roy climbing until we can be sure that there is the infrastructure to cope with the crowds that another guidebook update would bring."
This season is arguably the most important one for Roy yet. With its inclusion in this year's Reel Rock 14 documentary film The High Road, which debuted in October, there's more interest in the area than ever before. As someone who cares about Roy but also plans to continue climbing there, I've learned to treat it like my home crag. A lot of impact can be mitigated when visitors follow all Leave No Trace principles, including cleaning any tick marks before leaving a climb, packing out all trash and human waste, keeping noise pollution to a minimum, and respecting the locals. "We're here, and we visit the canyon because we have an attachment and a love for it," Atkinson says. "We feel that we share that with all recreational users. Like anyone who visits something you love, we hope they will respect it."
Area developers say that less than 15 percent of the climbing in Roy has been documented in the guidebook, and new routes are being developed every season. Anyone who climbs here understands the magnitude of the resource. "[Roy] isn't going anywhere, it's just getting better and better," Summerscales says. "There really is no question about it being one of the best bouldering areas in the United States."
Know Before You Go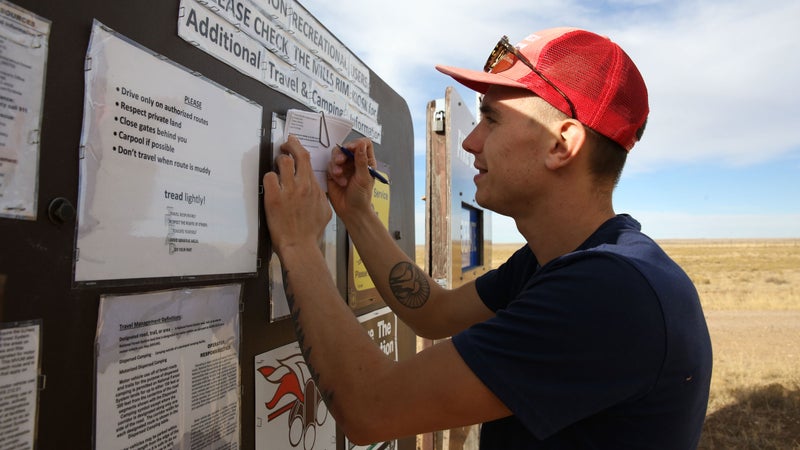 Respect local ranchers and hunters. Be sure to close all gates you pass through, and not to disturb any cattle you encounter. This area is popular for hunting turkey and pronghorn, but you shouldn't run into many hunters, as they usually venture closer to the Canadian River, west of the climbing areas.
Prepare to be completely self-sufficient. Pack in all water and food, and pack out your waste. Chances are you won't have cell service, so let people know where you're going and when you'll be back.
Download the Vertical-Life app. Since the guidebook to the area is no longer available for purchase and the trails and routes are unmarked, the closest you will get to successfully navigating the area is by using the Vertical-Life app ($5 per month), which offers beta on route locations and grades. It's best to create a plan before heading out for the day, since the climbing areas are spread out.
Use a high-clearance four-wheel-drive vehicle. Most of the roads are rough and rocky. If the ones leading to the trails are wet, park at Mills Canyon Rim Campground and hike to the First Streambed area instead. Driving on these roads after rainfall will deteriorate their conditions and make it harder for people to travel after you.
Treat Roy like a backcountry experience. "In Harding County, where Roy is located, emergency-response teams are manned by volunteers. An hour-plus response time isn't out of the ordinary," Atkinson says. "Injuries should be thought of in the same respect as people who go out in the wilderness."
When to Visit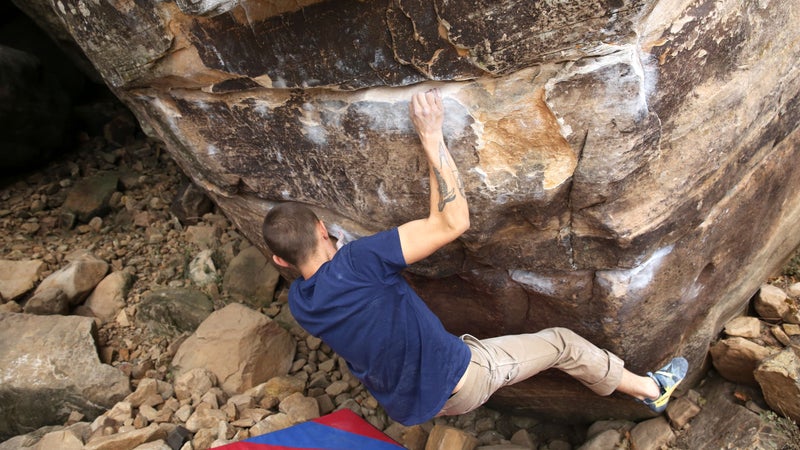 The prime season to visit Roy is winter. Summer is too hot to navigate the canyons safely, not to mention they're rife with rattlesnakes. Spring and fall weather can be unpredictable, so it's hard to gauge conditions if you're coming from out of state. Peak season runs from November to March or April. But to avoid crowds, head there early, at the start of October, when temperatures become more moderate and the risk of rattlesnake encounters decreases. Average conditions vary year to year, but you can expect winter highs around 50 degrees and lows of 20 degrees.
Make sure to check the weather forecast before you go. For the colder winter months, you'll need appropriate gear to sleep comfortably throughout the night. And be sure to pack plenty of layers so you'll be warm in the morning and cool in the afternoon once the canyons heat up.
How to Get There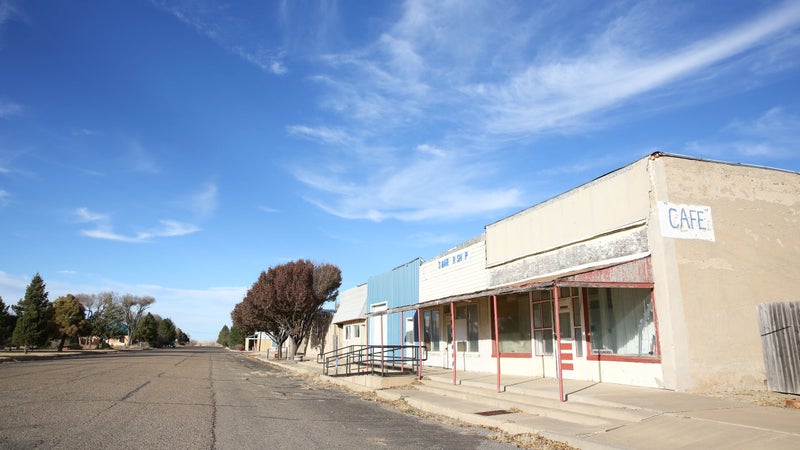 Santa Fe is the closest airport, but it has limited regional flights. If you're traveling from out of state, the easiest thing to do is fly into Albuquerque International Sunport and drive north on I-25 for three and a half hours until you reach the Wagon Mound exit. Alternatively, from Denver, travel south on I-25 for about five hours and exit at Springer.
From the village of Roy, head north on New Mexico Highway 39 for about ten miles until you reach a sign for Mills Canyon Rim Campground. Take a left at the sign onto a gravel road, and continue for five miles until you see a sign for Kiowa National Grasslands and a wooden Smokey Bear, where you can fill out the survey provided by the Forest Service so it can plan future infrastructure needs. From Mills Canyon Rim Campground, you can hike directly to some climbing areas and navigate to others using the Vertical-Life app or guidebook.
Where to Stay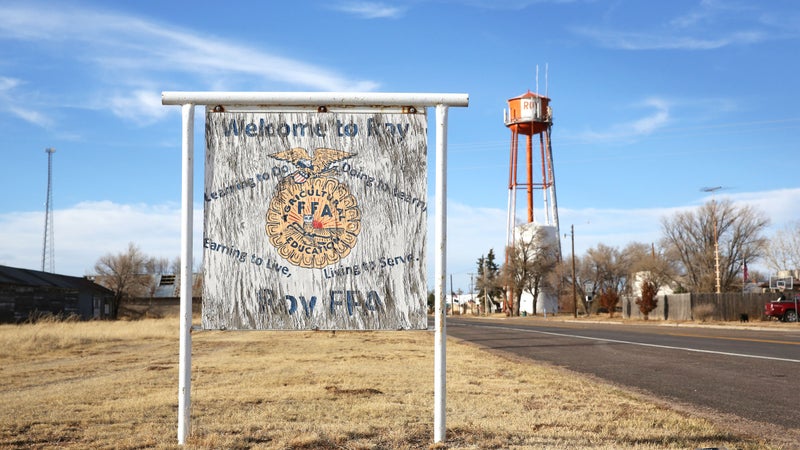 Most people camp when they visit Roy. Crowds tend to be centered at Mills Canyon Rim Campground. The six sites are available on a first-come, first-served basis, so it will be in your best interest to get there before the Saturday hoarde hits. There are two pit toilets but no running water, so bring in enough for your stay.
There's also dispersed camping at some trailheads, like the popular Jumbles climbing area. Be respectful when staying in these spots, as there's been increased impact from use in recent years. Pack in your water, and carry out out all of your waste, food, and trash.
Due to Roy's remote nature, other options are extremely limited. There's the six-person La Casita Guest House in Roy (from $70), which could be a good choice for those exceptionally cold nights. The town of Springer, located 45 miles north, also has a few motels.
Where to Climb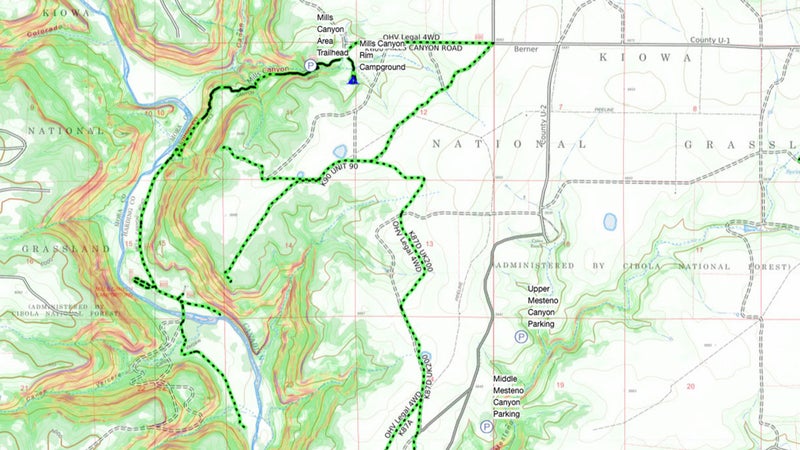 The documented climbing in Roy is split into three parts—Middle Mesteño Canyon, Upper Mesteño Canyon, and Mills Canyon. You could visit a different area every day of the season and still not have touched most of the routes. As shown on the map above, most roads and trails to these climbing areas split off from Mills Canyon Rim Campground, which serves as a perfect base camp. But it's worth noting that even with the guidebook or app, trails can be difficult to locate, so budget extra time on your first trip to search for climbs.
Middle Mesteño Canyon
The canyon's Jumbles area is a good place to start, as it features the most concentrated high-quality climbs (and the crowds to match), making it easier for first-timers to get a lay of the land. From the campground, the trailhead is about a 4.5-mile drive southeast and is easy to access with a four-wheel-drive vehicle. Middle Mesteño has one of the shortest approaches, at about 15 minutes, but can be steep in some parts.
Long Ass (V1) is a great warm-up, with sweeping views of the canyon at the top. Classic routes include Fun Bags (V6) and Instagram-worthy Triangular (V6), which takes you up a long arête and tops out at a sketchy point that would make anyone queasy. More advanced climbers will find solace in climbs like Icarus (V7) or RoyGBiv (V10).
Upper Mesteño Canyon
This area is a longer, 30-minute hike from the trailhead, but you'll find a full day of routes worth exploring. From the campground, the trailhead is about four miles southeast, just above Middle Mesteño. Check out favorites like Ergonomicon (V7) and Sundial (V11), which Nina Williams first ascended in The High Road. If your style is long, overhanging roofs, pay a visit to Mega Roof, which has several climbs at different levels. Dust Bowl (V7) will test your core strength and stamina, with over 30 moves in a row.
Mills Canyon
If you only have a few hours, there's a lot to be tackled in Mills Canyon that doesn't require the use of a four-wheel-drive vehicle. An easy-to-moderate 20-minute hike from Mills Canyon Rim Campground leads to the First Streambed area, where there are a full range of climbs. Personal favorites include the warm-up Cuban Boulder (V1–V3), Pumped Full of Roy (V5), and Nobody (V10). More advanced climbers looking for a project will love the challenge of Calm Ethereal (V13), a beautiful line that has a unique, dynamic move up to a side-pull crack.
Detour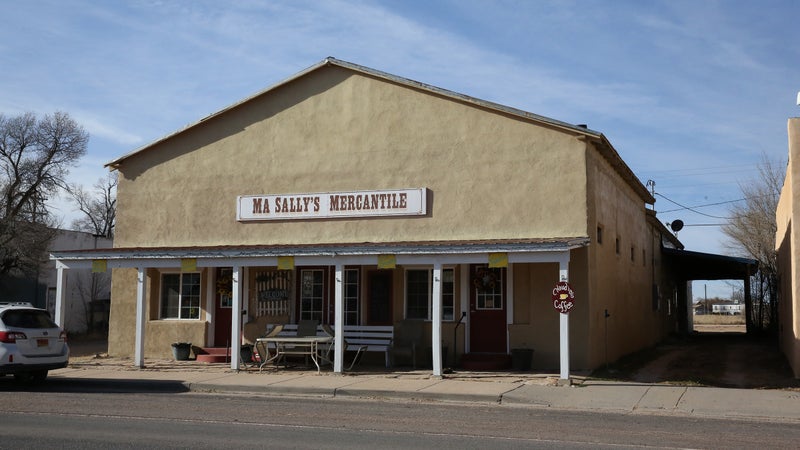 Don't speed through the town of Roy without stopping at Ma Sally's Mercantile, a small shop on the main drag that mostly sells western and country furniture but also stocks climbing chalk and tape. There's the Harding Co. General Store, which supplies snacks and can save you when you forget coffee in the morning. And if you're looking for a place to sit down and experience the local community, Lonita's Café is a great diner with burgers, New Mexican food, and ice cream. Note that with the exception of Lonita's, these places, along with most businesses in Roy, are closed on Sundays.