This Winter Might Be Almost Normal on the Ski Slopes
Expect full-capacity chairlifts and indoor dining to return to ski resorts this season. But some COVID-era policies, like buying lift tickets online, will remain.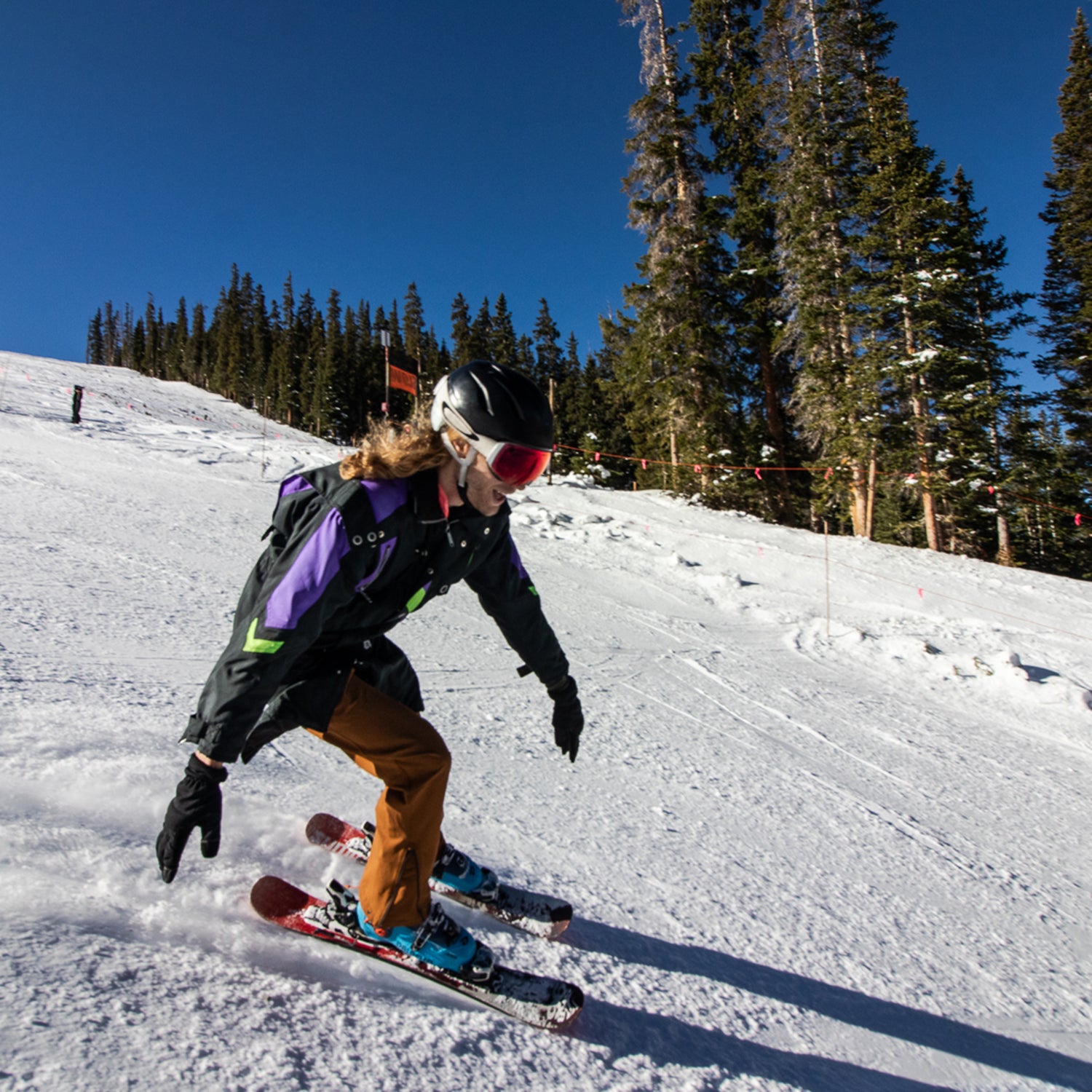 Courtesy Arapahoe Basin
Heading out the door? Read this article on the new Outside+ app available now on iOS devices for members! Download the app.
Remember last winter? That was weird. Even so, despite a global pandemic, skiing somehow still happened in the U.S. People wore face coverings and spaced apart in lift lines, chairlifts and gondolas were loaded at half capacity, and indoor lodges were mostly closed. This winter, we'll see a kind of skiing that feels almost pre-pandemic.
Most ski resorts won't be requiring masks outdoors for fully vaccinated guests—though masks and proof of vaccination may be required to enter certain indoor spaces. Chairlifts, which operated at reduced capacity last year, will be back to carrying regular loads, though do plan on having to wear face coverings in enclosed lifts, like gondolas and trams. Things like group lessons, events and festivals, and indoor dining will return this winter. 
Most important, as we learned last year, you need to plan ahead and check the resort's latest information before you show up. "Protocols will vary state by state and ski area by ski area," says Adrienne Saia Isaac, communications director for the National Ski Areas Association (NSAA). "Ski areas will follow local protocols, so like last year, you need to do some research before you head to the mountain. Pack a mask in your pocket and be overprepared, rather than surprised."
The good news: ski season is already here. In Colorado, Arapahoe Basin and Wolf Creek opened on October 17 with a 20-inch base. We're seeing other early-season openings at resorts like Colorado's Loveland and Keystone and Vermont's Killington, as well as California's Mammoth Mountain and Palisades Tahoe, which both started up on October 29. By mid- to late November, ski season will be happening at resorts across the country.
We've put together a primer to get you on the hill as prepared as possible.
Get Your Lifts Tickets and Passes Now
If you've purchased your season pass already, well done. If you haven't, do that soon, as prices will rise higher the longer you wait and some resorts stop selling passes once they've reached a limit. For example, Sugar Bowl, in California, sold a limited number of season passes for this winter back in April and just reopened sales again this fall, but, as of press time, they're nearly sold out.
If you're planning on buying day lift tickets instead and you know the dates you want to ski already, consider buying those now to ensure the best pricing. Last winter, Vail Resorts properties used a reservation system for tickets, but that will not exist this year.
One holdover from last winter that'll stick around is online lift-ticket purchasing. In a survey conducted by NSAA after last winter, 46 percent of resorts said they would keep lift-ticket sales online only. So there's no guarantee you'll be able to buy a walk-up ticket from the window in this day and age. Loon Mountain, in New Hampshire, is continuing to offer a limited number of day tickets and you'll need to purchase online to hold your spot for the day.
Reserve Accommodations Early
For this winter, ski-trip bookings are already ticking upward, which means prime places to stay are filling up fast for peak times. "There's pent-up demand and a lot of people who didn't ski last year want to go this year," says Dan Sherman, chief marketing officer for Ski.com, a ski travel site that does full-service trip planning. "And there's a proven track record for skiing during COVID. In the U.S. last winter, the resorts handled it well and didn't close down. As we know, people want to spend time outside, so the stars are aligning for a lot of demand for ski trips."
Book early to get a spot when you want to go, or be flexible and willing to travel during less popular times, like midweek or early or late in the season.
Consider Travel Insurance 
You want to book ahead to ensure availability and score the best deals, but we're still in a pandemic—and cancellations happen for a wide variety of reasons, from illness and quarantines to old-fashioned weather and work hiccups. The ski industry, like much of the travel industry, loosened cancellation policies last year to make for no-pressure bookings, but much of that flexibility has gone away.
"Last year, flexible policies were key, but cancellation policies have gone back to pre-COVID," says Sherman. "Hotels, houses, and condos will not be as flexible with cancellations as last year." Sherman says that most resorts offer refunds for things like lift tickets, ski-school lessons, ground transportation, and equipment rentals if cancellations are made at least seven days prior to the trip.
Be sure to read the terms and conditions before you book so you understand the cancellation policy. Travel insurance, offered from companies like Generali or AIG Travel, can provide some comfort if you don't mind the extra fees. For added security (and an additional price), look for a "cancel for any reason" add-on, often called a CFAR, that offers flexibility usually up to 48 hours before your departure if you need to cancel for a wider variety of reasons. 
Some Resorts Will Require Vaccines 
Vail Resorts recently announced that all the company's employees must be vaccinated against COVID-19. Aspen Skiing Company, in Colorado; Mount Rose, in Nevada, and Arapahoe Basin, in Colorado, are also requiring vaccines for employees. 
As for guests, all Vail Resorts and Aspen-owned resorts will require proof of vaccination for guests ages five and older to enter certain indoor spaces, like full-service dining and some hotel properties. Grouse Mountain, in British Columbia, is so far the only resort to require proof of vaccination for guests to ride the lifts.  
Indoor Dining Will Reopen
Last year, there was no warming up or sipping cocoa inside a base lodge. That should be back this year, though with some COVID-19 policies in place, like masking when not actively eating or drinking and possibly showing proof of vaccination to enter. "Indoors will be trickier. That's where we're hearing different protocols," says Saia Isaac from NSAA. "Some ski areas will have their employees masked up. It's going to depend on the rate of transmission and guidelines in the local area."
Ordering takeout and delivery online—which flourished at ski resorts in the COVID era—will stick around this year. "Ski resorts started embracing technology, like ordering food via an app, that has been common in other industries," says Saia Isaac. "A lot of those touchless transactions will stay put, giving guests an experience they're used to elsewhere."
Lead Photo: Courtesy Arapahoe Basin
Trending on Outside Online