Spirit Mountain, Nevada, May Be the Next National Monument
Biden commits to protecting 450,000 acres in Nevada known as Avi Kwa Ame, sacred to Indigenous inhabitants. The designation would preserve Native culture, rare birds, dark skies, and endless outdoor adventure for generations.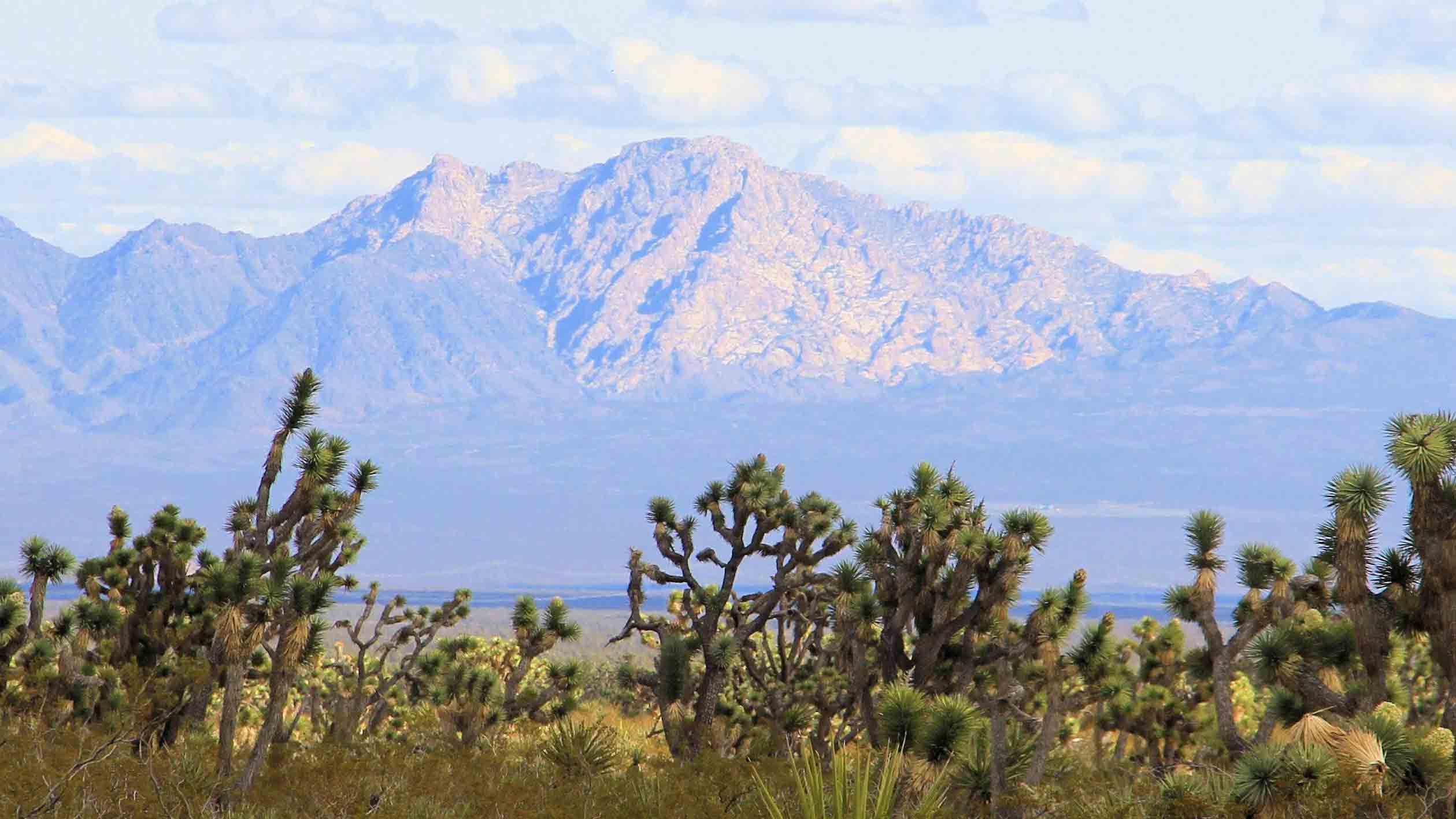 Heading out the door? Read this article on the new Outside+ app available now on iOS devices for members! Download the app.
At the White House Tribal Nations Summit in Washington, D.C., President Biden vowed to protect Spirit Mountain, the sacred Nevada site known as Avi Kwa Ame by the indigenous Mojave people, and thousands of acres around it. While Biden has not yet designated the vast acreage a national monument, the President said at the November 30 summit, "I'm committed to protecting this sacred place that is central to the creation story of so many Tribes that are here today."
Biden indicated that he believed his ability to use the Antiquities Act safeguards the area. "My administration will also continue using all the available authorities, including the Antiquities Act, to protect sacred Tribal lands," he said. The Antiquities Act of 1906 gives a sitting president the power to provide general protection for any kind of cultural or natural resource. It has been used by dozens of presidents to create iconic national monuments such as Devils Tower, Muir Woods, and Oregon Caves.
Biden's words, following meetings with tribal representatives, conservationists, and members of the state congressional delegation including Democratic U.S. Rep. Dina Titus, who in February introduced legislation to establish the monument, met applause from Tribal leaders and other summit participants. Taylor Patterson, executive director of Nevada's Native Voters Alliance, who has helped organize the Avi Kwa Ame movement at a Tribal and community level, told Outside afterwards: "Existing in these spaces forever, from our ancestors before to all of the descendants that will come after us, is a really powerful feeling. Our stories tell us that the Creator put us in these places to protect specific pieces of land."
In the speech, Biden referenced his work last year in restoring Bears Ears and Grand Staircase Escalante, two national monuments that were dramatically reduced in size by the Trump administration. If Avi Kwa Ame becomes a national monument, the designation would continue a huge push by the current administration to increase land protections and enhance opportunities for co-management between Tribes and the government.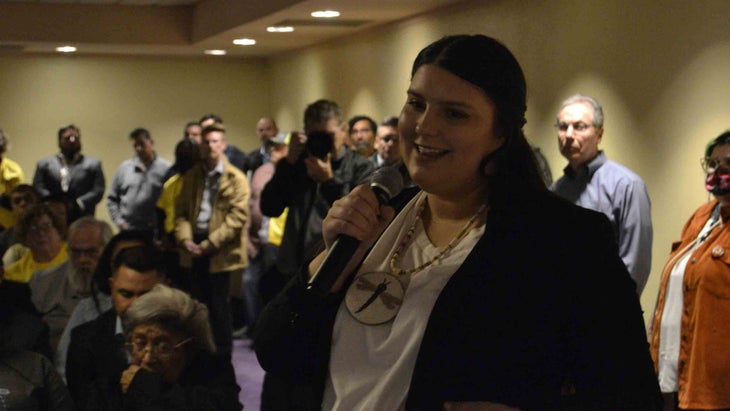 Avi Kwa Ame (pronounced Ah-VEE kwa-meh) is the place of origin for ten Yuman-speaking tribes of the Mojave, as well as a sacred site for the Hopi and Chemehuevi Paiute people, one that contains rock art and other cultural sites. It's a vast, untrammeled desert landscape in southern Nevada and key habitat for migrating bighorn sheep, elusive Gila monsters (large lizards), and threatened desert tortoises. At nearly 450,000 acres (a swath larger than Sequoia National Park), the site would likely be Biden's largest public land designation of his first term.
Deb Haaland, Secretary of the Interior and the first Native American Cabinet secretary, visited the proposed site in September, meeting with local and Tribal leaders about conservation efforts in the area. She tweeted at that time, "We're committed to collaborative conservation and co-stewardship practices that enhance our efforts to protect these special places for generations to come."
The proposed national monument's area was created using an overlay of ecological and cultural maps of the region, according to Alan O'Neill, retired superintendent for Lake Mead National Recreation Area and advisor to the National Parks Conservation Association, in an interview the day after the summit. "Surprisingly, the ecological and cultural boundaries and overlays were almost identical," he said. From there, a tentative map was formed with input from local communities, including a slight revision to accommodate a 4,000-acre solar project.
Agreeing on the proposed boundary was a hard won achievement that required the cooperation of multiple competing interests, Taylor Patterson said. "As a native person, you are on the opposition side a lot of the time, and it's always Indian Country versus everybody else," she said. "It started off very tribally led, but I think everybody that calls this area home or even recreates in this area knew that it needed protection."
Avi Kwa Ame is a critical section in a patchwork of protected lands on the Arizona and California sides. Those lands include Mojave National Preserve in California, Lake Mead National Recreation Area in Nevada and Arizona, and Castle Mountains National Monument in California. The aggregation preserves a corridor for wilderness travel between the states for desert fauna.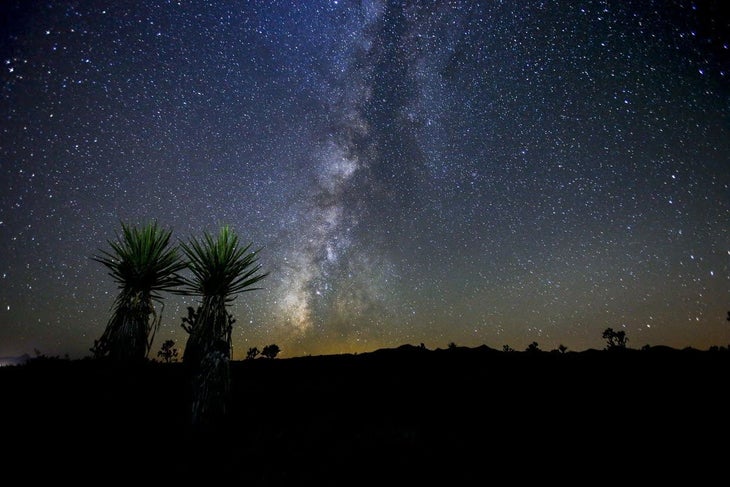 "This is going to allow youth and elders access to these spaces, to be able to go out and see these petroglyphs and go out and collect medicines," she said. "If that's what they want to do."
"It's the missing puzzle piece in creating a large, interconnected landscape that is protected in the desert area of Southern Nevada," said Howard Watts, Nevada Assemblyman serving the 15th District.
The potential national monument would be a huge boon for outdoor recreationists, too. "It's a designated Audubon Important Bird Area," said O'Neill, adding that hiking, rock climbing, and backcountry camping are big draws. Plus, with a national monument status, as opposed to something more restrictive like a national park title, the area's more than 500 miles of off-highway vehicles (OHV) roads would be maintained. "This is a primary way to access this monument," said O'Neill.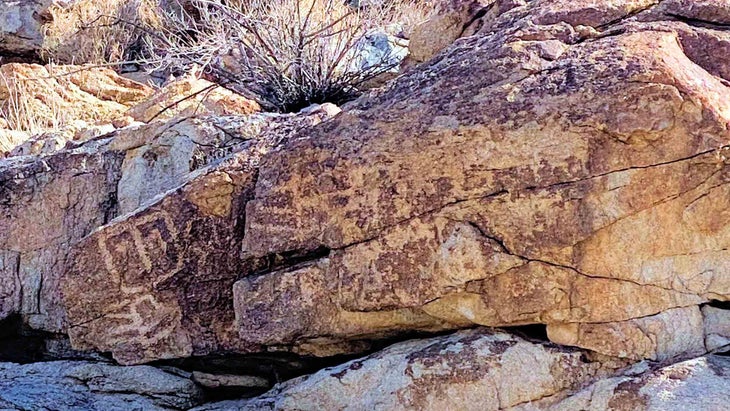 Outdoor recreation is a massive industry in Nevada. A joint resolution from Nevada's State Assembly stated that it leads to $12.6 billion in consumer spending per year, supporting 87 thousand jobs in the process. "We just got an update from the outdoor recreation roundtable, and it said that the U.S. Bureau of Economic Analysis released a report earlier this month that showed that Nevada's outdoor recreation economy grew 28 percent between 2020 and 2021," said Watts. "So, it's significant."
Small gateway communities like Laughlin, Searchlight, and Boulder City would be the primary beneficiaries of a new Southern Nevada monument, though the rewards are more than monetary. "They don't want to see that rural lifestyle go away," said O'Neill, explaining that the expansive viewscapes and dark night skies are precisely what make the eastern Mojave Desert so enchanting.
In a departure from what might be expected, the main opposition to the proposed monument has been green energy developers, not old-school oil and gas tycoons. So far there have been two proposals that would impact the likely national monument boundary: a wind project that had been rejected by the federal government in the past and a solar project in an area not zoned for use in renewable energy.
"We're the number one for solar jobs per capita," said Watts, referring to the state of Nevada. "My position is that we can do both. We can develop clean energy, but there are also places and lands that need to be protected, and I think that we can balance those two things." Watts maintained that Nevada aims to attain at least half of its energy from clean sources by 2030.
When asked about the future of similar efforts to preserve sacred Tribal resources, like a Shoshone effort to protect delicate swamp cedars in the Great Basin, Patterson lit up, explaining that she feels the conservation movement is about to become a lot more intersectional, utilizing Indigenous voices alongside locals and outdoor recreationists—such as hunters and OHV enthusiasts—who may not be traditional voices of conservation.
In a statement after the announcement, the Honor Avi Kwa Ame coalition, calling itself "overjoyed" at the plan for a national monument, wrote: "We eagerly await further communications from the White House and Interior Department to finalize this designation and see through this campaign to protect this sacred area for future generations."
Lead Photo: Alan O'Neill