The Best Campground in Every State
We found the best places to pitch your tent in all 50 states, so you don't have to.
Heading out the door? Read this article on the new Outside+ app available now on iOS devices for members! Download the app.
With more campers than ever expected to hit the outdoors this summer, we asked our writers and editors for their favorite unique sites across the country, tapping into a wealth of local intel and expertise. Below, we present our picks for the best campgrounds in every state.
Alabama
Dismals Canyon Campgrounds, Dismals Canyon Park
The terrain in northwest Alabama's Dismals Canyon is stunning, with swimming holes and waterfalls tucked in narrow slot canyons created by sandstone crags and boulders. But it's the worms that steal the show: The rocks are covered in bioluminescent dismalites—skinny larvae that glow blue at night and put on a unique lighting display that's hard to believe is natural. Camping is limited to three walk-in campsites ($27) and two walk-in group sites ($48), but depending on the spot you score, you'll have the chance to camp in close proximity to trails and surrounded by your own box canyon or large rock shelter. —Graham Averill, contributor
Alaska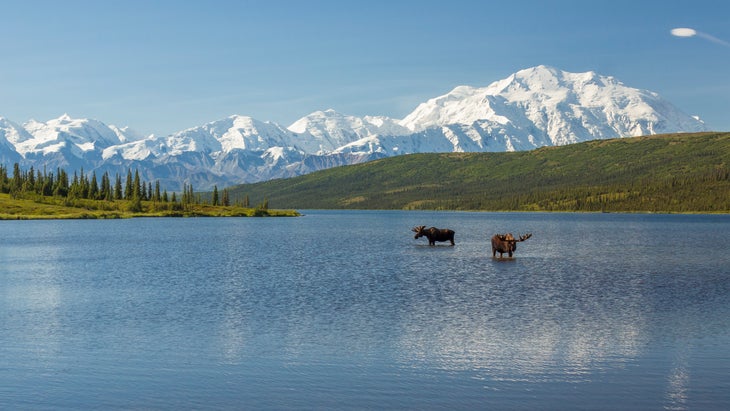 Wonder Lake Campground, Denali National Park
Located at mile 85 of Denali Park Road, Wonder Lake ($16) is the go-to campground for overnight visitors to the 6.1 million–acre park who are looking for a way to get deeper into the park without backpacking. The sites themselves offer views of the eponymous mountain on a clear day and ample wildlife-viewing opportunities almost all the time. Because cars aren't allowed in the park, you have to take a lengthy bus ride to get there—which, in my experience, makes for a chance to spot bears, moose, and even wolves, if you're lucky. —Kelsey Lindsey, senior editor
Arizona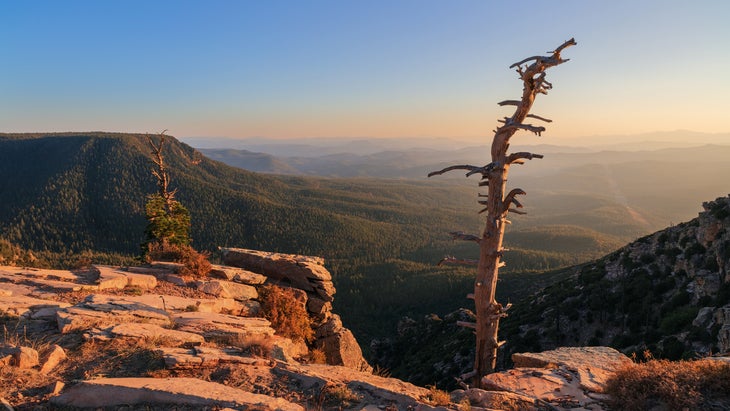 Blue Ridge Campground, Coconino National Forest
Situated at a cool 6,929 feet in elevation, the Blue Ridge Campground (from $16) on the Mogollon Rim is a favorite escape for heat-weary hikers. The high-elevation woodsy site at the edge of the Colorado Plateau offers easy access to water activities at nearby C.C. Cragin (Blue Ridge) Reservoir and epic forest and canyon vistas. Best of all, a section of the state-traversing 800-mile Arizona Trail runs right through camp. A few miles south is the Cabin Loop Trail, a 15.5-mile classic that visits several historic forest service cabins. —Mare Czinar, Arizona hiking blogger and outdoor columnist
Arkansas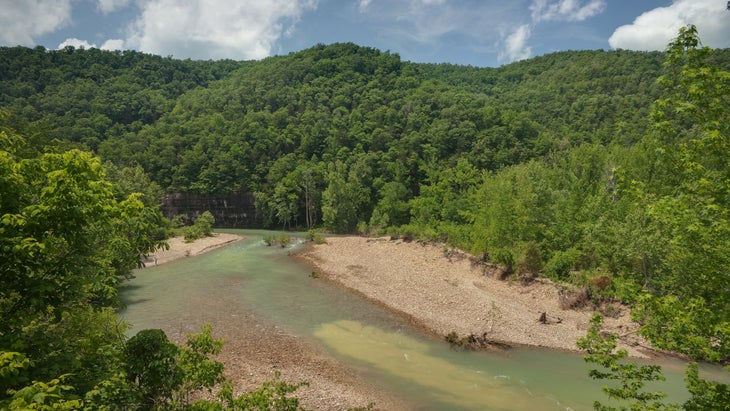 Ozark Campground, Buffalo National River
The Buffalo National River flows for 135 undammed miles through the Ozark Mountains, offering some of the best backcountry canoeing in the middle of the country. The Ozark Campground puts you in the middle of the action, with tent sites that line one side of the clear water, against a backdrop of white sandstone bluffs. Hike a section of the 37-mile Buffalo River Trail to caves and waterfalls, float in a tube, jump from the bluffs across the river, or just explore its rocky bank. Show up early, as the 31 spots on site are first come, first served. ($20) —G.A.
California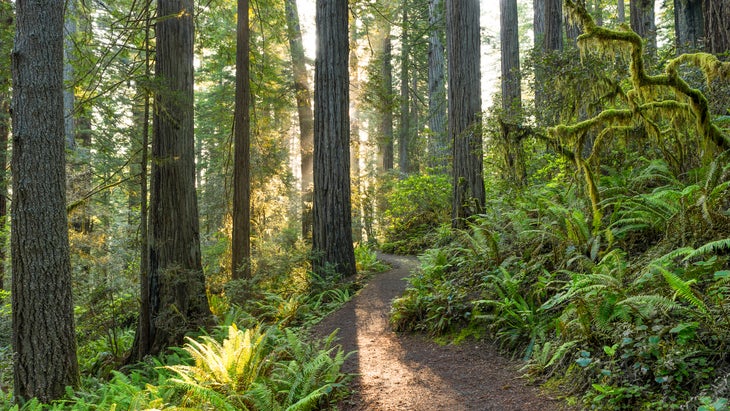 Flint Ridge Backcountry Camp, Redwood National Park
Picking the best campsite in a state like California can be next to impossible, with incredible biodiversity in every direction. One of my hidden favorites is Flint Ridge Backcountry Camp, a small spot in Redwood National Park just south of where the Klamath River pours into the Pacific. Head west from the eight wooded sites and a short but steep trail takes you to some of the best beachside bouldering in the country—the north side of the beach is tribal land and off-limits to climbers. In the other direction, nearly ten miles of singletrack trails wind through towering old-growth redwoods. Backcountry camping is free with a permit from the National Park Service. —Matt Skenazy, features editor
Colorado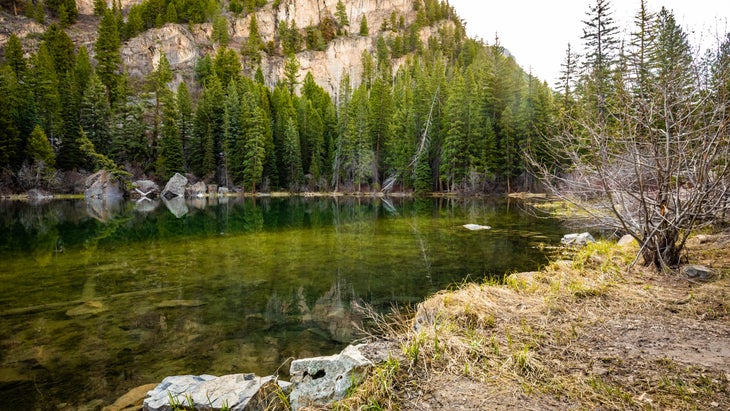 Trappers Lake Campground, White River National Forest
The Trappers Lake campground (from $20), situated on the more remote southern end of the lake, places campers off the grid in the secluded White River National Forest in northwestern Colorado. Surrounded by alpine lakes and rivers, a loose network of game trails, and a high mountain tundra known as the Flat Tops, the seven first-come, first-served campsites offer an impressive taste of the state's trademark wilderness. From the campground, hike the 5.5-mile Trappers Lake Loop. —Evan Grainger, assistant video producer
Connecticut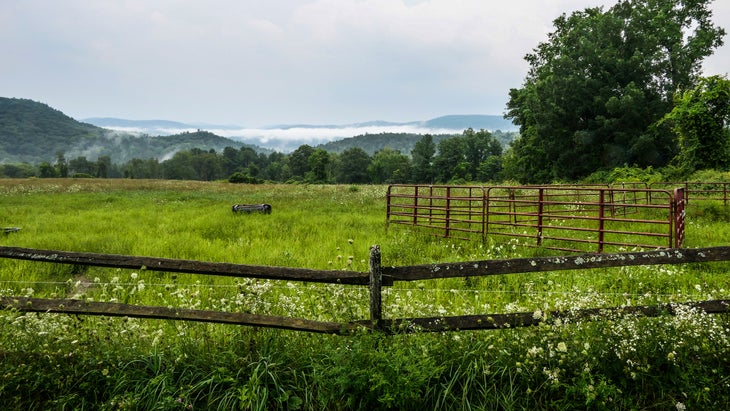 Housatonic Meadows Campground, Housatonic Meadows State Park
Located on the Housatonic River, this state park (from $17) has four new cabins and 61 riverside campsites. The river is the park's biggest draw as both a fly-fishing haven—it's catch and release only—and a popular paddling spot. The sections upriver are Class I or II, but when the water level goes up, they're Class III–plus. First-timers: call on Clark Outdoors for a boat rental or a guided trip. For fans of the woods, the campground is right across the street from the 2.5-mile Pine Knob Loop Trail, which overlaps with the state's portion of the Appalachian Trail. —Tim Walsh, outdoor educator, founder of Adventure Recovery
Delaware
South and North Inlet Campgrounds, Delaware Seashore State Park
Delaware Seashore State Park offers two ways to enjoy the Mid-Atlantic coast: six miles of beach for surfing and sailing at the North Inlet Day Area Beach and 20 miles of shoreline for mellower waterborne pursuits at Rehoboth Bay, where you can paddleboard or windsurf. The campgrounds are within walking distance of the action. Those looking to pitch a tent should head to the South Inlet campground ($45), and RVers can hook up at the North Inlet campground ($52). —G.A.
Florida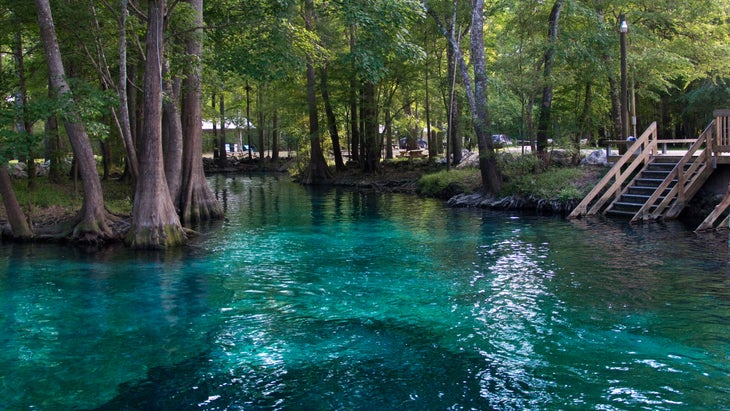 Ginnie Springs Campground, Santa Fe River
The privately owned Ginnie Springs campground (from $25), 45 minutes outside of Gainesville, has tent camping throughout 200 acres of forested property alongside the Santa Fe River. Scuba dive or snorkel in the property's seven cool springs, which have crystal-clear, 72-degree water and caves for serious divers. Or rent a kayak, paddleboard, or tube on-site to float down the river. You don't need a reservation for tent camping—just show up and pitch wherever you can. —Darry Jackson, co-president of Bill Jackson's Shop for Adventure
Georgia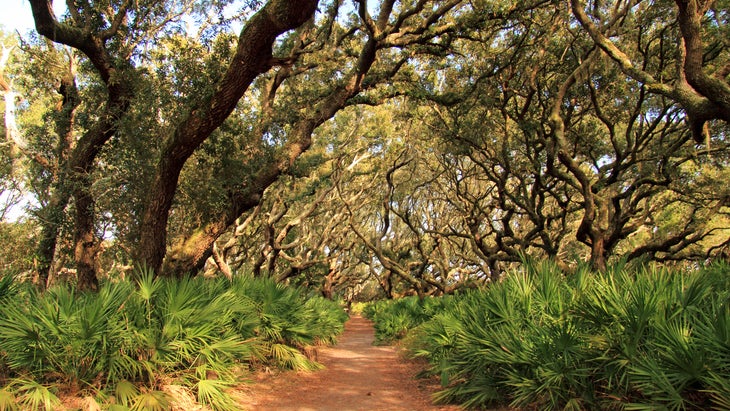 Sea Camp Campground, Cumberland Island National Seashore
You can explore the entire barrier island that comprises Cumberland Island National Seashore from your base camp at Sea Camp Campground (from $22). Take a ferry from the town of St. Marys to reach the island, then it's a short walk to the site. The campground is located on the narrowest part of the island, which has 17 miles of protected beach, horses, and miles of wilderness trails. The sites are tucked between palmetto trees and Spanish moss–draped live oaks, so you get a secluded southern coast feel. —Brian Foster, communications director for the Georgia Conservancy
Hawaii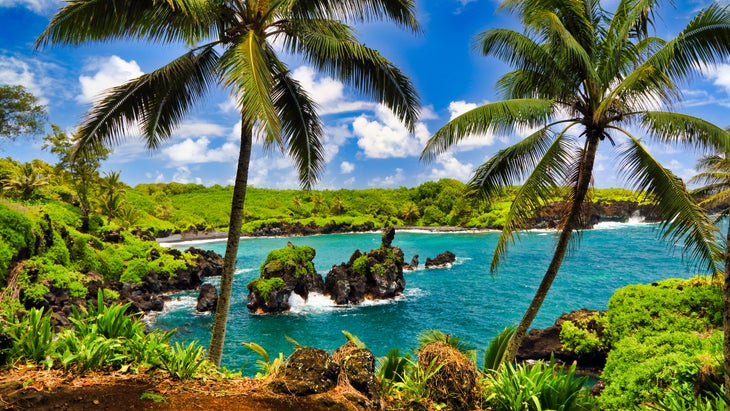 Wai'anapanapa State Park, Maui
There aren't a lot of amenities at the Wai'anapanapa State Park's small campground (outdoor showers only), but who needs bathrooms or a camp store when there are volcanic cliffs, tropical forest, and black sand lagoons. The 122-acre park, located on Hana Road in the remote eastern side of Maui, is packed with island gems, from blowholes and caves to beaches and lush rainforest, and the camping is refreshingly low-key thanks to the tent-only campground ($30 per site for nonresidents). Check the park's website for closures due to COVID-19 protocols. —G.A.
Idaho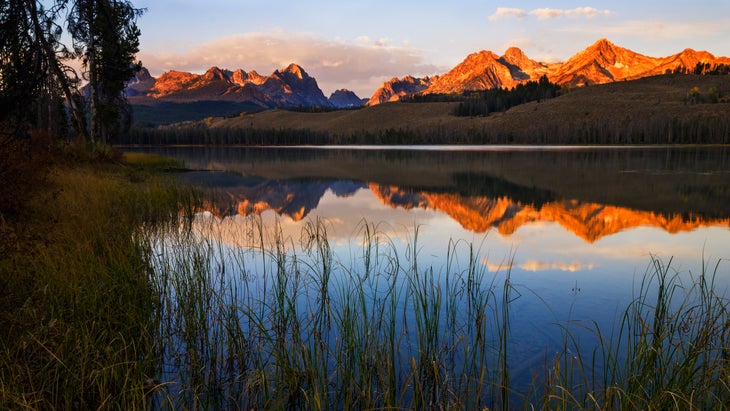 Glacier View Campground, Redfish Lake
On the northern shores of Redfish Lake south of Stanley, Glacier View Campground (from $22; open May to September) has 65 sites tucked into a lodgepole pine forest at the base of the Sawtooth Range. You'll get unobstructed views of 10,229-foot Mount Heyburn from your picnic table. Campers flock here for world-class trout and salmon fishing, hiking in the Sawtooths, or mountain biking on Stanley's underrated trail system. The Redfish Lake Lodge has paddleboards and kayaks for rent and a ferry to take you across the lake. —Megan Michelson, Outside contributor
Illinois
Pharaoh Campground, Garden of the Gods Recreation Area
The sandstone cliffs and rock formations of this area have towered in what is now southeastern Illinois for a while—roughly 320 million years. Pitch a tent at the Pharaoh Campground and you'll be within walking distance of these unusual rock formations, which stand in stark contrast to the surrounding lush hardwood forest. Hike the quarter-mile Observation Trail to the top of the sandstone bluffs for a big view into the Shawnee Hills, the 0.5-mile Garden of the Gods Trail loop one of the five trails that start from the campground. There are only 12 sites, all first come, first served ($10 a night). —G.A.
Indiana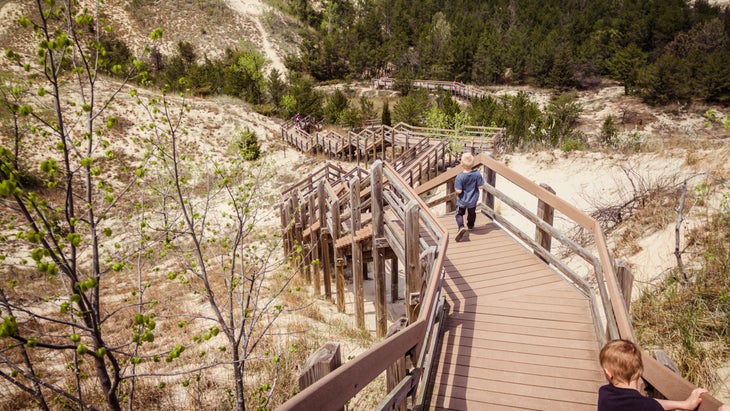 Dunewood Campground, Indiana Dunes National Park
The 15,000-acre Indiana Dunes on the southern shores of Lake Michigan earned full-blown national park status in 2019, a designation that was long overdue. The nearly 200-foot-tall hills and surrounding forests have been a popular secret among locals for generations. Find a spot at the park's Dunewood Campground, which has 67 campsites ($25), and hit the park's 50 miles of hiking trails and 15 miles of shoreline directly from your tent. Lake Michigan is the star here—a playground where you can swim, paddle, or even surf when conditions allow. —G.A.
Iowa
Six Pine Campground, Backbone State Park
Iowa's first state park, designated in 1920, is named after the steep ridge of bedrock that rises from the surrounding oak forest dubbed the Devil's Backbone, in the northeast corner of the state. There are two campgrounds to choose from, but Six Pine Campground ($14) offers the most primitive experience thanks to the lack of RV hookups. Bring a fly rod—the spring-fed Fenchel Creek that runs through the park offers 1.4 miles of trout water. You can also hike the 1.1-mile Backbone Trail, which traces the limestone ridge, or hit the 50- to 80-foot top rope and trad climbs throughout the Devil's Backbone. —G.A.
Kansas
Wilson State Park Campgrounds, Wilson State Park
This 945-acre park is proof of the Midwest's outdoorsy credentials, thanks to its open prairies for sweeping views on hikes, surprisingly tall rock outcroppings, and a 9,000-acre lake packed with bass. There's also a series of campgrounds (240 sites for RVs and tents; starting at $10 a night), from which you can access the 25.5-mile Switchgrass Bike Trail, which cuts through the prairies and traces the edge of the bluffs above a lake where you can kayak and fish. —G.A.
Kentucky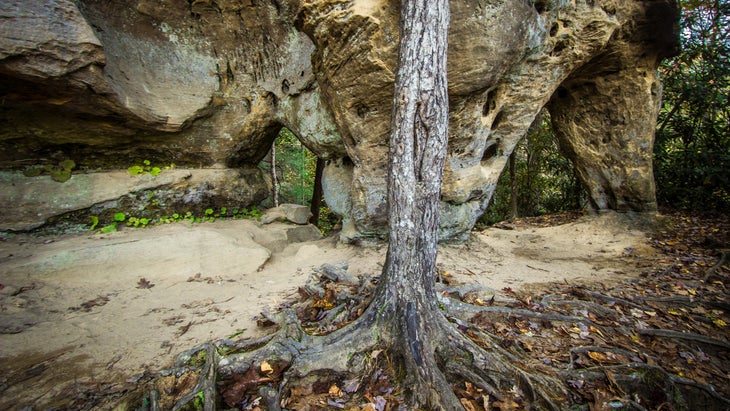 Middle Fork Campground, Natural Bridge State Resort Park
Kentucky's Appalachian landscape is beautiful, full of massive cliffs and tumbling waterfalls, and Natural Bridge State Park gives you a chance to pitch your tent in the middle of the best of it. The 2,200-acre park in the eastern part of the state has 22 miles of trails that explore the park's impressive outcroppings—including the eponymous 65-foot stone arch—but it's also adjacent to the Red River Gorge National Geological Area, which has more than 100 sandstone arches and world-class sport climbing. You have two campgrounds to choose from, but Middle Fork Campground offers an attractive row of tent sites close to a stream (from $18).—G.A.
Louisiana
Grand Isle Campground, Grand Isle State Park
Grand Isle State Park covers some of the last points of land where the state of Louisiana finally gives way to the Gulf of Mexico. The barrier island is a launching point for deep-sea fishing in the gulf, where more than 280 species hang out, but bring your surf-cast gear to haul in redfish straight from the beach. There are some hiking trails to explore on the island, but the water is typically warm enough to swim and paddle year-round, so the action is water-centric. The campground is set up mostly for RVs, though if you have a tent, try to snag one of the 14 beach campsites (from $18). —G.A.
Maine
Duck Harbor Campground, Acadia National Park
If you manage to get a coveted campsite reservation at Duck Harbor Campground (from $20), your effort will pay off almost instantly. This spot is absurdly hard to get—and for good reason: it's remote, empty, and glorious. The campground's five rustic lean-to shelters, open from June to October, are located within an out-of-the-way section of Acadia National Park on Isle au Haut, a six-mile-long island that's accessible only via a mail-carrying ferry from the town of Stonington. The dramatic views from the coastal and inland trails all over the island make this spot legendary. Hike the Western Head Trail as part of a four-mile loop around the southern end of the island that connects to the Cliff, Goat, and Duck Harbor Mountain trails. Walk five miles from camp to reach the island's small village for lobster rolls from the food truck or ice cream from the general store. Don't forget to pack bug spray if visiting during the warm months. —M.M.
Maryland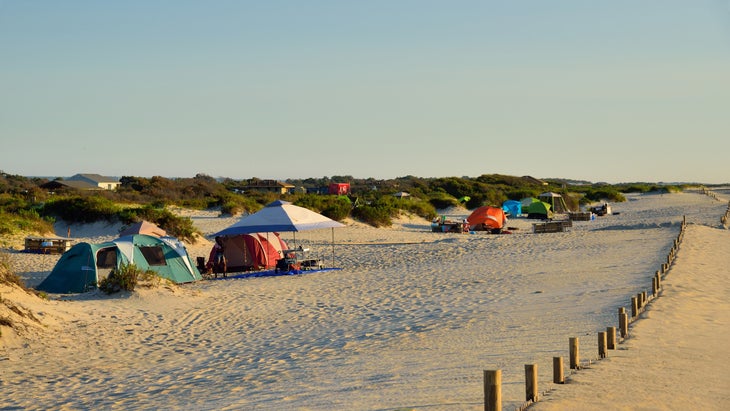 Beach Campgrounds, Assateague Island National Seashore
Maryland's most impressive feature is likely its swath of beachfront on the Atlantic, with more than 3,000 miles of shoreline across the state. Its crown jewel is arguably found on Assateague Island, a 37-mile-long barrier island that's packed with wild dunes and the occasional feral horse. The majority of the island is protected, so expect a primitive beach-going experience. Pick from oceanside or bayside campsites, or if you want to be closest to the water (and offshore breeze), reserve one of the walk-in tent sites where you can pitch your tent right next to the grassy dunes for $30 a night. —G.A.
Massachusetts
Tully Lake Campground, Royalston
Tully Lake Campground gives you that big adventure feel with the conveniences of car camping. Nestled in the upstate forests of central Massachusetts, the campground is a great spot for kids or first-time campers who want some hiking, privacy, and rustic elements but without having to haul in all your stuff. All sites sit right on the lake, with easy access to drop in a canoe or kayak, which you can rent from the campground. Hike the 22-mile scenic loop around the lake or the simple trails around Royalston Falls for a view of waterfalls a short drive from camp (from $37). —Chaya Harris, national program director for Outdoor Afro
Michigan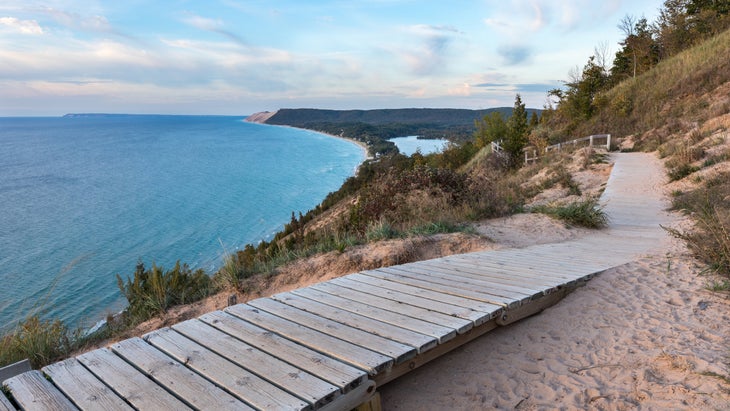 Platte River Campground, Sleeping Bear Dunes National Lakeshore
The Sleeping Bear Dunes National Lakeshore is a family-friendly weekend getaway for anyone interested in a beach vacation in the Midwest. Situated on the northern end of the state and bordering Lake Michigan, the park's miles of lakefront beach paired with old forests and shoreline-hugging hikes create a playground for all levels of campers. Campsites are reservable and start at $31 per night. —Evan Grainger, assistant video producer
Minnesota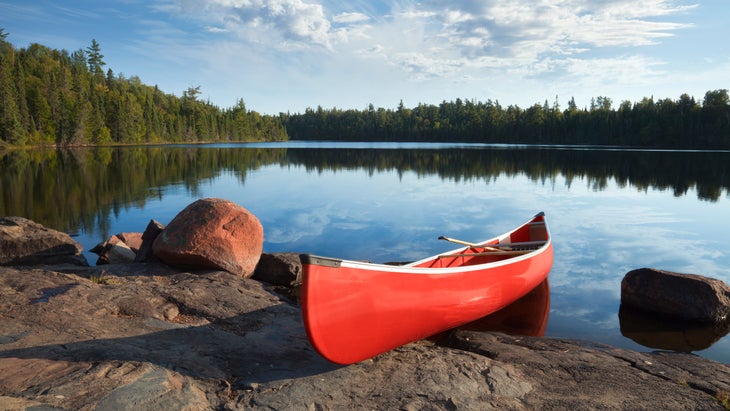 Horseshoe Lake Campground, Boundary Waters Canoe Area Wilderness
I grew up taking canoe trips in the Boundary Waters with my dad, and I've always had a soft spot for this northern paradise. It's hard to go wrong with any of the area's campsites, but among the best are those at Horseshoe Lake, a narrow, scenic body of water that is home to excellent walleye fishing. The lake offers seven official sites, and the entire area is fairly protected from the wind. Plus, its narrow size makes for epic sunrises and sunsets and premium moose spotting. Book your permits and camping through the BWCA (from $6). —Abigail Wise, digital managing director
Mississippi
Clear Springs Campground, Clear Springs Recreation Area
There's no quicker or better getaway in southwest Mississippi than Clear Springs Lake, a 12-acre pool fed by a natural spring and surrounded by tall pines deep in the Homochitto National Forest. The water is cool, the swimming and fishing are next level, and there's a small 22-site campground on the shore beneath the canopy ($20). Bring a mountain bike and hiking boots; the ten-mile Richardson Creek Trail starts at the lake, as does the newly revamped Tally's Trail. All adventures end with a dip in the lake. —G.A.
Missouri
Johnson's Shut-Ins Campground, Johnson's Shut-Ins State Park
This 8,549-acre park feels different from the surrounding area, thanks to the sheer volume of rock that corrals the river into slides, pools, and waterfalls on the edge of the Mark Twain National Forest in southeastern Missouri. The park's campground (from $13) is fully developed, but it also has a loop of walk-in sites with wooden platforms if you place a premium on privacy. Wherever you pitch your tent, bring your bathing suit and come prepared to explore; this area is more rugged than you might expect Missouri to be. —G.A.
Montana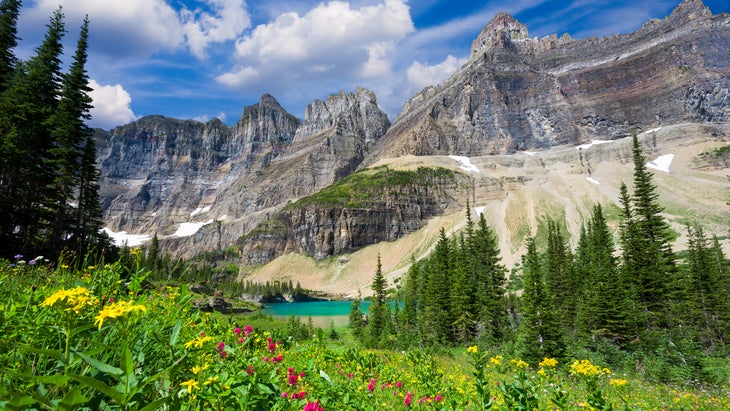 Many Glacier Campground, Glacier National Park
Most of the campgrounds inside northern Montana's Glacier National Park are available on a first-come, first-served basis, but Many Glacier is one of the few exceptions, allowing reservations for half of its 109 sites. Score a spot at 4,500 feet in elevation and you can hike straight from your tent to picturesque destinations like Grinnell Glacier via a 11.2-mile out-and-back trail. You'll also have quick access to Going-to-the-Sun Road to reach the park's west end. As always in Glacier, keep an eye out for moose and grizzlies. —G.A.
Nebraska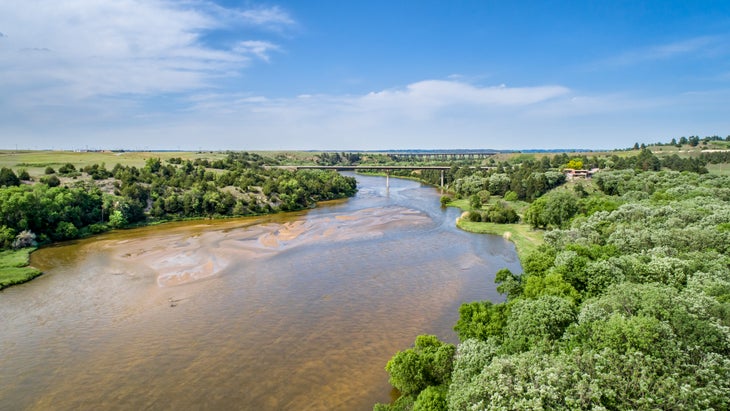 Smith Falls Campground, Smith Falls State Park
Nebraska has waterfalls? Yep. The eponymous Smith Falls, in the far north of the state, are the highest of the lot, dropping 70 feet over an amphitheater of rock. But the real draw at this park is the Niobrara National Scenic River, which flows free of dams for 76 miles through the Midwest. The park's campground has sites starting at $15 on the bank of the Niobrara, with its own canoe landing, plus hiking trails starting just across the river. Bring your canoe or inner tube for a chill float or your fly rod to face off against the Niobrara's plentiful carp and catfish. —G.A.
Nevada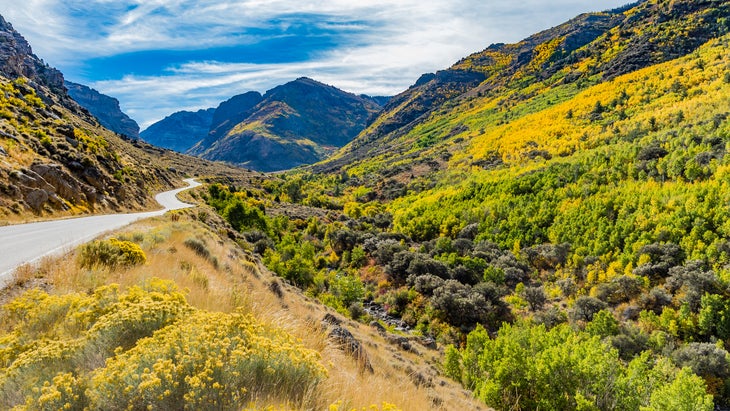 Thomas Canyon Campground, Lamoille Canyon
If you're on Interstate 80 driving across Nevada, you can't miss the Ruby Mountains shooting up from the desert floor south of the city of Elko. Head straight for Lamoille Canyon, the twisty, remote road in middle-of-nowhere Nevada that takes you into the mountains. Thomas Canyon Campground (from $19), which has 42 sites open from mid-May to early November, is midway up the canyon road alongside Lamoille Creek, a great fishing spot. Start a hike on the 36-mile Ruby Crest Trail to waterfalls and a glaciated cirque, or traverse the range on the entirety of the trail. —M.M.
New Hampshire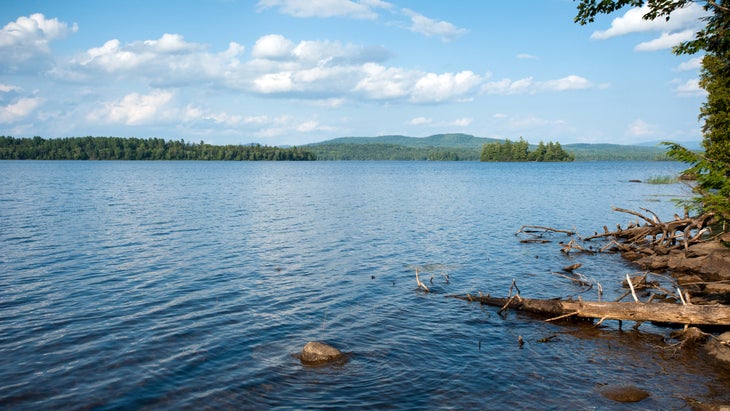 Paddle-In Campgrounds, Umbagog Lake State Park
You have to paddle to reach the best campsites at Umbagog Lake State Park (from $30) in Coos County, but it's worth the haul. The park has 27 drive-up sites and several barebones cabins, but it's the 33 remote campsites accessible only via boat on remote stretches of Umbagog Lake that make this place truly shine. Canoes and kayaks are available for rent on-site. You'll sleep under towering hemlocks and pines along the shores of the scenic ten-mile lake, perfect for spying local wildlife including moose. While this park is geared largely toward paddlers, Grafton Notch State Park, across the border in Maine, has great hiking trails. —M.M.
New Jersey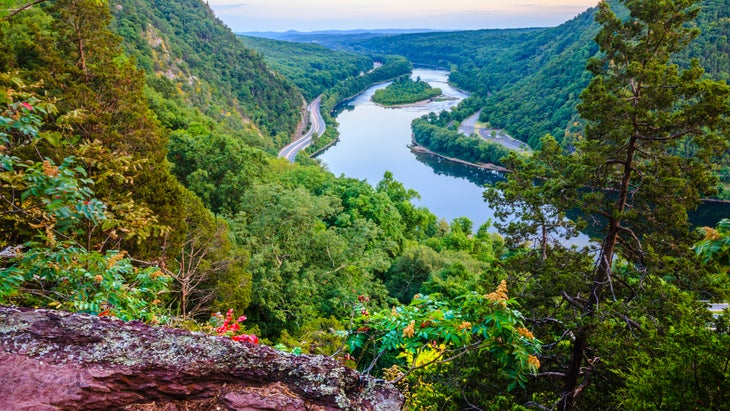 Worthington State Forest Campground, Worthington State Forest
This 6,400-acre wilderness has 22 miles of hiking trails that traverse the ridges along the Delaware River in the far northwestern reaches of New Jersey. Jump in on a scenic stretch of the Appalachian Trail, and hike to the rocky outcroppings at the top of 1,500-foot Mount Tammany for a 360-degree view that includes the Delaware Water Gap below. The park has a 78-site campground stretching along two miles of the river that will give you immediate access to paddling and hiking (from $20). —G.A.
New Mexico
Sunnyville Hot Springs Resort, Truth or Consequences 
I'm all for roughing it in the backcountry, but when I want to step it up a notch, I head to the hot springs town of Truth or Consequences in southeastern New Mexico. Dog-friendly Sunnyville Hot Springs Glamping Resort offers everything from vintage trailer bookings to RV hookups to safari-style tent stays, at $150 for a two-night stay. Guests get access to the three outdoor tubs and can walk to the Rio Grande or the restaurants and brewery in T or C. Climbing, mountain biking, and trail running are just 25 miles south of town in Kingston. —A.W.
New York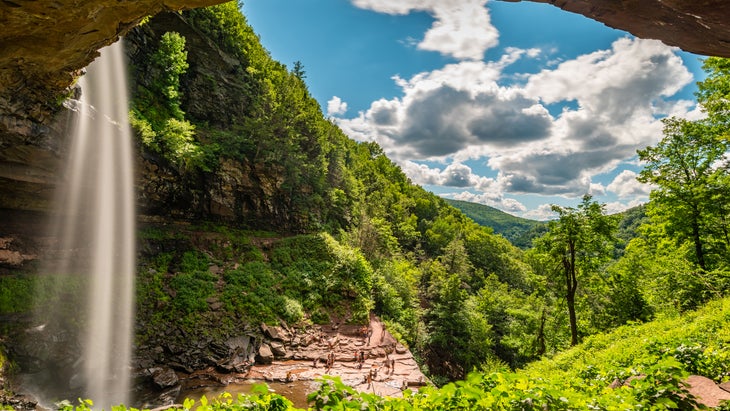 North-South Lake Campground, Catskills
A quintessential Catskills experience, North-South Lake Campground (from $22) is the largest in the Catskills. The views from the edge of the escarpment are stunning—you can see across the Hudson Valley on a clear day. The campground has seven loops, with many sites right on the lake. North Lake has a swimming area, beach, and lifeguard, plus canoe and kayak rentals. For hiking nearby, Kaaterskills Falls is a double-tiered waterfall just outside the park, or you can hike or backpack the 23-mile Escarpment Trail. Catch the sunset from Sunset Rock along the route—there's a famous Thomas Cole painting from that exact spot. —Melissa Goodwin, founder of Girl Gotta Hike
North Carolina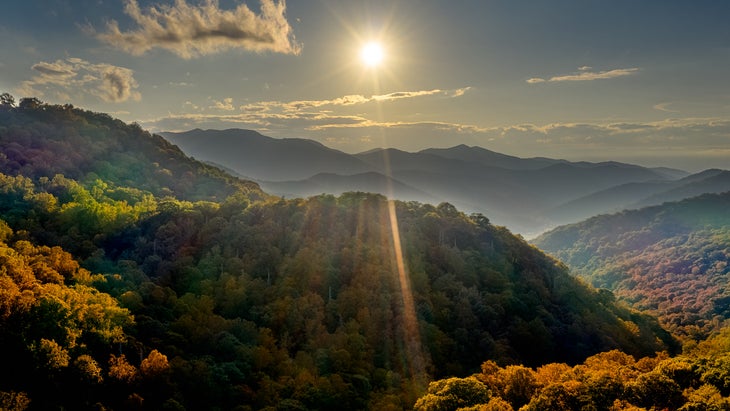 Davidson River Campground, Pisgah National Forest
The Davidson River Recreation Area, near Charlotte offers camping and outdoor activities for the whole family. Davidson River Campground, with several loops of shaded campsites (from $34 per night) and easy access to hiking trails for all difficulties, holds western North Carolina's best natural features, with rolling Appalachian hills, winding rivers for fishing, and several mile-high peaks in close proximity. The sites are largely shaded and place campers close to the Blue Ridge Parkway, the best way to quickly get around to the area's many draws. The Davidson River attracts campers in its own right, with a lazy-river feel perfect for families cooling off in the summer. —Kevin Johnson, editorial fellow
North Dakota
Hankinson Hills Campground, Sheyenne National Grassland
The terrain surrounding your campsite inside southeast North Dakota's Sheyenne National Grassland is as classic as it gets in the Great Plains, with miles of prairie shimmering in the wind. But campers have the good fortune to see the area's real treat: the unobstructed night sky. Sheyenne National Grassland has some of the darkest skies in the lower 48; pitch your tent in Hankinson Hills Campground ($10 a night) to take full advantage of the stargazing. —G.A.
Ohio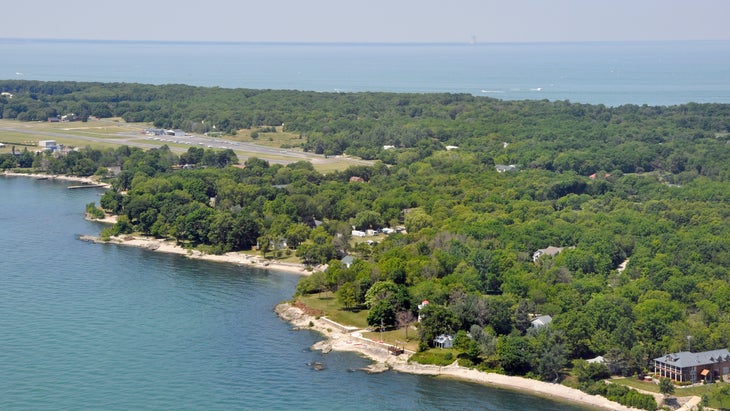 South Bass Island Campground, South Bass Island State Park
The campground at northern Ohio's South Bass Island State Park has a lot going for it. There's the shade from a grove of massive oak trees, the view of Lake Erie from the campground's perch atop a 40-foot-high limestone bluff, as well as a swimming beach and boat launch, all wrapped up in classic Great Lakes wilderness. Your camp will be only two miles from the mainland in Lake Erie, best explored by kayak or boat. —G.A.
Oklahoma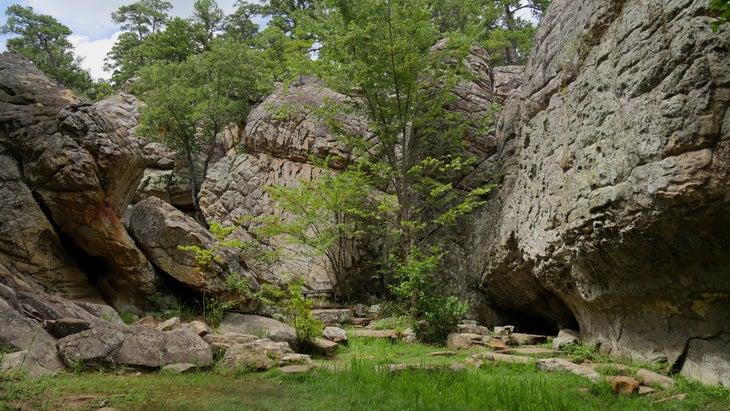 Robbers Cave Campground, Robber's Cave State Park
Legend has it that Jesse James hid out from the law in the caves that are now protected as Robbers Cave State Park. While you can't pitch your tent inside the caves, you can choose from one of the 92 sites in the campground (some of which are located on a small lake) that's loaded with modern amenities that certainly show up James' time on the lam. Fill your days with rock climbing, rappelling, hiking the nine miles of trails, canoeing one of the park's lakes, or exploring one of the many caves that can be found inside the 8,000-acre park. —G.A.
Oregon
Harris Beach Campground, Samuel H. Boardman State Park
The southern Oregon coast is a sparkling gem far from the crowds of the state's northern reaches, with wild rivers pouring into the Pacific, old-growth forests creaking in the wind, and trail networks to explore it all. Make Samuel H. Boardman State Park in Brookings, in the farthest southeast portion of the state, your home base for exploring it. The dispersed sites at the campground ($35 per night) are a quarter-mile from the black sands that front the wind-whipped ocean, which is home to teeming tide pools at the waterline and towering sea stacks offshore. —Will Taylor, gear director
Pennsylvania
Dingmans Campground, Delaware Water Gap National Recreation Area
The Delaware Water Gap National Recreation Area sits on the border of Pennsylvania and New Jersey, with 40 exquisite miles of the Delaware River running through it. It's a vast expanse of 70,000 acres of forested terrain through the Appalachian Mountains. On the Pennsylvania side of the park, you can pitch a tent or park your RV at 136 sites, many of them riverfront, at Dingmans Campground (from $40). Rent a canoe or kayak to paddle the river, sign up for a guided outing through the campground, or hike a quarter-mile to Raymondskill Falls, Pennsylvania's tallest waterfall, located within the park. —M.M.
Rhode Island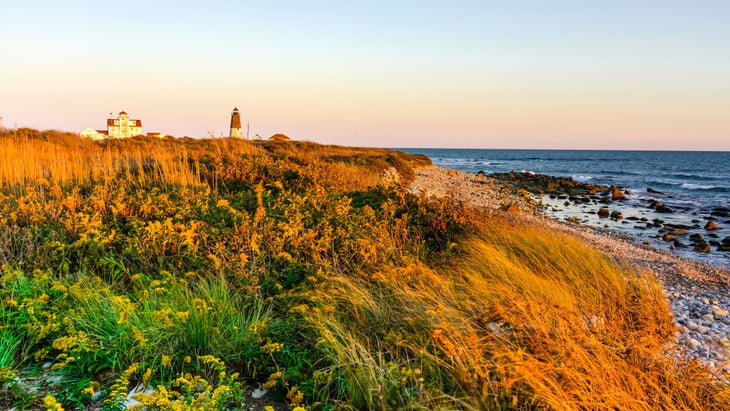 Fishermen's Memorial Campground, Fishermen's Memorial State Park
Fishermen's Memorial State Park (from $28) is my favorite because of its location in the heart of Narragansett and the Port of Galilee. It's situated on Point Judith Pond, one of the state's most spectacular saltwater ponds. You're within walking and biking distance to gorgeous coastline and beaches, and you have direct access to fishing, shellfishing, and boating right from camp. The campground itself is beautiful, with typical coastal vegetation for some shade in the hot summer months and with views to the pond and ocean. This is the only state campground with full hook-ups—a rare find for sites in the New England area. It also hosts a popular farmers' market on Sundays in the summer. —Jennifer Ogren, assistant administrator for Rhode Island State Parks
South Carolina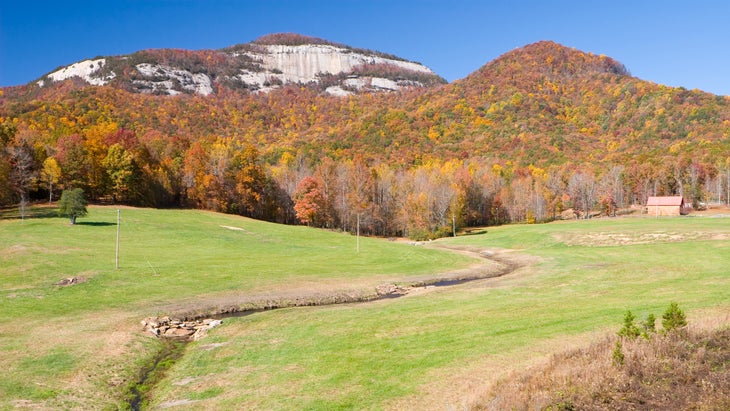 Table Rock Campgrounds, Table Rock State Park
Table Rock State Park (from $20) is as accessible as it is beautiful. Located near the northern town of Pickens, you feel like you're really getting away. The park has 94 campsites for both RVs and tents, plus cabins. Trails leave from the campground to nearby waterfalls, as well as to a trailhead for the 77-mile Foothills Trail, which passes through the park. There are two lakes, Pinnacle and Oolenoy, within the park, or drive about 20 minutes away to Lake Jocassee for fishing, kayaking, and boating. —Earl Hunter, founder of Black Folks Camp Too
South Dakota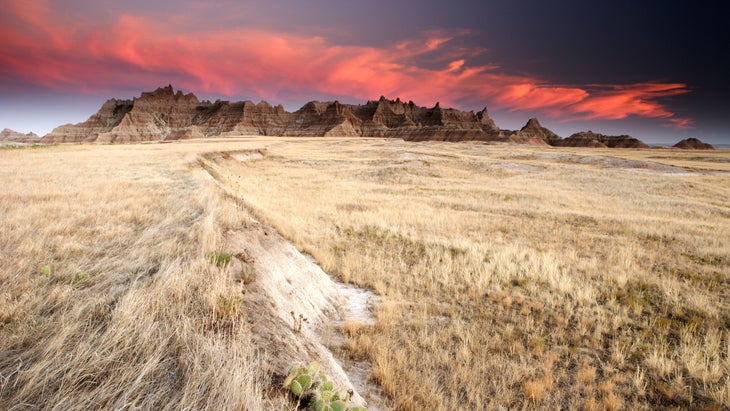 Cedar Pass Campground, Badlands National Park
Covering 244,000 acres in rugged southwest South Dakota, Badlands is a conundrum—a landscape split between mellow grasslands and massive rock formations that form rugged canyons and towering spires. The Cedar Pass Campground gives you the best of both worlds, allowing you to pitch a tent amid the park's grasslands, with a view of those iconic rock formations on the horizon ($23). Make time to hike the 1.5-mile Notch Trail, which cruises through a canyon before having you climb a log ladder to a view of the White River Valley.—G.A.
Tennessee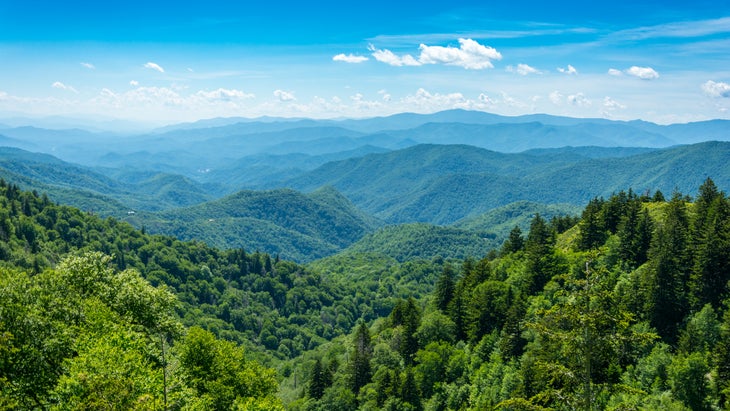 Cosby Campground, Great Smoky Mountains National Park
It's hard to find a truly hidden campground in Great Smoky Mountains National Park, which sees more than 10 million visitors every year, but Cosby certainly feels like a local's secret. Set inside a secluded hardwood forest in a quieter side of the park, the 157-site campground (about $18 per night) caters mostly to tent campers and will put you in the thick of the area's signature biodiversity. Hike about four miles round-trip to Hen Wallow Falls straight from your tent, or 2.5 miles to connect with the world-famous Appalachian Trail. If you have the energy, tackle the 10.6-mile round-trip to the Mount Cammerer Fire Tower, which has 360-degree views of the lush park below. —G.A.
Texas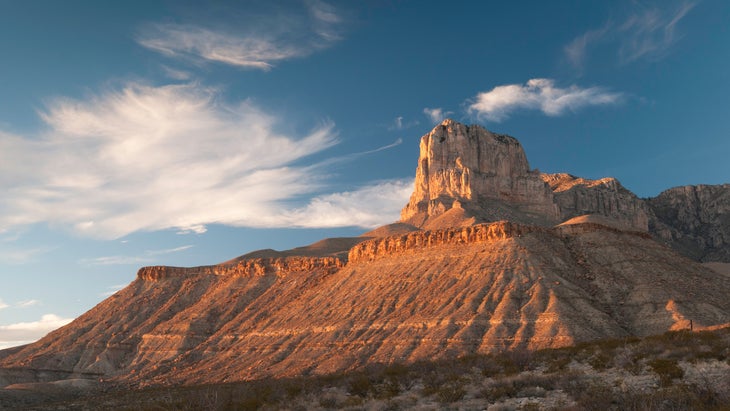 Pine Springs Campground, Guadalupe Mountains National Park
If you're on a mission to climb the highest peaks in each state, then you may find yourself pitching a tent or parking your van at Pine Springs Campground (from $15), the starting point for checking off Texas's 8,749-foot high point, Guadalupe Peak, reached via a 8.4-mile out-and-back. Located within Guadalupe Mountains National Park, in the state's southwest, this first-come, first-served 39-site campground isn't fancy but has everything you need: trailhead access, desert views, drinking water, and enough shade from juniper and oak trees to keep you cool. Opt for a walk-in tent site for the most privacy, and get there early or midweek to snag a spot, since this place doesn't take reservations. —M.M.
Utah
Wingate Campground, Dead Horse State Park
The scenery at southern Utah's Dead Horse State Park outside Moab rivals the Grand Canyon, but the crowds don't. Hike or mountain bike along the canyon's edge above a gorge that drops 2,000 feet to the Colorado River. Camping here is popular, so book in advance; the park's yurts offer a nice alternative to a tent. The Wingate Campground ($40 per night), which opened in 2018 with 31 spacious sites, including hike-in sites and four yurts, is less shaded but has stellar views. Big Horn Mountain Biking rents mountain bikes from the trailhead and offers guided rides. Arches and Canyonlands national parks are a short drive away. —M.M.
Vermont
Branbury State Park Campground, Branbury State Park
Wedged between the Green Mountains and Lake Dunmore, Branbury State Park's 36 tent sites ($19) and seven lean-tos ($28) are the perfect base camp for just about any summer activity. Lake Dunmore was once a boy's summer camp; today, it's a popular spot for swimming, canoeing, and fishing. Right across the highway, trails lead into the Moosalamoo National Recreation Area, which is chock-full of hikes to waterfalls, lakes, overlooks, and a selection of mountain bike trails. Drive about 30 minutes northeast to the Middlebury Gap and connect with the Long Trail, the oldest thru-hiking trail in the country. —Luke Whelan, senior editor
Virginia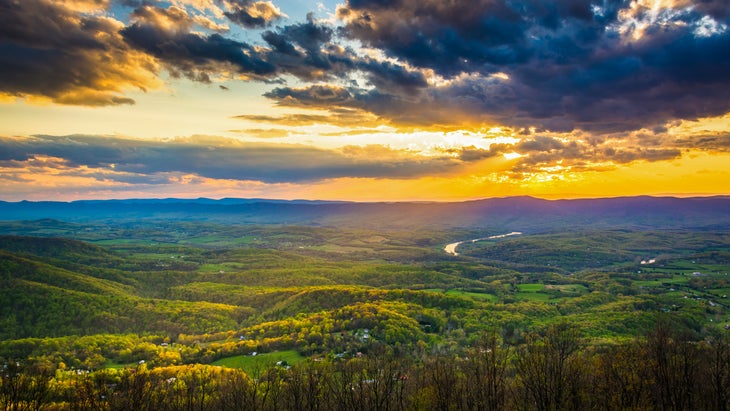 Mathews Arm Campground, Shenandoah National Park
You won't regret making Mathews Arm your jumping-off point for Shenandoah National Park and the Blue Ridge Range as a whole. From the campground ($15 per night), you'll find easy trails with great views and the park's tallest waterfall, at 93 feet. Venture farther on the popular Skyline Drive to reach the park's main attraction: a hike up 3,284-foot Old Rag Mountain. Whatever your plans, take advantage of your position near the scenic byway's northern terminus, and plan at least one day to drive the entire length of the park and back. The true benefit of the campground is in the mixed bag of reservable and first-come, first-served sites, perfect for planning ahead or totally winging it. —K.J.
Washington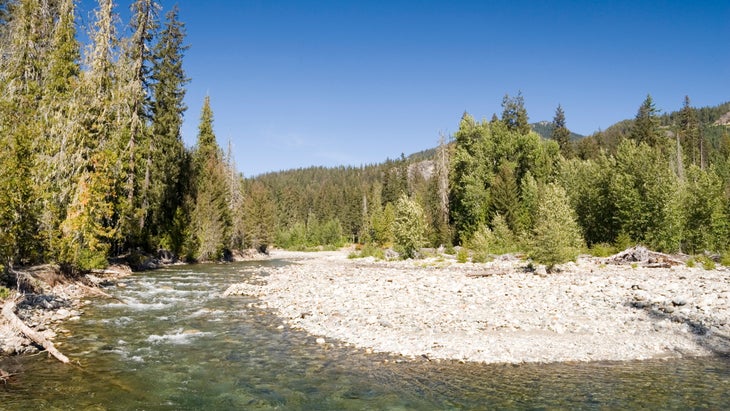 Lone Fir Campground, Okanogan-Wenatchee National Forest
Lone Fir Campground (from $12) has 27 sites off Highway 20, known as the North Cascades Highway, a scenic byway that cuts across the Cascade Range. This is a prime base camp to access some of the state's best rock climbing, backpacking, road biking, and hiking. Sure, you may hear road noise from your tent, but you'll also hear the trickle of Early Winters Creek, which crosses through the site. From here, it's 15 minutes to the town of Mazama—don't miss the well-loved general store. This campground doesn't take reservations, so show up early to nab a spot. —M.M.
West Virginia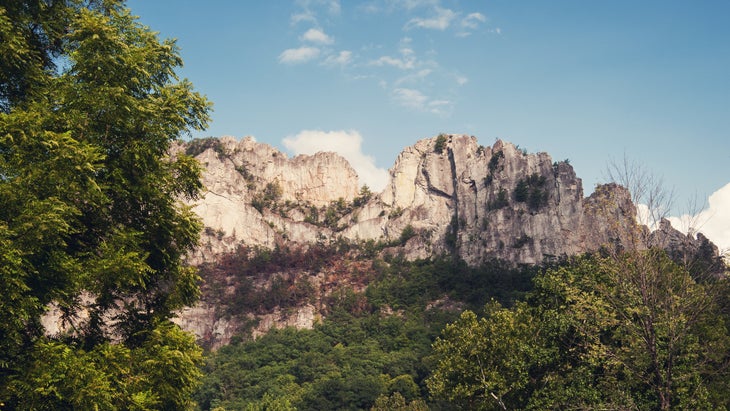 Seneca Shadows Campground, Monongahela National Forest 
Seneca Rocks is an ancient reminder of the region's once-towering mountain range, with twin fins of sandstone rising 900 feet from the surrounding forest. One of those fins is the only peak in the mid-Atlantic that requires technical rock climbing to reach its summit. The fins have become a legendary multi-pitch trad climbing destination, and Seneca Shadows campground has sites that marry a view of the rocks with quick access to the North Fork South Branch Potomac River for trout fishing. Choose from drive-in sites (from $22) or more remote walk-to sites ($18).—G.A.
Wisconsin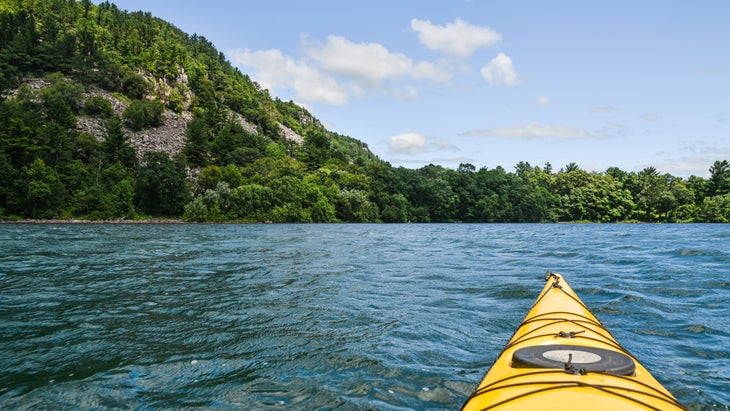 Ice Age Campground, Devil's Lake State Park 
This 9,000-acre park surrounding a 374-acre reservoir offers a swath of activities that you can't do at many of the state's other 15,000 lakes. Swimming, paddling, mountain biking, and hiking are all at your disposal from the central Ice Age Campground ($20), which has a mix of wooded and open sites geared toward tent campers (no hookups) about a mile from the shoreline. Make sure you hike the nearby 2.6-mile East Bluff Trail, which climbs 500 feet to the top of the bluffs overlooking the lake. —G.A.
Wyoming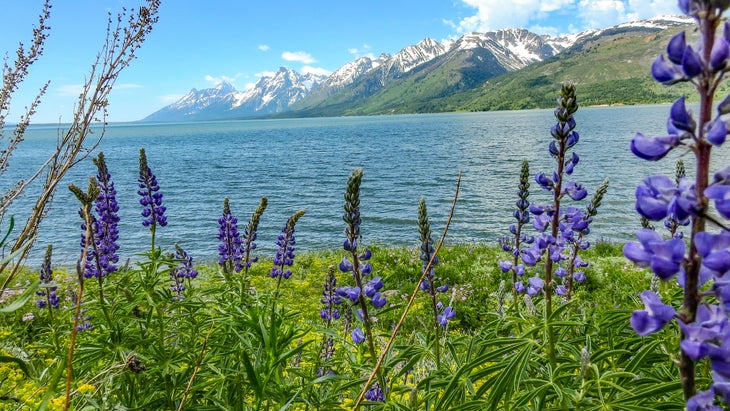 Platforms Campground, Grand Teton National Park 
The hike to the backcountry Platforms Campground on the eastern edge of Wyoming's Grand Teton National Park is not for the faint of heart. Starting at the Lupine Meadows Trailhead, you ascend more than 2,500 feet in about 4.25 miles. While you're catching your breath at the end, you'll be rewarded with views of both Middle and Grand Teton, as well as a sleeping perch nestled above a rushing river and tumbling falls—the "platforms" name is quite literal here. Getting to the site requires an overnight permit from the park, starting at $35. —K.L.
Gaia GPS is a part of Outside Inc., the same company that owns Outside magazine and Outside Online. If you join the Outside+ membership program, you'll gain unlimited access to all of our stories, along with the ability to download maps from Gaia to use offline and more. Learn more about Outside+ here.
Lead Photo: halbergman/iStock