Sponsor Content: Club Med
Think All-Inclusive Resorts Are Just for Beach Getaways? Think Again.
Club Med's first four-season resort in Canada just might be the summer vacation your family needs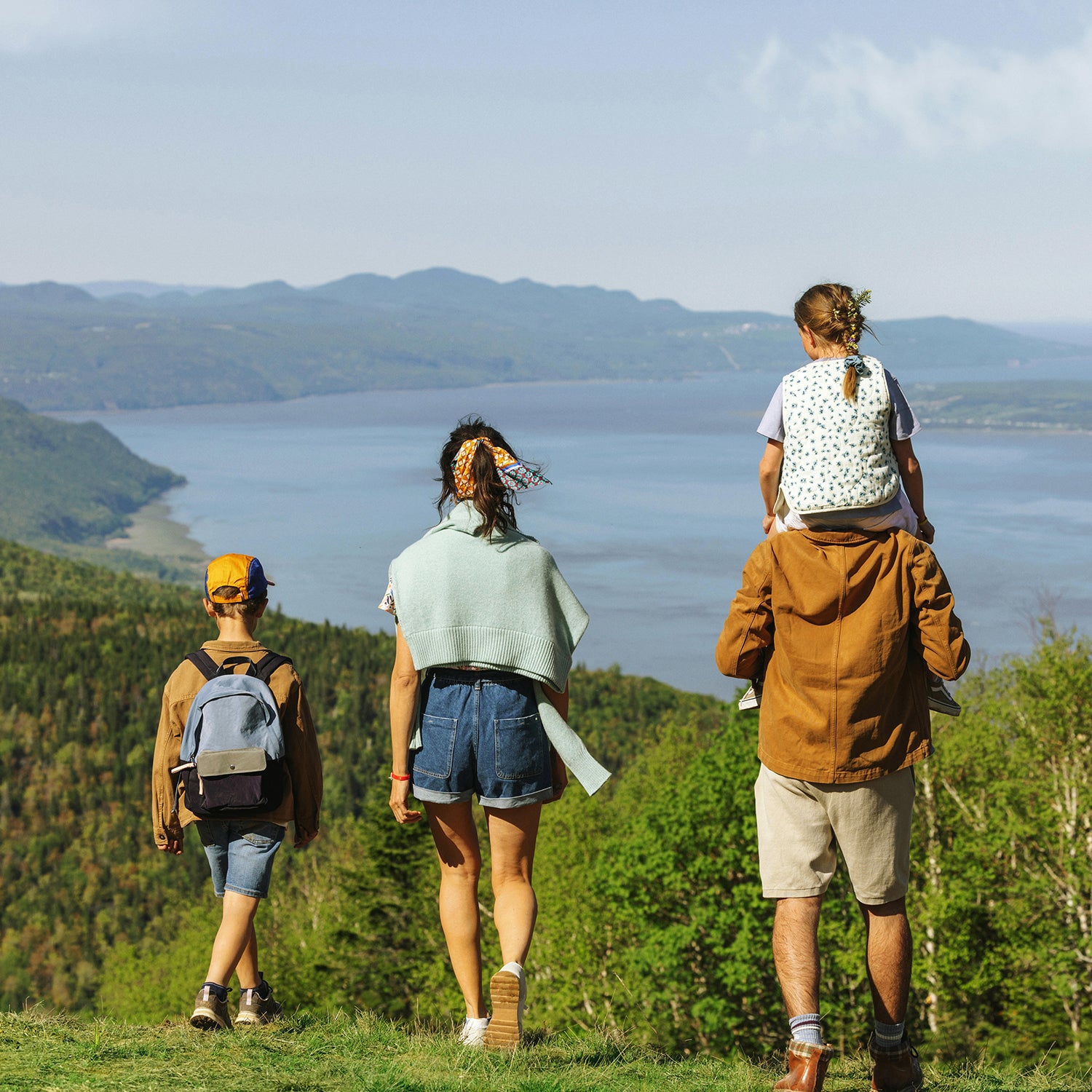 Club Med
Here's a secret: all-inclusive resorts are more than just lounge chairs and poolside tiki bars. You can enjoy the benefits of an all-inclusive vacation—everything you need for a getaway at one affordable price—in a beautiful mountain setting. Swap snorkeling excursions for mountain biking. Trade walks on the beach for hikes in the forest. Cabana meals become dinner with mountain views. And ocean views turn into green vistas as far as the eye can see. Get all this (and more) at Club Med Québec Charlevoix—one of Club Med's 20 mountain resorts and Canada's first and only all-inclusive year-round resort.
Just outside Québec City, the charming Québec Charlevoix is known for its world-class skiing in winter. In summer, it's a nature-lover's paradise and the perfect escape for outdoorsy families. Here's why Club Med Québec Charlevoix has everything you need for your next summertime mountain adventure.
Get Outside
Set amid the natural landscape of Charlevoix, a UNESCO Biosphere Reserve bordered by the St. Lawrence River, Québec Charlevoix offers outdoor activities for the whole family. The best part? Many guided outdoor excursions are included in your stay.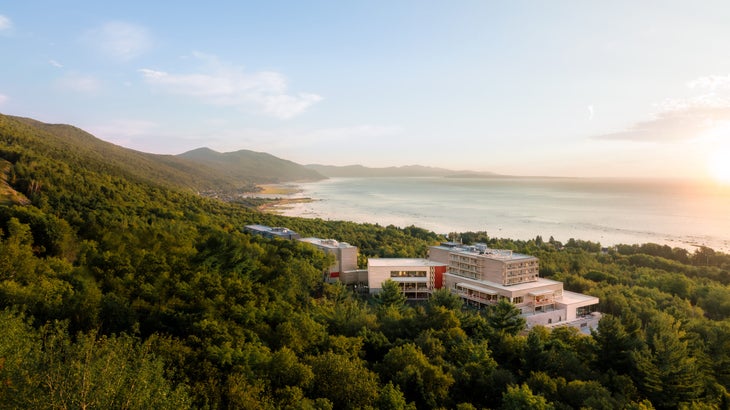 Whether you're a seasoned mountain biker, looking to try it for the first time, or something in between, Club Med Québec Charlevoix offers the thrill of mountain biking on Le Massif de Charlevoix. The cycling trails connect to the shores of the St. Lawrence River, and guided cycling groups are available for any level, ages eight and up. Prefer to hit the trails on foot? Choose from several guided hiking options, from cultural hiking, which combines a nature walk with creating art inspired by the surroundings, to active hiking and epicurean hiking, which allows hikers to taste the bounty of the forest. Kids ages four and up can join the mini hikers programs.
New for June 2023, Québec Charlevoix is introducing a new excursion at Le Massif: Le vol de l'oiseau mécanique, which translates to "flight of the mechanical bird." From June to September, you can enjoy a one-hour experience like none other on Le Massif Charlevoix's chair lifts. You can ride the chair lifts while enjoying luminous lights and sounds under the moonlight. It's a unique way to admire the splendors of sky, land, and sea.
Looking for even more options? Explore beyond the resort and go sea kayaking, whale watching, or paddling on the St. Lawrence River. For golfers, Québec's mild summers are the perfect time to check out the nearby 27-hole Fairmont Le Manoir Richelieu Golf Club or the 18-hole Golf Baie-Saint-Paul. Both offer sublime views.
Reset and Relax
An active vacation can become the ultimate balancing act of enjoying the outdoors to the fullest while returning home rested and recharged. Club Med makes it easy to get your fill of fun while leaving ample time to relax. The resort itself is stunning: sweeping views of the region combine with a sleek, modern design, making it a welcome place to return to after a day of adventures, especially when you reserve one of the exclusive five-star suites with a private terrace, gorgeous views, and evening champagne service.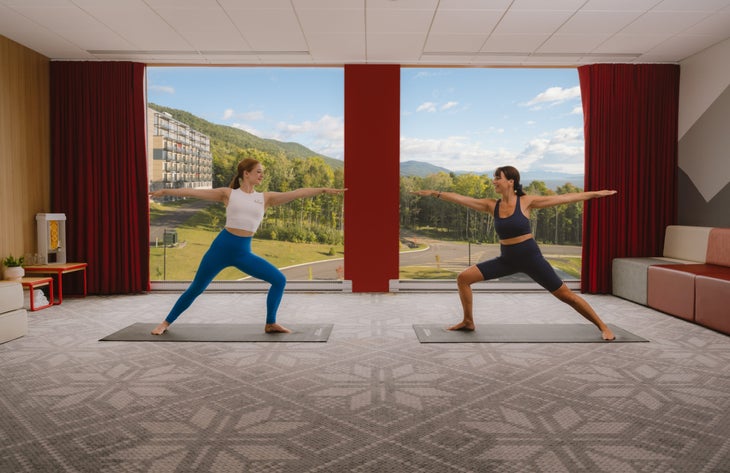 Onsite, enjoy 20 hours per week of yoga and wellness classes. The resort's Wellness Fusion program combines healthy foods, physical activity, time in nature, spa experiences, and yoga to unlock relaxing vacation vibes. Start your day with meditation or a yoga class. Or try sylvotherapy, which taps into the healing power of nature through meditative hiking. Then, after a day of adventures, unwind by the pool or in the spa.
Eat Locally
Québec is known for its delicious cuisine, featuring seasonal flavors that lean on local producers for the freshest ingredients, many of which are sourced from farms located within hours of the resort. You'll appreciate the resort's commitment to providing a sustainable food and beverage experience. Look forward to local cheeses, organic vegetables, local bread and pastries, as well as vegan and vegetarian options. Club Med Québec Charlevoix offers all-day access to dining, so you can enjoy meals on your own schedule. The buffet-style Le Marché Restaurant serves a wide variety of dishes, so there's something for everyone. For locally inspired dinner cuisine, reserve a table at Le Chalet Restaurant or upgrade to Terroir & Co Specialty Restaurant.
Bring the Kids
Club Med makes it easy to travel with young children. Kids ages four to ten can attend Mini Club Med+, a children's club with activities geared toward adventurous kiddos. There's also a dedicated kids' pool onsite for family pool time. 
Have a younger child? Baby Club Med, an on-demand service that provides a cocoon-like environment, is staffed with early years professionals who take care of babies ages four months and up. Save space in your luggage by reserving a Club Med Baby Welcome Kit that comes with a bathtub, bottle warmer, changing table, umbrella bed, and stroller. 
It may seem like all of this would come at great cost, but all-inclusive vacations can offer savings of hundreds to thousands of dollars when you take full advantage of the amenities. With lodging, food, activities, and entertainment included in your stay, it's hard to imagine an easier way to vacation as a family.
Book today for savings up to 40 percent off.
---
Club Med, founded in 1950 by Gérard Blitz, is the pioneer of the all-inclusive concept, operating nearly 70 premium resorts in stunning locations around the world including North and South America, Caribbean, Asia, Africa, Europe and the Mediterranean. Each Club Med resort features authentic local style and comfortably upscale accommodations, superior sports programming and activities, enriching children's programs, gourmet dining, and warm and friendly service by its world-renown staff with legendary hospitality skills, an all-encompassing energy and diverse backgrounds.
Lead Photo: Club Med