The Top 10 Heli-Ski Destinations in North America
From weekend escapes for beginners to weeklong expeditions for seasoned pros, the best destinations on the continent for taking flight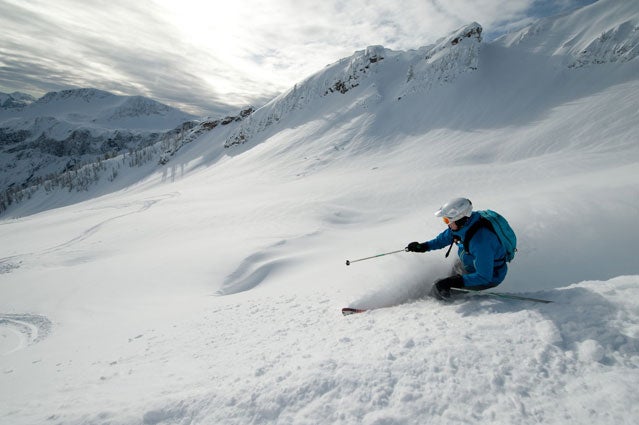 Heading out the door? Read this article on the new Outside+ app available now on iOS devices for members! Download the app.
Let's say for a moment that you wanted the ultimate ski experience. Money is no object. What would you do? Well, it may sound like the stuff of royal fantasy but two ripping British skiers just opened a private ski chalet outside Revelstoke this winter that aims to take the ultimate ski experience to a whole new level. Dubbed the Bighorn, the "chalet" is a four-story timber-framed castle that includes something quite rare in the world of skiing vacation rentals: a private helipad out back.
Bighorn at Revelstoke

Bighorn at Revelstoke
Bighorn pool room

The pool room at Bighorn
Bighorn at Revelstoke, British Columbia: Best Place for the One Percent
The Bighorn is the lovechild of two outstanding concepts: the European catered chalet and a Canadian heliski outfit. The combo means you and 15 of your pals—the Bighorn has eight rooms, each with iPads and gas fireplaces—can push open the heavy wood doors and have a staff ready to prep your skis, mix fresh cocktails, and massage your aching muscles. Strap on your ski boots in the morning, shoot a round of pool as you watch for the bird to land in the backyard, and then hop in for a ride to 500,000 acres of bowls, glades, and glaciers in the ragged Selkirks. Back home, chef Peter Hughes will be waiting in the rotorwash to serve you champagne by a huge stone fireplace and salmon canapés or duck confit on the chalet's 15-foot-long black walnut table.
Since Bighorn is located in an upscale drive-to neighborhood, there are plenty of things to do when storms keep the helicopter tethered to the ground—like ski out the door and ride the lifts at Revelstoke Mountain Resort, which has the most vertical feet of any mountain in North America (5,620 feet). Either way, you'll get a powder day, or week. Seven days at the chalet will run you up to $65,000. Everything is included, except the heliskiing, which is contracted out to one of three companies based nearby. It costs about $1,000 per person per day, or a cool $110,000 for a private week in an AStar. So, one percent, tell your boss you've found the best place for your next company retreat. The rest of us will dream about figuring out a way to approach our spouses about blowing the kids' college funds. Maybe it will work out if we offer to bring them along?
Golden, British Columbia: Best for the Time-Crunched
The popular heliski model is to book a week, Saturday to Saturday, but the typical executive, the bread-and-butter client of plenty of heliski outfits, usually doesn't have a hole that big in his or her Exchange calendar. Great Canadian Heli-Skiing offers 2- to 7-day packages for the time and adventure starved. The packages begin any day of the week, with weekend jaunts that start on Friday and end Sunday night. The helicopters seat four skiers and are rarely grounded—just two days a season on average. With small group sizes—the three people plus the guide you're flying with—there's more skiing and less waiting.
Mazama, Washington: Best to Ski with Duct Tape on Your Pants
No heliski operator is cheap—it costs at least $50 a minute to put a bird in the air—but at least the guides can be mellow about the trips. North Cascade Heli, a few hours east of Seattle at the end of a road in Washington's Methow Valley, prides itself on being a laid-back company "by the riders for the riders." That means that they're willing to cut you a deal in March. Bring three friends for one or three days of skiing and one of those seats will cost half of the usual $1,023 daily fee. Bring seven friends and one seat will be totally free. You'll be guaranteed at least seven runs a day. And if you've never been to this side of the North Cascades, the word cement does not apply. Start dreaming of fluffy, and almost Alaska big. 
Valdez, Alaska: Best Place to Hedge Your Bets
Alaska's big, and H20 kept that in mind when it designed its trips. The company, run and owned by world champion skier Dean Cummings, has the largest tenure in North America with some 2.6 million acres at its disposal. That's almost the size of Connecticut. Book here and you'll be signing up for six runs a day. Keep in mind that those six runs are AK runs, meaning you're looking at a leg-melting 20,000 vertical feet by the time you hobble back to the Best Western. And sure, Alaska weather is about as unpredictable as a medieval despot, but all packages now include travel insurance as well as rollover runs—if you only get to ski five runs the first day, you can ski seven runs the next day to meet your daily total of six.
Lamoille, Nevada: Best Place You've Never Heard Of
The Ruby Range in northern Nevada may not seem like much when viewed from the high orbit of a map, which is probably why it doesn't get a lot of attention. Just 60 miles long and at most 12 miles wide, the range still tops out at 11,000-plus feet and gets a respectable 300-inches of desert-dry fluff. That high, arid climate can mean the best of spring skiing: deep powder runs one ride and gorgeous corn the next. At Ruby Mountains Heli-Experience you're guaranteed 39,000 feet of vertical in three days (about seven runs a day). Should a storm roll in and keep you pinned, there's a Snowcat that can get you up to at least 7,500 feet to milk the powder. Back at the ranch, a ten-room spread modeled after traditional hunting lodges, you have Francy Royer's fresh pastries to look forward to as well as roasted racks of lamb. This is rawhide country at its best, so do your best to mind the cow patties before getting in the bird. 
CMH Resorts, British Columbia: Best Place for Beginners
Back in 1965 an Austrian immigrant to Canada, Hans Gmoser, thought it might be kind of cool to use helicopters to take skiers into the backcountry of the Bugaboos. The rest is history—heliskiing was born—and since then Canadian Mountain Holidays has become the largest player in the field. And while that might be off-putting to those looking for a more, um, boutique experience, there's no doubt the company has what you're looking for. With no fewer than 11 lodges scattered across British Columbia, CMH has a huge selection of terrain (about a third of Switzerland) to offer its guests. If you've never skied bottomless pow before, CMH holds a Powder 101 course at six of its lodges (Adamants, Bugaboos, Cariboos, Gothics, Kootenay, and Revelstoke) designed to help you get the feel of skiing in 3D. Stick with it and, who knows, maybe soon you'll graduate into the Powder 401 lesson at the Kootenay or Revelstoke lodge. That's a new freeriding program where you'll learn to tackle the steeps and drop a few pillow lines. Bring your helmet. It's mandatory attire when school's in session.
Blue River, British Columbia: Best Place to Be Pampered
At Wiegele World, as this company that works out of the Cariboos and Monashees is often called, the folks aren't afraid to use words like exclusive and luxury. Think of Mike Weigele's company as the Deer Valley of the sky with a self-contained village featuring handcrafted log cabins, an award-winning wine cellar, and lobster on the menu. Of course there is skiing too, with 1.2 million acres out the door—that's 96 Whistler-Blackcombs—and some 30 feet of annual BC fluff to play in. You're guaranteed to get about 80,000 vertical a week but don't sweat it if you go over that: With unlimited vertical those extra turns come for free. A new super elite package for strong skiers guarantees 100,000 vertical feet and quick turn arounds—with just two groups per Bell 212. At $12,348 for a "super elite" weeklong package, all the more reason to load up on that free beer at the end of each day.
Telluride, Colorado: Best Place for Intermediate Skiers
Sure, you can find terrain to scare you silly in the San Juans of southwest Colorado but Helitrax caters more to the intermediate skier who wants to up the fun in spectacular settings instead. With starting points as high as 13,500 feet, Helitrax operates in some of the highest terrain on the continent, where the views can take your breath away faster than the high-altitude. Expect to get six runs a day, totaling about 12,000 vertical feet through Colorado cold smoke scattered across the 200 square miles of terrain. Group sizes tend to be small, with an average of 12 people heading out per day. At the end of the day hang out at theLast Dollar Saloon and grab a margarita. Ski with Helitrax and get 20 percent off Peaks Resort lodging in the Mountain Village, a 13-minute gondola ride up from the heart of town.
Bella Coola Valley, British Columbia: Best Place to Make Your Own Ski Porn
Countless ski movies have been shot with Bella Coola Heli Sports of western British Columbia thanks to a more stable snowpack that sets up on steep faces, allowing pros like Hugo Harrison to bag big lines that, in more unstable conditions, would scare most other heli-outfits into liability rants. And don't be fooled into thinking you'll be battling heavy wet snow. Bella Coola's permit stretches across 2.6 million acres of the Coast Range, which sucks moisture from the snow as storms pass over the peaks. That means you can ski drier fluff on more mellow terrain in the east while waiting for the big stuff in the west to set up. And with just 35 guests heli-skiing this area each week, you'll never hear guides saying you have to farm the slope and set your lines right next to theirs. The lines can run 6,000-vertical-feet and with 100 feet of annual snowfall, they can be skied well into April. Sign up for the new weeklong Big Mountain Challenge and fire up the Go Pro: After some warm up runs you'll jump onto a "proper objective", which may include some ski mountaineering skills like rappelling into a couloir. 
Haines, Alaska: Best Place to Make a First Descent
There's no central lodge, no hot chocolate on the slope, and you have a better chance of making out with a grizzly bear than of receiving a massage from anyone on staff. Welcome to Alaska Heliskiing, where a guy named Sean Dog runs the show and TGR hang outs from time to time. If you want to ski big lines that will soil your skivvies, or maybe even nail a first descent, get on an AStar with these guys. Packages here are a la carte—it's $125 a run—and you can expect to average about 3,500- to 5,000-vertical feet per drop. The company recently had a terrain swap. The BLM closed down some old terrain and gave the company some new stuff off the Ferebee Glacier. That means there are still some un-skied lines to be had back in there. Then again, when you're standing atop an unnamed peak, seeing the slope roll over so steeply it drops out of site, the last thing you probably care about is whether someone skied it before you. Hell, it's a first for you anyway.
Trending on Outside Online