Best North American Beer Fests
The wildest places to sample the country's best brews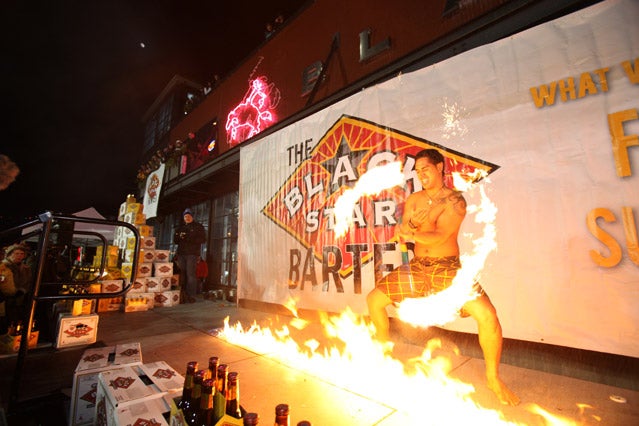 Heading out the door? Read this article on the new Outside+ app available now on iOS devices for members! Download the app.
The Top 10 North American Beer Festivals
On a nose-hair-freezing afternoon in early February, I stood outside Whitefish, Montana's Great Northern Brewing Company amidst a crowd of rowdy beer-swilling locals. Considering my toes were the temperature of creamsicles, I wondered what the hell I was doing. Then contestant #22—a tall, tanned, eminently good-looking man named Troy Nooroa—walked onto the stage. He unzipped his jacket, lit a couple of batons on fire, and, juggled them to the delight of every lady in the crowd. Cold toes be damned.
Nooroa was competing in a new tradition of snow-blessed Whitefish: the second annual Black Star Barter. The premise is simple—what would you do or trade for a year's worth (52 cases) of Black Star Beer? The answers, as it turns out, are notably entertaining. Contestants offered a year's supply of homemade macaroni and cheese, line dancing lessons, on-call magic-trick performances, dogsled trips, deer butchering services, and two Volkswagen Transporter vans in a multi-hour beer-soaked spectacle. The Black Star Barter isn't the only inventive new event-slash-excuse-to-drink-a-profuse-amount-of-beer. Festivals are cropping up across the U.S.
"Thanks to the U.S. craft beer revolution, there are 2,000 U.S. craft breweries open now, and 1,000 planned to open in every part the country in the next year or so," says Christian DeBenedetti, author of The Great American Ale Trail and editorial director of Weekly Pint. "There's been a historic mushrooming of beer fests, public tastings, and other beer-centric gatherings."
Which means the time is ripe for travelers to set forth and imbibe.
Brews with Views Raft Trips
Best for River Rats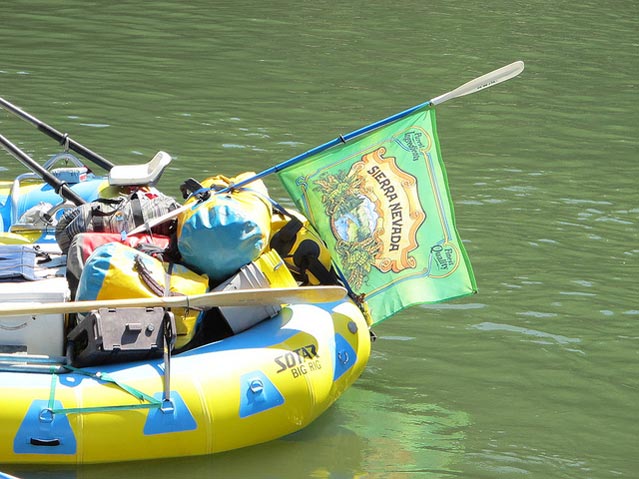 Rogue River, Oregon
July 26, August 9, and August 23, 2012
River rats have married beer and rafting for decades, but more recently raft companies have institutionalized the pairing. Northwest Rafting Company's four-day Brews with Views raft trips on the Rogue River ($895; nwrafting.com) are just one example. (O.A.R.S. also has new trips on the Tuolomne, Rogue, and Main, Lower, and Middle Fork Salmon rivers.). By day, rafters ply the Class II and III rapids and marvel at the lush gorge on this Wild and Scenic stunner. By afternoon, beer experts from one of three esteemed breweries—Sierra Nevada Brewing, Deschutes Brewery, and Double Mountain Brewing—extol the virtues of their ales and offer unlimited tastings on remote, sandy beaches.
Hops in the Hills Beer Festival
Best for Hikers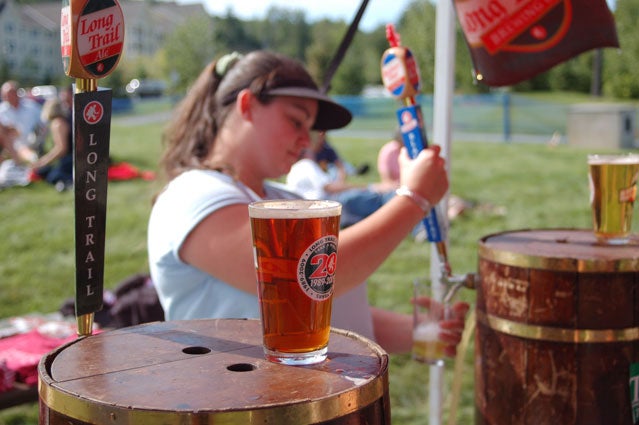 Okemo, Vermont
August 4, 2012
Vermonters rival Portlanders with their love of all things beer, and the state has some of the best time-tested craft breweries. The Hops in the Hills Beer Festival ($20; okemo.com) is low-key and family-friendly but it offers the perfect excuse to taste some of the region's best beers—Harpoon, Long Trail, Magic Hat, Otter Creek, Switchback, Sam Adams, Allagash, and Saranac, to name a few. After tasting some of the entries in the highly competitive Chicken Wing Competition, quaffing some ales, and listening to live music, head out for an afternoon hike on the six-mile Healdville Trail to the top of Okemo Mountain.
Stay:  The nearby Inn at Water's Edge ($125-$250, including breakfast; innatwatersedge.com) is a classic country inn with welcome modern updates like Jacuzzi tubs. The 150-year-old English pub serves—you guessed it—beer and comfort food.
Biketobeerfest
Best for Bike Commuters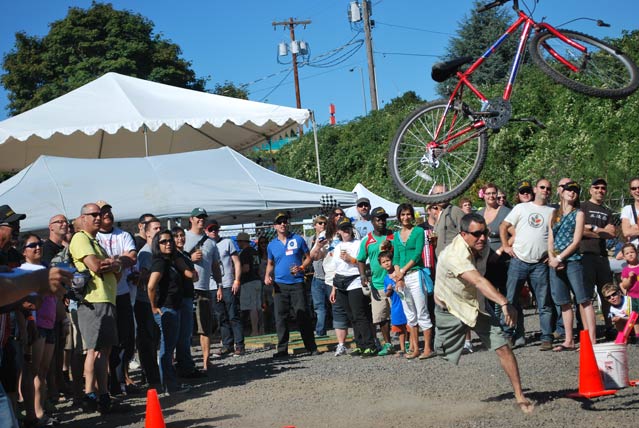 Portland, Oregon
August 25, 2012
Perhaps it's the water, the abundance of locally grown hops, or the area's entrepreneurial spirit that makes Portland the Pacific Northwest's epicenter of craft beer—with more than half a dozen major beer festivals to prove the point. Our favorite? Biketobeerfest—a bike-in Oktoberfest celebrating both bikes and beer, hosted by Hopworks Urban Brewery (free, hopworksbeer.com). Last year, among the quirky festivities, four live bands played, BMX teams performed stomach-dropping stunts, mechanics gave bike-building demos, and, naturally, the brewery's 15 organic beers flowed all day. But arguably the most entertaining sideshow is the Huffy Huck, a contest to see who can throw an old bike the farthest. (Trust us, the bragging rights are priceless.)
Stay: The Jupiter Hotel (from $134; jupiterhotel.com) is within easy biking distance of the Hopworks Urban Brewery—or simply rent one of the hotel's two on-site Zipcars. Rooms are kitted with minimalist furniture and artsy touches like original murals and chalkboard doors.
Where the Wild Beers Are
Best for Sharing
Brooklyn, New York
May 5, 2012
Where the Wild Beers Are ($10 plus beer to share; wherethewildbeersare.com) is a biannual festival dedicated to wild and sour beer tasting. What is a wild and sour beer? Good question. It's a brew made from wild yeast that is marked by a tart, refreshing acidity. The events, held in Brooklyn in spring and Minneapolis in fall, are still small—about 100 people—but the vibe is decidedly friendly. To enter, bring $10 and a commercially produced wild, sour, or farmhouse ale to share. (Bonus points for obscure, hard-to-find bottles.) For every 750 ml. of beer brought, attendees receive tickets good for tastings of others' beers—and unlimited hobnobbing with the home brew set and beer aficionados.
Stay: In Brooklyn's Williamsburg neighborhood, Hotel Le Jolie (from $189; hotellejolie.com) has a hipster vibe, complimentary breakfast, and a convenient location near the Brooklyn Brewery and Knitting Factory Brooklyn.
Tour de Fat
Best for Cyclists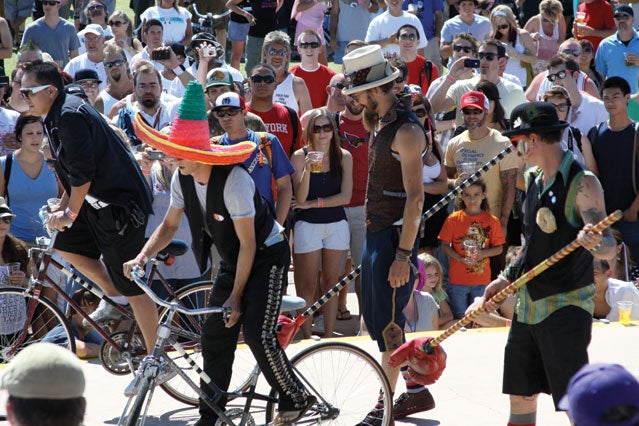 Fort Collins, Colorado
September 1, 2012
New Belgium Brewing, the makers of Fat Tire Amber Ale, are serious about not taking themselves too seriously. A case in point is the Tour de Fat (Free, newbelgium.com), an annual series of bike parades and events that'll hit 15 cities this summer. The flagship event is still in the brewery's hometown, Fort Collins, Colorado, where some 20,000 cyclists have turned out for a gigantic beer-soused bike parade. (Costumes encouraged.) There are also vaudeville acts, yo-yo performances, bands, slow-riding contests, and, of course, plenty of New Belgium brews. The Tour is free, and proceeds from beer sales go to bike-related charities. Over the past 12 years, New Belgium has raised nearly $2 million. Cheers to that.
Stay: The Armstrong Hotel (from $129; thearmstronghotel.com), in downtown Fort Collins, has 43 bright, funky rooms with vintage furniture and hardwood floors. Bikes are complimentary and pets are welcome.
Brewgrass Festival
Best for Live Music Junkies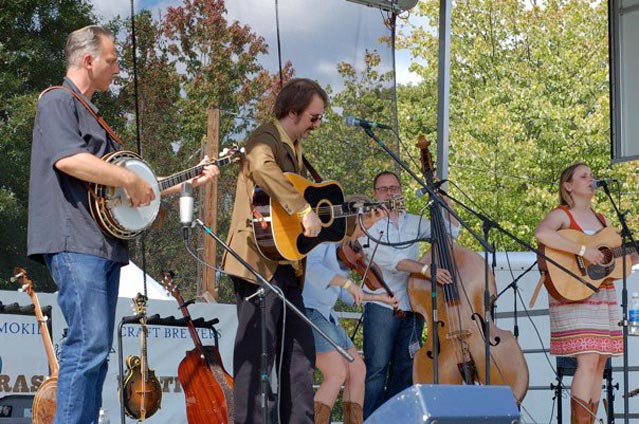 Asheville, North Carolina
September 15, 2012
Beer pairs well with a number of things—burgers, pizza, and cards come to mind—but Ashevilleians would argue none so well as bluegrass music. Hence Brewgrass (about $45; brewgrassfestival.com), a celebration of music and beer in a town that has become a hub of craft beer production. Over the last 15 years, the burg has sprouted 11 breweries with 70-plus local brews. The premise of Brewgrass itself is simple: drink beer, listen to music. Past acts have included the Yonder Mountain String Band and the Infamous String Dusters, but there's plenty else to do in Asheville beyond the pint glass. Our suggestion: an amble along the nearby Appalachian Trail.
Stay: Haywood Park Hotel (from $220; haywoodpark.com) is situated in a historic downtown department-store building near plenty of restaurants and stores—and the Brewgrass venue in Martin Luther King Jr. Park. Complimentary valet service and nightly chocolates win over the well-heeled.
Oktoberfest Zinzanniti
Best for competitors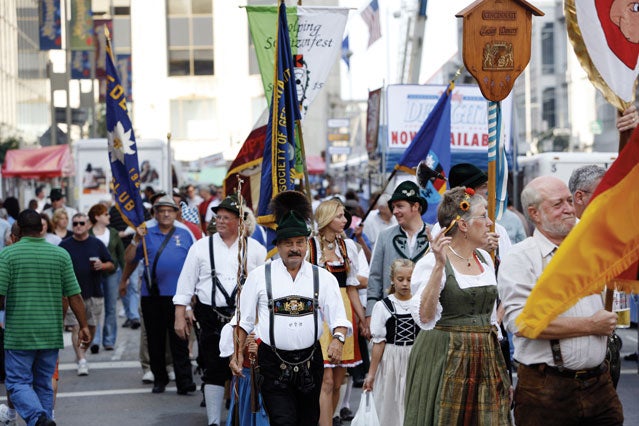 Cincinnati, Ohio
September 22-23, 2012
Considering that the defining moment in the history of Oktoberfest Zinzinnati (free, oktoberfestzinzinnati.com) is the world's largest chicken dance—48,000 danced in 2004, for the record—it's safe to say the festival is happily unpretentious. Now, some 500,000 people descend on this celebration of Cincinnati's German heritage and beer-brewing history to imbibe and listen to German entertainment on some seven stages. Meanwhile, a host of goofy events accompany the beer, like a bratwurst-eating contest, stein-hoisting championship, and the running of the wieners. (Yes, wiener dogs.) Plus, where else can an average schlub get his picture taken with the St. Pauli girl?
Stay: Garfield Suites Hotel (from $104; garfieldsuiteshotel.com) has a central downtown location and free shuttle rides in the area. Condos have full living rooms and kitchens and views over the city.
Great American Beer Festival
Best for Beer Connoisseurs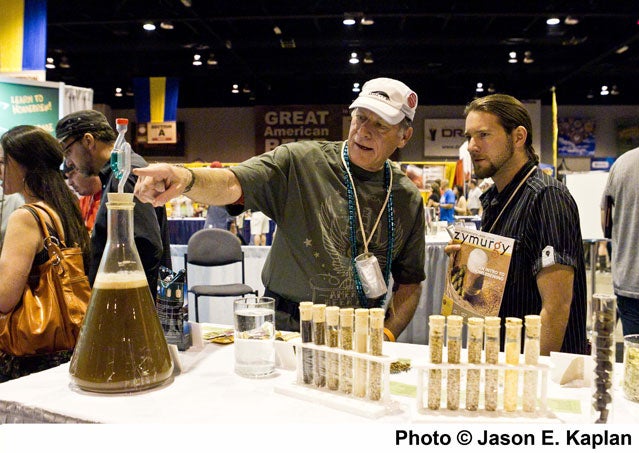 Denver, Colorado
October 11-13, 2012
There's no better place to learn about the craft of brewing—or get wickedly tipsy—than the Great American Beer Festival (about $60; greatamericanbeerfestival.com), the largest of its kind in the U.S. Every year, nearly 50,000 people show up to this downtown Denver institution to sip unlimited one-ounce samples of more than 2,200 beers, from fruity wheats to chocolate stouts. (According to the Guinness Book of World Records, no other place on earth has as many beers on tap.) Rub shoulders with the country's top brewmasters, taste pairings of local food and limited-edition brews, and dance at the silent disco, where music is piped in through dancers' headphones—a ridiculous sight to the uninitiated. Just don't forget the designated driver.
Stay: For the Great American Beer Festival, Denver's Brown Palace Hotel & Spa (from $152; brownpalace.com) partners with the local Wynkoop Brewery to produce a limited edition beer. It also has six restaurants and serves lobby cocktails with live music.
Tall Sails and Ales Tour
Best for the Sailing Set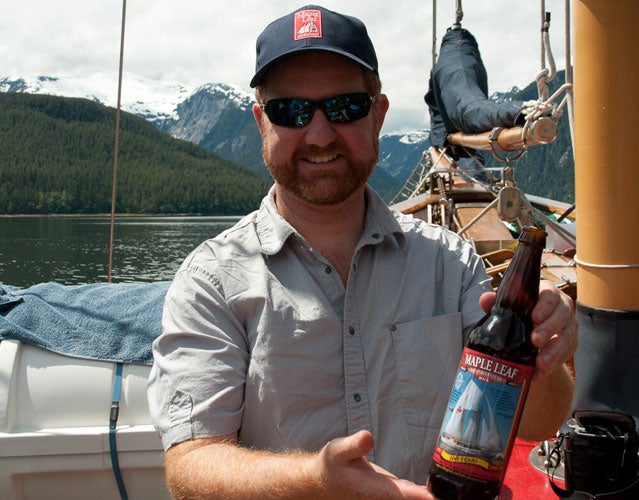 Gulf Islands, British Columbia
October 25-30, 2012
A six-day sailing journey on a 1904 schooner through British Columbia's Gulf Islands sounds pretty good. Add beer and it sounds downright unbeatable, at least for those people not prone to seasickness. Such is the idea of Maple Leaf Adventures ($2,254; mapleleafadventures.com), which teamed with brewing historian Greg Evans to design the special tour for beer aficionados. Along the way, Evans leads field trips to remote island breweries to meet brewmasters, taste some 50 microbrews, and wash it all down with delectable local seafood. Meanwhile, spot porpoises, sea lions, sea otters, and eagles as the boat weaves in between dozens of wild, forested islets.
Black Star Barter
Best for Anyone Who Loves a Good Time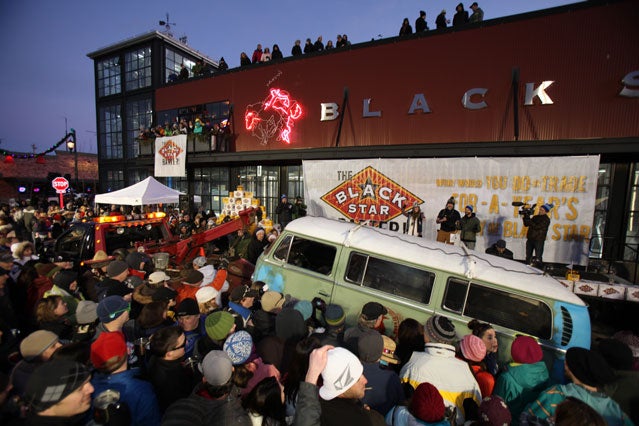 Whitefish, Montana
February 2, 2013
Perhaps it's the mind-fraying lack of sunlight that prompts so many small, northerly towns to stage outsize—and offbeat—winter festivals. Whitefish, Montana (pop: 6,357) is a prime example with its mile-long parade, lake plunge, and, most notably, the Black Star Barter (free, blackstarbeer.com). For the event, the Great Northern Brewing Company posits a deep philosophical question to locals and visitors alike: What would you do or trade for a year's worth of beer? Past contestants have proffered an array of imaginative services—on-call deer butchering, chest waxing, line dancing lessons—and offerings, from airbrushed wolf drawings to a defunct Volkswagen Transporter. Even more entertaining? Watching it all with a brew—or two—in hand.
Stay: The Garden Wall Inn (from $155-$195; gardenwallinn.com) is within stumbling distance of Whitefish's main drag. It has deep tubs for defrosting after skiing Whitefish Mountain Resort and serves an impressive two-course breakfast.
Trending on Outside Online