Wild in the Streets
With a little help from the Web, the urban exploration phenomenon gains momentum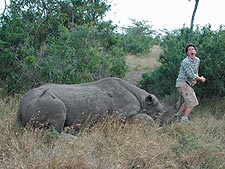 Heading out the door? Read this article on the new Outside+ app available now on iOS devices for members! Download the app.
RAZOR WIRE is a bitch. We're confronting this incontrovertible fact as we contemplate the sharp coil that snakes along the top of the chain-link fence separating us from the southern tip of a splinter of earth less than two miles long in the middle of New York's East River between Manhattan and Queens, accessible via the Q train. It's Friday, pushing 11 p.m., a balmy summer night, and eight of us are on a mission to investigate, without permission, the ruins of the Smallpox Hospital on Roosevelt Island, which has been off-limits for half a century. In 1856, the year this facility was completed, one in every 100 New Yorkers died here. Today, its crumbling walls are a centerpiece of urban exploration, or UE—an odd adventure trend that's sweeping cities from Sydney to San Francisco.

Shadow over Gotham: Steve Duncan, of the urban-exploration group Jinx, clowns around at the Roosevelt Island Smallpox Hospital

Spies like us: Reneé Rogers commits another act of trespass, July 2001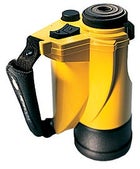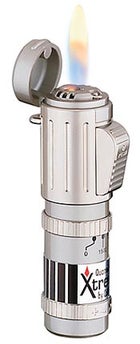 Quiet salvation? The EC130 in action

Jock on the water: Gary Johnson on the banks of the Rio Grande, New Mexico, July 2001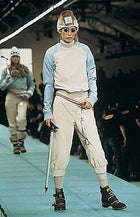 High style: Climbing gear hits the catwalk in Paris, March 2001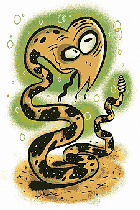 Voted off: a would-be
Survivor III
infiltrator in Kenya
"If you're willing to sacrifice a sleeping bag, that can work," says our leader, Benjamin "Laughing Boy" Deyo, eyeing the wire. Deyo, 30, is a cofounder, with his high-school chum of the same age, David "Lefty" Leibowitz, of Jinx. By day, "Jinx" refers to a New York-based Web-design firm; by night, to a self-styled corps of urban explorers famous for clandestine midnight jaunts up the suspension cables of the Brooklyn Bridge, descents into the filth and dark of subterranean Gotham, and infiltrations of the occasional abandoned mental asylum. Deyo sports a short, thick Brillo of red hair, one of those silly spit-catcher patches of beard, and the "full Jinx uniform"—suit, tie, and sunglasses—which, under the circumstances, looks pretty ridiculous. "We'll find another way in," he assures us.
Moments later we do, squeezing between a fence post and a workman's trailer. Once inside, we dash for the crumbling brick walls like kids advancing on a haunted house. The building's but a skeleton now, left to rot behind a grand limestone facade dramatically lit on the Manhattan side by floodlights financed by apartment owners across the river who crave a gothic vista. Shored-up brick walls form a decrepit maze that shelters a Sendakian forest of trees. Aside from the cheap thrill of trespassing, it's clear why the Jinxsters like coming to places like this: They're eerie, surreal, full of unknowable histories. Shining a penlight up into the rafters, Leibowitz turns to me.
"Cool, huh?"
Urban exploration, aka infiltration, aka urban adventure, aka sneaking into places where you don't belong and performing impressively risky—albeit somewhat pointless—acts of derring-do, may not be especially new, but it's enjoying quite a vogue of late, all around the globe. No one knows how many partake in UE, but part of the buzz is that individuals and groups are finding each other, sharing intelligence, and competing in a new set of elaborately contrived games via the Web. From Sydney's Cave Clan and Rome's Subterranea-philes to Toronto's Ninjalicious, some groups emphasize athletic feats (in Rotterdam, for example, one climber has developed special hooks for scaling high-rise apartment buildings) while others focus on creating "events" (sit-down dinners and improvised skits in rusting industrial parks and shuttered military bases).
Among the more innovative individuals in the field is Julia Solis, 31, of Brooklyn. The German-born Solis, a professional translator, heads up Dark Passage, a loose group of 25 that convenes about three times a year for clandestine adventures. This October, she will join forces with a San Francisco-based UE group (that declines to speak with the media) for an elaborate role-playing game loosely based on a Dashiell Hammett novel. While details were still being sorted out at press time, players will likely use pay phones to conduct simultaneous treasure hunts in the two cities, relying on real-time information from their counterparts across the country to advance their own searches.
Of all the UE outfits, Jinx makes itself the most accessible to the media. Just as George "The Human Fly" Willig clocked his 15 minutes back in the late seventies by shinnying up high-rises, Jinx has parlayed its G-man aesthetic into a book contract with Random House (an almanac of its adventures is due next year). This commercial agenda chafes Deyo's more purist UE peers, who fear that his group will give up New York's truly secret trapdoors while drawing unwanted attention from the police. Deyo, however, insists there's enough urban adventure for everyone, and the cops are nothing to worry about. "There's a lot of paranoia out there—as if the police were really going to set up special task forces and set traps for us," says Deyo. "C'mon. What we're doing is barely more criminal than jaywalking." Plus, it seems to be the only game in town. "We'd love to do National Geographic adventures through Borneo," says Deyo, "but we can't afford that. So we've taken to exploring the frontier right out our door. The invisible frontier of the city.
ANOTHER NIGHT, a Saturday. 10 p.m. Back on the town with the Jinxsters. After two hours in the bowels of Grand Central Terminal, navigating maintenance and train tunnels, we make our way to the roof. My adventures with Jinx have me convinced that its members could use a few days in a climbing gym—they are clumsy at best—and I have half a mind to buy them each a good helmet. Still, moving about the roof of Grand Central in the rain, I feel the buzz that comes only from ducking under the safety railings to see what you can see. Looking up at the Chrysler Building, all the while afraid of falling or being caught—it feels like the final moments of Blade Runner. Like I'm 12 years old. Which is to say, I'm having a blast.

THE WELL-EQUIPPED SEWER RAT
It's never too late to live out fantasies that involve climbing into or crawling through the darkest corners of your hometown. But don't be a witless tourist. Gear up so you live to tell it, and peruse the resources below so you can impress the cutie at the bar with your worldly knowledge of this figurative—and literal—underground pastime. Finally, and this is rather key, please do steer clear of the third rail.

TOOLS
Newcon Optik Monocular Night Vision Scope ($449), helpful in peering down intriguing passageways. Nalgene Lexan water bottle ($8.50), because steam tunnels tend to be hot. Petzl Meteor A40 Helmet ($75), to protect your noggin from crumbling masonry.
WEB SITES
Dark Passage, www.darkpassage.com, where art and adventure intersect. Urban Exploration, a forthcoming UE portal. Jinx Magazine, www.jinxmagazine.com, home of the men in black.
BOOKS AND VIDEOS
The Urban Adventure Handbook, by Alan S. North (Ten Speed Press, out of print, $12 used), an indispensable how-to. The Meadowlands, by Robert Sullivan (Scribner, $23), armchair travel through postindustrial Jersey. The Warriors (1979), a primer on how to get to Coney Island by subway in the off-hours. C.H.U.D. (1984)—it stands for Cannibalistic Humanoid Underground Dwellers. Any questions?
Gear:
A trip up the mountain shouldn't devolve into a quest for fire. That's why you might consider packing Colibri's Xtreme lighter on your next ascent. A wind-resistant electric ignition and adjustable butane fuel mix make the Xtreme good to go up to 15,000 feet—well beyond the death zone for most lighters. $100; 800-556-7354.
Guide:
Volcanoes in America's National Parks gives up the goods on thermal areas and calderas in 31 vulcan-themed parks and monuments, from Alaska's grumbling Redoubt Volcano to the ancient lava flows at Idaho's Craters of the Moon National Monument. $25; 800-233-4830; www.wwnorton.com.
Video:
In Alpine Mountaineering on Mount Rainier, Ed Viesturs and other veteran alpinists invade your living room to walk you through high-altitude basics such as crampon technique, self-arrest, and the essential rest step, while tackling one of the toughest endurance climbs in the Lower 48. $20; 360-569-2992.
'Zine:
The Bear Deluxe, an environmental arts publication based in Portland, Oregon, mulches serious enviro reporting with art, poetry, fiction—and a shot of racy humor (last winter's issue was devoted to sex and the environment). $16 for four issues; 503-242-1047; www.orlo.org.
"YOU GET OUT there in the wildest of the wild, and agggh!" wails Dick Hingson. "There's this sense that you're on the main runway at LAX." Hingson, the chairman of the Sierra Club's Noise and Aviation subcommittee, is railing against the greatest violators of peace and quiet in the Grand Canyon: the 88,000 plane and helicopter flights that dip below the rim each year.
Hingson is not alone in his frustration. While noise-reduction advocates have in recent years won federal restrictions on aircraft in the Grand Canyon, snowmobiles in Yellowstone, and jet skis in some national parks, manufacturers are now staging a counteroffensive on behalf of motorized outdoor recreation by marketing machines outfitted with various sound-damping technologies.
In October, the chopper-tour business will roll out its first "quiet" helicopter, the Eurocopter EC130—a $1.6 million machine that runs at 84.3 decibels—8.5 decibels below the International Civil Aviation Organization's quiet standard. It's still loud, just not brain-rattling loud. And later this fall, Arctic Cat plans to ship its new 4-Stroke snowmobile to dealers. Because a four-stroke engine burns straight unleaded, as opposed to the typical two-stroke's oil-and-gas mix, it's not only less polluting, but sounds more like a Lexus than a chainsaw. "From 50 yards away, you can't even hear the thing," claims company spokesman Jay Lusignan. Meanwhile, Polaris Industries plans to test its first four-stroke snowmobile at Yellowstone rental shops this winter, where powersleds are still legal thanks to the Bush administration's decision to scuttle a proposed snowmobile ban in the park. Although none of these engines is silent, everybody should still be pleased, right?
Not exactly.
"You just can't bring the noise down enough to make a significant impact," says Noise Pollution Clearinghouse director Les Blomberg. His Montpelier, Vermont-based group's studies show that quieter jet skis alone won't solve the problem. (The impact of hushed engines is offset by the rising number of machines on the water, he says, and dampers won't solve what he calls the craft's "mosquito" problem—a tendency to run in circles with their incessant thumping and high-pitched whining.) And over at Yellowstone, eco-activists still aren't sold on the four-stroke sled. "Hallelujah that they've come up with better machines," says Jon Catton, of the conservationist Greater Yellowstone Coalition. "But that absolutely does not address the wildlife issues." Four-strokes will still stress out the buffalo and elk trying to survive the harsh Rocky Mountain winter, he says.
For now, the Grand Canyon remains ground zero in the war for silence. In May 2000, noise-reduction advocates won restrictions that capped the number of tourist flights at 88,000. In June of this year, at the urging of the Las Vegas-based flightseeing industry, Nevada senators Harry Reid and John Ensign introduced a bill that would exempt "quiet technology" operators from those restrictions. And that, of course, sets the Sierra Club's Hingson to worrying that the new birds might open up other areas, like Grand Teton National Park, that are currently off limits to overflights. "The air-tour industry wants to grow," says Hingson, who hopes to block Reid and Ensign's proposal. "And this so-called 'quiet' technology is their great white hope." Gentlemen, start your lobbyists.
Is there another governor, or senator, or congressman, who could kick your ass?
No. I'm the most athletic governor. Second place is a long way down there.
How do you do it?
I just make being active a priority. That means out the door by 5 a.m. This morning, I biked 33 miles, swam a mile, then ran nine miles.
Since taking office in 1994, you've bruised your hip road cycling, sprained ligaments, blown out your knee skiing, developed frostbite, and earlier this year broke your back while running. Are you accident prone?
Those are almost everyday occurrences for anyone who's active.
We hear you're learning to kayak. How's that going?
I rolled a few times yesterday. As a beginner kayaker, I'm not heading for Class VI rapids, or V or IV for that matter—though I guess I have made it through some Class III without my kayak.
You're referring to a recent mishap on the Rio Grande, your first time kayaking a river, where you were thrown from your boat in a hydraulic known as the Toilet Bowl and some other kayakers fished you out. Is this the type of thing New Mexico state representative Max Coll is talking about when he says you "ought not to take wild chances"?
That's just laughable. An active individual is capable of doing, and does, a lot more.
So you didn't once swim through shark-infested waters off Puerto Rico with a squadron of Navy SEALs?
If there were sharks, I didn't know about them.
In October you'll participate in the America's Challenge Gas Balloon Race, which is…?
We'll take off from Albuquerque, and the object is to fly the farthest distance. Hopefully we'll make it out [and ditch] into the Atlantic.
You spent your 40th birthday on the summit of Mount McKinley and are now picking Ed Viesturs's brain about climbing Everest in 2003. You thinking oxygen or no oxygen?
I think we'd be crazy not to plan on using oxygen.
You're the nation's leading advocate for the legalization of marijuana. Does that platform extend to the world of EPO and performance-enhancing drugs?
It should be the right of a cycling association to say, "No drugs in the Tour de France." I agree with that. But also, maybe a new football league could start up, the Steroid League, so that becomes a choice of the individual and the league, and the game becomes about how big a human can you grow.
Let's talk issues, Governor. Gu vs. PowerBar: Where do you stand?
Gu. The new protein PowerBar is kind of tasty. But I like the chocolate Gu.
You usually have a couple of state police officers with you as bodyguards. We take it these guys aren't sitting around eating doughnuts?
No, they're not. Some of them have actually gotten into good shape. I figure I can take credit for that.
How much can you bench?
Before I broke my back, I could do up to 220.
Any closing thoughts?
In 1976, I thought I was going to be a pro ski racer, but I didn't make a cent at it. I thought, "Maybe there's more to life than riding a chairlift." Now, at age 48, I have come to recognize that there isn't. Riding a chairlift is where it's at.
THE RAG TRADE has always drawn inspiration from the unlikeliest quarters—remember the early 1990s heroin-chic phase? But as far as we know, high fashion has never paid much attention to the world of exploration—a fact that made last March's pret-a-porter show in Paris, where this fall's clothing lines were previewed, something of a watershed moment in outdoor couture.
This season, in the wake of Prada Sport's big move into high-end technical apparel, several leading fashion houses are embracing adventure as a key theme. Gucci, for example, now offers a $2,400 surfboard. No designer, however, has ventured further into thin air than Karl Lagerfeld, Chanel's connoisseur of class, whose new collection includes a climbing helmet ($195), a climbing-harness inspired belt ($130), and an ice ax that, we're sorry to report, is not for sale at any price. Chanel produced only two, as runway props. "There is no reason that sportswear and fashion should be considered incompatible," says Lagerfeld of the collection, which this month ships to Bloomie's, Neiman's, and Chanel boutiques. "Everybody needs something real to wear on the slopes—not just to show off at St. Moritz or Gstaad at parties." And while a $640 Chanel mountaineering boot may not be for "everybody," when one considers alpinism's aristocratic roots, it's not that much of a stretch. "In Europe, mountaineering was the sport of kings," says Eliza Moran, 54, who modeled in Paris as a teenager and who now serves as the U.S. delegate to the International Mountaineering and Climbing Federation. "This is absolutely part of the couture-house tradition."
Of course, none of this gear is meant to be taken seriously. "It's more fashion than function," says a Chanel official. Yet the line is generating some buzz among purists.Says American Alpine Club vice-president Linda McMillan, "This is cool!"
FOR MORE THAN half a century, hikers have ventured into snake country knowing they might have to strike a Faustian bargain. The good news was that, in the event they tangled with the business end of a rattlesnake, copperhead, or cottonmouth, there was an antidote on ice at the nearest emergency room that could save their lives. The bad news: The venom-neutralizing antibodies were derived from the blood of horses, which meant that people who were allergic to certain horse antibodies (roughly three-quarters of patients) succumbed to serum sickness, a potentially serious flu-like illness that can make you wish you were dead anyway. Well, relief is now at hand—in the form of CroFab, a new antidote that is refined from sheep's blood and has far fewer side effects. The wonder drug, now being produced by the Nashville-based pharmaceutical firm Protherics, is already replacing the old antidote on hospital shelves. There's only one drawback with the ovine antibodies. At $9,300 per 12-vial dose, even the most grateful snakebite victim may feel completely fleeced.
IN THE COMING MONTHS, more than a dozen new reality television shows—most with adventure themes—will be landing in prime time, bringing, we hope, the reality-TV bubble close to its bursting point. While for most Hollywood producers, "reality" means yet another cop show, shaky camera work, and a few curse words, the creators of these shows have reinterpreted the term to mean rappelling off cliffs, negotiating whitewater, and field-dressing venison. Below, Outside's guide to the genre's more adventurous new offerings. (The list omits, and no, we are not making this up, Who Wants to Date a Hooters Girl? and I Want a Divorce.) Now, if only they were in 3-D.