Postcard From Isla Holbox: (Ir)responsible Whale Shark Ecotourism
Until all is perfect on the Yucatan front, tourists must do their part to be a responsible addition to the ecotourism equation. How?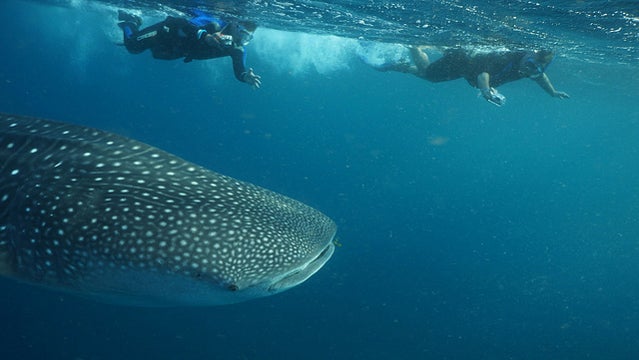 Heading out the door? Read this article on the new Outside+ app available now on iOS devices for members! Download the app.
Waiting in anticipation, I cling to the side of the boat, flippered feet just barely touching the water's surface, anxious breath further labored by the snorkel mouthpiece. I grow more and more nervous as fins glide slowly toward the boat—fins of "vegetarians," but whale shark fins nonetheless. Just as I decide to swing my legs back into the boat and call it crazy, the captain yells "now!" and my hands betray me and let go, dropping me into the ocean.
The salty water rushes up my nose, squeezes in the side of my goggles and plunges down my snorkel tube, but before I can even curse, a gaping mouth emerges from the plankton cloud, threatening to swallow me whole. I freeze, at first in terror but then in awe of the school-bus-sized fish before me. My eyes struggle to take it all in: the spots, the size, the billowing gills, the ensuing remora, and then finally the tail, swaying gracefully back and forth as if waving goodbye.
Just as the shark disappears back into the murky water I remember to swim, and I take off to catch up.
So went my swim with the whale sharks off Isla Holbox, Mexico, last summer.
Labeled "ecotourism"—a logical sum of the tourists plus wild animals in their natural habitat equation—the whale shark tourism industry in Holbox has been a substantial source of income for the island community. The predictable aggregation of whale sharks off the northeast tip of the Yucatan Peninsula from May to September brings an equally reliable stream of paying tourists.
But what benefits the tourism industry has brought to the island have come at a considerable cost. Perhaps living in San Francisco has heightened my eco-anything standards, but I would be hard-pressed to call my whale shark encounter in Mexico "ecotourism," especially as defined by the International Ecotourism Society as "responsible travel to natural areas that conserves the environment and improves the well-being of local people." The current state of affairs does not reflect the principles of ecotourism, at best, and at worst, threatens the welfare of both the whale sharks and the small island community.
As part of my graduate research, I spent three months in Holbox interviewing tour operators and getting a behind-the-scenes look at the industry. I discovered that the whale shark tours were not fulfilling their potential to teach and inspire. Tourists were learning little, if anything, about the species, including the threats whale sharks face from overexploitation and climate change, and were thus leaving the island unlikely to join the conservation effort.
Even worse, the activity itself may be doing more harm than good. A large number of tour operators said that neither operators nor tourists generally follow the regulations designed to protect all involved. My tour experience confirmed this, as my guide—one of the few who spoke perfect English—neither mentioned the regulations nor the fact that we were breaking them. For example, I watched my fellow tourists lather themselves with non-biodegradable sunscreen before dropping into the water just next to the feeding fish. We entered four, sometimes five at a time, joining tourists from another boat already swimming with an occupied whale shark. The boats circled the sharks, often passing right over them—and more boats seemed to come from every possible destination in the Mayan Riviera (it isn't just Holbox that operates tours).
Equally troubling are the unintended consequences of the whale shark tourism industry for the community of Holbox. Unequal distribution of profits has divided a once united community. Rivalry is pervasive and exists between little operators and big, Holboxeños and operators from Isla Mujeres, and even nationals and non-nationals. One man, a resident of over 70 years, told me that he has watched money turn his formerly "humble" and "kind" neighbors into those who are "corrupt" and "mean."
To a passing tourist, this hostility is far from noticeable, and my intention is not to deter anyone from visiting what is truly a magical place, nor from having the unbelievable experience of swimming with whale sharks in their natural environment. In fact, there are steps already being taken to remedy the industry's problems and many individuals are passionately devoting their time to this effort.
But until all is perfect on the Yucatan front, tourists must do their part to be a responsible addition to the ecotourism equation. How?
First, do your homework before you travel. There are some excellent websites devoted to responsible tourism that can guide everything from your choice of country to which operators to employ. (International Ecotourism Society, Right Tourism, SPANA and Turismo Responsable will get you started.) For instance, there is a gold standard when it comes to swimming with whale sharks—a recent study has shown that the tourism industry in the Ningaloo Reef, Australia, has had no cumulative, negative impacts on the fish. For the cost of airfare and a $345 ticket you can cross the activity off of your bucket list with a clear conscience.
Second, don't let the phrase "when in Rome" go to your head. Do only what you would do in your own town, state, or country. If your local park tells you not to feed wildlife, assume the rule applies to wildlife everywhere.
Finally, if there are no operators or signs to tell you how to behave responsibly, trust your instincts. One of the tourists on my boat came back from her first turn in the water with the whale sharks and said she had tried, but failed, to touch one. When asked by another tourist if she was going to try again she said she didn't think so, that is just didn't seem right for some reason. Bravo!
Ecotourism is certainly a welcome and growing alternative to less responsible forms of tourism. Yet with an ever-increasing population, maintaining the principles of ecotourism will prove challenging, just as it has with the global whale shark tourism industry. There will need to be a balance between saturation and exclusivity, and the answer will lie in the tour subject's response. Tourists, above all, must do their part to recognize and respect this response.
Susan Getty is a recent graduate of the Masters of Science in Animals and Public Policy Program at the Tufts University Cummings School of Veterinary Medicine.