7 South American Ski Resorts to Satisfy Your Summer Powder Craving
Turns out you can carve fresh snow in August. Put these Southern Hemisphere resorts on your bucket list.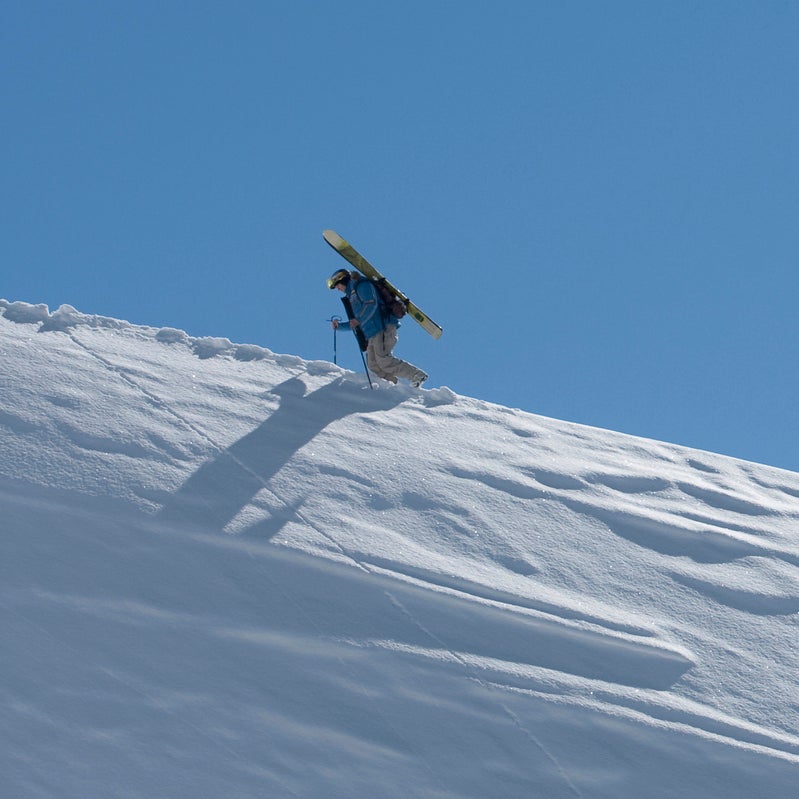 Heading out the door? Read this article on the new Outside+ app available now on iOS devices for members! Download the app.
For the first time since before the pandemic, the door to South America, the Andes, and the ultimate bucket list of the August ski vacation is open. The experience of ditching the dog days of summer for some Andean descents, Chilean wines, and Argentine steaks is a must-do—and now is the time. The snow is really stacking up down there this season, with Portillo and Valle Nevado receiving around 30 inches of freshies just this week.
Ready to book your ticket but not sure where to start? Ski areas in South America are scattered along the flanks of the Andean cordillera, from Chile's capital down to the very southern tip of Argentina. We've highlighted a few of the largest, easiest to access, and most notable resorts out of the bunch. Lift ticket prices can fluctuate during different parts of the season and sometimes day of the week along with currency exchange rates—but even then, tickets are still dramatically cheaper than at North American resorts. Here are our picks for some of the Southern Cone's brightest stars, and well-worth ditching those sweltering summer days.
Highest lift-served elevation: 10,860 feet
Vertical drop: 2,745 feet
Number of runs: 35
Number of lifts: 14
Skiable acres: 1,235
Average annual snowfall: 260 inches
Day lift pass: $48 USD
It's not the biggest, but Portillo is the most legendary ski area in the Andes for good reason: You will find nothing lacking, least of all the skiing. The iconic canary yellow hotel welcomes travelers to the high (or alta) cordillera, boasting skiing for everyone—steeps for freeriders, exhilarating groomers for World Cup racers, and scenic pistes for genteel schussers.
Related: Itching to explore Chile's slopes? This is the pro to show you around
Don't miss the classic Lake Run or the Roca Jack, a multi-person platter lift commonly referred to as a slingshot that's unique to Portillo's steeps. Kiddos (and big people!) will enjoy skiing through an actual train tunnel. Lunch and a beer in the sun at Tio Bob's is a must-do, as is a relaxing evening with a pisco sour in hand at the Portillo Bar.
Both on and off the hill, you'll find a vibrant, joyful surfeit of international ski bums and upper-crust ski culture crammed happily into a few isolated buildings and some of the most glorious ski runs in the world.
Highest lift-served elevation: 12,038 feet
Vertical drop: 2,657 feet
Number of trails: 39
Number of lifts: 14
Skiable acres: 2,200
Average annual snowfall: 276 inches
Day lift pass: from $57 USD
This classic, family-friendly South American ski area and international destination resort is about 40 miles from the airport and Chile's capital city, Santiago—but a 90-minute drive thanks to a harrowing two-lane access road that switchbacks up into the alpine. On arrival, you're welcomed by a series of hotel buildings perched on a scenic alpine plateau along with wide-open ski runs as far as the eye can see. Slopeside hot tubs and sunny decks beckon for après libations and fantastic people watching.
For the adventurous, Valle Nevado borders two other interconnected ski areas, El Colorado and La Parva (see below), which together with Valle Nevado have become known as the Tres Valles. Buy a multi-area ticket to access all three resorts and a combined 7,000 acres of skiable terrain.
Highest lift-served elevation: 10,934 feet
Vertical drop: 1,912 feet
Number of trails: 101
Number of lifts: 14
Skiable acres: 2,300
Average annual snowfall: 300 inches
Day lift pass: from $54 USD
It's not that big, despite the number of named pistes relative to its neighbors, but like Valle Nevado, offers loads of wide-open, fun shredding options—and if the backcountry is your jam, excellent out-of-bounds access as well as a maintained inbounds snow park.
Highest lift-served elevation: 11,909 feet
Vertical drop: 3,150 feet
Skiable acreage: 2,471
Number of trails: 20
Number of lifts: 14
Average annual snowfall: 300 inches
Day lift pass: from $42 USD (prices are lower Monday-Thursday)
A (semi) under-the-radar favorite of freeskiing pros (stars such as Ingrid Backstrom have chosen to hold freeride camps here), La Parva offers fun above-treeline skiing, and a bounty of exciting hike-to backcountry terrain. It also has fewer international visitors, giving it a boutique insider's feel.
Highest lift-served elevation: 7,200 feet
Vertical drop: 3,300 feet
Skiable acreage: 1,350
Number of pistes: 20
Number of lifts: 13
Average annual snowfall: 360 inches
Day lift pass: From $45 USD
For skiers who want to get off the beaten path—like a few hundred miles south of the capital—this snowy ski resort boasts thermal hot springs, unforgettable mossy glades, and plentiful powder. Less dramatic than the alta cordillera near Santiago, here cone volcanos and old-growth forests provide a magical feeling. And did we mention hot springs? After all, it's at the base of an active volcano.
Bonus: Chillan offers cat skiing, and adventurous skiers should head for the large swaths named "Area Freeride," while beginners enjoy the "Snowy Forest" area. Soak in the thermal water park at the base. Four miles below the base area and hotels is the sleepy little town of Las Trancas, with hotels, guesthouses, restaurants, and where most local skiers live. Unlike many South American ski areas, which don't have local ski communities, you'll run into a local vibe here.
Highest lift-served elevation: 6,725 feet
Vertical drop: 3,280 feet
Skiable acreage: 1,500
Number of lifts: 34
Average annual snowfall: 240 inches
Day lift pass: $76
Catedral is often considered the best ski resort in South America, and for good reason. It's got featured steeps like the Zona la Laguna, epic treeskiing in the Zona Second Lomo, and wide open groomers. Park skiers can head to the Triple Park. The surrounding mountains are jaw-dropping—the abundant spiky granite spires gave Catedral ( or "cathedral") its name.
The base area has lodging, restaurants, and après spots. Best of all, it's just seven miles from the small, bustling city of San Carlos de Bariloche, which is easy to fly right into from Buenos Aires. Set on the shore of Lago Nahuel Huapi, this glittering little city is the epicenter of a strong, century-old tradition of alpinism and skiing brought over by Central European immigrants. It's also known for wine, steak, meat, chocolate, and ice cream, but don't forget to check out local favorite and brewpub, Cervecería La Cruz.
Highest lift-served elevation: 11,253 feet
Vertical drop: 3,904 feet
Number of trails: 27
Number of lifts: 14
Average annual snowfall: 250 inches
Day lift pass: from $48 USD
Las Lenãs is a legend in the world of freeskiing. It's the kind of place that'll make you yawn at Jackson Hole, swear off Telluride, and never toss another dime to commercial heli skiing. It's lift-accessed glory with Andean vistas you'll never forget—all above treeline and pretty much in the middle of nowhere.
If it's not too windy or socked in, head to the Marte chairlift for big freeride lines. If that lift isn't running due to weather (which happens often), try Cenidor off Caris lift, or skier's left off Vulcano lift to Mercurio and Paraiso. There's a lot for kids to do too, with gentle base area runs and groomers. The base area is typical: a few hotels, a small casino, and some restaurants (get breakfast at the Innsbruck). Nightlife consists of one option, but when you have the UFO Point disco, you don't need more.
Lead Photo: Adam Clark/Getty Images