Biking the World's Most Dangerous Road
Luke Wright takes a ride on Bolivia's Yungas Loop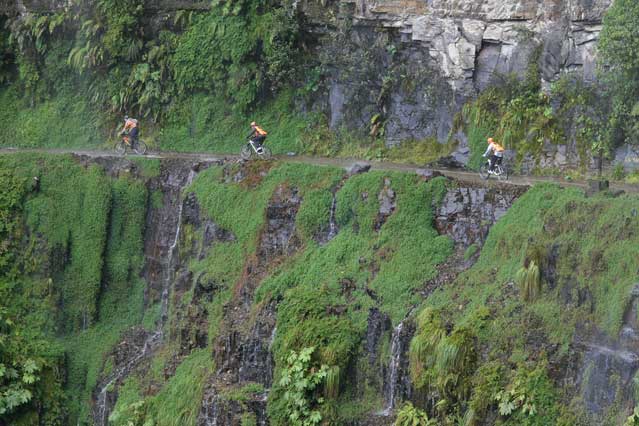 Heading out the door? Read this article on the new Outside+ app available now on iOS devices for members! Download the app.
Looking at a map of South America, Bolivia is the little landlocked shape roughly in the center—the heart of the continent. With the soaring wild peaks of the Andes quickly plummeting into the jungle's steamy insides, Bolivia is one of the most geographically and biologically diverse countries on the planet. Often only known for its connection to cocaine and as the resting place of Butch Cassidy and Che Guevara, Bolivia is, in fact, a traveler's hotspot. This country is at once an eye-opening, jaw-dropping, baffling and beautiful destination; an incredible place to explore and a highlight on the Latin American Gringo Trail.
Bordering Brazil, Paraguay, Argentina, Chile and Peru, this complex country, with a history of struggle and strife, is the poorest and most isolated in South America. The predominantly indigenous population is still closely tied to their ancient past: chewing the revered (and harmless) coca leaf, wearing colorful textiles and peculiar bowler hats, and worshipping the earth Goddess, Pachamama.
From the high, wintry Altiplano down to the sweaty lowlands, Bolivia offers amazing and exciting experiences for serious adventurers and semi-soft travelers alike. It's cheap, mostly safe, and endlessly interesting. La Paz, Bolivia's cultural capital is a sea of rooftops clutching the sides of a vast valley plunging from the clouds. It's one of the highest cities in the world at approximately 3,650m above sea level. The monstrous mountain, Illimani, watches from nearby, observing the city's unhurried and erratic pulse, as if standing guard while time unwinds for its residents. A dose of La Paz, its smells, sights, sounds and steep streets, is best taken with a good measure of time—to acclimatise to the altitude and to allow for the eccentricity of the city that touches to the sky to take hold.
Bolivia, known as the Tibet of the Americas, is an incredible, world-class downhill biking destination, and this three-day jaunt, starting from way up high just outside La Paz, takes in the best of the best. An epic cycle journey set in the magical mountains of South America, this route is not for those with a fear of heights. There aren't too many places on the planet where cyclists can climb into the saddle at a literally breathtaking (and freezing) 4,750m mountain pass and rarely need to touch the pedals until hours later at a balmy 1,100m on the edges of the Amazonian basin. But it's all possible on the Yungas Loop.
DAY ONE
Day one begins from the eye-watering, hand-freezing heights of La Cumbre (4,750m) to Chuspipata (2,100m). The first section is 22km of downhill delights on a sealed and wonderfully winding road amid a dramatic backdrop of massive mountains. From here this back-to-basics expedition plummets down, down, down, in the shadow of the giant Andean peaks, into what the Inter-American bank once dubbed the world's most dangerous road—a rather grim title for what is an incredible, fun-filled ride. This section finishes up in Yolosa (1,100m), where it's best to take a taxi or bus up the hill to the sunny town of Coroico (1,700m)—a good place to stay for the night.
DAY TWO
Day two is a tough cross-country excursion through the coffee, coca and banana growing region of Bolivia, traversing rarely used roads and encountering life in Bolivia as it has passed for many hundreds of years. It's hard not to smile riding in these parts, passing through what feels like an authentic slice of Bolivian life. The day ends with a very challenging ascent to Chulumani (1,580m) where a bed and hot meal awaits—a welcome respite for sore legs and hungry stomachs.
DAY THREE
After a well-earned rest in Chulumani, day three is an up and down affair that makes its winding way next to a spectacular raging river gushing with icy Andean water. After a day by the roaring river, the ride culminates at the oddly out-of-place el Castillo ("The Castle"), a surreal and apparently haunted castle situated at 1,952m. El Castillo offers food and accommodations and it's worth spending the night here in this strange location. From El Castillo, buses regularly make the journey back up into the clouds of La Paz.
DESCRIPTION
From the clouds to the lowlands, a three-day journey with lots of downhill action.
ROUTE LENGTH & DURATION
Approximately 209km (130 miles) over three to four days.
WHEN TO GO
May-September. Avoid December-March due to rain.
SPECIAL CONSIDERATIONS
Take a reliable, sturdy mountain bike and clothing for snow and sun. Be aware that altitude sickness is a serious concern and that this ride can go from snow to sunshine very quickly.
TOUR OPERATORS
This ride is best taken with a tour group and support vehicle. Gravity Bolivia is by far the best, most experienced and most reputable operator.
PERMITS/RESTRICTIONS
Entrance fee.
ACCOMODATIONS
There is guesthouse accommodation in each town: Adventure Brew Hostel in La Paz, Sol y Luna in Coroico and El Castillo in Chulumani.
Lead Photo: Steffen Foerster Photography